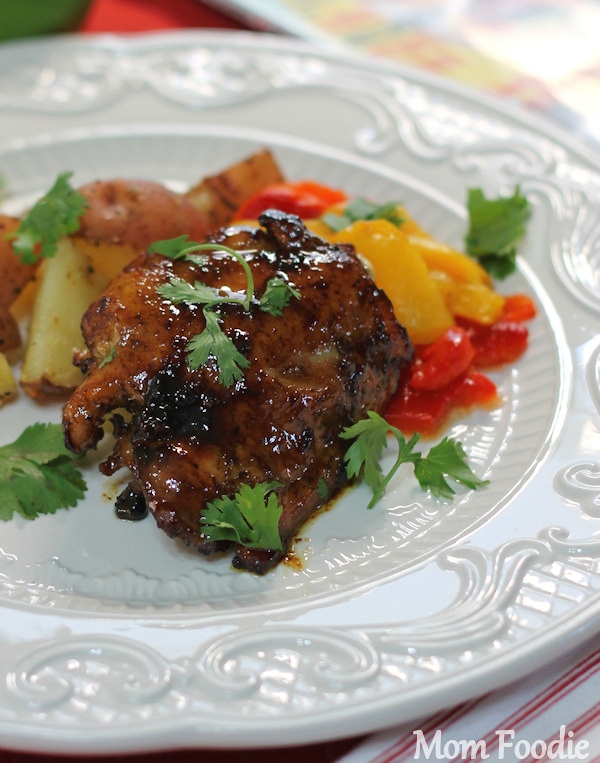 I get a few different food magazines in each month, and my daughter adores browsing through them.  I think she looks at them more than me.  The past couple weeks she has been particularly fascinated with the July issue of Cooking Light.  It has a cover shot of Grilled Chicken Thighs with Ancho-Tequila Glaze.  I may have been a little slow to catch on, but I did eventually realize that she thought the picture on the rapidly becoming tattered magazine was appealing.  I am not much of a fan of chicken thighs myself, but if it was chicken thighs she wanted, then it was  chicken thighs she was going to get.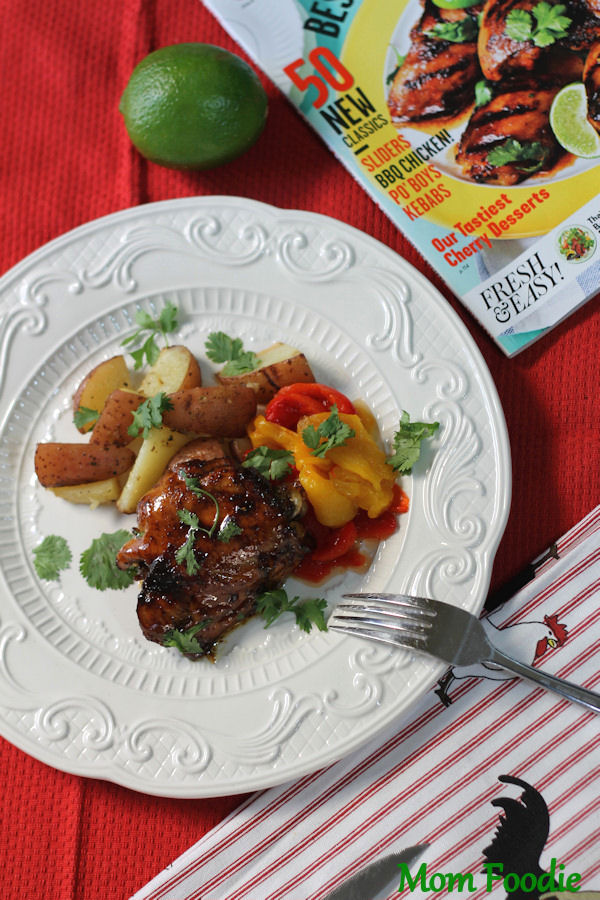 I currently have her on a gluten and casein free diet, to see if it helps with her autism symptoms, so I've been making extra strides to ensure she enjoys her food.  I glanced over the recipe, and planned an adaptation to a more child friendly dish.  It ended out being more of a simplification of the dish, as the tequila and hot stuff was omitted in favor of more lime and sweetener.  The butter was replaced with coconut oil, to adhere to her present diet.   I also cooked the chicken, along with the sides in the oven, trading in lovely grill marks for the ability to more easily get housework done while the meal cooked.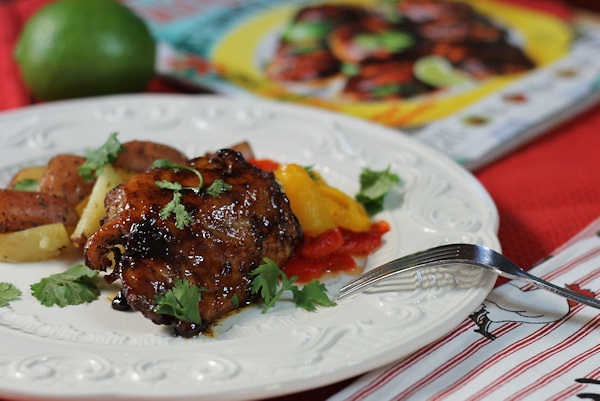 My  daughter got extra excited when I showed her the cover next to her plate, explaining to her that it was the same and that she could pick out other things in the future.  Yes, the original magazine version would have probably been more to my personal taste (I love spicy food), but as I have said in the past, being Mom trumps being a Foodie, and after all... she is my little sunshine.
So, without further ado, here is my "kiddie-cocktail" version of last month's Cooking Light cover recipe.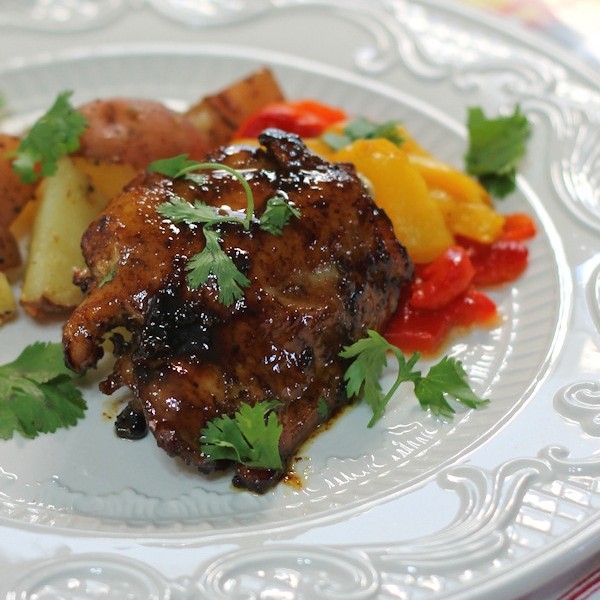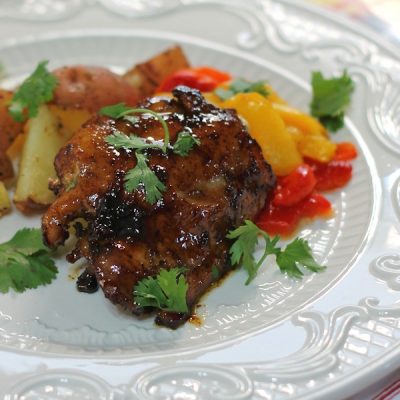 Ingredients
4

chicken thighs

½

tbs.

chili powder

1

teaspoon

sugar

½

tsp.

cumin

½

teaspoon

Kosher salt

1

teaspoon

garlic

minced

1 ½

tbs.

light agave syrup*

½

tbs.

maple syrup*

½

tbs.

coconut oil

substitute butter if dairy is not an issue

1

juice of one lime
Instructions
Preheat oven to 375 degrees.

Remove the skin and excess fat from the chicken thighs.

Mix together the chili powder, sugar, cumin, salt and garlic.

Rub the mixture generously over the thighs, making sure not to miss any spots.

Place the chicken in a non-stick or lightly oiled oven safe dish or pan.

Bake for 30-35 minutes.

While chicken thighs are baking, put the agave, coconut oil and lime juice in a pan over med-high heat.

Whisk steadily while the sauce reduces. Once the hot sauce is reduced by about half (to a consistency just shy of the thickness of honey), remove from burner.

Once the initial 30-35 min bake is done, generously baste the chicken thighs with the glaze and return to oven to bake for 5 more minutes.

Remove the chicken, baste with any remaining glaze and serve.
Notes
*The mix of light agave and maple syrup was a substitute for amber agave, if you have amber on hand, by all means use 2 tbs of that in place of the other two syrups.
Nutrition
Calories:
304
kcal
|
Carbohydrates:
10
g
|
Protein:
18
g
|
Fat:
20
g
|
Saturated Fat:
6
g
|
Cholesterol:
110
mg
|
Sodium:
395
mg
|
Potassium:
262
mg
|
Sugar:
8
g
|
Vitamin A:
385
IU
|
Vitamin C:
1.3
mg
|
Calcium:
21
mg
|
Iron:
1.3
mg