Cast Iron Chicken Thighs … sounds like poultry that has been working out…. but seriously this Baked Turmeric Chicken Thighs Recipe is easy to make and healthy too! I had it with a simple side of sauteed broccoli rabe, for a great keto meal.  I have been back on a lower carb diet for a little while now, but only started trialing the Keto diet very recently. I don't think I will end up on a strict Keto regime long term, but trying it has definitely made me see I want to slide my carbohydrate ratio down a bit lower in general.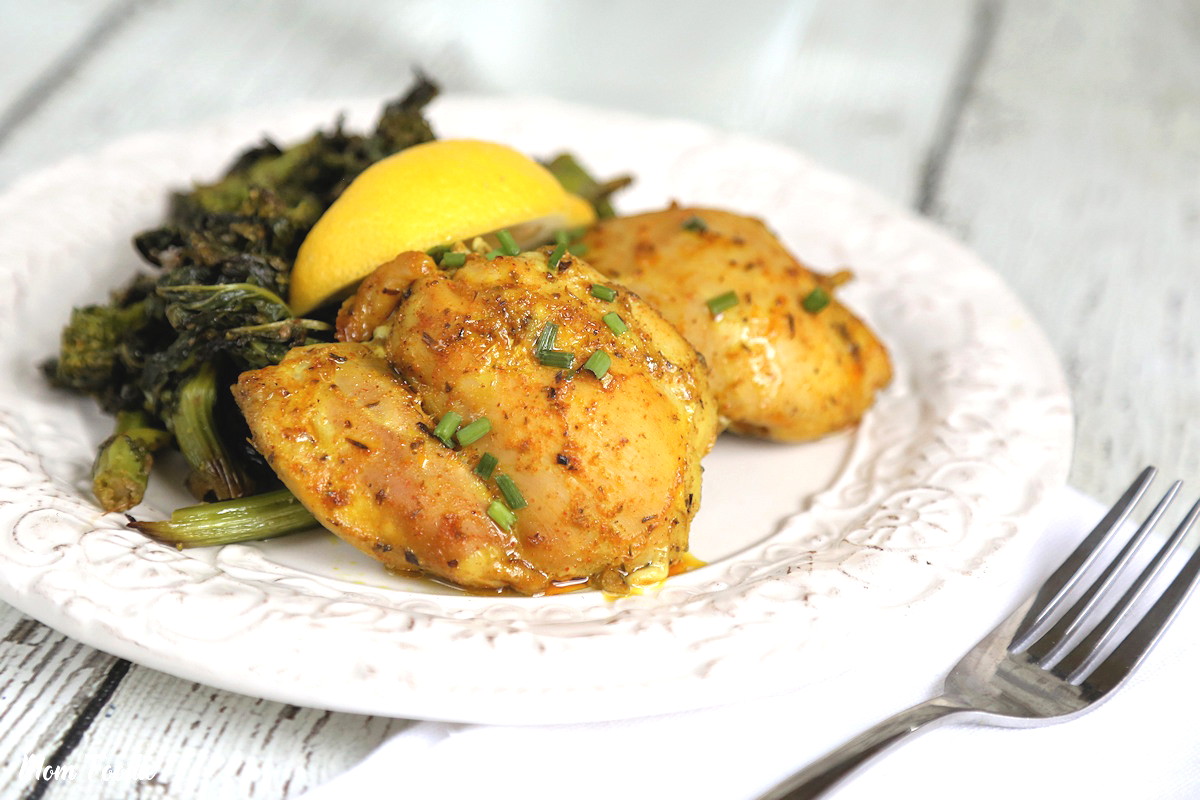 Cast Iron Chicken Thighs
Boneless chicken thighs are one of my go to cuts of meat these days. The lower cost helps me buy them organic and they are great for set it and forget it type recipes, whereas with skinless boneless breasts there is always a concern of drying them out. This cast iron chicken thighs recipe is ,as the name indicates, prepared in a cast iron pan.  This cookware choice helps avoid toxins even further.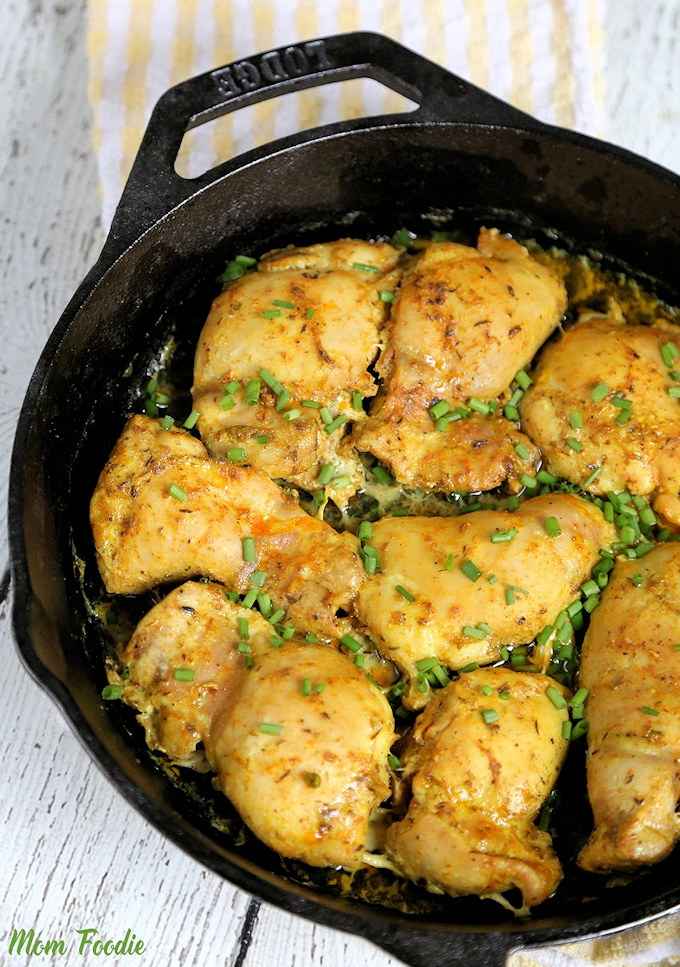 Baked Turmeric Chicken Thighs Recipe
The choice of turmeric in this recipe was not simply just for taste.  As many of you are already aware, turmeric has a host of fantastic health benefits, and reducing inflammation is one of those benefits. This is completely in line with the Keto diet, so it is a very natural addition to Keto recipes. The oil used in the marinade helps boost the fat content of the overall recipe and not only ensures there will not be sticking issues, but helps with maintaining moisture.
In the mood to grill? Try my Grilled Boneless Chicken Thighs in Turmeric Greek Yogurt Marinade. You can also get chicken thighs with similar flavor by making my Instant Pot Chicken Curry. That one is more like a shredded chicken stew though.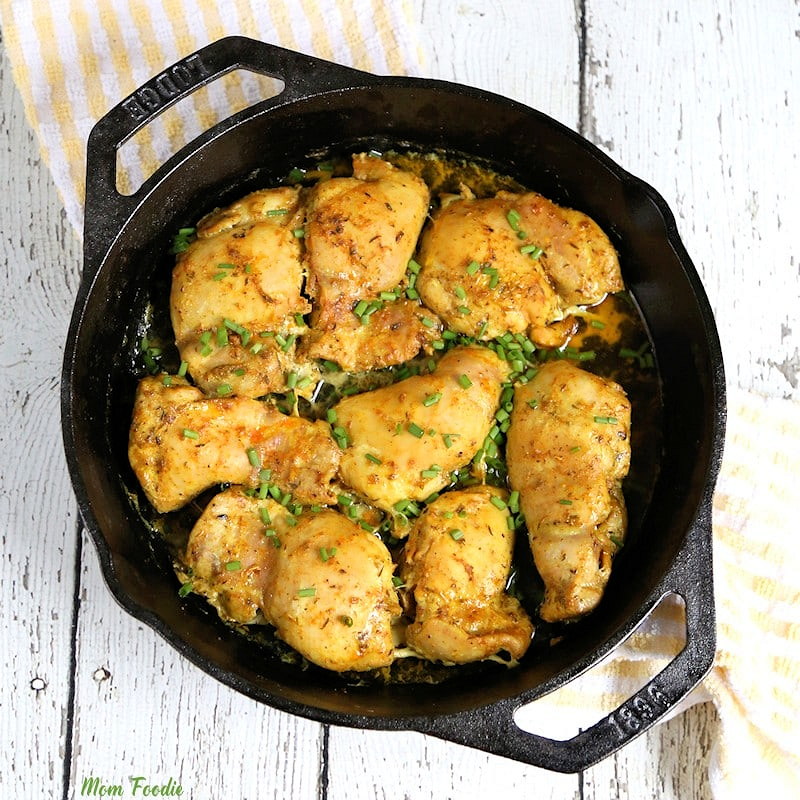 I also love the nice golden color the turmeric lends to the finished dish.
Need a pan?
Lodge LCS3 Cast Iron Chef's Skillet, Pre-Seasoned, 10-inch
Lodge EC11S43 Enameled Cast Iron Skillet, 11-inch, Red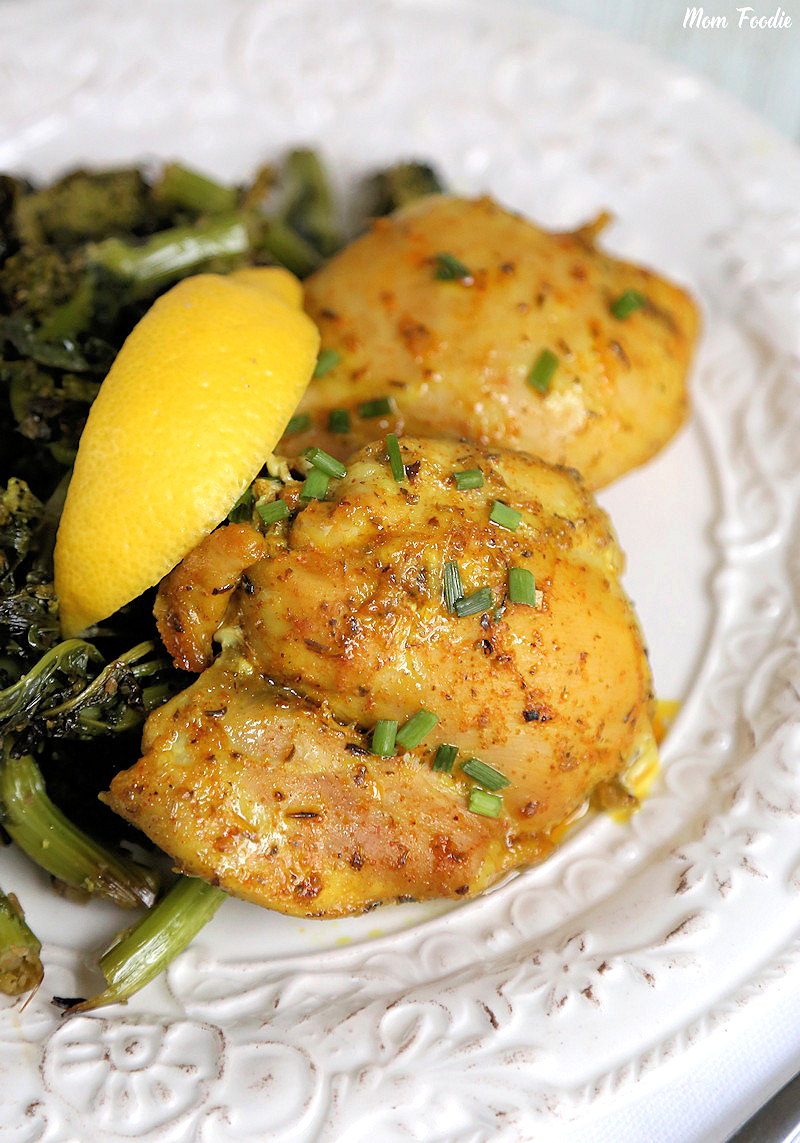 Low Carb Side Dishes for Turmeric Chicken
I chose a big portion of broccoli rabe (rapini) as the the side for the cast iron chicken thighs, not only because of it's extremely low carbohydrate count but also all the nutrients this vegetable provides. A serving of broccoli rabe has just half a gram of net carbs, well over a day's requirement of Vitamin K, loads of Vitamins C & A, and is a good source of calcium, iron, folate, Vitamin E, manganese, thiamin and too many more nutrients to list.    See full Nutrition data here.
If you don't care for rabe (it is a bit of an acquired taste), then some baked asparagus would be a great choice, especially as it is baked at the same temperature as the Turmeric Chicken.
My Spanish Cauliflower Rice recipe would also be a good choice, or my Frozen Cauliflower rice pilaf for a quick easy option.
Keep your Cast Iron Clean
Crisbee Stik Original Cast Iron Seasoning Oil & Conditioner – Always Free Same Day Shipping – Plant Based Oils With Beeswax
Stainless-Steel Chainmail Scrubber for Cast-iron Cleaner, Skillet, Pan, Griddle and Wok by Utopia Kitchen
More Low Carb Boneless Chicken Thigh Recipes to Consider
Slow Cooker Curry Chicken Thighs: Low Carb Chicken Stew
Grilled Boneless Chicken Thighs in Turmeric Greek Yogurt Marinade
Whole 30 Slow Cooker Chicken Thighs with Butternut Squash and Spinach