This simple Salsa Verde Fish Recipe is a great way to prepare fish on the grill.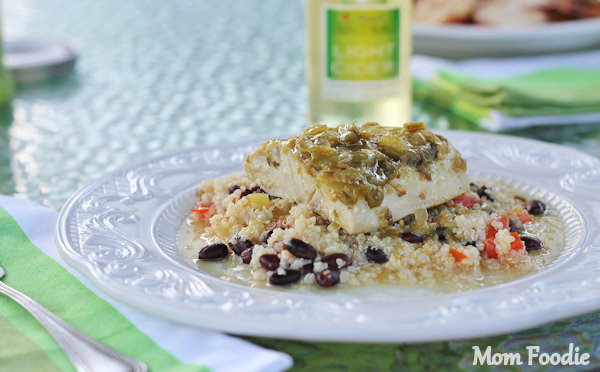 Is a "staycation" coming up in your near future.  No need to get all glum about it.  Whether you are short on funds, or have no one to watch the kids, and getting away just isn't an option this year, don't let the week fly by uneventfully.  Plan a few "dine-out-at-home" nights during the week.  A little planning ahead will make these nights enjoyable and stress-free, something you don't necessarily always get when traveling or dining out.
To have a successful and relaxing  staycation dining experience, you will want to invoke the flavors and atmosphere of a destination, but not get all fussy and complicated about it.  Simple, fun and easy to clean up are key elements.  Here are a few tips and an easy staycation recipe I've put together for you.
Create a new ambiance, with just a few inexpensive items.  Remember those expensive seaside restaurants you used to go to, before kids.  They weren't fussy.  Simple crisp white, and a a subtle splash of fresh color is all most of them decorate with... relaxing.  Pick up some new casual napkins, in inexpensive fabric or even paper if you prefer. If you don't own a dishwasher, by all means consider nice disposables for these dinners.  Just remember, you want a fresh look, that is easy to clean up.  Of course dining al fresco is ideal, if the option is available to you.
Now that you have ambiance covered, what will you eat?  The same ideas apply.  The meal should reflect an exotic destination or seem like something found in restaurant menu, but be simple to prepare, fresh not prepackage tasting and of course easy to clean up.  No one will feel all "vacationy" scrubbing pots and pans after dinner, so avoid using them as much as you can.
This easy Salsa Verde Fish recipe, is cooked in foil, so just ball it up and dispose of it once the fish is gone.  Firm white fleshed fish is used which is forgiving of overcooking, so no stress there. The salsa and fish juices trapped on the packet, make a flavorful sauce, which also ensure dinner will be moist and juicy .  Prep of this one is super quick and easy too.
Where will you "visit" during your staycation?
Rainy day? No worries I have other great fish recipes. Why not make my oven baked cod for your family. If you are in the mood for chicken try my Instant Pot recipe that simmers in salsa!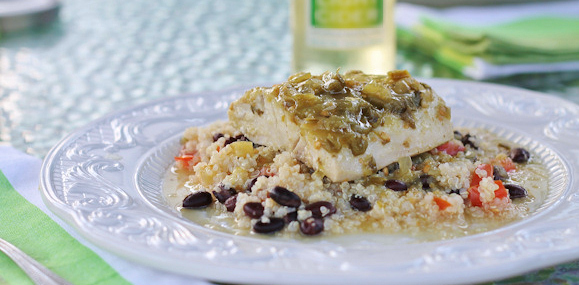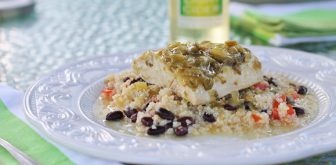 Salsa Verde Fish Recipe
Quick and easy fish recipe. Light low calorie dish, with the feel of a Mexican spa resort. Fish is baked in foil packet for easy clean-up
Print
Pin
Rate
Ingredients
8

oz.

mahi mahi or other firm fleshed white fish

add 4 oz per additional serving

½

tbs

olive oil

Kosher or sea salt

¼

cup

Salsa Verde

add 2 tbs. per additional serving
Instructions
Preheat your grill. (if you prefer oven preheat to 400 degrees*)

Cut the fish into 4 oz. servings.

Take a long piece of foil, and drizzle approx. half a tablespoon of oil in center. Spread it to coat an area a little larger than the fish you will be putting on it. Sprinkle a generous pinch of salt on the oil.

Lay the fish pieces flat side down on the foil, and evenly top with the salsa verde.

Bring the uncut sides of the foil together and fold a couple times.

Fold over the other two sides until almost snug to fish (see pic.).

Place the packet on grill, cover and reduce burners to low-med.

Cook for 10-12 minutes, and don't mess with it.

Be careful when you remove packet from grill, it will be full of juices now.

Pull apart the center fold gently, making an impromptu serving bowl.

Plate fish and ladle on sauce to serve.
Notes
Serve over steamed rice or sour cream mashed potatoes. Also nice with grilled potatoes.
*if baking in oven place packet on sheet pan