The creation of this Monte Cristo Sandwich Bake recipe was sponsored by Mirum, but opinions expressed are my own.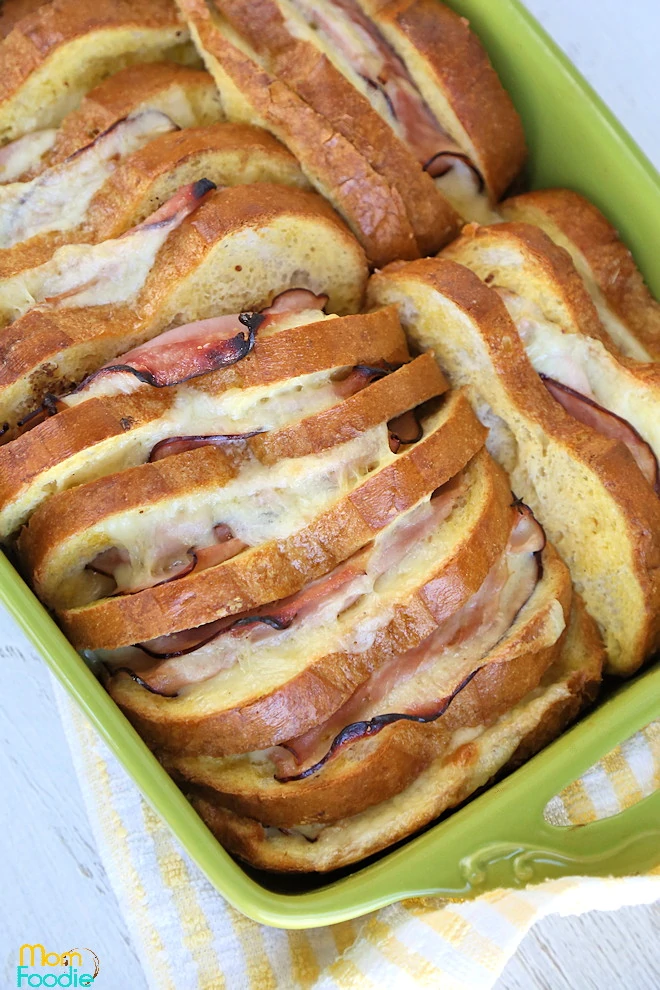 Monte Cristo Sandwich Bake
Love Monte Cristo Sandwiches and want to make them for the whole family for brunch? No problem with my Monte Cristo Bake!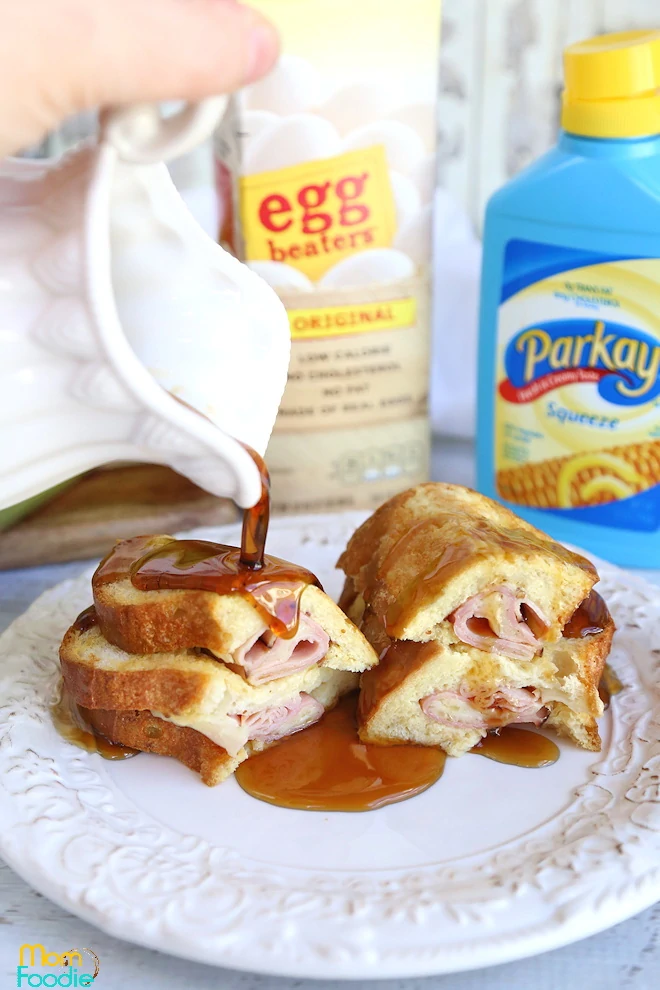 Choose Smart Ingredients
All the ingredients to make this delicious brunch recipe can be found right at Walmart! This is great for me, as my autistic daughter loves to help me shop there. It's her favorite store. Two ingredients in particular are not only smart dietary choices, but make creating the recipe easier. I love easy, don't you?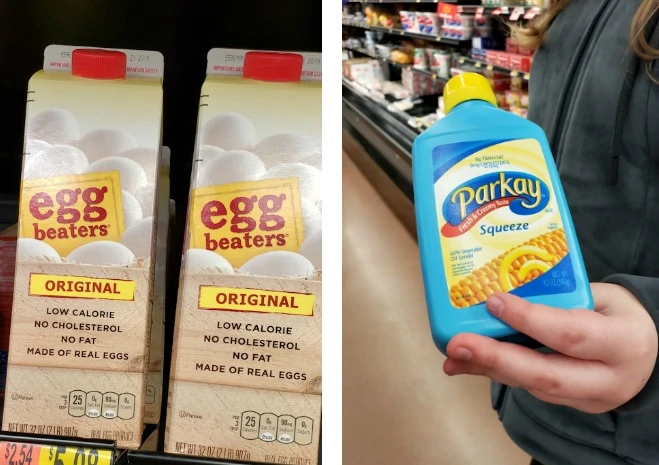 Parkay Squeeze
This vegetable oil spread has a creamy buttery taste with 0 grams of cholesterol and transfat.  It is super convenient to use in recipes or to top off your finished creations. Just squeeze it right on!
Eggbeaters Original
Eggbeaters provide the flavor, protein and nutrients of eggs, but have only about half the calories of regular eggs with no cholesterol or fat! While regular eggs aren't bad for you, many of us need or prefer to limit our intake of cholesterol and calories (or like me, don't digest yolks very well). Egg beaters are actually 99% real natural egg whites that are seasoned and have beta carotene, vitamins and minerals added to provide the nutrition and flavor of eggs for your recipes. Many times, in recipes such as the one I've shared with you today, no one will be able to tell the difference. The product comes in a convenient carton, and cuts out the potential of stray eggshells too. Try a 32 oz carton and brunch for the whole family will be a breeze.
While not used in this recipe, keep an eye out for these great brunch ingredients too. Odom's Tennesee Pride sausage rolls made with premium pork and 200 calories with 9 grams of protein per serving, are great for breakfast. Ro*tel Original Diced Tomatoes and Green Chilies contains 25 calories per serving. Adding some to omelettes, scrambles or breakfast casseroles packs lots of flavor with ease. 
Get more great recipes that can be created with these products, and be inspired to create your own unique dishes at the EASTER MADE EASY page.
Then grab all your ingredients at Walmart!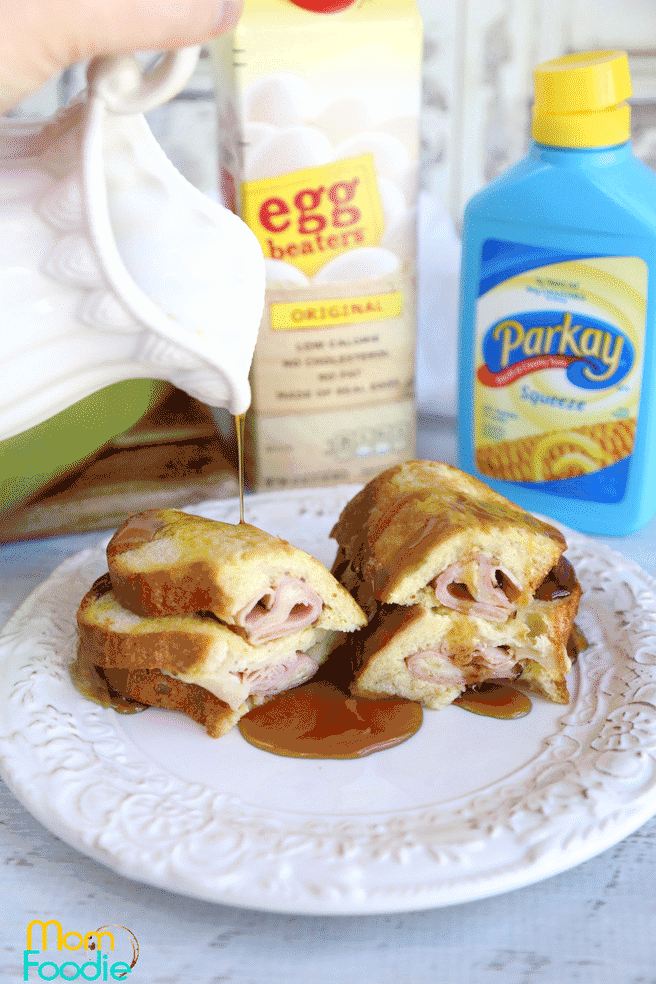 How to Make a Monte Cristo Sandwich Bake
Here is a visual guide to making the Monte Cristo Bake. The pictures make the process clear and easy. A printable recipe card can be found at the bottom of the post.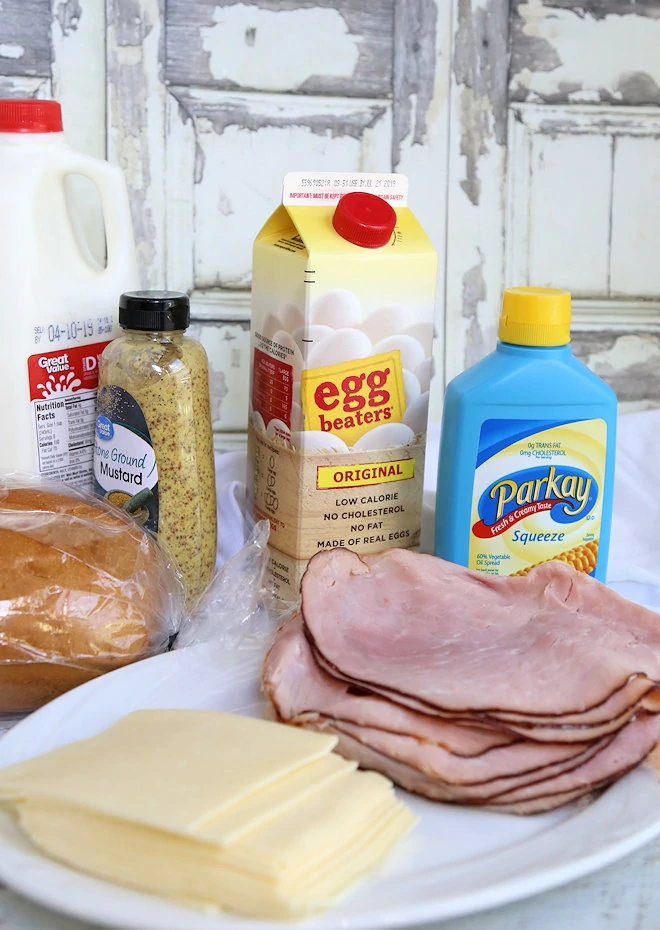 The Monte Cristo Bake doesn't require any fussy ingredients. The Egg Beaters and Parkay Squeeze make this brunch dish even easier. Other than those items, you just need bread, deli ham, cheese (I used pre-sliced Havarti), mustard and milk. You will also want maple syrup or strawberry preserves to serve it with.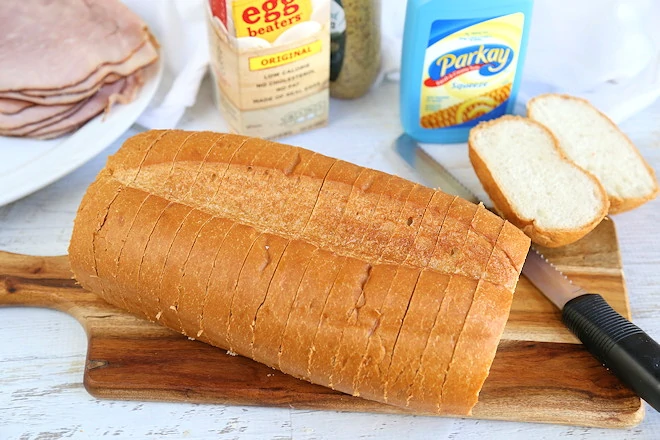 First preheat your oven to 375 degrees. Then, cut off the ends of a big Italian bread loaf and make slices about a ½ inch apart nearly through, but not fully cutting through the bottom of the bread. If you prefer to use smaller loaves that is fine, but you may need two. I don't suggest skinny bread like baguettes, as the ham and cheese will be too wide.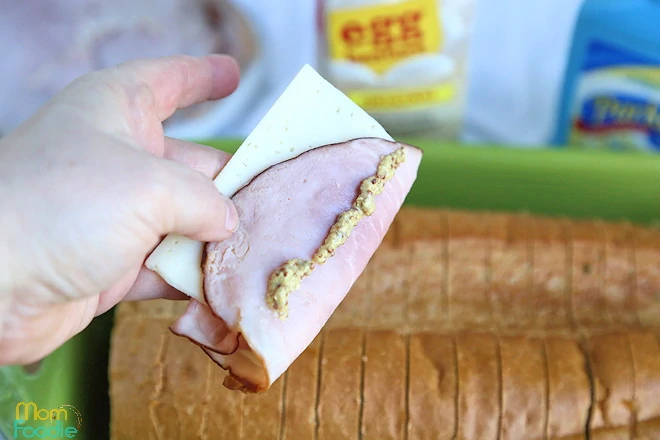 Take a slice of cheese and fold a piece of ham over it. Tuck extra ham in. Squirt or spread a little mustard on the ham. Tuck between two slices in the bread. Fold the cheese in if it sticks over the edge.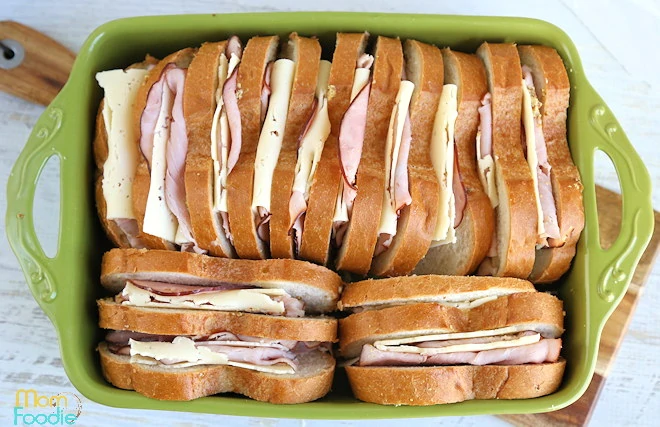 Repeat until all the gaps are filled.  Although this is a sandwich bake, don't skip any. Nestle the bread into a large casserole dish/ lasagna pan that has been coated with non-stick cooking spray. Don't have any spray, no worries, the Parkay Squeeze can handle that, just squirt a little in casserole to grease it with.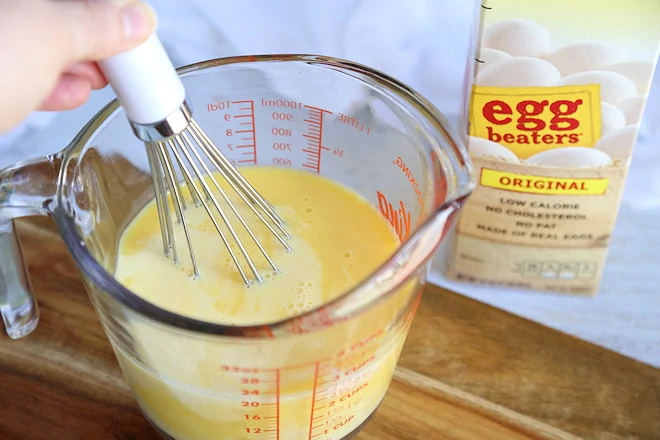 Now mix the Egg beaters and milk together.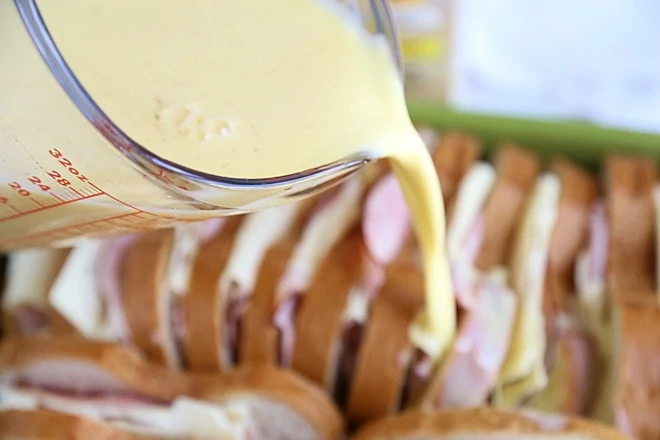 Slowly pour the mixture over the giant sandwich. Saturate as much as you can. It will soak in quickly. If a lot pools at bottom of the baking dish, drain it off and pour back on. A little pooled at bottom is not a problem. It will soak in while baking.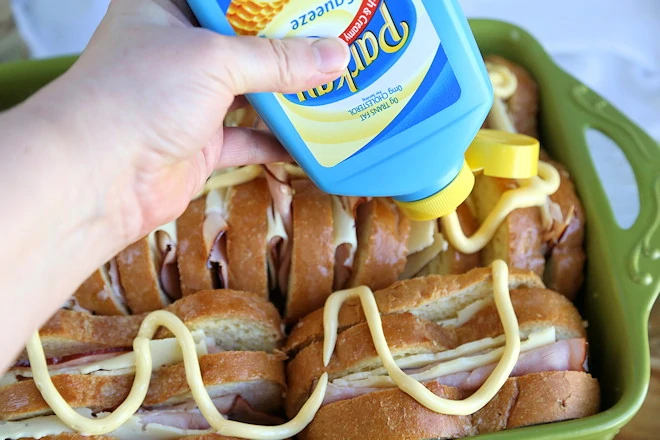 Grab your bottle of Parkay Squeeze and generously squeeze in rows. Don't leave gaps of more than an inch between the lines of the spread.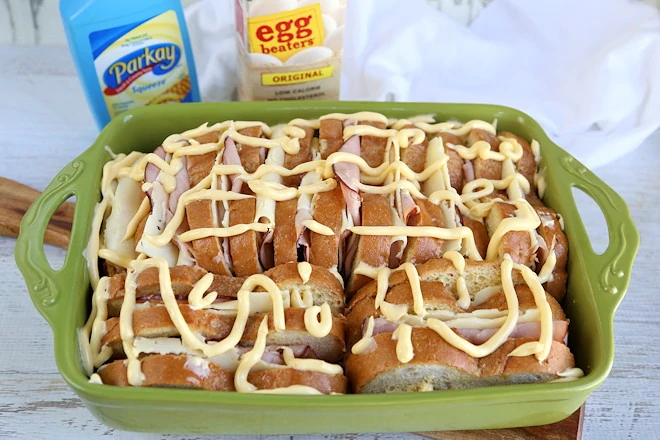 Your Monte Cristo Sandwich Bake will look like this when ready for the oven. Now pop it in for 30-35 minutes.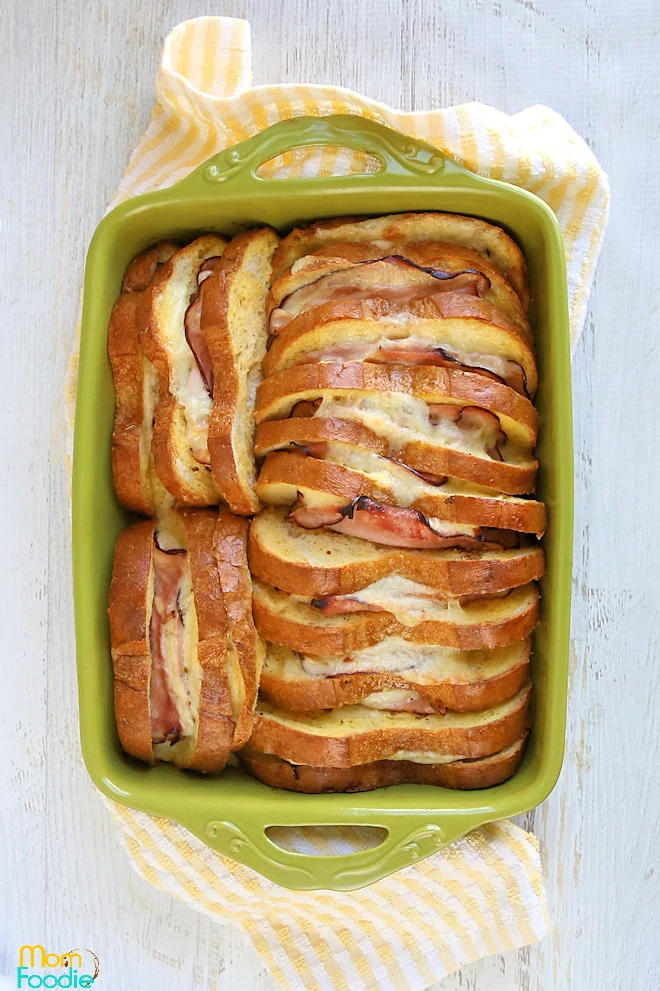 When the egg beater mixture is cooked and the edges of bread have crisped the bake is done. Keep an eye out that the ham edges don't burn during those final minutes. I a little browning as shown here is good though.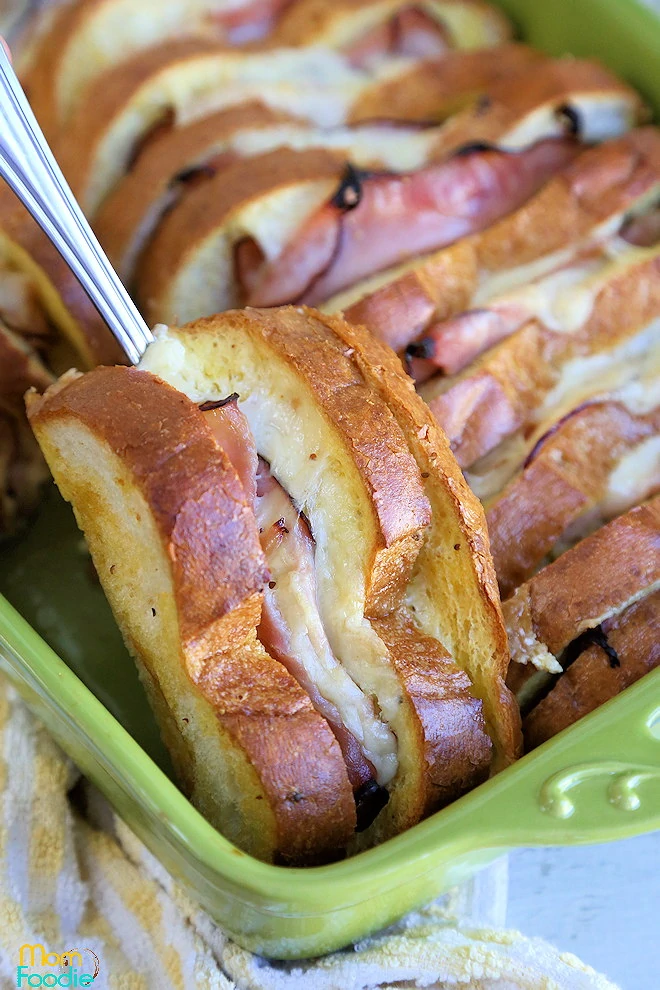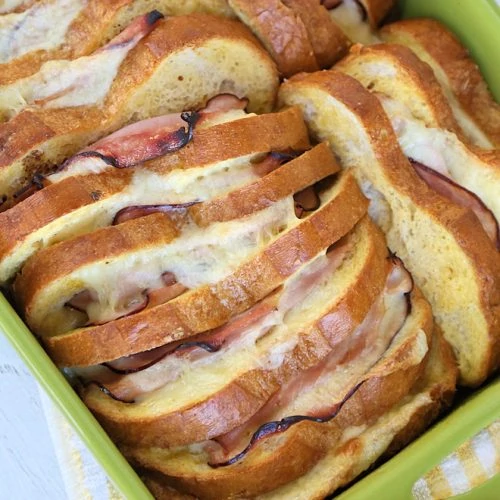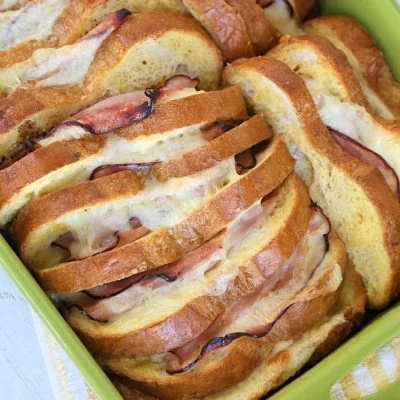 Monte Cristo Sandwich Bake Recipe
The Monte Cristo sandwich is a brunch classic. Here they are batch baked to satisfy the whole family at once!
Print
Pin
Rate
Ingredients
1

loaf

Italian bread

⅔

pound

deli ham

(I used Black Forest ham)

½

pound

Havarti cheese

sliced

2 ½

tablespoon

Dijon mustard

(estimated amount)

¼

cup

Parkay Squeeze

(estimated amount)

1 ½

cups

Eggbeaters

Original

1

cup

milk

⅛

teaspoon

nutmeg

**optional
Topping
maple syrup or strawberry preserves
Instructions
Preheat your oven to 375 degrees. Prepare a large baking dish with cooking spray or grease it with Parkay.

Cut off the ends of the bread loaf and slice about a ½ inch apart, cutting nearly through, but keeping the bottom of the bread intact.

Take a slice of cheese and fold a piece of ham over it. Tuck any overhanging ham in. Squeeze or spread a little Dijon on the ham. Insert the meat and cheese with mustard between two slices in the bread. Fold the cheese in if it sticks over the edge.

Put the sandwich loaf into the baking dish. You may need to do so in a few pieces like I did. Fill up the dish.

Whisk together the Eggbeaters, milk, and nutmeg. Pour slowly over the sandwich so it has time to absorb. Drain off and repour if a lot of the mixture settles at the bottom. A little is not a problem. It will absorb.

Now, Squeeze Parkay over the top of the dish. No need to be fussy, but try not to have lines much more than an inch to an inch apart anywhere. Take extra care to get edges.

Bake for 30-35 minutes until golden brown. Be watchful near end, so neither bread nor ham burns.

Serve with pure maple syrup or strawberry preserves.
Nutrition
Calories:
679
kcal
|
Carbohydrates:
40
g
|
Protein:
27
g
|
Fat:
46
g
|
Saturated Fat:
23
g
|
Cholesterol:
51
mg
|
Sodium:
1141
mg
|
Potassium:
327
mg
|
Fiber:
3
g
|
Sugar:
23
g
|
Vitamin A:
895
IU
|
Vitamin C:
0.2
mg
|
Calcium:
214
mg
|
Iron:
2.6
mg