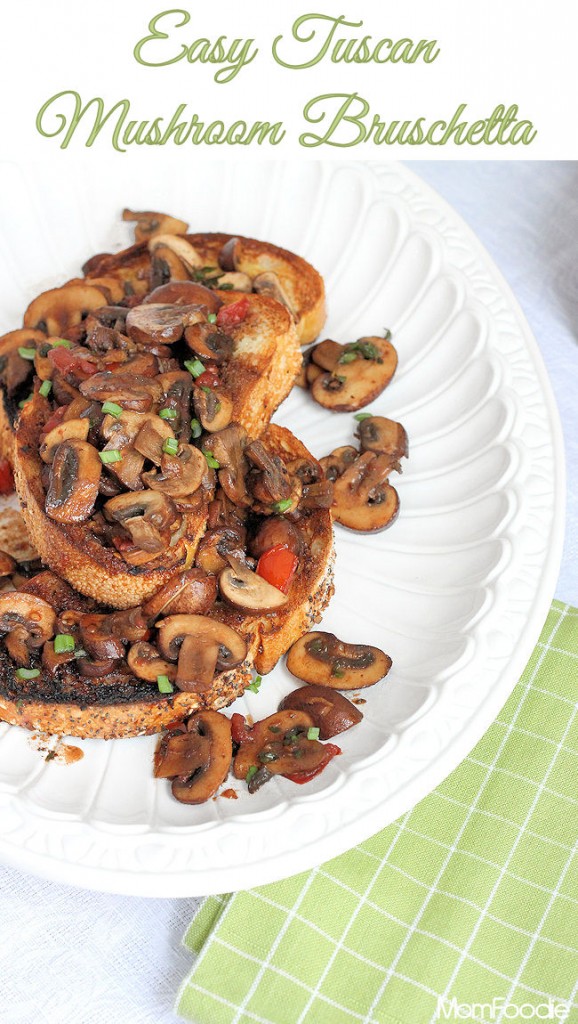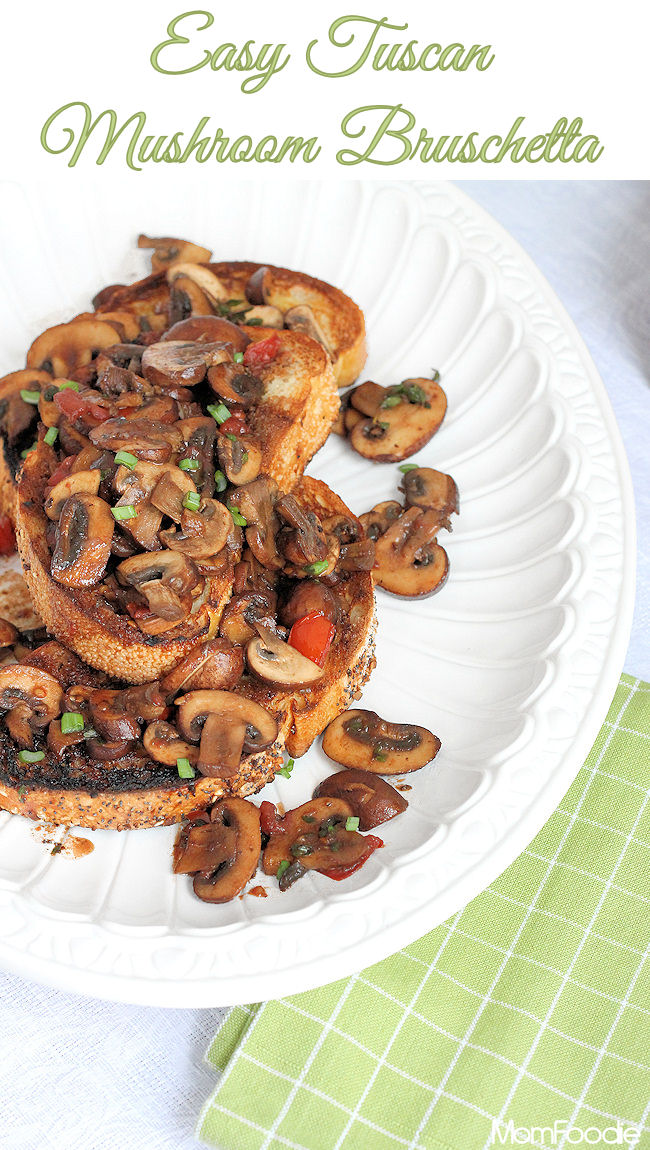 This easy mushroom bruschetta recipe was made for my dinner a couple days ago. While my 5 year old has not yet cultivated a taste for mushrooms, I adore them, and often incorporate nutrient dense fungi into entrees as a flavorful low calorie meat extender or substitute .  Since mushrooms are also an outstanding source for Riboflavin, Niacin, Pantothenic Acid, Phosphorus, Potassium, Copper and Selenium, in addition to providing many other essential vitamins and minerals, they work in well with my nutritional goals.
I find mushrooms to be a flexible ingredient, that is easy to add into a wide array of appetizers, soups, sides and entrees, but if you are a bit stumped about using the, no worries, the Mushroom Council has set up a whole Mushroom Channel to help you out.  It is a fun website (mushroominfo.com) packed with tasty recipes and nutritional information about mushrooms, teamed with social media.  One of the feature's on the website that many of you will find useful is the swapability  tool,  which guides you toward easy ways to start adding mushrooms to your family's diet.  Be sure to follow their social media accounts too ( Facebook and Twitter).  They are excellent resources as well.  Personally, I particularly like their Pinterest boards.
In the meantime, here are a few quick tips from the Mushroom Council to help you add mushrooms into your daily eating.  Why not try  some some of them in honor of National Nutrition Month.
Slimmer Suppers. Swap mushrooms for some of the meat in dishes like pasta sauce, burgers, tacos and meatloaf to create a healthier version of classic recipes.
Meatless mains. Mushrooms' hearty texture makes for a satisfying meat replacement.
Bold breakfasts. Start your day with a dose of vitamin D – mushrooms are the only source in the produce aisle.
Lighter lunches. Use mushrooms and meat for a filling midday meal.
Stand-Out Sides. Sautéed mushrooms are an easy way to add flavor and nutrients including B vitamins and potassium.
Awesome Appetizers. Get antioxidants like selenium with pre-meal mushroom morsels.
Snack Time. At just 20 calories per cup, mushrooms are perfect for stuffing with a variety of ingredients, from herbs to cheeses.  The perfect bite-size snack for the mid-day hunger craving.
*In addition, Mushroominfo.com has a full recipe database that can be referenced for mushroom inspiration.
I have one more thing to share with you before moving on to the recipe.
A Twitter Party!
Time: Wednesday, March 20th 8-9 PM EST.
Hashtag: #MushroomDish.
(RSVP link, along with more information will be added once it goes live)
The party will be about everything mushrooms, from their versatility, to their unique flavor qualities.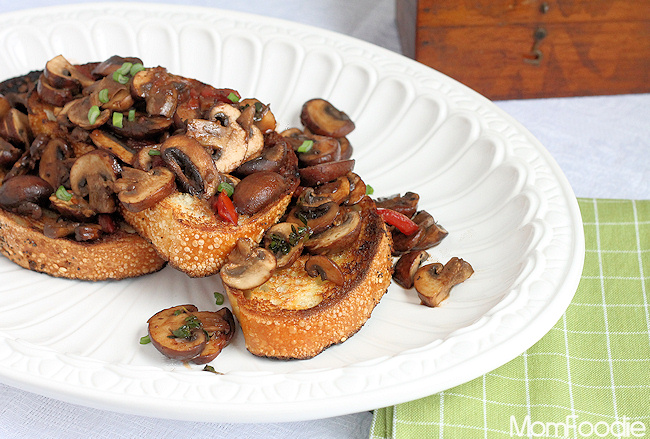 Mushroom Bruschetta
Tuscan Mushroom Bruschetta recipe
Cuisine:
Italian, Vegetarian
Ingredients
3-4

large slices of crusty bread

1-1 1/4 " thick

olive oil

10

oz

of Crimini mushrooms

also known as, baby Portabellas

2

tbs.

butter

2

cloves

of garlic

crushed/minced

3-4

sprigs of thyme

1

tbs

balsamic vinegar

1

tbs

dry red wine

1/3

cup

msg-free chicken or vegetable stock

1/2

a medium sized ripe tomato

chopped

salt & pepper to taste
Instructions
Baste the bread with olive oil and broil, flip once crispy and lightly browned. Remove to cool after other side is also crisped.

Cut the mushrooms into thick slices.

Put butter in non-stick skillet over med heat. Once melted add garlic and thyme.

As soon as the garlic is tender, add mushrooms, saute lightly.

Add the balsamic, wine, stock, and tomato, turn heat up to med-high. Stir until liquid is still thin, but reduced by about 1/3.

Add Kosher salt and fresh ground black pepper to taste, then pour over the toasted bread.

Serve as is, or top with chopped scallions or crumbled goat cheese.
Recipe Notes
*This makes two entree portions, if you prefer to make a meal of it.
* This post is brought to you courtesy of the Mushroom Council.  All opinions and the included recipe are my own.