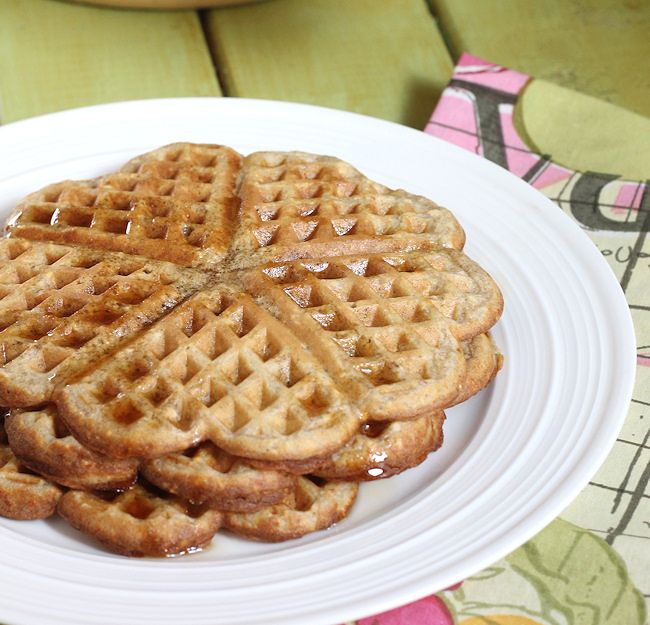 This Cinnamon Oatmeal Waffles recipe is sure to become a family favorite in no time. Both kids and adults will love these tasty heart-smart waffles.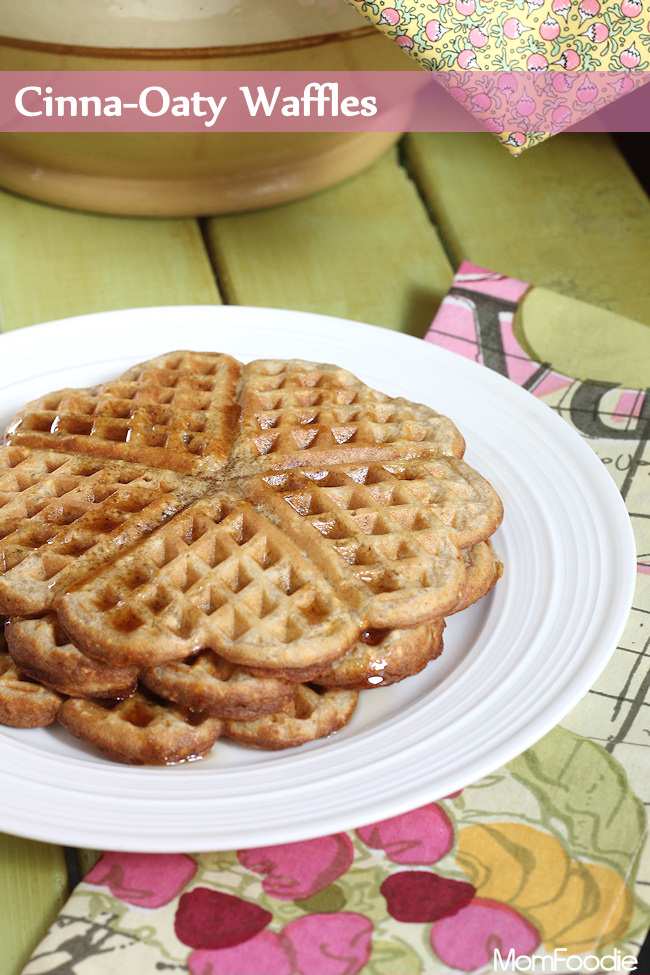 My little girl has a new weapon in her culinary demands arsenal.  The Waffle Maker.  Little Foodie is mostly non-verbal still, despite  extensive therapy and great strides in other areas.  She uses a combination of pictures, associated items and pointing to request what she wants.  Well, I have been getting the waffle image card quite a bit over the past few weeks.  She is rather pleased with this new piece of equipment, to say the least.
The new waffle maker is a Chef's Choice WafflePro Taste/Texture Select Model 840 "Five-of-Hearts".  It is a small but heavy duty unit, that is very easy to use & perfect for fussy foodies like my daughter and I.  It has a button to select "deep bake" for more uniform texture  or "crisp exterior" for quicker waffles with crispier outsides and softer inside.  There is also a numbered dial to select how browned you want your waffles to be.  Other than adjusting the setting to your liking and plugging it in, there is little left for you to do other than wait til it tells you it is ready to bake, add a 1/4 cup of batter, close the lid and wait til it tells you the waffle is done.  Easy as pie (or waffles in this case).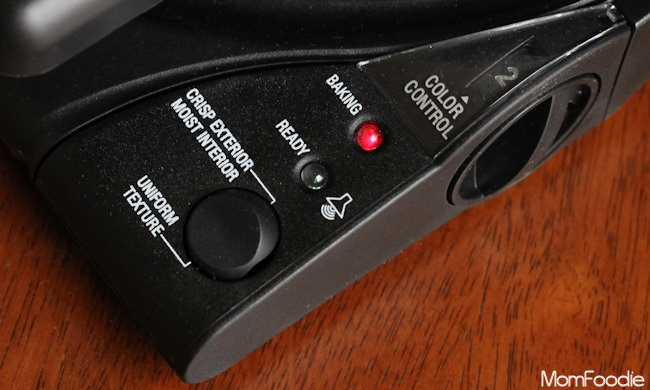 I picked this small heart shaped maker, since there are only two of us in the house and the waffles can be broken up into little heart shaped wafer cookies too.  It is great and I am happy with it, but now that I am aware of my daughters voracious appetite for fresh waffles, I'll probably be looking into adding a deeper Belgian waffle maker to my equipment closet soon as well.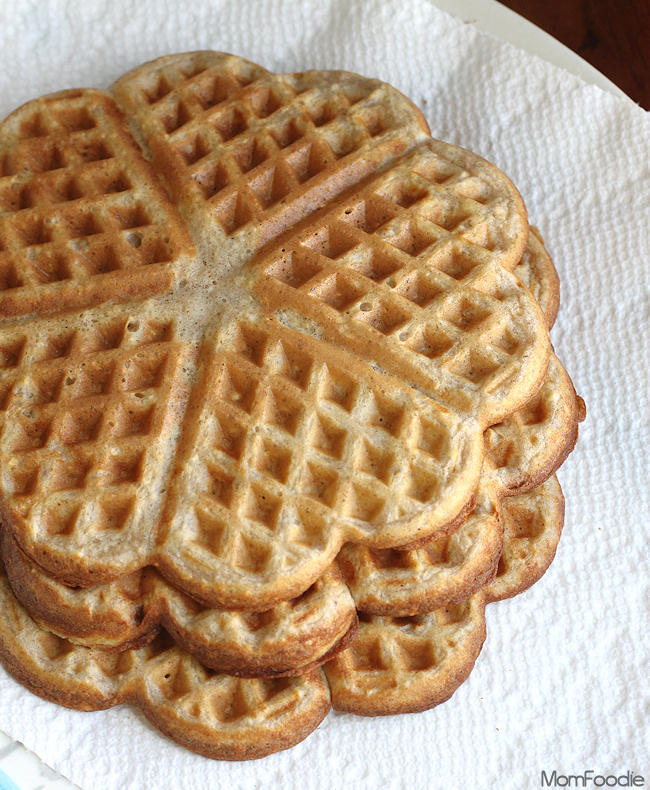 In the meantime, I've already made several types of waffles in our little heart waffle maker.  Here is a simple Cinnamon-Oatmeal Waffle recipe that she and I both enjoyed.  I used a recipe from an early 1960's version of the McCall's Cookbook, as a rough template for the flour, liquid & leavener ratios, and free-wheeled it from there.
Print
Cinnamon Oatmeal Waffles Recipe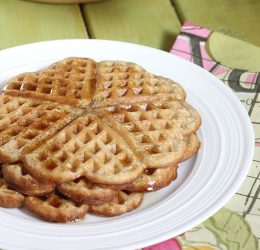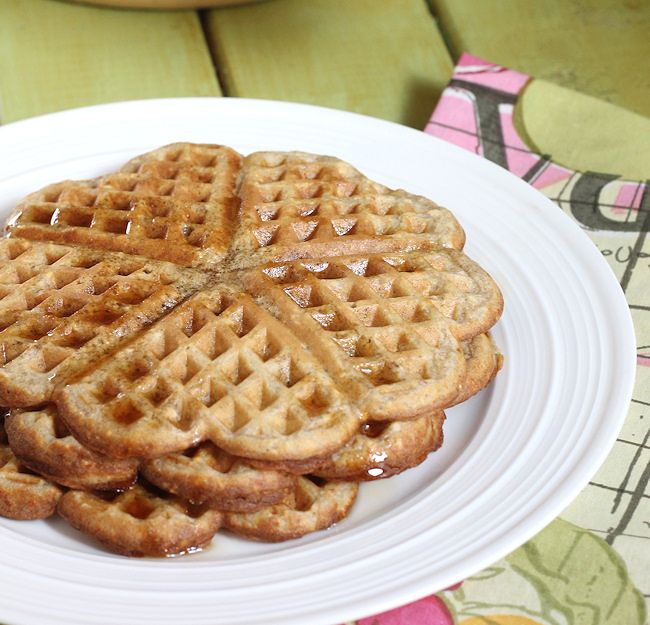 Cinnamon Oatmeal Waffles Recipe
Author:

Robin Gagnon

Prep Time:

7 mins

Cook Time:

15 mins

Total Time:

22 minutes

Yield:

4 -5 waffles

Category:

Breakfast
Ingredients
2/3 cup flour
1/2 cup old fashioned oats
1/2 tsp salt
1/2 tsp baking powder
1/2 tsp baking soda
1/2 tsp cinnamon
2 eggs
1 cup buttermilk
2 tbs melted butter or oil
1 tsp vanilla
Instructions
Turn your waffle maker on to preheat. (I used crisp through setting on medium darkness, since my daughter loves both crunchy and chewy textures)
Put dry ingredients in food processor and pulse until oats are ground.
Whisk together wet ingredients in batter bowl, then add the dry mix and stir until smooth.
Scoop out appropriate amount of batter for your maker and pour onto plate (mine takes 1/4 cup). Bake as directed by your equipment.
Remove to plate lined with a kitchen towel or paper towels, so you won't end out with soggy waffles on the bottom.
Serve with syrup, butter or plain (like my daughter prefers).