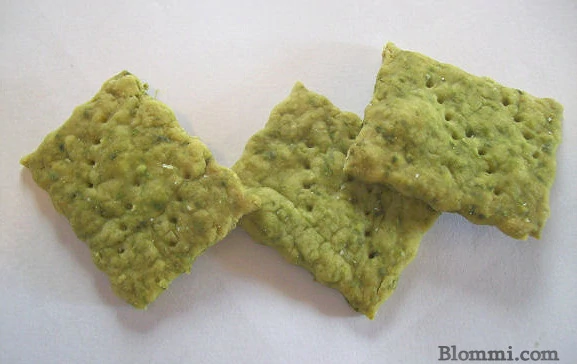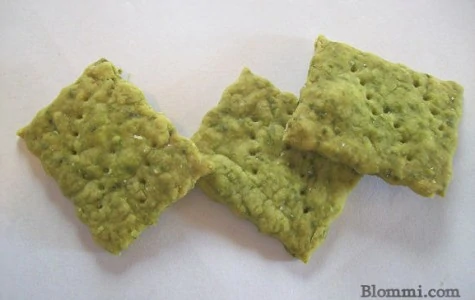 Homemade Spinach Crackers are a sneaky way to get your kids to eat their vegetables.
This recipe was developed , as a way of sneaking vegetables into my fussy toddlers diet.  She loves crunchy stuff, but just plays with her vegetables.  My devious plan... infiltrate the crunchy crackers she loves, with spinach.
I have made this recipe a couple times now, and my daughter eats the crackers, without complaint.  Sure, she would rather have Cheez-its, but Miss Fussy will eat them.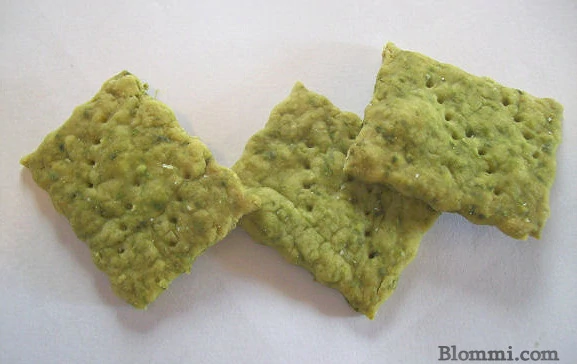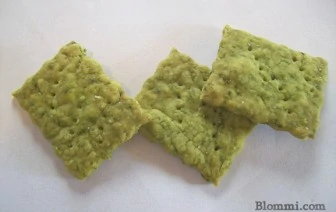 Ingredients
⅓

cup

of frozen loose leaf spinach

¼

cup

oil

I use olive oil

½

teaspoon

kosher salt

or powdered chicken bouillon, like Goya

1

and ½ tbs water

½

teaspoon

baking powder

1

cup

flour
Instructions
Preheat oven to 375 degrees.

Puree the spinach, oil salt, baking powder and water in a food processor or blender.

Combine the flour and the spinach mixture, either in the food processor, or a mixing bowl.

Knead the dough and form it into a nice ball.

Roll the dough out on a well floured surface. The dough should be rolled out very thin (like pasta dough).

Put the dough on a floured baking sheet.

Use a pastry cutter to cut the dough into squares.(a pizza cutter or knife will do if you don't have one)

Prick each cracker 2-3 times with a fork.

Bake for approximately 20 minutes. Thinner crackers and those on the edges will cook faster. Pull them out, and continue cooking those that are still soft. Crackers will crisp a bit more during cooling, but should be somewhat crisp when removed.

Crackers should be put directly on a kitchen towel to cool, to maintain their crispness.
Notes
This recipes will make a batch of spinach crackers equal to about ½ a regular size box of crackers. Store in an airtight container.
The recipe is easy to make and composed of basic ingredients, that most home cooks will have on hand.  I decided to use an all purpose flour for these crackers, over whole wheat, to insure a good "crunch" factor.