Spinach Pie Rolls are a delicious vegetarian appetizer, that will be a hit at any party.

The hectic  holiday season is about to kick into full swing.  It's very helpful this time of year to keep a variety of appetizer recipes handy, so you won't get thrown off at the last minute by pop-in guests or your sister-in-laws newest diet of the week.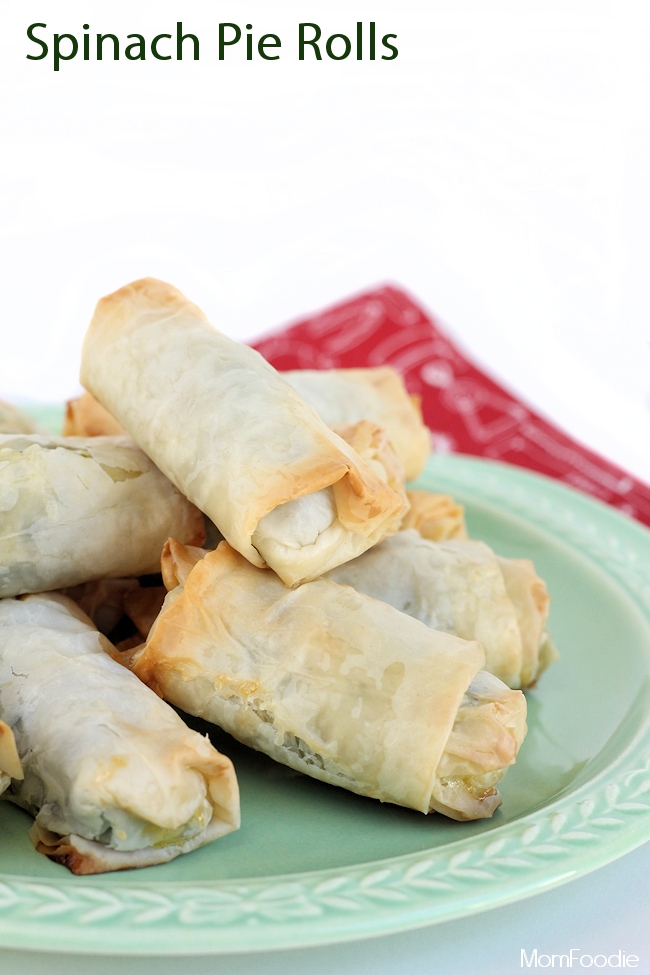 Frozen & Refrigerated foods can be exceedingly helpful, especially this time of year. The recipe I've shared below is an excellent example of that.  A  box of frozen spinach can be kept on standby in your freezer for an extended period of time. As we all know fresh spinach doesn't last too long, and in a recipe such as this frozen is actually better.  It has been frozen at peak freshness & takes up far less room.  Phyllo sheets are another great item to keep stocked in your freezer, it is perfect for whipping up appetizers or desserts.   A few selections from the refrigerated dairy section will ensure you can tie any recipe together.  The feta used in the recipe below has a relatively long shelf life, and adds a lot of flavor satisfaction.   The rest of the ingredients used in this recipe are commonly on-hand in most households.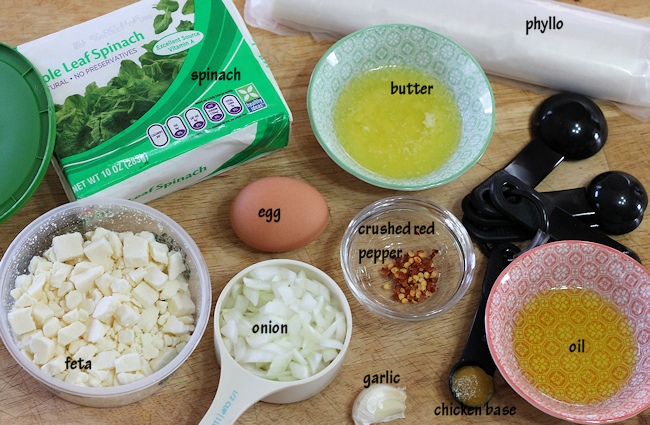 I don't mind spending a little time making short warning guests some fun things to nosh on, but I am not about to run out to the store (I will probably be too busy tidying up anyway).  I also think when you only have a few guests, people often feel more comfortable hanging out in the kitchen.  As long as you have a spot for them to sit, which is out of your work triangle, it gives them something to watch and discuss with you.  It feels homey rather than stuffy.
... and with this recipe, you could totally put them to work, rolling up phyllo.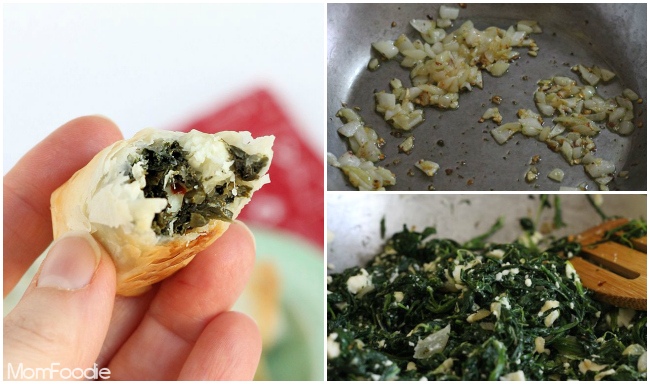 Another unique appetizer roll you may enjoy is my Chilis Southwest Egg Rolls recipe, which is prepared in the air fryer.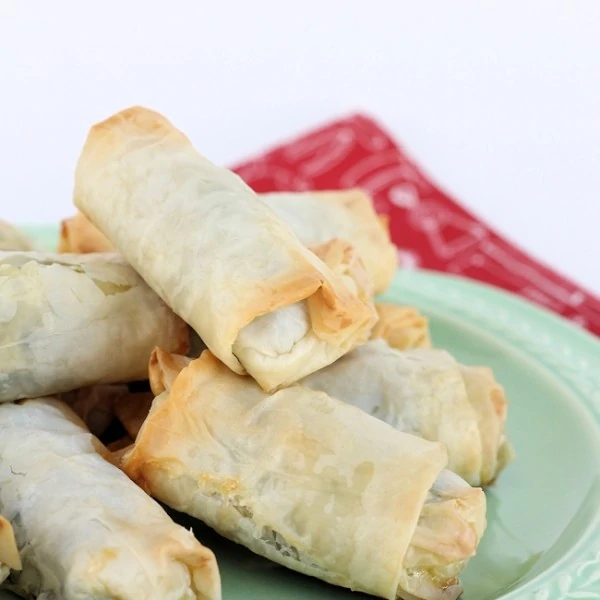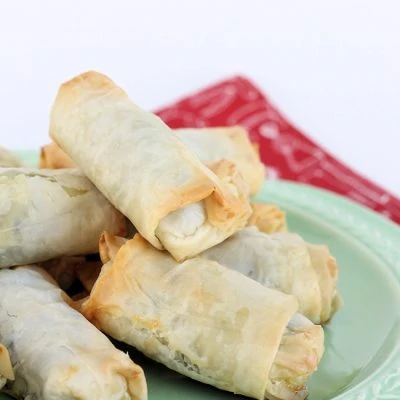 Ingredients
1

tbs

oil

plus oil for baking

½

cup

chopped onion

1

clove

of garlic

minced

¼

teaspoon

crushed red pepper flakes

½

teaspoon

chicken or vegetable base

10

oz

box frozen spinach

thawed

1

egg

4

oz

crumbled feta

¼

cup

melted butter

frozen Phyllo sheets
Instructions
Place oil in skillet over medium heat. Once hot, add onion & garlic. Saute until lightly browned.

Squeeze out most of the liquid in spinach, stir the spinach, red pepper seeds and base into the onion pan, until well mixed, then remove from heat. Set aside.

Beat one egg in small bowl, set out on work area. Place small bowl of melted butter out as well, with a basting brush for each.*

Mix the feta into the spinach, until evenly distributed.

Preheat oven to 375 degrees.

Lay out one sheet of phyllo at a time, recovering the rest with plastic wrap each time. Baste the sheet lightly with butter, then fold in half long side to long side.

Place a 2 tbs size scoop of the spinach-feta mix about an inch in on one side. Fold edge over the mix, then baste egg mixture on inner corners down edges and across the opposite side of the long sheet.

Once basted with egg wash, tuck inner edges in and roll to end the egg wash on the end will seal the roll.

Place the rolls on baking sheet lightly coated with oil, mist or baste the rolls with oil. Bake for approximately 10 minutes.
Notes
* if you only have one basting brush use it for butter, and use small spoon or fingers for egg wash.