DIY Surprise Inside Halloween Witch Hats edible treat boxes tutorial are a Halloween Party Treat the kids are sure to love. A simple fun Halloween food craft, that will look fantastic on your party table.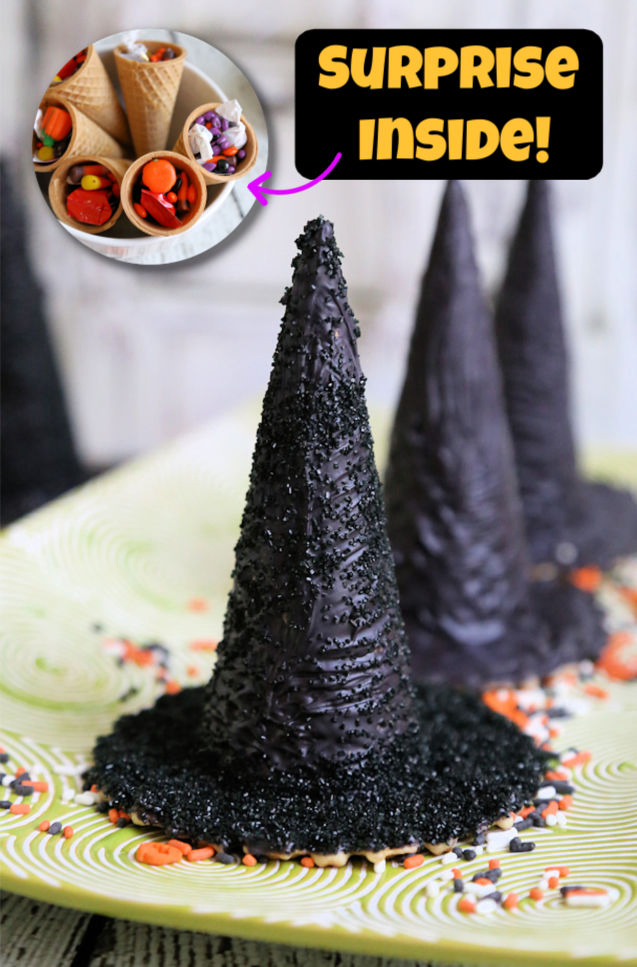 My daughter has been absolutely obsessed with surprise inside eggs and such over the past month or so. She watches videos over and over of kid's opening these treat containers to expose the surprise inside. As I was about to start working on Halloween Party Treats anyway (my favorite holiday), I came up with these Surprise Inside Halloween Witch Hats Edible Treat Boxes ... and she loves them.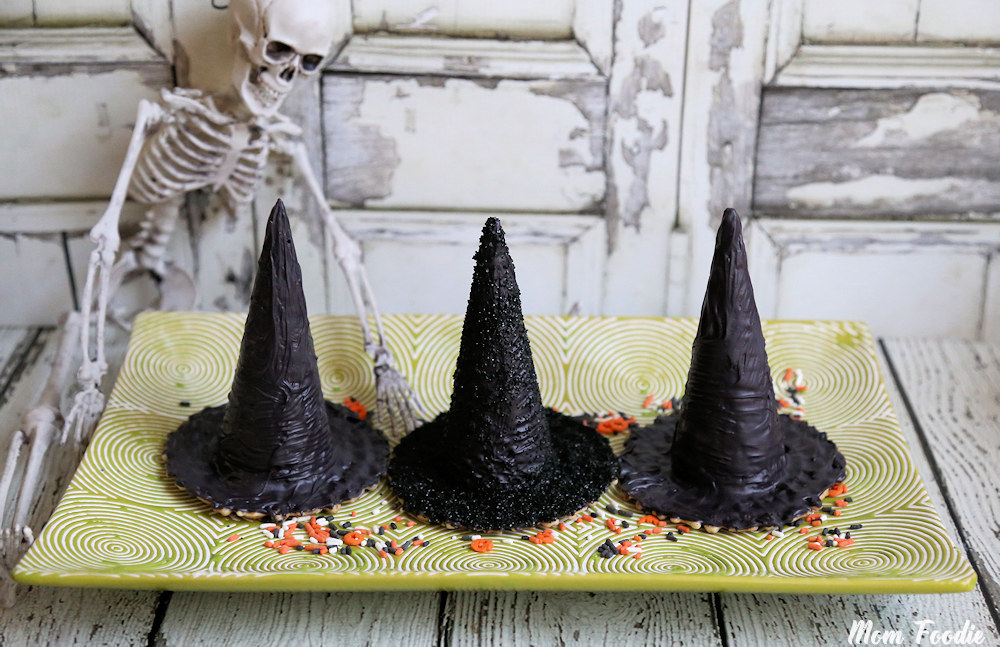 The Halloween witch's hats are simply constructed from sugar cones, Italian pizzelle cookies and black candy melts. They are easy to make and each has a pretty good amount of space inside to stuff small candies, stickers and even tiny toys. Of course, the best part is that the edible treat containers themselves are pretty yummy.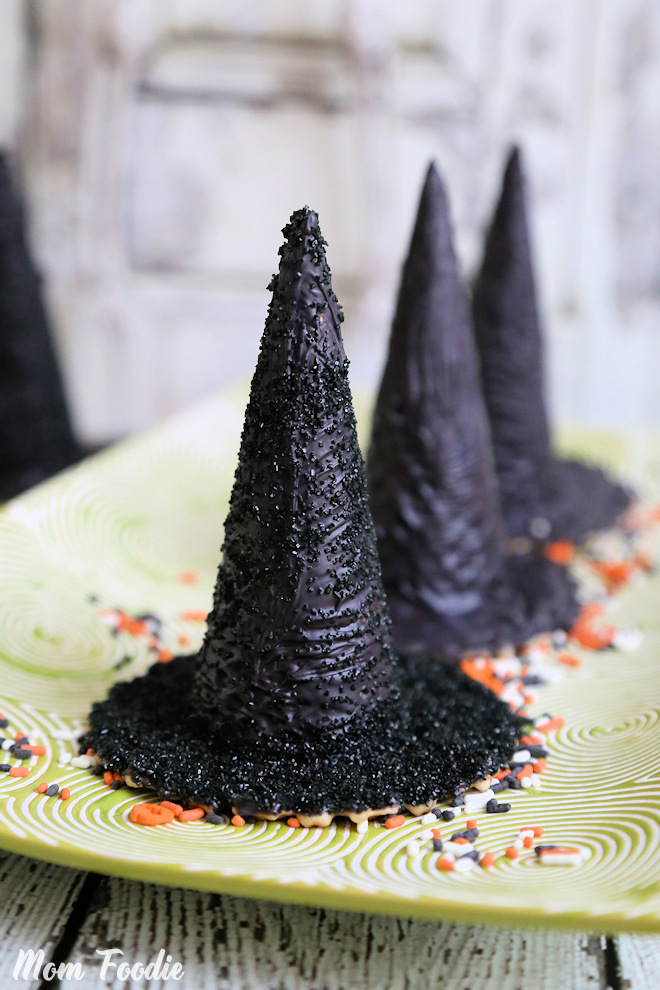 They will look fantastic on your Halloween party table too. Team them with my Witch's Broomstick Snacks  and Jell-O Witch's Stew Cauldrons for a full Witch themed party spread.
Surprise Inside Halloween Witch Hats Tutorial
Here is an easy visual tutorial to make these Halloween Witch Hat edible treat containers. Full printable recipe below.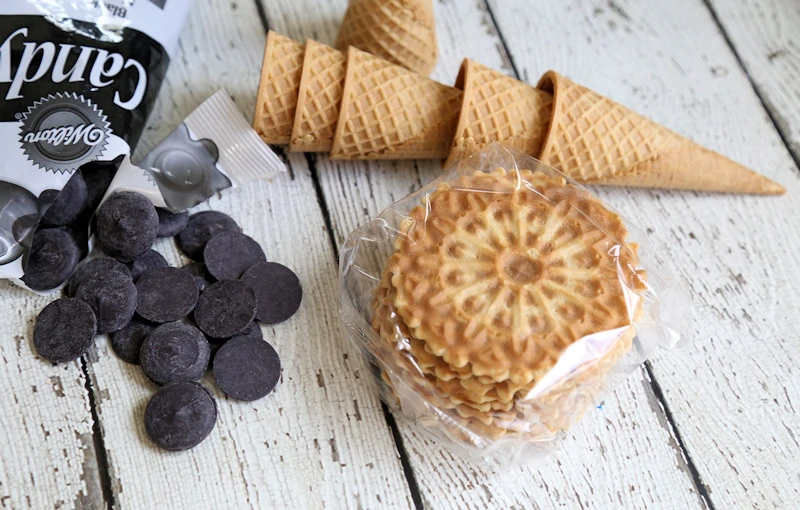 The hats themselves only require three items to make.  Sugar cones
, small Italian pizzelle cookies
and black candy melts
.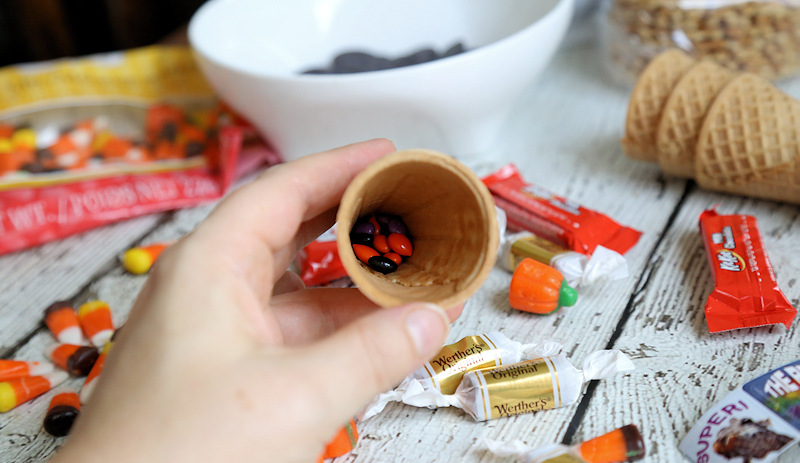 First, fill the bottom of each sugar cone with some small candies.  I used chocolate candy coated sunflower seeds
, but small M & Ms or similar candy would also work well.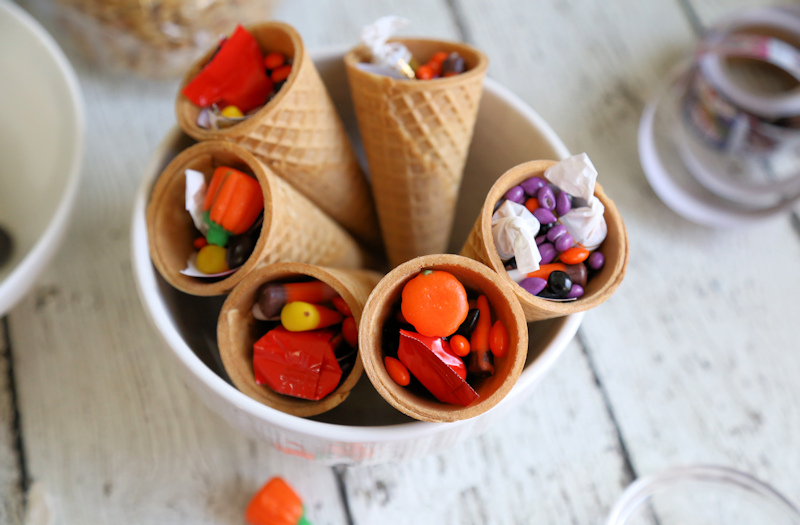 Then stuff with other small candies, stickers
and even tiny toys
.  While you want them nice and full, make sure not to fill any higher than edge of cone.
Tip:Stand them up in a deep bowl as you work.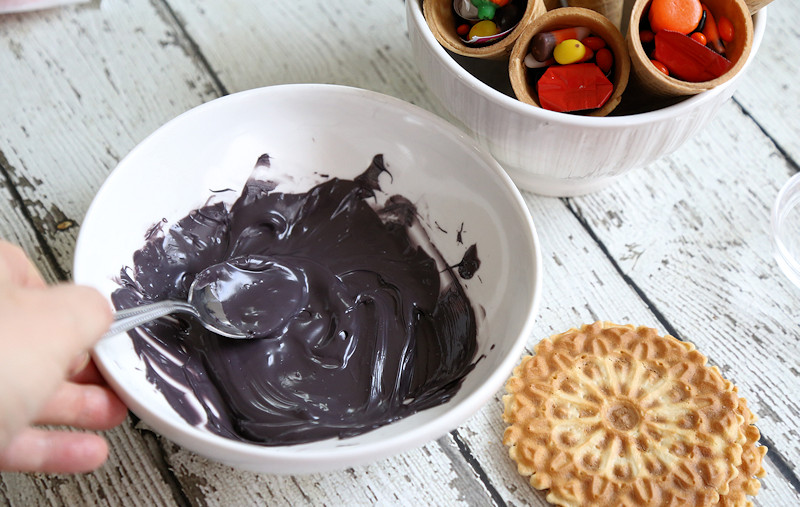 Next zap some candy melts in 20 second intervals, stirring between each. Stop when melting, but still has clumps. Continue stirring until those dissolve.  Over melting, can make the candy dull or ruin it completely.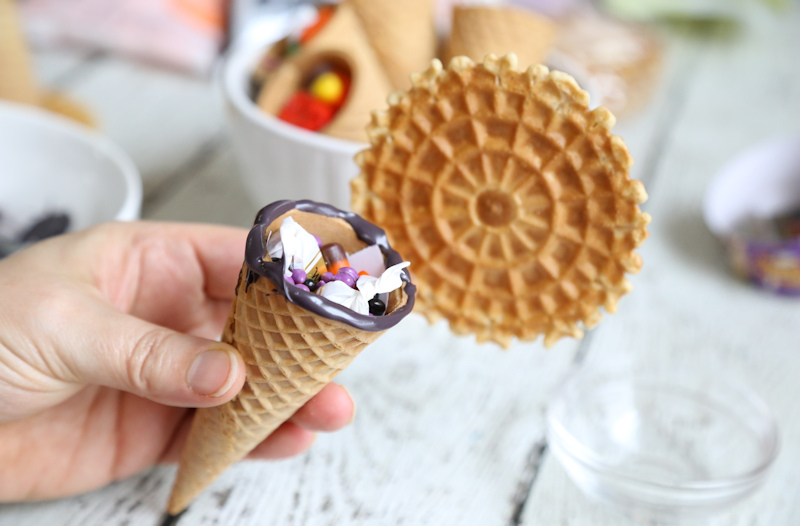 Use the back of a spoon to spread candy generously around the edge of the sugar cone. Try not to get it inside, but don't be too fussy.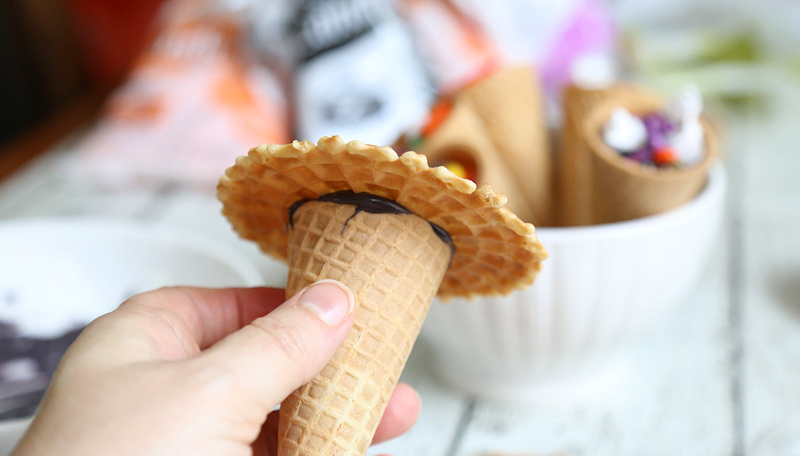 Center a pizzelle cookie
on the cone and gently press down. Support the bottom as you flip the hat over to cool.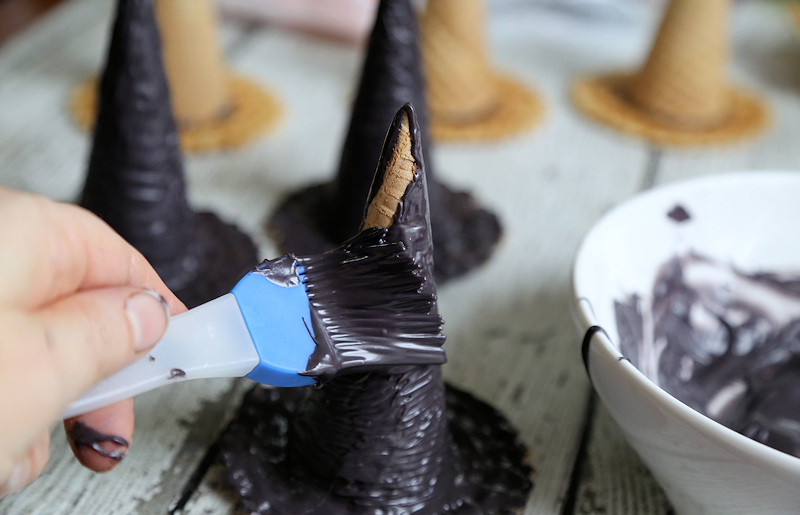 Melt some more candy and brush it onto the cone and top brim of each witch hat. If you want to add sprinkles do it immediately after applying the candy to each.
Make application easy...
&
Bekith Silicone Basting Pastry & Bbq Brushes (Set of 4, Colorful) , Heat Resistant Kitchen Utensils - Dishwasher Safe- Soft and Flexible- Essential Cooking Gadget, Bakeware Tool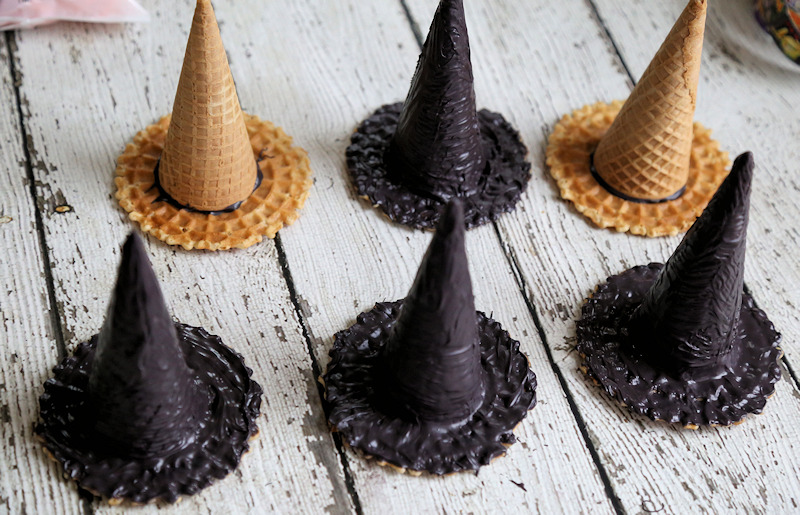 Don't worry if candy is thicker at seam.  This will strengthen the hats. Allow them to cool and fully firm up before serving or storing.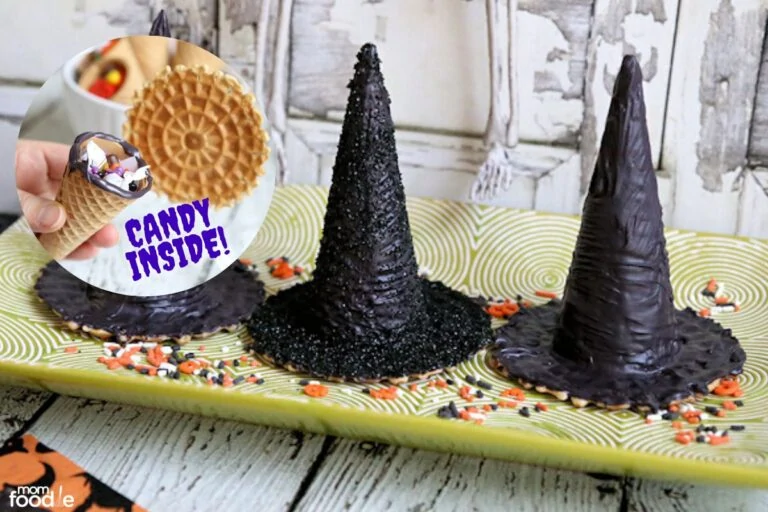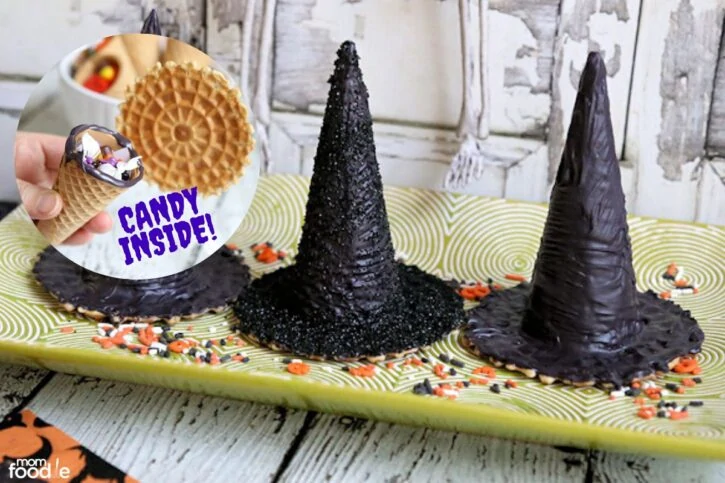 Unless your weather is rather humid, these should be fine left out for up to 24 hours.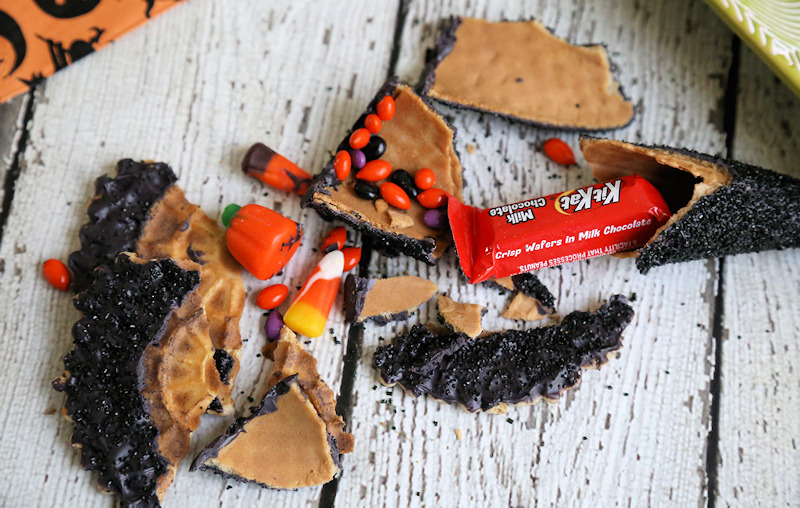 To serve kids can break the witch's hats apart any way they choose to get at the Halloween surprise inside.
Surprise Inside Halloween Witch Hats Printable Recipe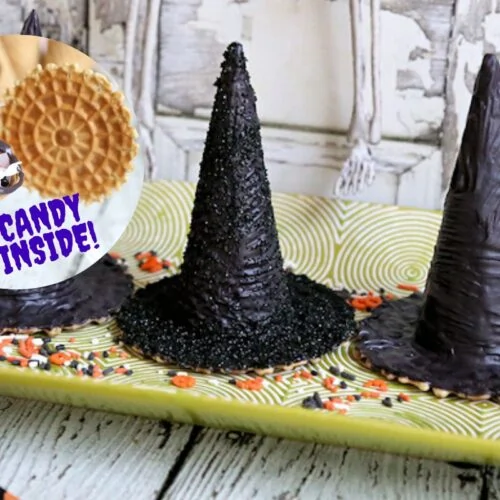 Surprise Inside Halloween Witch Hats : Edible Treat Boxes
Halloween Witch Hats : Edible Treat Boxes, Surprise Inside Halloween Candy Containers
Print
Pin
Rate
Ingredients
12

sugar cones

Italian pizzelle cookie*

bag of black candy melts

sprinkles **optional**

small candies

stickers or tiny toys to fill with
Instructions
Unpackage the sugar cones and pizzelle cookies. Remove any broken cookies.

Fill bottom of each cone with tiny candies, then top off with more candy, stickers and tiny toys. Fill well, but not higher then edge of cones. Use one or two small deep bowls or even mugs to hold the filled cones.

Take about ½ a cup of black candy melts and micro wave in 20 second intervals, stirring with a teaspoon after each, until they are melting well, but still some is solid. Remove and continue to stir until rest of candy is dissolved. (take care not to over cook, it will ruin the candy).

Use the back of the teaspoon you have been stirring the candy melts with to apply melted candy around the edge of a filled sugar cone. Then center one of the pizzelle cookies over the candy coated edge and gently press down to adhere. Support the bottom of the cookie with your hand as you carefully flip over and set the witch hat down to cool**. Repeat until all the hats forms are constructed. Allow to cool at least 15 minutes.

Once cool, melt more of the black candy melts in approximately ½ cup batches to coat the with hats. A silicone basting brush applies the candy well. Don't coat bottoms. **if adding sprinkles do so immediately after coating each hat while candy is still soft**

Leave out to cool and harden. (plan on at least an hour unless your room is cold)
Notes
*get package with minimum of 18, some may be broken though not visible
**if you accidentally break the seal, just stuff the treats back in and apply more candy melt
More Halloween Party Food Suggestions