This DIY Cinnamon Broom Lighted Fall Garland project is brought to you in collaboration with Enbrighten Cafe String Lights.
Fall is one of my favorite times of the year. The weather is enjoyable, and the seasonal changes bring a sort of excitement to the air. The vibrant colors of autumn leaves and harvest vegetables are grounded by earthy browns.  Since I love this palette so much, as well as the forest findings of autumn, I decided to create a Cinnamon Broom Fall Garland entwined with nice large Cafe String Lights to top off the large doorway that separates the areas of my double parlour.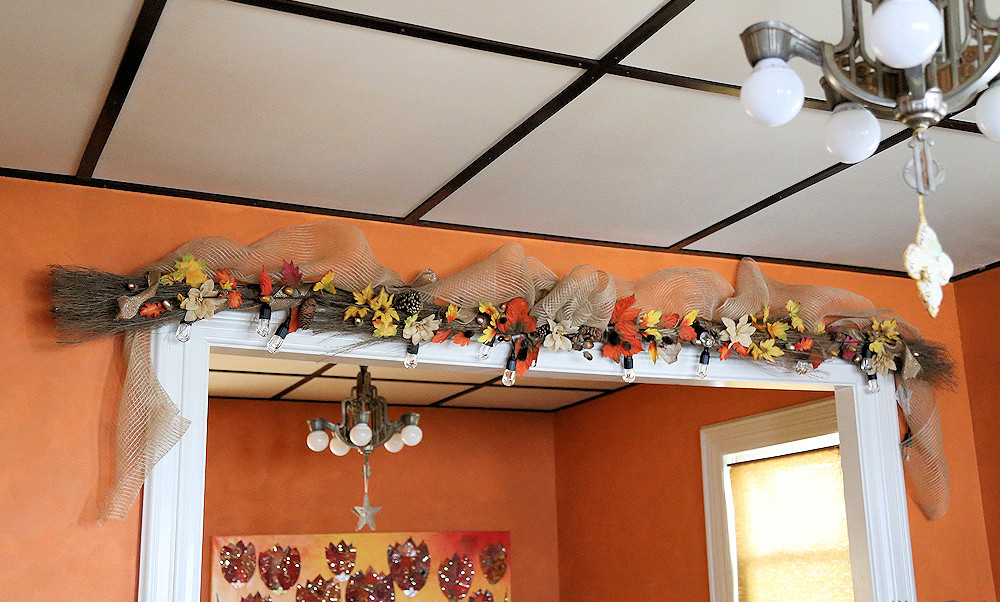 As you can see in the pictures, my love of these colors is not limited by season.  It is the palette in here year-round.  So, I really wanted to make this lighted garland scream fall.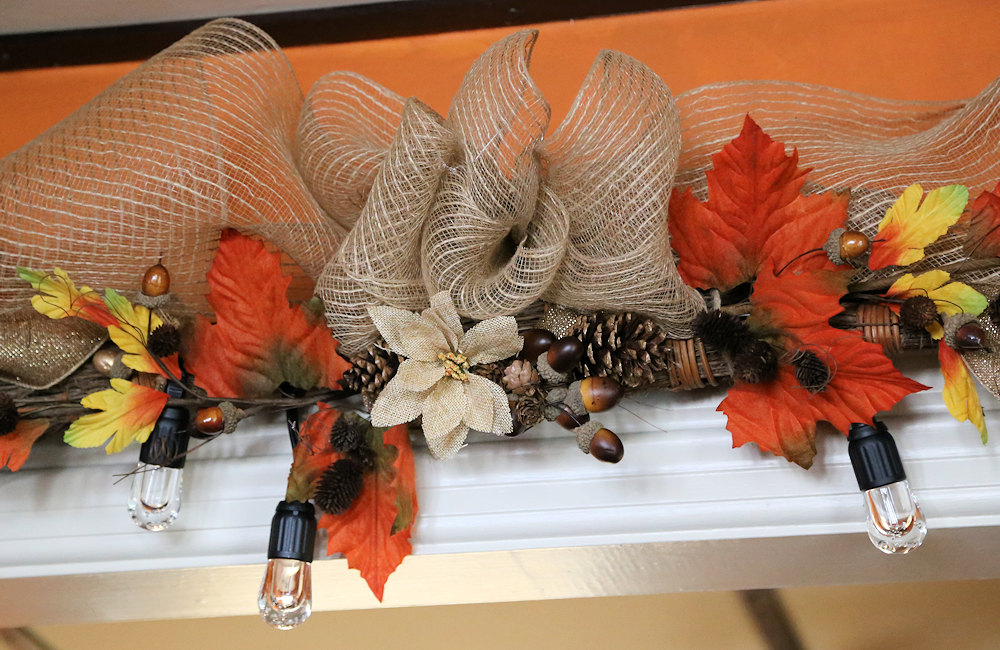 Plenty of vibrant silk autumn leaves were added to the garland.  They were offset by various natural brown tones and a hint of gold.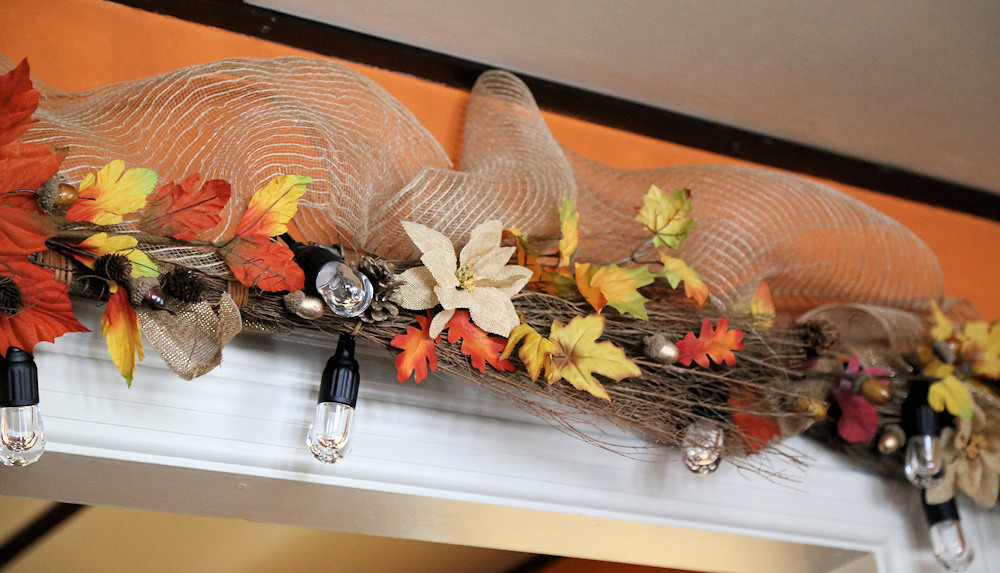 The cinnamon brooms not only provide a nice textured base for the fall forest items, but are an autumnal  tradition themselves.  (Since the cinnamon scent can be a bit overpowering, especially in numbers, I set these out in the sun for a few hours before using them. This made the scent pleasantly subtle.)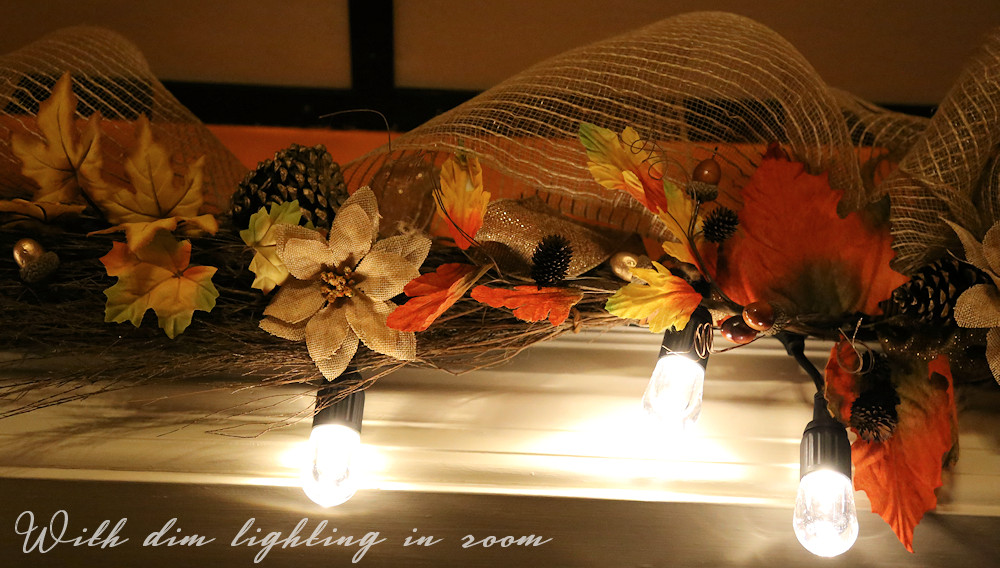 The Enbrighten Cafe String Lights I used on the project add just the right amount of festive sparkle to a softly lit room.  I think it looks inviting. By using a TouchSmart Timer  with the lights, I have them set to turn on shortly after dusk and turn off around when I go to bed.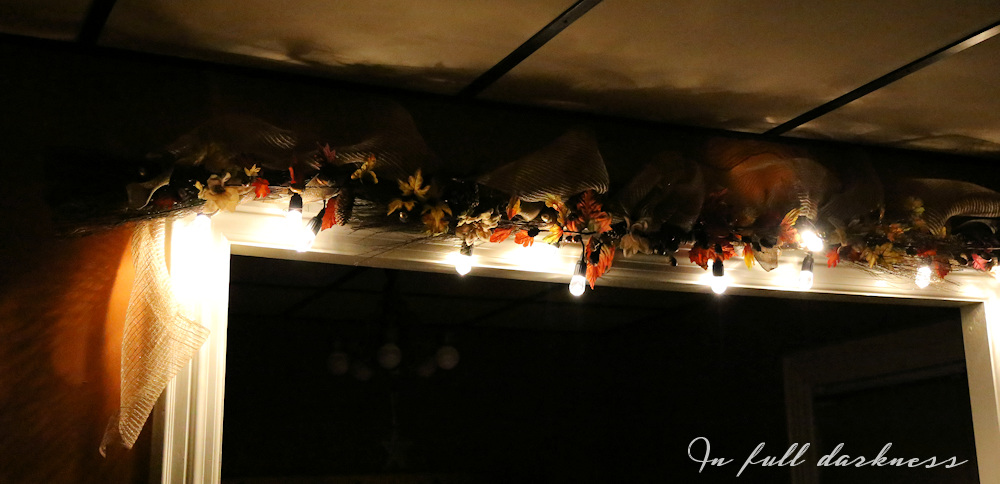 When all the room lights are off, the Cafe Lights on the Fall Garland provide ample lighting to relax and watch a movie. It sort of covers atmosphere for all my entertaining needs. I am actually thinking of making a matching garland to top the frames of my bay window.  It looks rather naked now in comparison.
Making the Cinnamon Broom Fall Garland with Cafe Lights
I assembled the garland right on the spot, with intention of disassembling it after Thanksgiving.  This is so I can reuse the Cafe Lights for other purposes, as they are made for both indoor and outdoor use. If you prefer a more permanent reusable garland, I would assemble it on a narrow (1"x 2" or 1" x 3") piece of lumber the length you want your garland to be. I would also make sure to secure each addition with glue.

The Enbrighten Cafe String Lights each conveniently have a hanger on top.  I strung them above the door casing by simply tapping in a finish nail on the casing top and hooking the lights on.  This securely holds lights in place and the nail holes will not be visible when removed. My doorway is 7 ft wide, so a 24 ft set of Cafe String Lights was able to be strung across three times.

I then added the cinnamon brooms as a fun seasonally appropriate base for decorative autumn leaves and such I would add.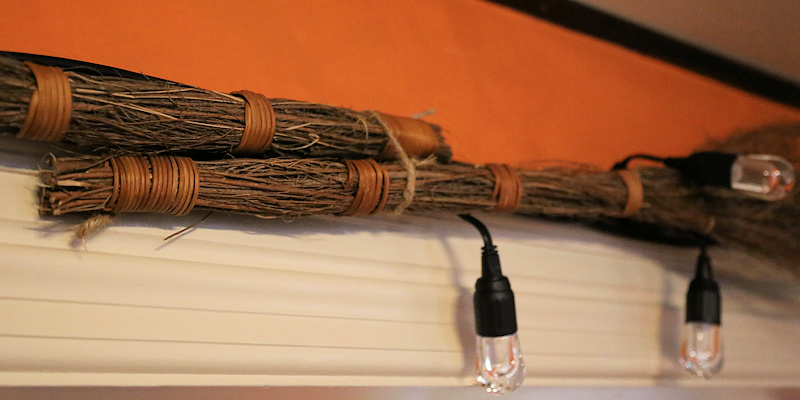 The brooms were tied to the lights and the nails helped with securing these as well. While most of the lights were left to dangle slightly below the cinnamon brooms, when two were close to each other, one was looped over the top instead to create a more random appearance.

I then loosely wrapped gold wired ribbon around the broom handles and made a simple gathered burlap ribbon for the top. If using the full length of the ribbon is a struggle, cut it into 2-3 pieces, just make sure to tuck the edges under. I used a floral pin I had on-hand to attach the bow, but a bit of hot glue could do the trick if you don't have one.

Some of the more subtle "floral" sprigs were just carefully tucked into the brooms lengthwise to attach. Others like the burlap flowers were snipped off the spray with wire cutters, then tucked in. A few random leaves, acorns and pine cones were adhered with hot glue as finishing touches. All the floral elements should be secured with glue, if you want to reuse the garland without reassembly in future years.
More About Enbrighten Cafe String Lights & a Giveaway!
The project above is just one of many ways Enbrighten Cafe String Lights can brighten your life. As I mentioned above, these are sturdy indoor/outdoor lights that are built to last year round outdoors. They are perfect for accenting buildings or landscape with useful and beautiful light.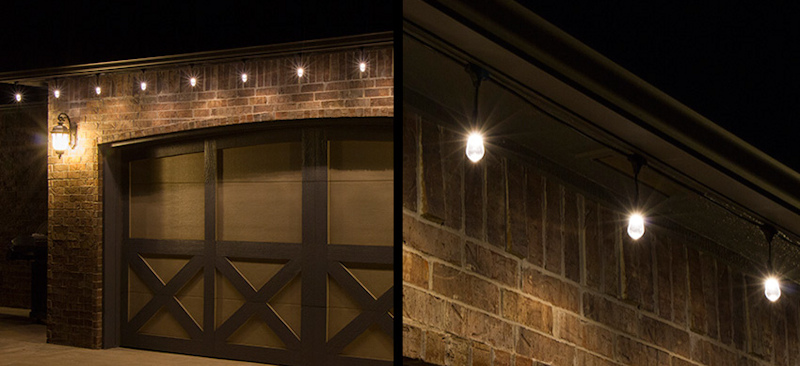 Obviously the durability of Enbrighten Cafe Lights by Jasco does not preclude their indoor use, as my project shows.  These versatile lights can handle anything from carrying your outdoor party from day into evening with ease, to adding a bit of modern drama to your office or bedroom. The only limit is your imagination. By utilizing a TouchSmart Timer with the lights, you can just set it and forget it. You will always have the added safety and ambiance of these lights when you need it.
These Cafe Lights are energy efficient LED, impact resistant and weather proof. The lights are available in an array of sizes to meet all our needs.
Giveaway
Enter to win a $250 Amazon gift card! Now that could buy you a lot of lovely Cafe Lights!