Let's make some homemade Yum Yum Sauce (aka Hibachi sauce). The recipe tastes just like the sauce they serve at your favorite Japanese Steakhouse. The popular pale pink sauce recipe is easy to make and it is certainly tastier than store bought versions of hibachi Japanese steakhouse sauce.
Use as a dipping sauce for grilled chicken and other meats, sushi and appetizers or pour Yum Yum sauce over your fried rice or noodles... so good! The yummy sauce is even great as a hamburger condiment or to dunk sweet potato fries into.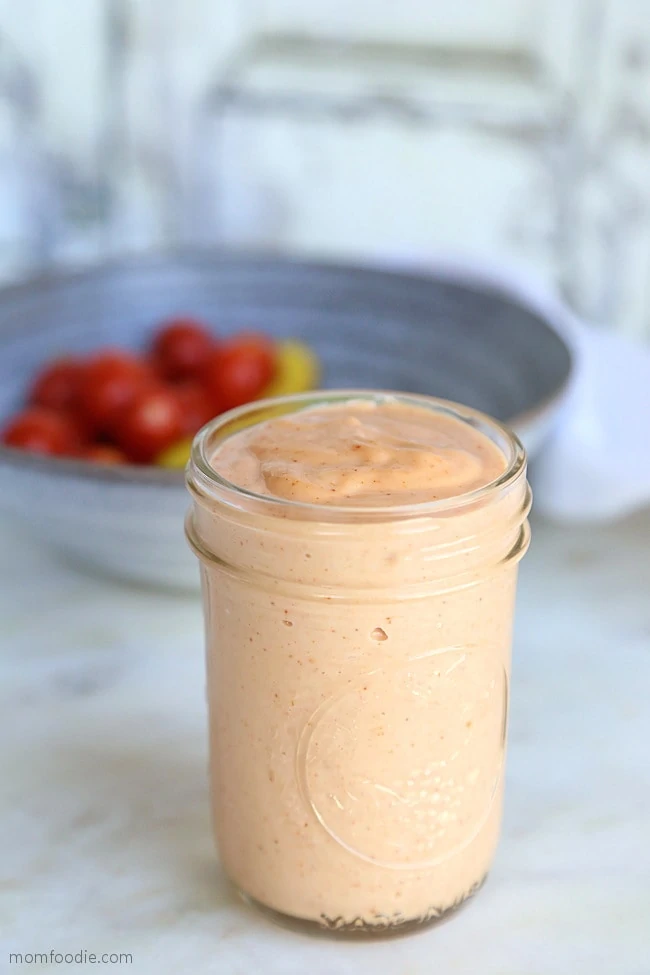 Yum Yum Sauce
Yum yum sauce is a mayonnaise based sauce is often served in Japanese hibachi restaurants as a dipping sauce for shrimp and rice balls or drizzled on fried rice or grilled meats. The sauce is sometimes referred to as Sakura sauce or white sauce at these venues. Though white sauce is also made with soy sauce and no tomato products at some establishments. This likely more authentic Japanese cuisine, as what we know as the sauce is actually pink.
Japanese mayonnaise (aka Kewpie mayo) is the best choice for making this sauce, but a thick grocery store mayo will still give you great results.
The hibachi steakhouse sauce is somewhat similar to fry sauce, but Yum Yum sauce does not contain mustard. I personally prefer to use it mostly as a shrimp sauce or for dipping fresh vegetables in.
It is a fabulous Japanese vegetable sauce too. Use it as a dipping sauce for raw or lightly steamed vegetables. Try dunking some grilled chicken or battered chicken planks in the delicious sauce too.
Japanese restaurants also use Yum Yum sauce as a salad dressing. As you can see the sauce is very versatile. The consistency of Yum Yum sauce is not quite as thick mayonnaise, but is not thin by any means. and can be swapped in for it.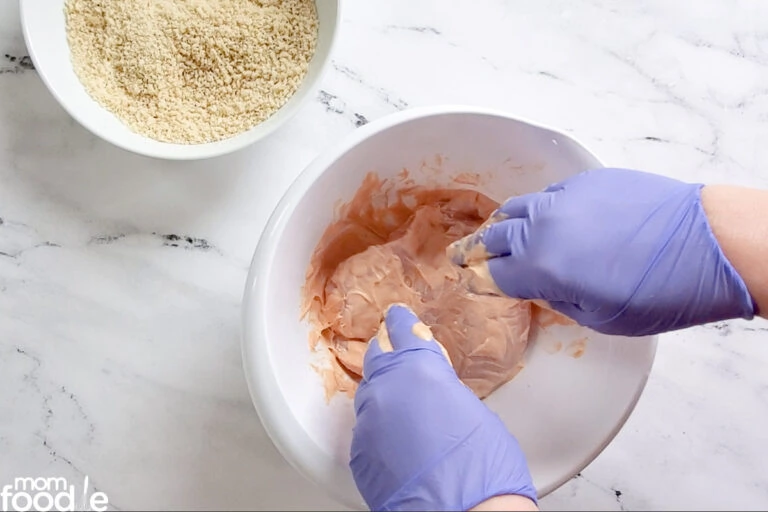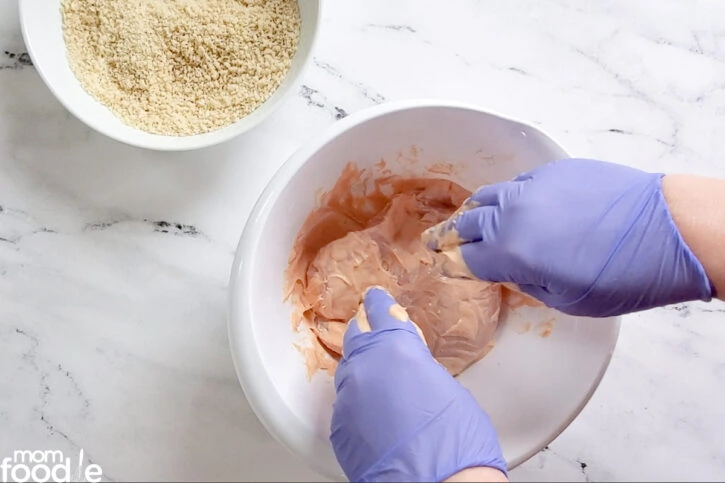 I love adding it to recipes to give a flavor boost. While not traditional uses, the Japanese steakhouse sauce works well as a sandwich spread or a dressing for shrimp, chicken or even potato salads or pasta salads too. I have even used Yum Yum sauce to bread chicken instead of straight mayo, for more flavor.
Yum Yum sauce is also a yummy way to cut down on the amount of soy sauce you use on food, if sodium is a concern for you!
My version of the Japanese hibachi sauce does not include hot sauce, since my daughter isn't a fan of spicy foods. Feel feel to add a splash or two when mixing your batch though. It is a tasty addition.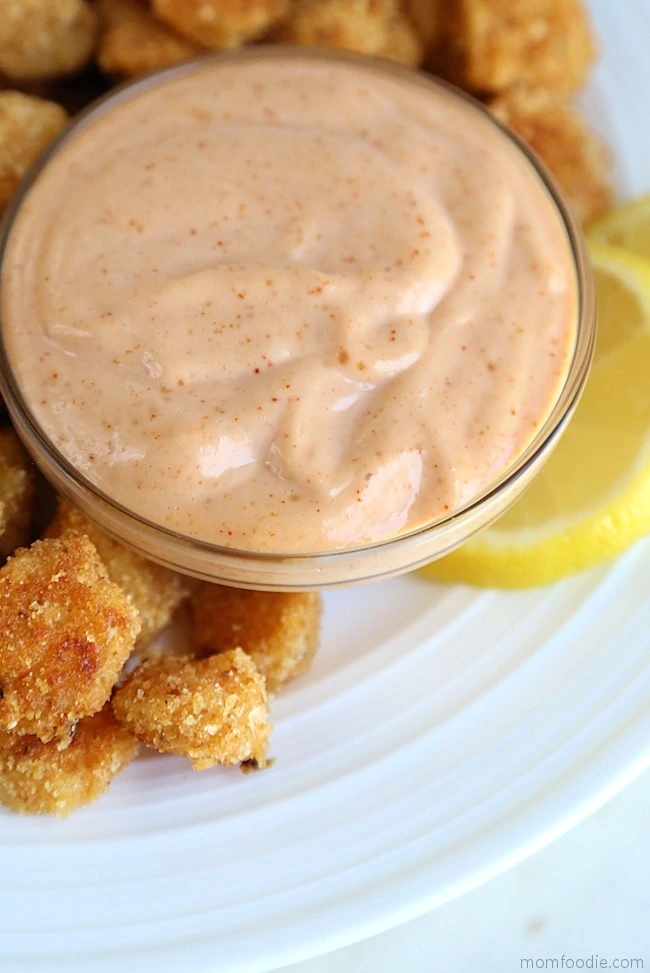 How to Make Yum Yum Sauce
Yum Yum Sauce is so easy to make seasoned mayonnaise tomato based sauce. Don't buy it bottled, the simple ingredients you need to make it are probably already in your pantry and the homemade flavor is better.  Printable recipe card below. Also see below for a low carb version for those on the Keto diet.
The recipe yields 30 tablespoon servings.
Prep Time: 3 mins
Yum Yum Sauce Ingredients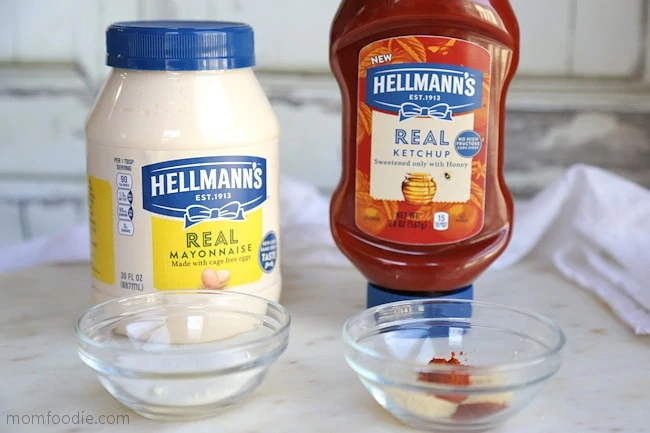 The ingredients you will need to make homemade Yum Yum sauce:
mayonnaise, ketchup* (tomato paste + rice vinegar)
sugar*(erythritrol)
garlic powder
onion powder
paprika**
cayenne pepper
Some also like to add 1 tablespoon melted butter stirred into the sauce.
*The ketchup and sugar are only items you will need to swap to make Keto Yum Yum sauce. Substitutions are in parentheses.
** smoked paprika is a nice swap, especially to serve with vegetarian dishes
Instructions: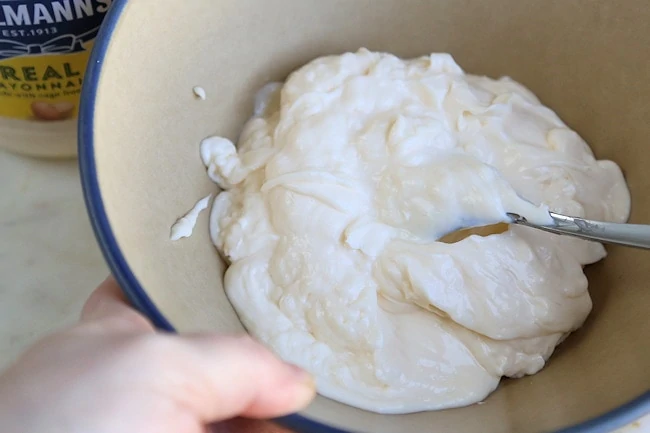 Scoop mayo into a medium mixing bowl.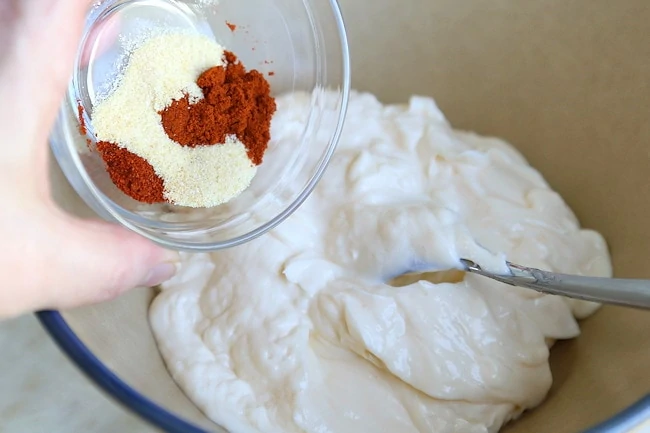 Add the spices (paprika, cayenne pepper, onion and garlic powder) and mix well, with a spoon or whisk.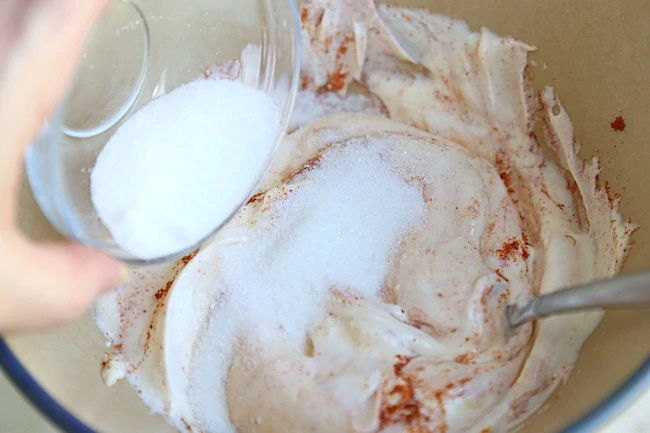 Now add the sugar or erythritrol to the mayo mixture.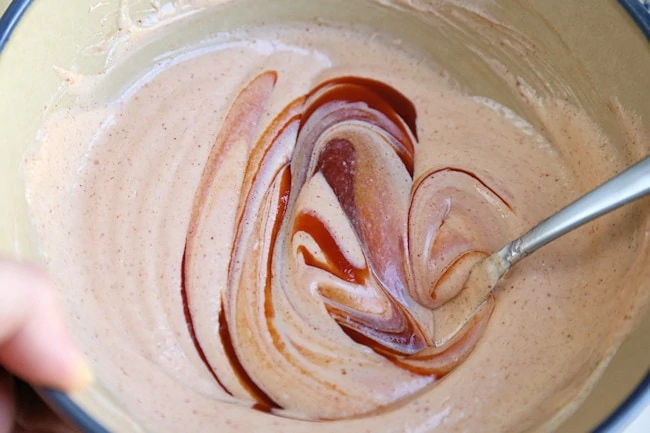 Mix in the ketchup or tomato paste next. It is best to refrigerate the sauce a few hours before using, but you can serve it right away if you need to.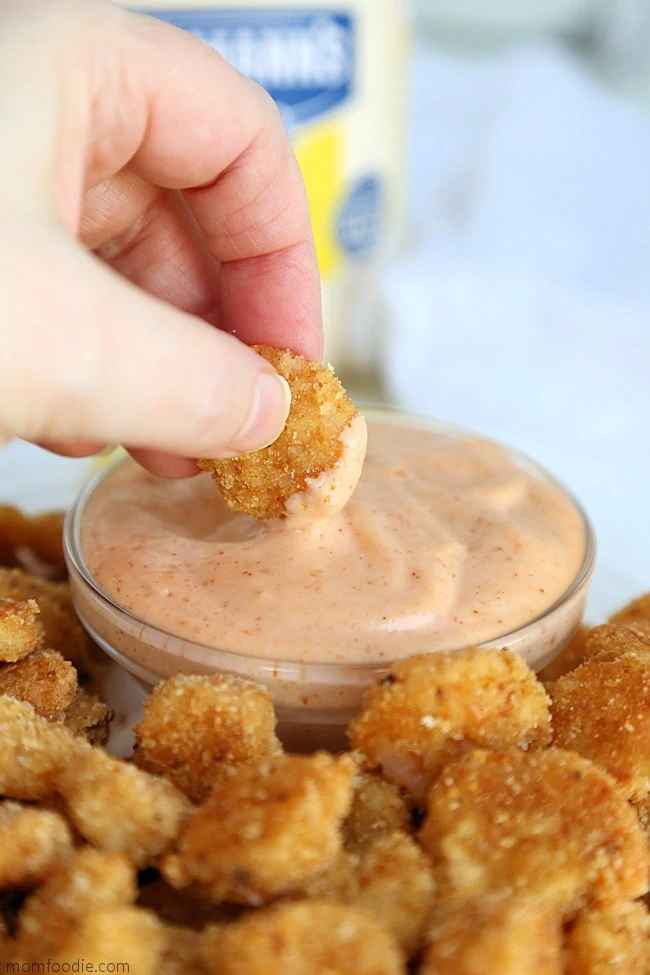 As it is known as a seafood sauce (and even referred to as Japanese shrimp sauce by some), it is not surprising it's a great dip for my baked Popcorn Shrimp.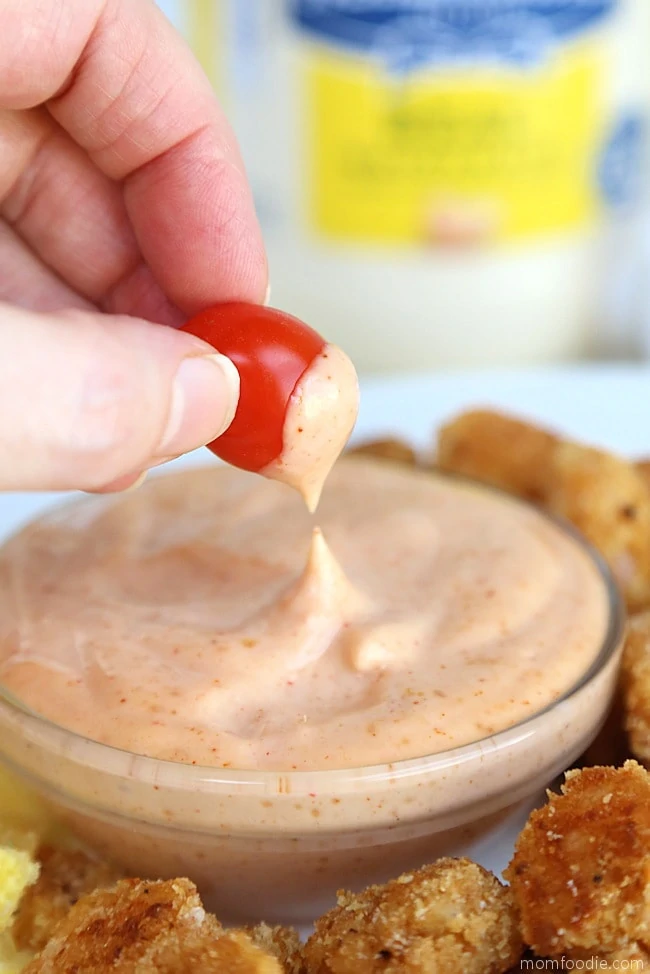 Don't ignore the french fries or veggies though, the sauce is delicious on those as well. I love it on my air fryer sweet potato fries!
Keto Yum Yum Sauce
Substitute tomato paste for the ketchup and erythritrol for the sugar in the recipe below. Measurements will remain the same. The Keto version has less than a half gram of carbohydrate per tablespoon (about 0.4 grams), yet still has the great flavor you expect.
Other Variations
The great thing about making your own homemade Yum Yum sauce is that you can adjust it to suit your tastes, or the particular dish you are serving it with.
Rice vinegar is often added to this sauce. While the Yum Yum sauce I taste matched to did not seem to need it, you may wish to add a teaspoon of the rice vinegar to yours. This would be particularly good if you want to use the sauce as a dressing rather than dip or spread. If you want even a little more tang to the recipe use apple cider vinegar.
Making Hot and Spicy Yum Yum sauce is as easy as adding some hot sauce into the mixture. Sriracha sauce would be the obvious choice and it would not thin down the desired consistency of the sauce. Of course if you are a fan of spicy sauces, you could simply increase the amount of ground cayenne in the yum yum sauce recipe or add dried red pepper flakes.
How long does yum yum sauce last?
Store leftover sauce can in the fridge for up to a week in an airtight container, such as a mason jar. The sauce actually benefits from being left to sit overnight in the refrigerator.
Make this famous Japanese steakhouse sauce like they serve at the hibachi grills yourself and skip artificial flavor of store bought knock offs.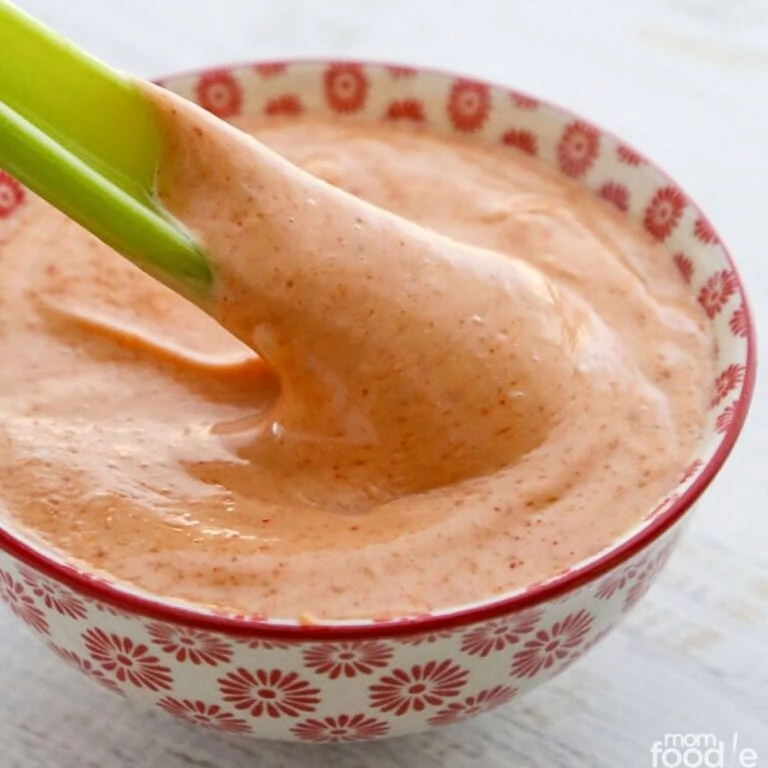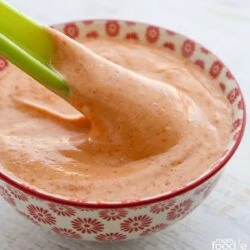 Yum Yum Sauce Recipe
Yum Yum Sauce, just like they serve at your favorite Japanese hibachi restaurant. An easy Yum Yum sauce recipe and better tasting than store bought. Includes KETO version.
Print
Pin
Rate
Ingredients
1 ½

cups

mayonnaise

¼

cup

ketchup

(use 1 tablespoon tomato paste + ½ tablespoon if rice vinegar in keto version)

2

tablespoons

sugar or substitute

(use erythritrol for keto/diabetic)

½

teaspoon

paprika

regular or smoked paprika

½

teaspoon

onion powder

¼

teaspoon

garlic powder

⅛

teaspoon

cayenne

rice vinegar

optional, use to thin to desired consistency for dressing
Instructions
Put all ingredients in a bowl and mix well.

Refrigerate a few hours to let flavors meld together (can be used immediately, if need be). Always store in refrigerator and use within a week.
Notes
The Keto version of the recipe only has trace amounts of carbs. It calculates as zero, but does have a little under a half gram per serving. Calories at 78. For a more tangy sauce or use as a dressing try adding a teaspoon or two of rice vinegar into the sauce mixture.
Nutrition
Calories:
81
kcal
|
Carbohydrates:
1
g
|
Protein:
0
g
|
Fat:
8
g
|
Saturated Fat:
1
g
|
Cholesterol:
4
mg
|
Sodium:
89
mg
|
Potassium:
8
mg
|
Fiber:
0
g
|
Sugar:
1
g
|
Vitamin A:
40
IU
|
Vitamin C:
0.1
mg
|
Calcium:
1
mg
|
Iron:
0
mg