Air fryer sweet potato fries are easy to make and a healthy side dish option that even the kids will gobble up! Sweet potatoes are loaded with nutrition and serving them as crispy air fryer fries, makes the vegetable more palatable. In this recipe I've lightly seasoned the fries, but that is optional.
Sweet potato fries made in the air fryer are considered a healthy food choice. They are lower in fat and are far less hassle to make than than their deep fried counterparts. I don't know about you, but I am not a fan of dealing with the leftover grease from deep frying. That is not an issue when your sweet potatoes are air fried.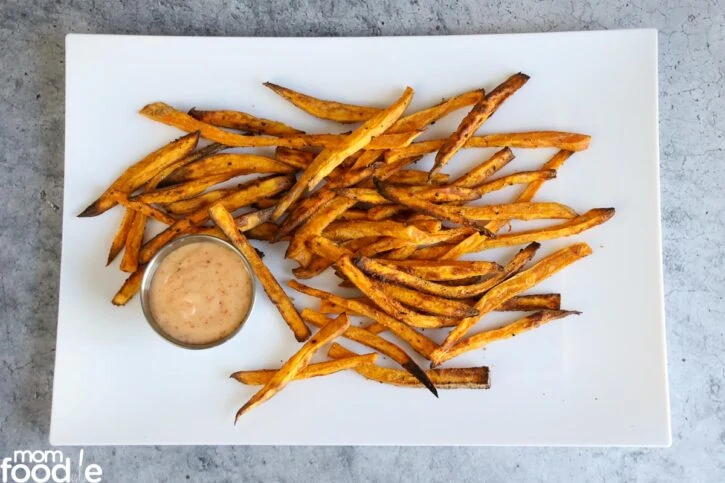 Nutrition Showdown: Air Fryer Sweet Potato Fries vs Regular French Fries
It's generally accepted how healthy sweet potato fries are, but how do they really measure up to regular fries? Let's discuss.
The two spuds actually have quite a bit in common nutritionally. Both are high in fiber, Vitamin C and B6. While both are relatively high in carbs, they are unrefined making them a better choice than many other sources.
All things are not equal though. Besides the nice flavor and color sweet potatoes do have some benefits over regular potatoes. Sweet potatoes are an amazing source of Vitamin A, They also have about ⅓ less carbs and calories than white potato fries.
As sweet potatoes are lower on the glycemic index, air fryer sweet potato fries are a somewhat smarter choice for diabetics. They should still be eaten in moderation though,
Regular potatoes do shine when it comes to potassium content though. They provide about 45% more than sweet potatoes. They are also higher in magnesium.
Nutrition info reference.
Sweet Potato Fries Air Fryer Benefits
There are several benefits when you cook sweet potato fries in an air fry appliance over deep frying or baking in the oven.
Air frying requires far less fat than traditional frying. All that hot air blowing around is really quite effective. Just a small amount of avocado or olive oil can produce delicious results in an air fryer!
No messy deep frying grease clean-up.
The fries are ready faster and come out crispier in an air fryer than in traditional ovens.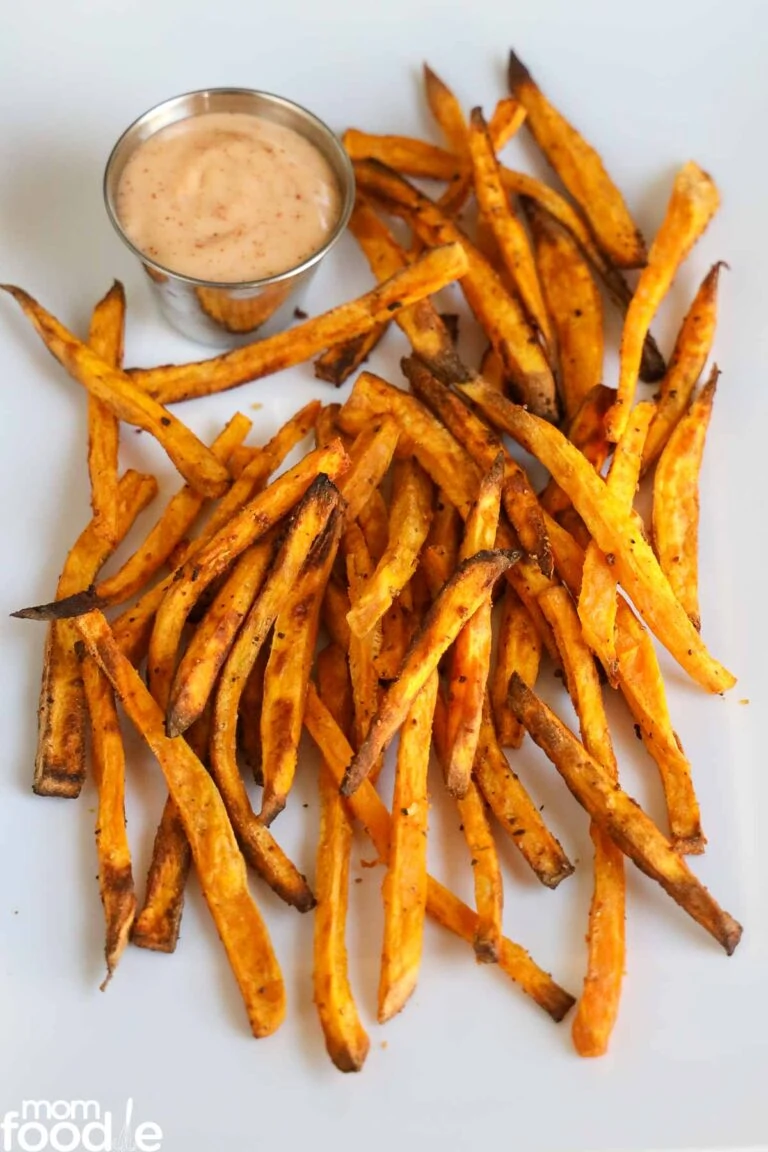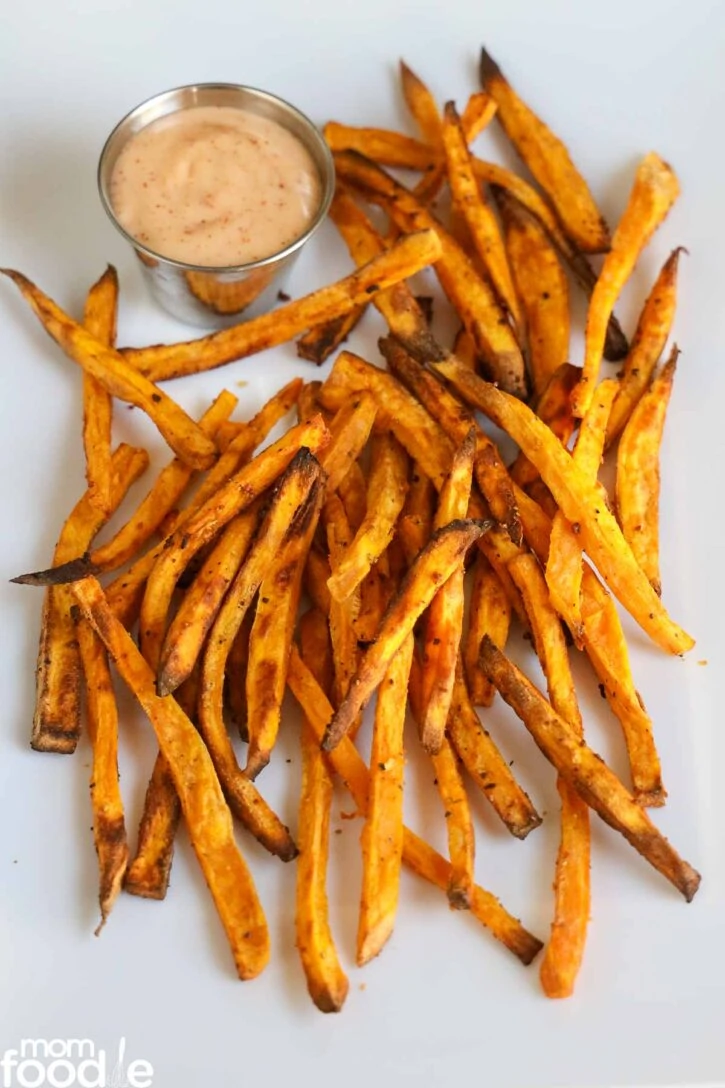 How to Make Sweet Potato Fries in Air Fryer
This Air fryer sweet potato fries recipe is super easy to make. If you are a beginner with air frying, no worries. I'll walk you right through making the fries with pictures. Jump down to the printable recipe card if you prefer.
The recipe makes 4 servings.
Prep Time: 10 minutes Cook Time: 14-18 minutes per batch (Will take approximately 2-3 batches)
Supplies for Air Fryer Fries:
Air Fryer (of course) Preferably one with a large basket area. The toaster oven style air fryers are usually good in this way. I recently bought a new air fryer grill combo and it worked great for making the sweet potato fries. [Check it out on Amazon]
Vegetable peeler or paring knife.
Sharp Knife Please make sure your knife is good and sharp before you start. A dull knife used on a dense vegetable like the sweet potato is an accident waiting to happen.
Large mixing bowl
Ingredients you will need:
Here is all you need to make the sweet potato fries air fryer recipe. Technically, you can skip the seasonings if you want.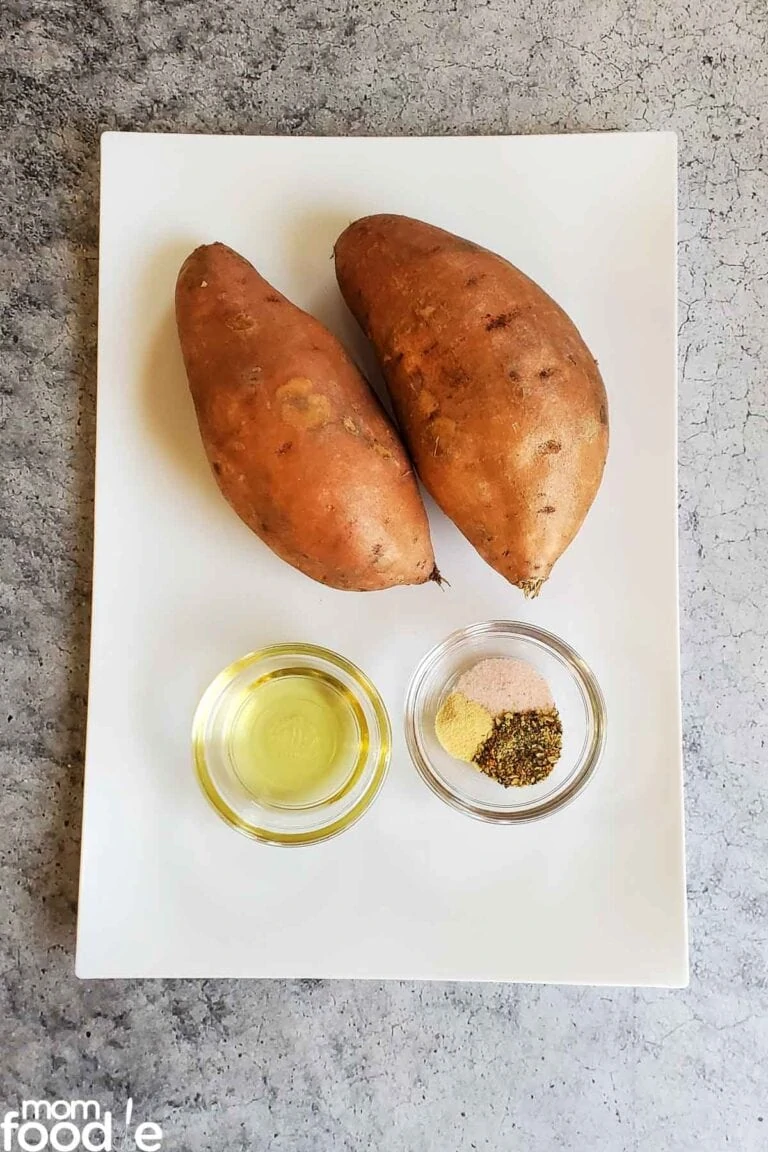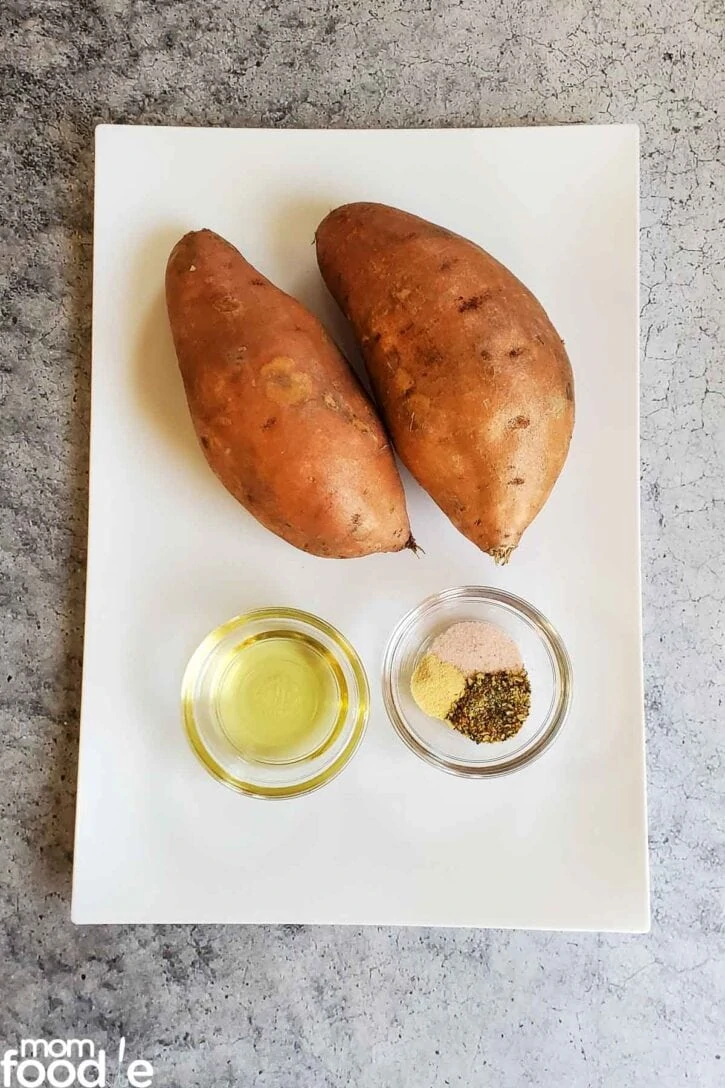 sweet potatoes (or yams) I used 2 large ones. If yours are small you will need 3-4. One large sweet potato makes two side dish servings.
avocado oil (Any high smoke point oil will do: olive oil, canola oil or coconut oil)
seasoning (I used ¼ teaspoon garlic powder, ½ teaspoon pink salt and ½ teaspoon salt-free seasoning)
Directions:
Let's get down to actually making the air fryer sweet potato fries.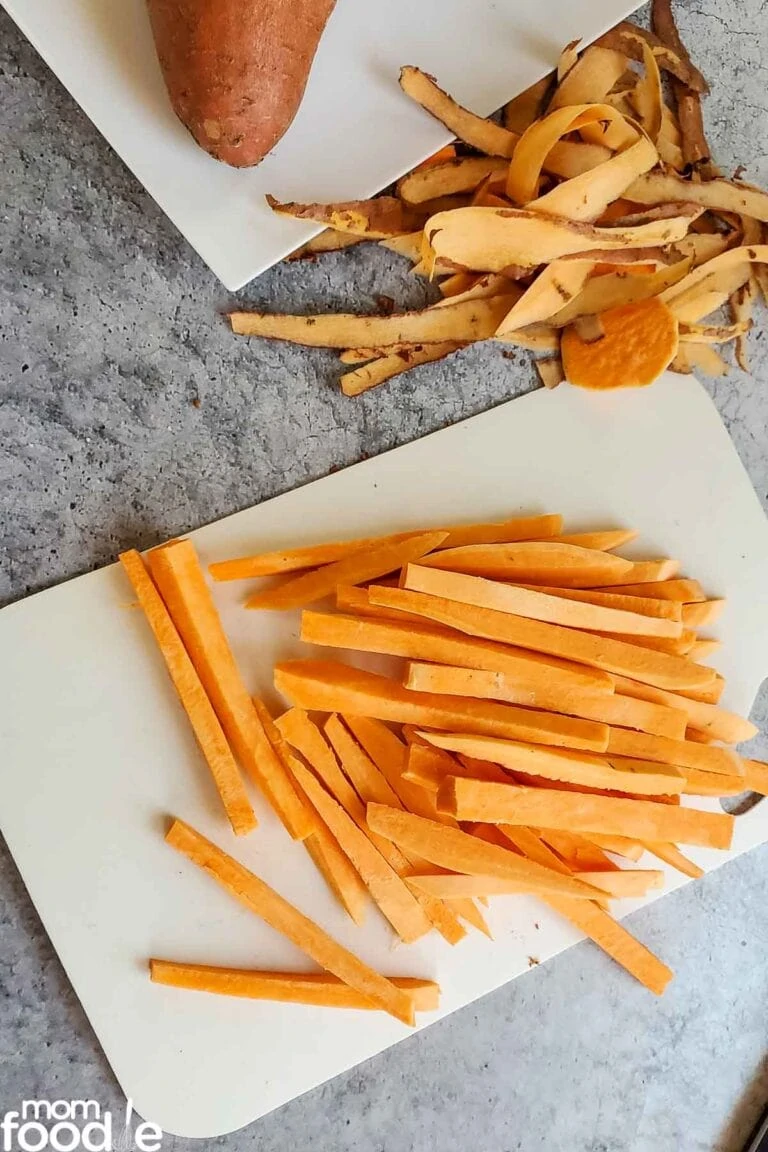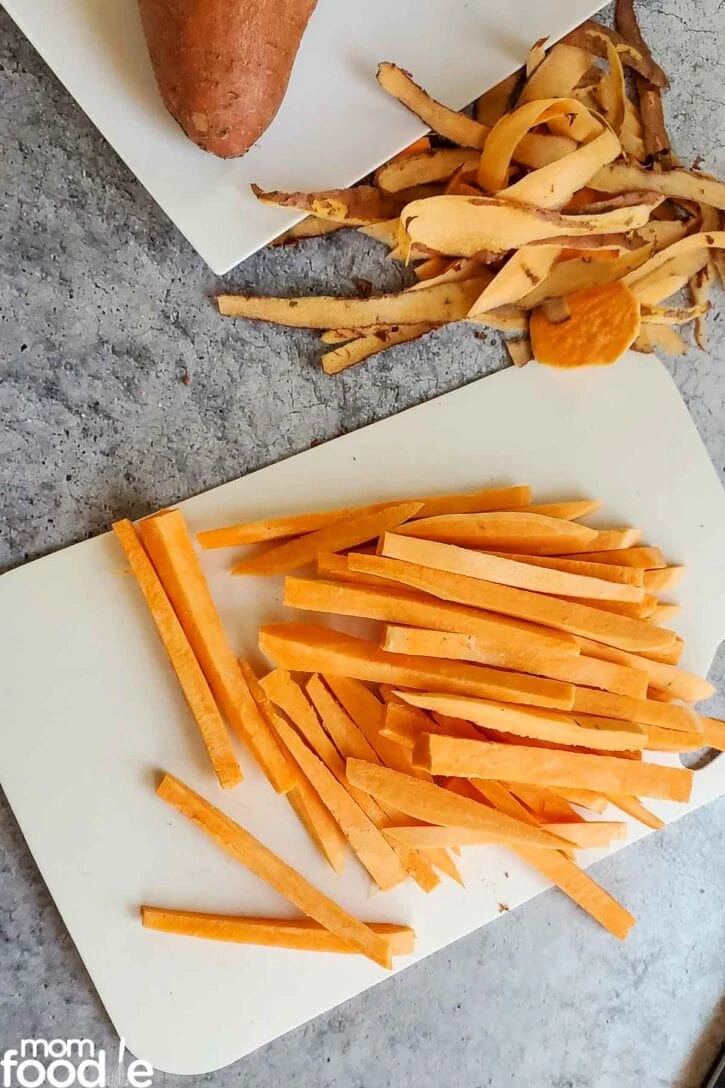 Start by peeling the sweet potatoes and cutting off the nubby ends. Cut each in half lengthwise, then cut sweet potato fries. The fries should be sliced like shoestring fries to get quick and crispy results.
While soaking prior to air frying is recommended with french fries, it is far less necessary to soak sweet potato fries. I've found it makes little difference in results, so I skip that step.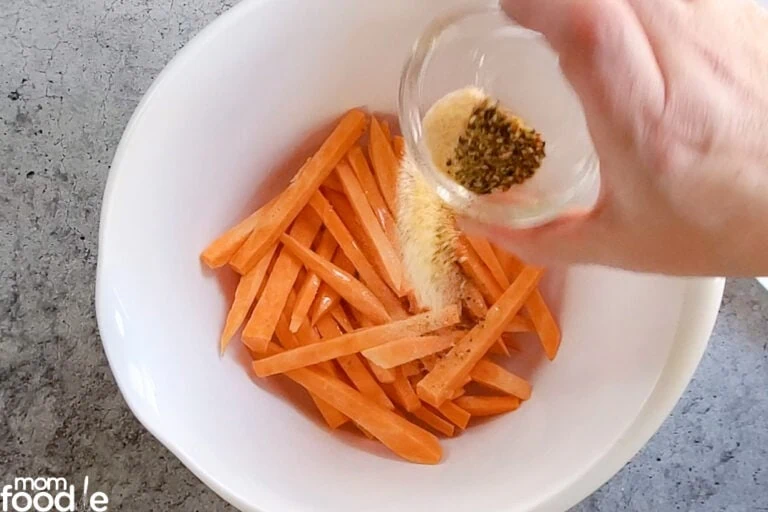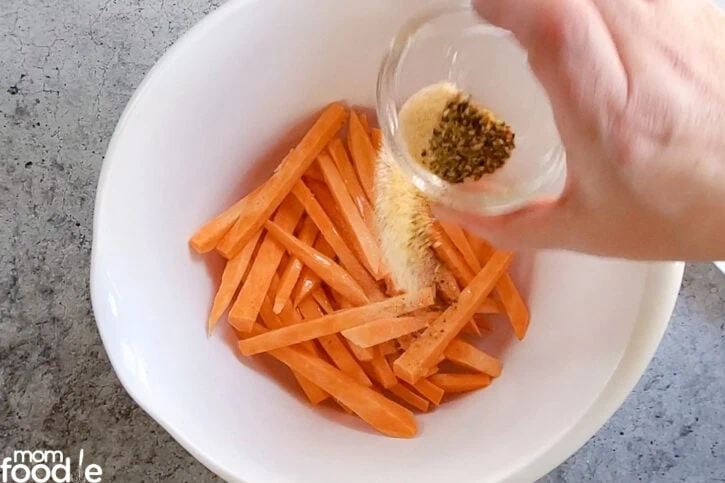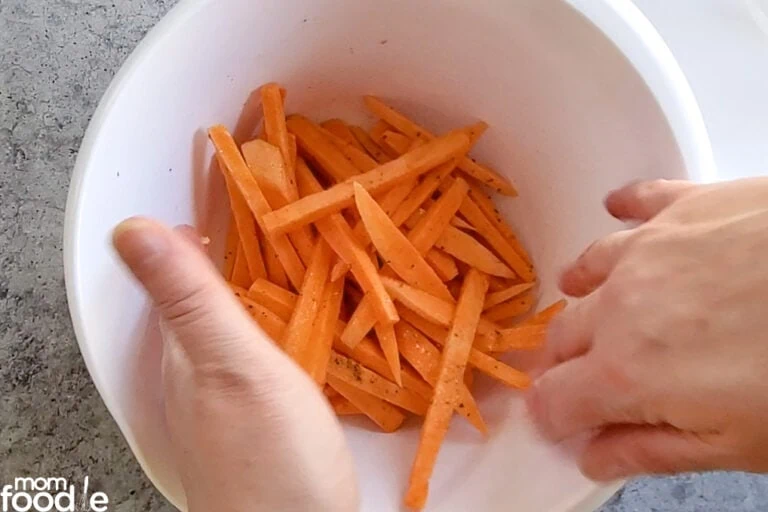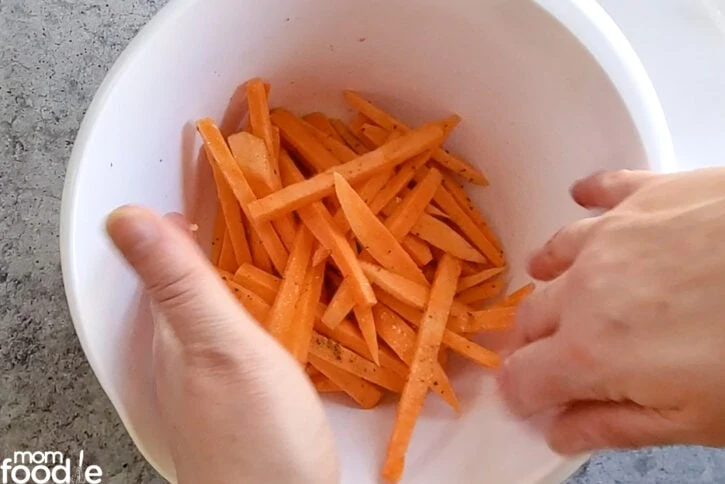 Place the sliced sweet potatoes in the mixing bowl and drizzle on oil. Add seasonings and toss to coat. Alternately you could mist the fries with cooking spray.
Preheat air fryer to 390 degrees F. Most air fryers need to preheat, if yours does not skip this step.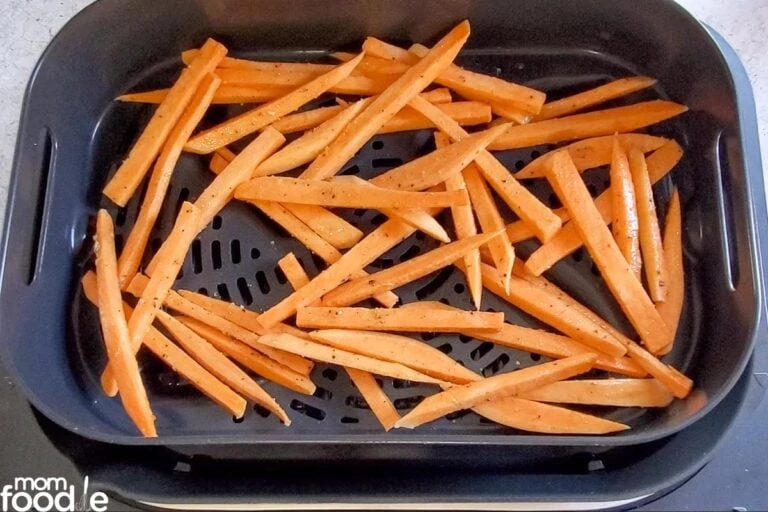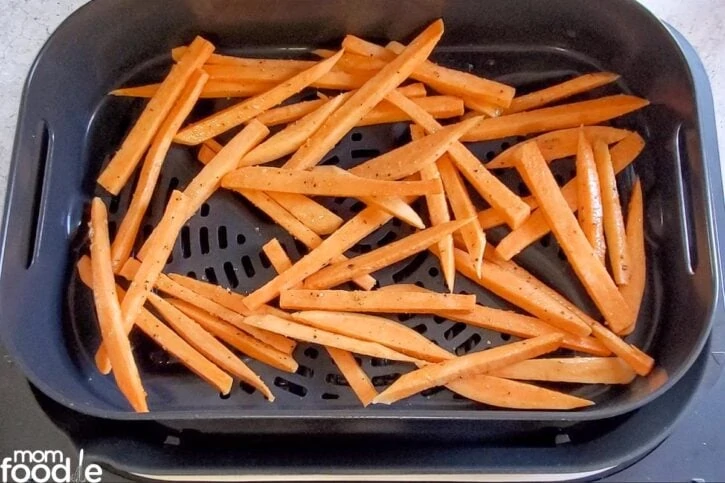 Dump some of the raw fries into your air fryer basket. While you can have a little overlap. try and keep it to one layer. If you have a small air fryer, you will have to do a lot of batches.
Air fry for 14-18 minutes. Turn the fries halfway through cooking time. This will help the sweet potatoes cook evenly. Timing will depend on both the air fryer model you have and thickness of the fries.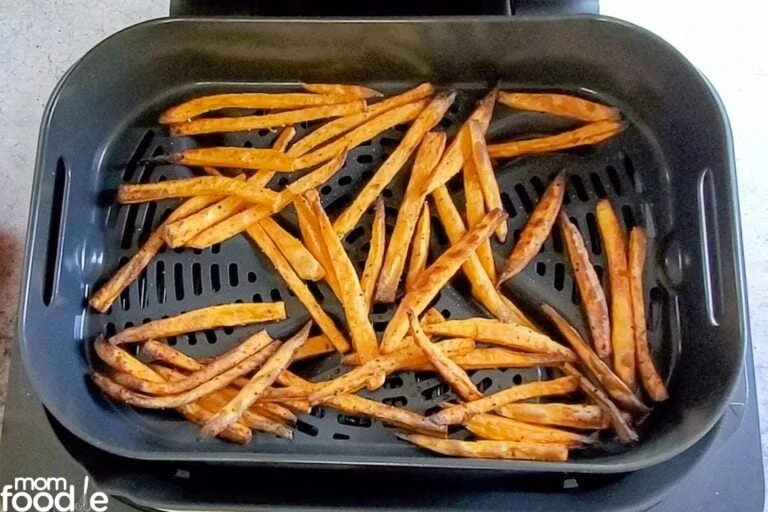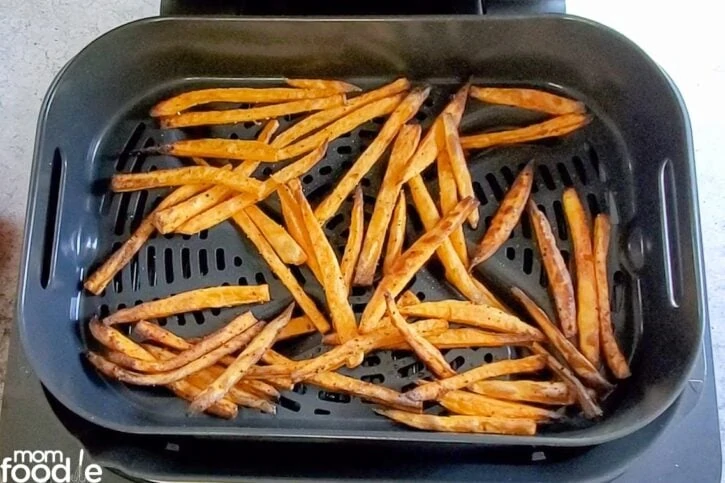 When you have crispy fries with a few dark edges here and there they are done. Dump them out onto a paper towel lined plate and serve right away.
Repeat the process with remaining sweet potatoes.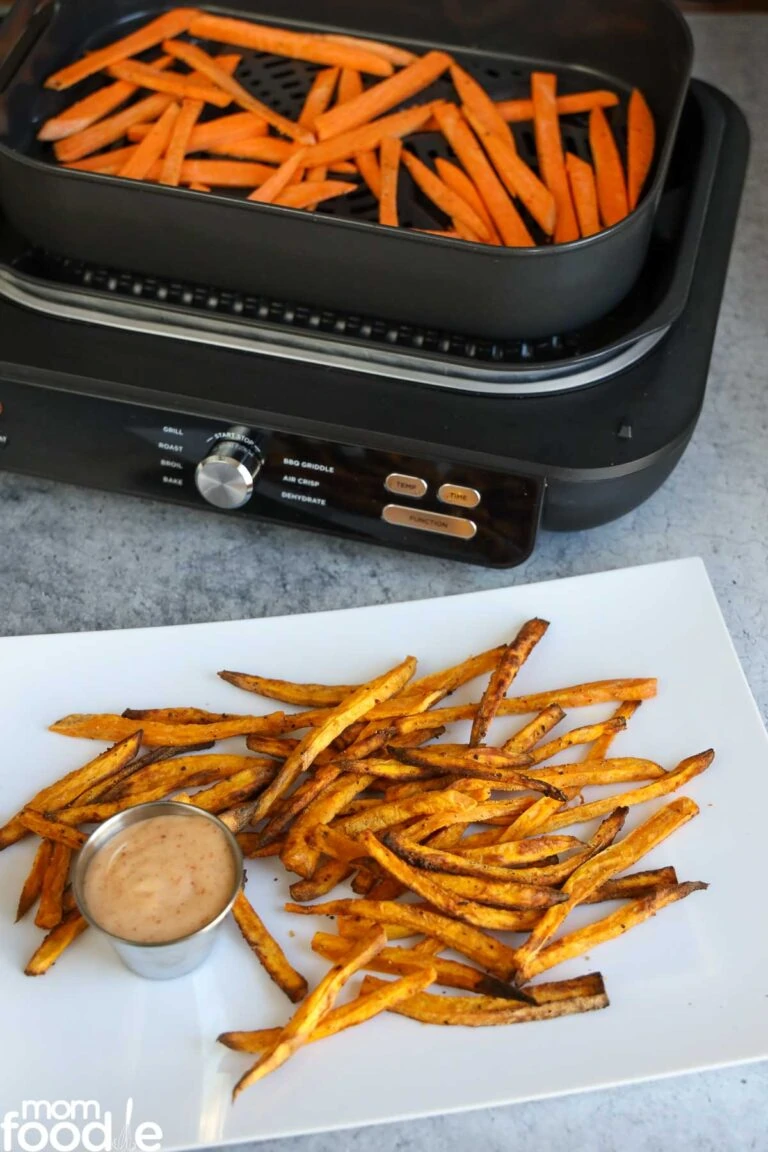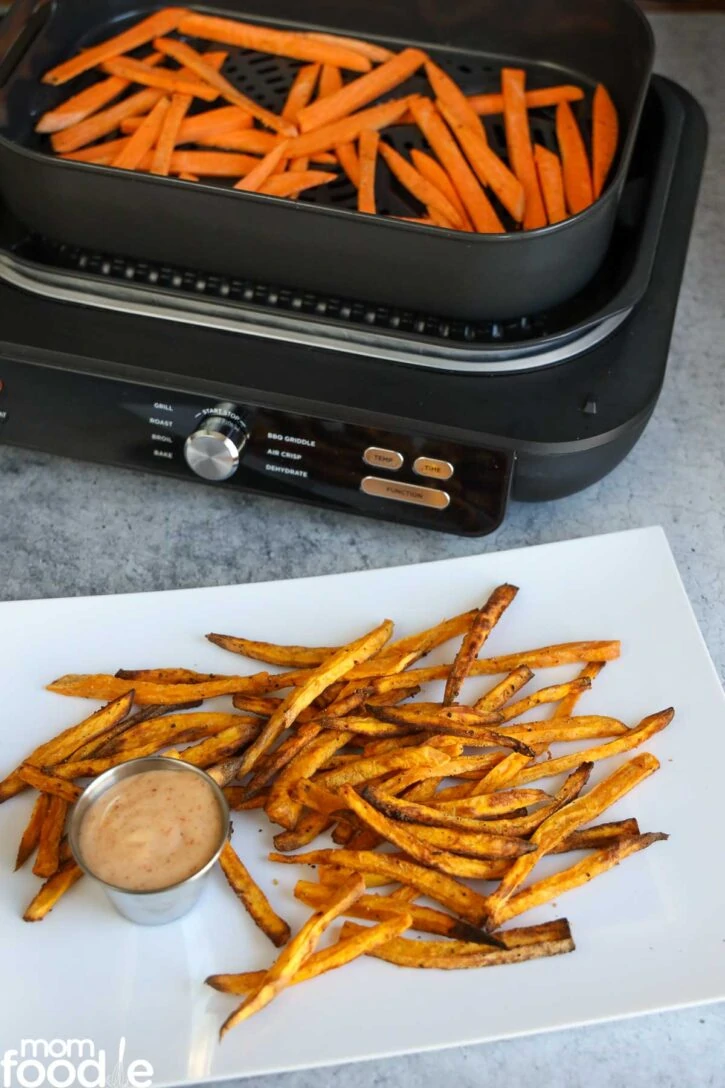 Serving
It is best to serve immediately, when the fries are hot and crispy.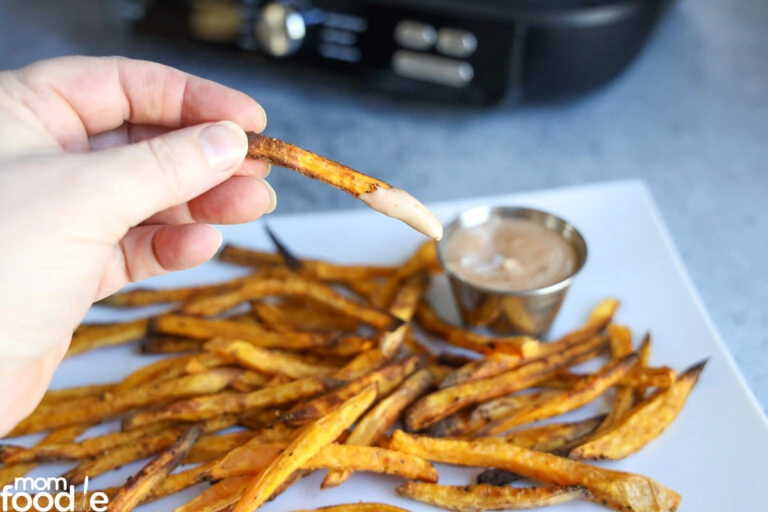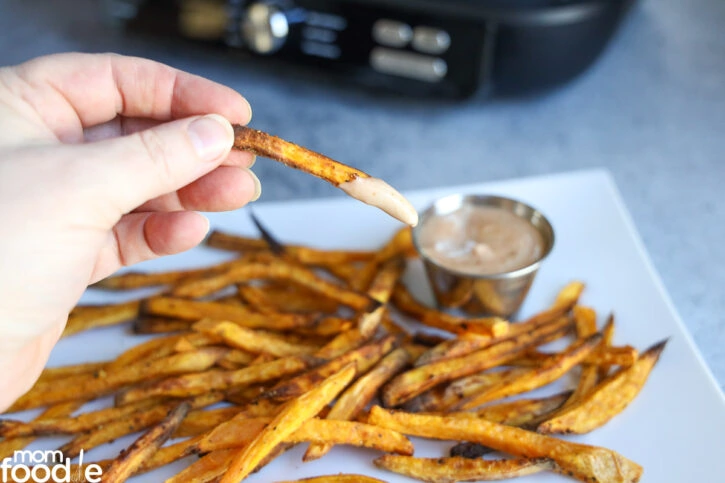 For the air fryer sweet potato fries dipping sauce, I made a small batch of yum yum sauce. Of course, you can serve with your own favorite dipping sauce. Spicy ketchup, Katsu sauce, fry sauce, creamy sweet chili sauce, spicy mayo, seasoned sour cream, or a garlicky ranch dressing would all pair well, even a dollop of sour cream or Greek yogurt. I do think the yum yum sauce really compliments the crispy sweet potato fries well though. You should absolutely try it.
Q&A
How do I cook store bought frozen sweet potato fries in the air fryer?
Just drop them in your air fryer and cook them at approximately 390 degrees until nice and crisp (12-16 minutes, varies based on brand of fries and appliance style).
Can I make this recipe in the regular oven?
Yes, though results are better in an air fryer.
To make in a standard oven place the cut and coated sweet potato fries on a parchment lined baking sheet. Place in a 425 degree preheated oven and bake for about 25 minutes turning over at about 15 minutes to cook the potatoes evenly.
Why are sweet potato fries soggy and limp?
If you have this issue, try cooking longer and make sure to serve immediately. You may also need to cut the fries smaller. Air fryers vary, so you can try adjusting temperature up or down by 10 degrees too.
How do I store leftover sweet potato fries?
Leftover fries honestly, are not that great, but waste not want not. Store them in an airtight container in the fridge for up to 3-4 days. Reheat in oven or air fryer for just a few minutes until hot. I typically cut them up and toss them in my eggs at breakfast the next morning.
Enjoy you air fryer sweet potato fries as a snack, appetizer or a great side for a burger, like my Paleo grain-free veggie burger. I love these healthy fries with a chicken salad sandwich, air fryer chicken drumsticks or for a lower fat and carb seafood dish swap them in my air fryer fish and chips or pair with lemon baked cod, Blackened Salmon or my garlic crusted tilapia recipe. An air fryer salmon patty would make a good meal with these as well.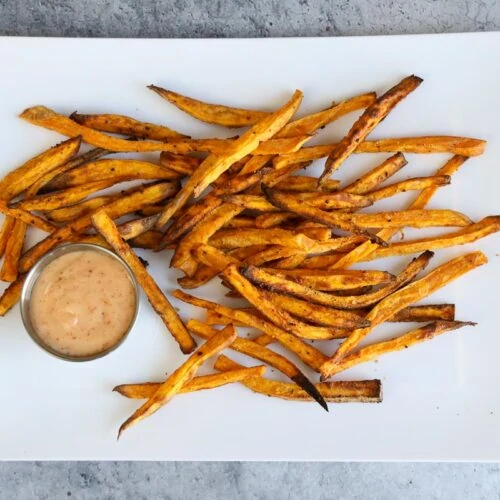 Air Fryer Sweet Potato Fries Recipe
This sweet potato fries air fryer recipe is super easy to make and delicious. A healthy sweet potatoes side dish full of Vitamin A!
Print
Pin
Rate
Ingredients
2

large sweet potatoes

1

tablespoon

avocado oil

or other high heat oil, such as coconut, olive, canola or vegetable oil

½

teaspoon

Kosher salt

skip or swap with salt substitute if on a low sodium diet

¼

teaspoon

garlic powder

optional

½

teaspoon

salt-free seasoning

optional

fresh ground black pepper to taste

optional
Instructions
Peel the sweet potatoes and cut off the nubby ends. Place on a cutting board and cut each in half lengthwise, then cut into skinny sweet potato fries.

In a large bowl, toss the sliced sweet potatoes with oil and seasonings to coat.

Preheat the air fryer to 390 degrees F.

Place a couple handfuls of the sweet potato slices into your air fryer basket. Spread them out and try to keep it to one layer, for best results.

Air fry for 14-18 minutes. Turn the fries halfway through cooking time. They are done when crispy with a few dark edges. Serve right away.
Nutrition
Calories:
129
kcal
|
Carbohydrates:
23
g
|
Protein:
2
g
|
Fat:
4
g
|
Saturated Fat:
1
g
|
Polyunsaturated Fat:
1
g
|
Monounsaturated Fat:
2
g
|
Sodium:
353
mg
|
Potassium:
383
mg
|
Fiber:
3
g
|
Sugar:
5
g
|
Vitamin A:
16031
IU
|
Vitamin C:
3
mg
|
Calcium:
34
mg
|
Iron:
1
mg