This baked Popcorn Shrimp Recipe is quite easy to make and tastier than most ready made popcorn shrimp. The breaded shrimp are oven fried (air fryer directions are included). No need to fuss with hot oil for frying.
Using mayonnaise rather than an egg mixture to adhere the crumb coating on the shrimp omits the need to even spray these with oil. It also adds a great flavor to the finished popcorn shrimp.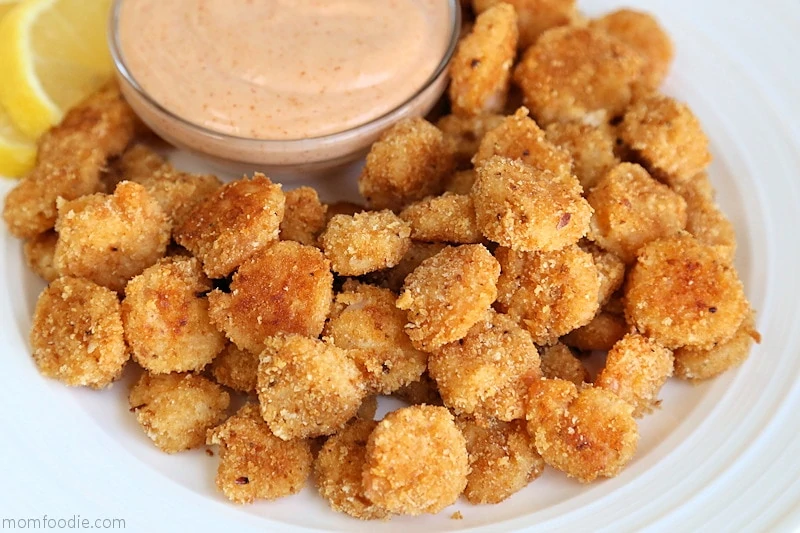 Baked Popcorn Shrimp
Homemade oven fried shrimp are not only tastier than ready made, but a little less expensive especially if you are making large batches for entertaining.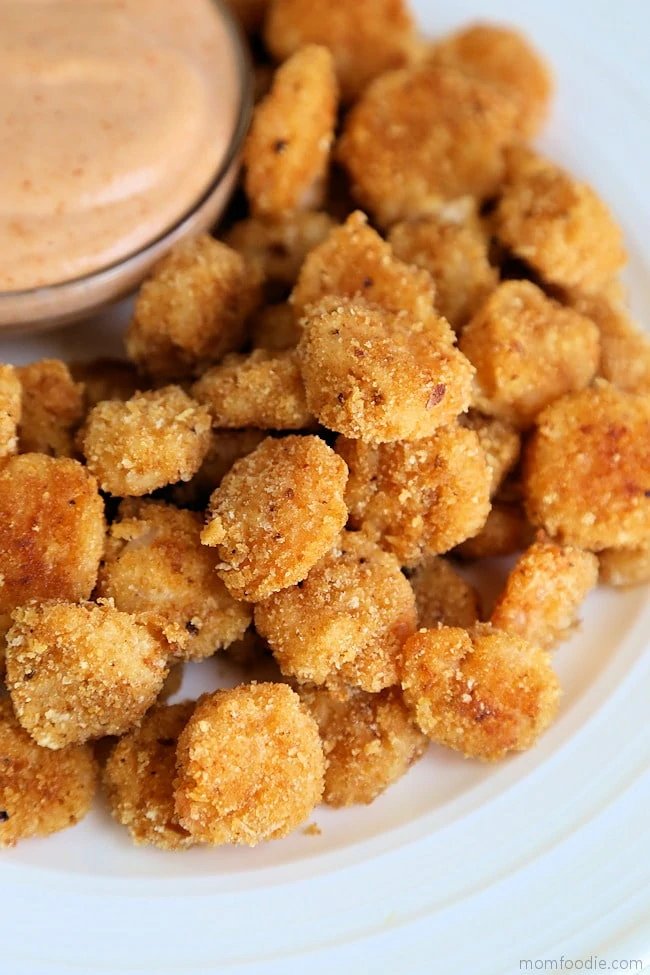 The popcorn shrimp is pictured with a small bowl of my Yum Yum Sauce, which goes fabulously with the crispy shrimp. My homemade tartar sauce is another delicious dip choice. Even my Chick fil a sauce or Fry sauce would go great with the shrimp.
How to Make Popcorn Shrimp
Here is a simple visual guide to the process of making these oven fried shrimp. The full printable recipe card is below.
The total time to prep and cook is under 30 minutes. The recipe makes 4 servings.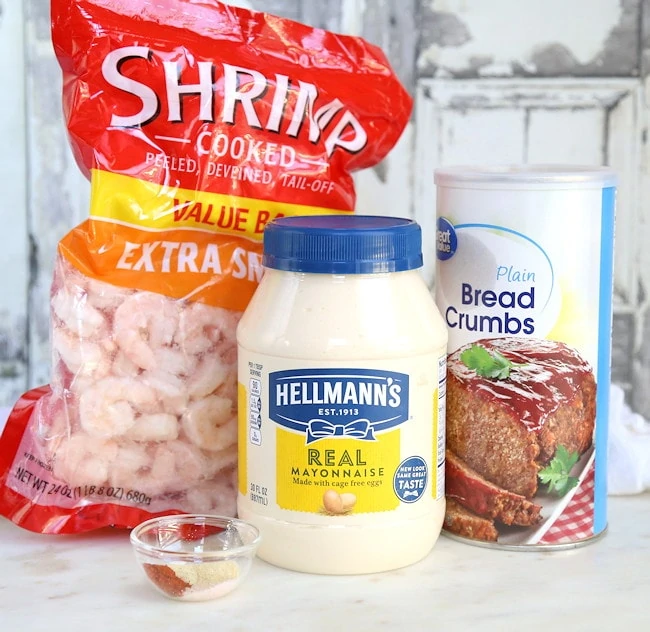 Popcorn Shrimp Ingredients
Here are all the ingredients you will need to make the popcorn shrimp recipe. I went with extra small (U100-150) peeled and deveined shrimp, but regular small or even medium would work with little adjustment to cooking time.
¾

pound

shrimp peeled and deveined (extra small to medium)

¼

cup

mayonnaise

½

teaspoon

paprika

¼

teaspoon

sea salt (or salt and pepper to your taste)

¼

teaspoon

onion powder

¼

teaspoon

garlic powder

1

cup

bread crumbs
For Spice Lovers
For a spicier version substitute 1 ½ teaspoons of Cajun seasoning for the seasonings used above.
Note: While cooked shrimp are pictured, you can use raw shrimp. They will cook through by the time they are golden brown and in the time allotted.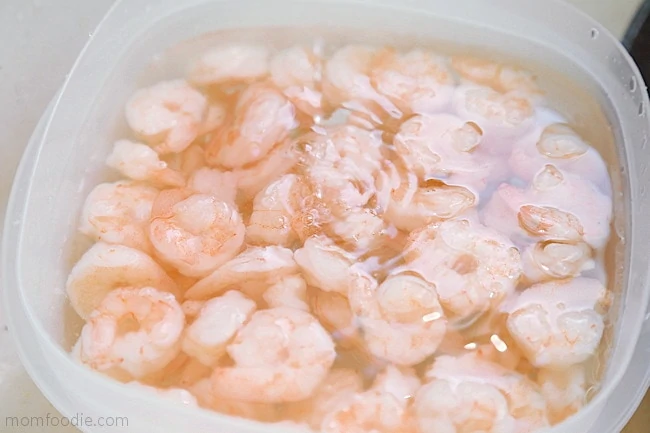 Preparation
First, thaw your shrimp.
The quick and easy way to do this is in a bowl under trickling water.  Just fill the shrimp bowl with cold to warm water (not hot), and leave the water drizzling into the bowl. The water does not have enough power to push the shrimp out, but keeps the water flowing so the shrimp thaw quicker. These are small shrimp so it will be quick.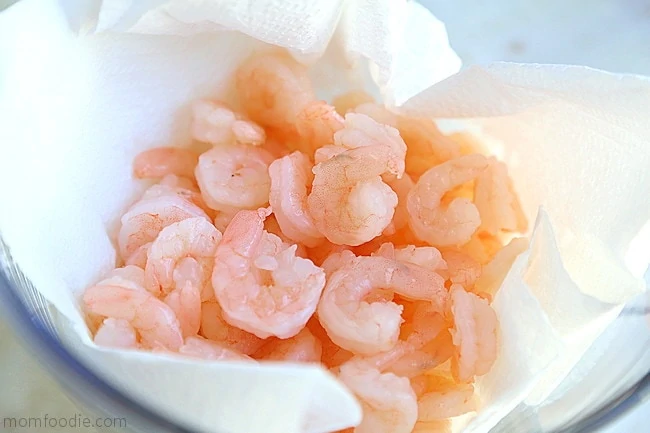 Preheat your oven once shrimp are thawed (400 degrees). Drain out the water, drop shrimp in paper towel lined bowl and gently press. this will get the majority of water off without fuss. dry bottom of bowl with paper towel if needed and return shrimp to the bowl. They are now ready to get dressed.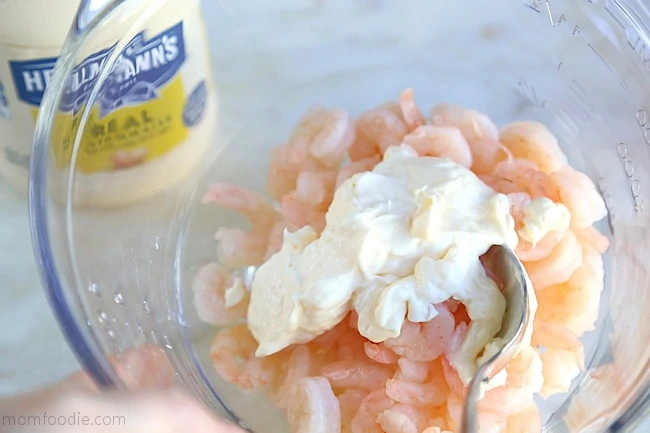 Scoop mayonnaise into the bowl with the shrimp.

Add the seasonings. A teaspoon of Cajun seasoning can be substituted for the salt, paprika onion and garlic powder in recipe below if you like.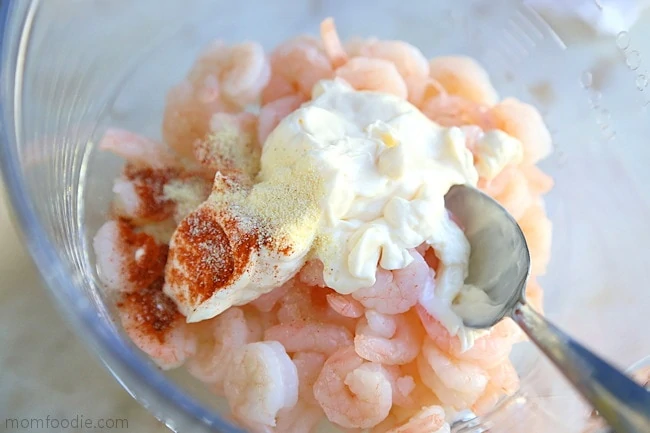 Mix well to ensure the shrimp is coated fully.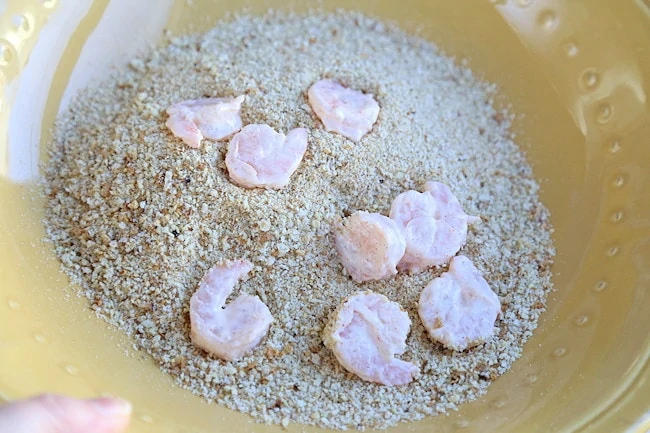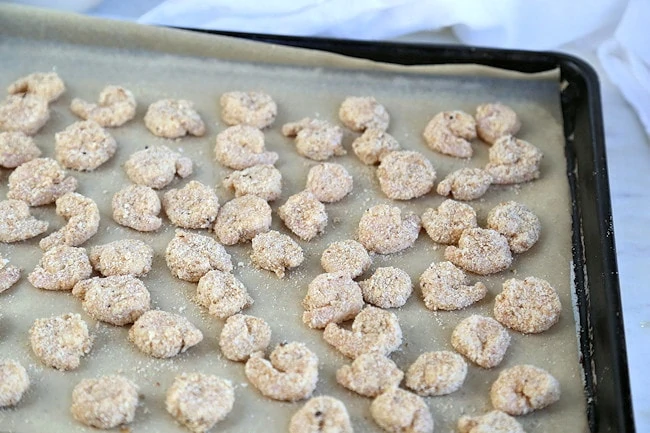 Pour bread crumbs in a separate bowl. Drop the shrimp into the crumbs in small batches, trying to keep them separate as you do. Toss to coat.

As each batch is coated in the crumbs remove to a lined baking sheet.  The recipe should all fit on a large baking sheet
(commercial half sheet pan
). Once the sheet is full bake for 10 minutes, then flip the shrimp over and cook another 5-6 minutes until golden brown.
Enjoy the crunchy popcorn shrimp as is or with your favorite dipping sauce.
Air Fryer Popcorn Shrimp
I have also made these in the air fryer. Follow directions on coating the shrimp, then place in air fryer basket in smaller batches and cook for 9-10 minutes. I set the air fryer at 375 degrees.
This is the air fryer I typically use. The large basket fries about ½ the recipe at a time. We love it for fries, pizza, quesadilla and chicken fingers too.
If you like this, you make also like my Air Fryer Fish and Chips.
More Easy Appetizer Recipes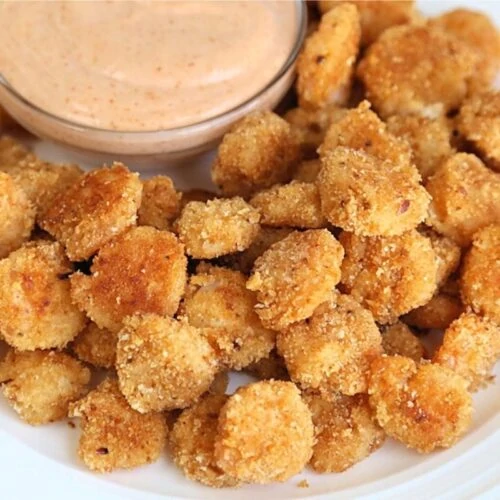 Baked Popcorn Shrimp
Easy air fryer or baked Popcorn shrimp recipe made with mayonnaise. This delicious popcorn shrimp can be made spicy or mild.
Print
Pin
Rate
Ingredients
¾

pound

shrimp, peeled and deveined

 x small or small

¼

cup

mayonnaise

½

teaspoon

paprika

¼

teaspoon

sea salt

¼

teaspoon

onion powder

¼

teaspoon

garlic powder

1

cup

bread crumbs
Instructions
Thaw shrimp and drain and dry them with a few paper towels.

Preheat oven to 400 degrees.

Mix the mayonnaise and seasonings with the shrimp.

Pour the breadcrumbs into a separate bowl. Toss small batches of the shrimp in mixture to coat.

When the shrimp is coated, place each batch on a prepared baking sheet (use parchment or silicone liner). Leave a little space between each shrimp. Repeat until the pan is filled.

Bake for 10 minutes, then flip the shrimp over and bake another 5-6 minutes. They will be golden brown when they are done.

Serve with as is, with lemon, cocktail sauce or Yum Yum sauce (as pictured).
Notes
Nutrition data based on 80% mayonnaise and 50% breadcrumb retention in completed recipe. As always nutritional info is just an estimate.
Substitute Cajun seasoning for the spices used if you prefer.
Nutrition
Calories:
216
kcal
|
Carbohydrates:
10
g
|
Protein:
19
g
|
Fat:
10
g
|
Saturated Fat:
1
g
|
Cholesterol:
219
mg
|
Sodium:
976
mg
|
Potassium:
94
mg
|
Fiber:
0
g
|
Sugar:
1
g
|
Vitamin A:
140
IU
|
Vitamin C:
3.5
mg
|
Calcium:
148
mg
|
Iron:
2.5
mg