Annual flowering vines are an easy way to add color, green and interest to a space that would otherwise be bare for a year. Most gardeners understand the need to find a plant that works in an empty space where something else might have been, or just want to try something new for each growing season. A good annual vine is one that is able to last the entire growing season, spreads fast and wide and has a bountiful flourish of color in order to add interest to your garden and yard.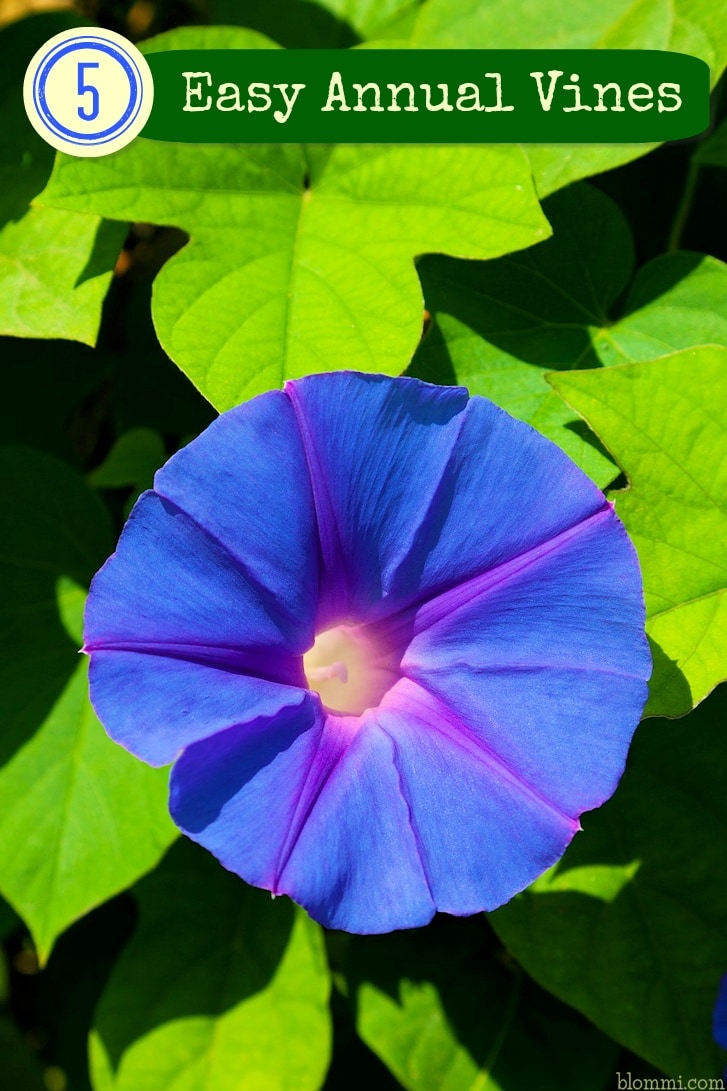 Easy Annual Flowering Vines
Check out these 5 easy to grow annual flowering vines for your garden that are able to give you all three things that the best vines provide.
Morning Glory
Morning Glory vines are a great annual flowering vine that is able to be grown early and grown from seed. Decide where you want to see this bright, bold vine grow and drop a few seeds into well worked, light soil. Wide blue blooms will cover the entire area that Morning Glory
is able to spread out over, and you should expect and be able to provide an area at least four feet wide and ten feet high.
Heavenly Blue Morning Blooming Vine Seeds
Nasturtium
Nasturtium
is a dainty vine with equally dainty flowers that have a cottage feel to them. These early spring bloomers can be made to rebloom after the first blooms have dropped their petals. Use this vine if you have a small corner that you want to add a vine too, or if you want a contained vine to grow in a pot.
ORGANIC NASTURTIUM (TRAPAEOLUM MAJUS) "TRAILING MIXED COLORS" GORGEOUS EDIBLE PETALS IN COLORS OF YELLOW ORANGE ROSE AND CRIMSON TRAILING VINING HABIT GOOD CLIMBER APPROX 75 SEEDS
Moonflower
Like Morning Glory, Moonflowers
are able to be grown from seed, but they will not start blooming until mid summer. Be prepared for their tightly coiled buds, which are a magnificent white, during the day which spread open later in the afternoon and evenings. The flowers only like to show themselves during cooler temperatures, and this night time appearance and their white color is responsible for their name. Plant it in full sun and allow it to spread out unhampered for the best results.
White Moonflower Vine Seeds - Climbing Vine Up to 15'
Hyacinth Bean
This annual vine is a great fragrant addition to the garden, which when paired with its deep purple leaves and flowers makes a very interesting choice. The appearance of the hyacinth bean
leads one to think that it is going to be an evergreen and more permanent vine, but after blooming the vine will begin to die back. It is easy enough to grow from seed or allow the seeds to reseed themselves, but be careful that it does not take over the area where you have planted it after a few years.
Purple Podded Asian Heirloom Hyacinth Bean (Fujimame) by Stonysoil Seed Company..EDIBLE and EXTREMELY ORNAMENTAL
Black Eyed Susan Vine
Black Eyed Susan Vine
is an annual, unlike its non vine counterpart, but equally as beautiful and easy to grow every year if it is allowed to reseed itself. Bright yellow or orange flowers fill the vine in entirely so that there is very little space that is left without blooms. This flower is a medium height vine, growing about six to eight feet high, but it is very easy to train to cover whatever space you have available.
HEIRLOOM NON GMO Black-Eyed Susan Vine 25 seeds
All of these annual flowering vines are vigorous growers and should provide a nice blast of color to your garden this year.