Tomato plants are some of the most resilient, strong and fast growing plants in the vegetable garden, but as they grow, their size makes them more susceptible to damage from strong winds or falling over because of their weight when they are full of fruit. Depending on the setup of your garden, there are several ways to support tomatoes, each has their benefits and ease of use, but it really depends on how and where your plants are growing.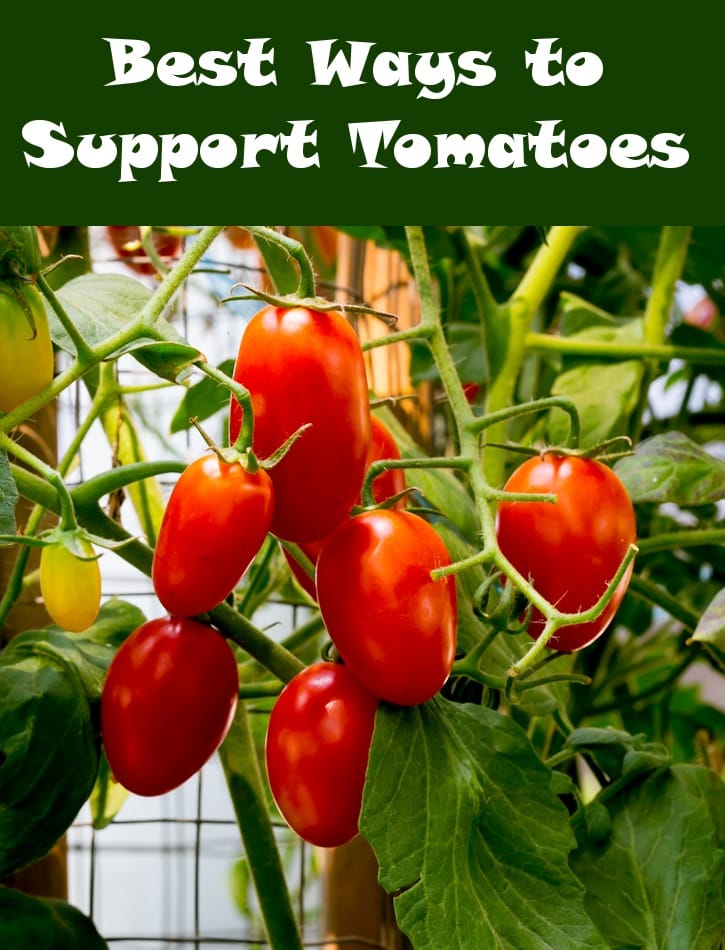 Get Started Growing the Best Tomatoes Ever!
&
Dr. Earth 1012 Home Grown Tomato, Vegetable and Herb Fertilizer, 24-Ounce
Heirloom Tomato Seeds Organic - 8 Varieties of Non Gmo Seed for Planting
GardenMate 3-Pack 8 Gallons Planting Grow Bags Made Of Growth Friendly Felt
Now the Best Ways to Support Our Tomatoes
Learn about the best ways to support tomatoes so that you can use the method that works for you in your vegetable garden.
These tips will help whether you are planting straight in the ground or growing your tomatoes in raised beds.
Grow Them On A Fence
Using a fence to support tomatoes takes planning before the tomatoes are actually planted. Open wire fences, like chicken wire
, are best used for this purpose, but the wire has to be strong enough and provide some protection to plants when the tomatoes begin to wind their way through the open spaces in the fencing. Establish a fenced area and plant tomatoes along fencing. As tomato plants begin to grow they will wind themselves up through the open fencing and anchor themselves on their own.
Use Stakes
Stakes are the easiest support system to be able to set up for tomato plants because you can add them to plants wherever they are in the garden and at every stage of growth. A very thick, sturdy pole or garden stake
, that is bigger and thicker than the tomato plant you are adding is the best choice. Make sure that it is well into the soil and then use ties to attach the tomato plant securely to the stake along the length of the tomato plant, starting at the bottom, moving to the middle and then another at the top.
Cage Tomato Plants
Tomato cages
are the most popular and traditional way to support tomatoes, because they provide an individual support system for each tomato plant in the garden. Tomatoes can grow up and in between the cages, and strong winds won't cause much damage, if any, while tomatoes are in the cages. The one downfall to using traditional, round wire cages is that they are often a lot shorter than most tomato plants.
Newer sturdier tomato cages
have been created. These are square in shape, and use much thicker metal. They are also a lot taller and provide more support for taller tomatoes that become very heavy with fruit which tends to grow on the higher stems.
String Trellis
Setting up a tomato  trellis that uses wood and strong string
to establish the lines, is another great way to support tomatoes that a lot of gardeners are using.  Using this way to support your tomatoes does require a little more time because you need to train tomatoes into viney versions of themselves, with just their stems growing along the string.
This is Going to be Your Best Tomato Season Ever!
&
Lifetime Tomato Cages, Heavy Gauge, Set of 4
RollerHook Tomato and Vine Crop Trellis (25 Pack) - EBook Included
20pc Gentle Plant & Flower Clips for Supporting Stems
Hydrofarm GCTR Tomato Trellis Garden on Wheels
EcoStake, 5-Feet, 50 Pack, ¼-Inch Dia, Garden Stakes, Plant Stakes, Tomato Stakes, Never Rust/rot, Better Than Wood Stakes and Bamboo Stakes, Green
Topsy Turvy New & Improved Upside Down Tomato Planter - As Seen On TV
Each of these options is great, you just need to decide which one works best in the garden space that you have available to you.
Supports are important. If you are growing roses, check out my plant and rose trellis suggestions.