Cauliflower bread crumbs make this chicken finger recipe low carb, gluten-free and paleo friendly. Yes, I show you how to make the cauliflower bread crumbs. As far as I know, they are not available in stores I came up with them long before keto was a thing, but they can work for that diet as well, in moderation. The crumbs are great for low carb meatballs too.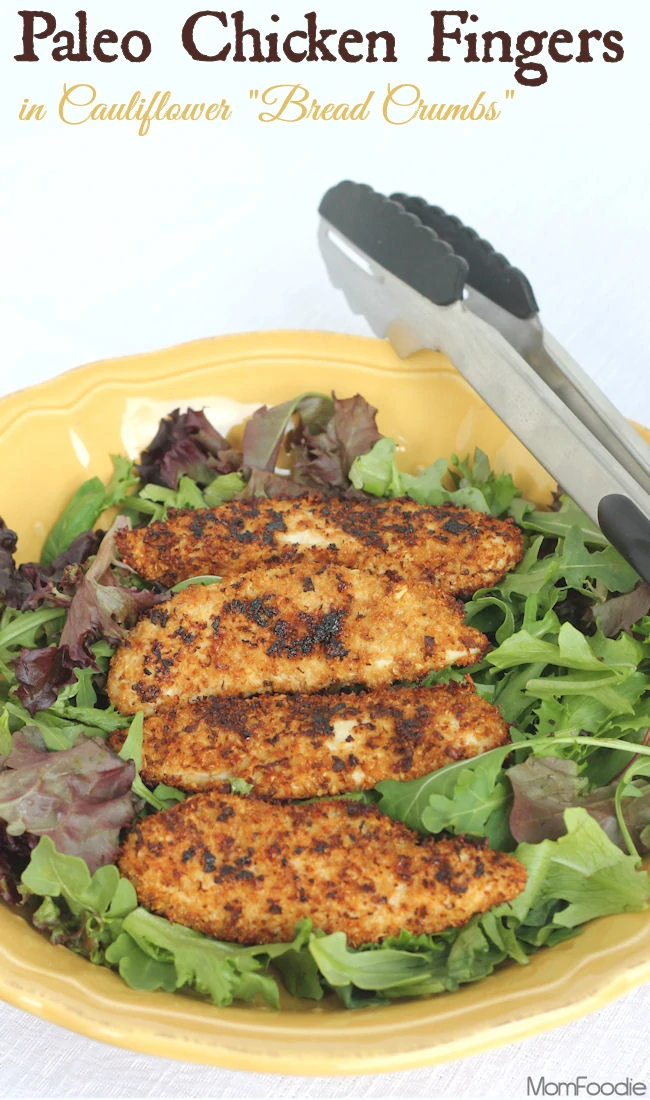 Paleo Chicken Fingers in Cauliflower Bread Crumbs (Origin)
Cauliflower bread crumbs are my solution to "breading" Paleo chicken fingers.  Commonly, those following a Paleo diet dredge tenders in ground nuts or coconut, to avoid grains.  Many people are allergic to nuts, and they are high in fat & calories.  I know that under this diet, practitioners are rarely calorie counters, but I wanted something that was nut free and low in fat & calories.  With the current popularity of cauliflower pizza, I figured, why not try making cauliflower breading, after all I adore roasted cauliflower.
I considered a few different ways of drying out the cauliflower, but in the end I decided that low temperature oven roasting would provide the most flavor, and not require any equipment which my readers may not have on hand.  The only drawback is that the roasting takes about an hour this way.  The flavor it imparts is well worth the wait though.
Paleo Chicken Fingers in Cauliflower Bread Crumbs (Results)
These Paleo Chicken Fingers coated in Cauliflower Bread Crumbs, while a bit time consuming to make, require only a few readily available ingredients. The crust was not particularly crunchy, but I did find  the umami flavor it added to be quite pleasant.
The recipe is gluten, grain, nut & soy free, as well as being low fat and low calorie.  Making a double batch of the crumbs, and putting some aside would make weeknight preparation more feasible.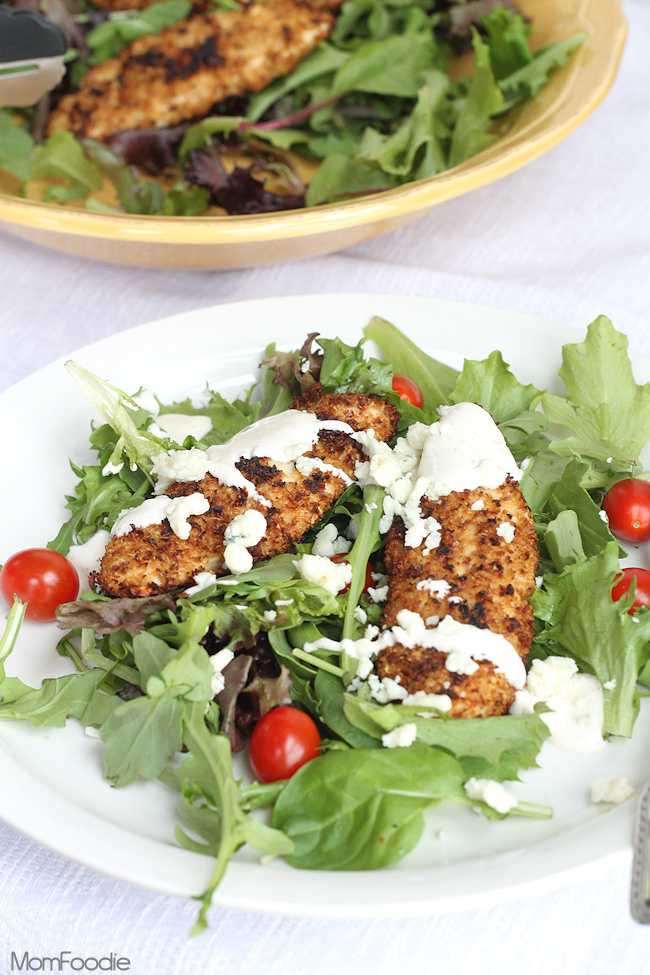 I ate the cauliflower crumb crusted chicken fingers over a simple salad, and topped with a small amount of dressing and some crumbled blue cheese.   While the chicken is Paleo, the commercial dressing I topped it in definitely is not.  There are also varying schools of thought in the Paleo community, when it comes to dairy & produce from the nightshade family (tomatoes), so don't use this last image as a template for a Paleo meal.  I actually do not follow the Paleo diet, but do agree with it's focus on obtaining daily calories through nutrient rich foods.  
While I used an oven, a dehydrator would have made my life a whole lot easier.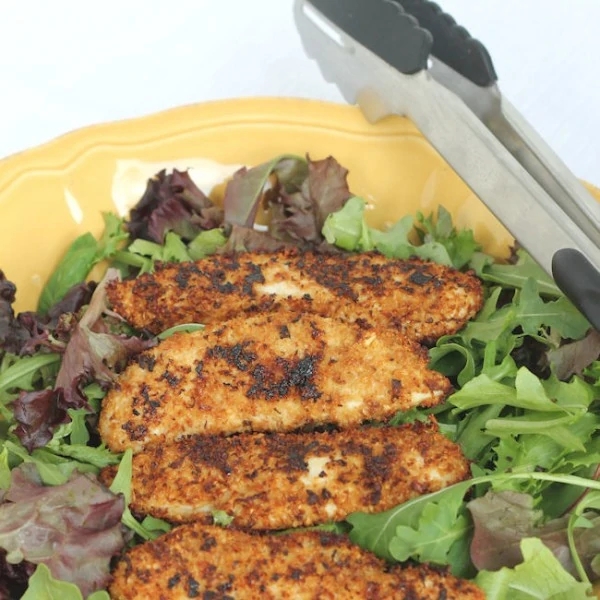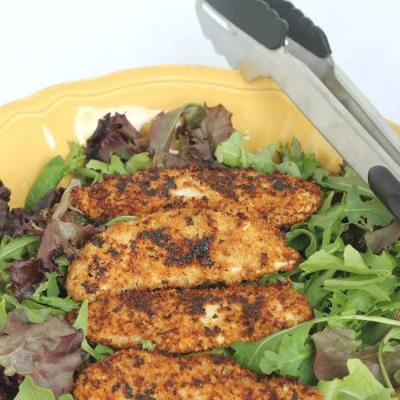 Paleo Chicken Fingers in Cauliflower Bread Crumbs Recipe
Print
Pin
Rate
Ingredients
1

large head of cauliflower

1

egg

¼

cup

buttermilk

or milk of choice

1

lb.

chicken tenders

oil for misting

or melted solid fat for light basting
Instructions
Cauliflower Crumbs
Preheat oven to 325 degrees (300 if using convection).

Rice the florets of the cauliflower, using a grater or in food processor.

Spread out on a non-stick baking sheet. Do not apply thickly, the cauliflower needs plenty of room to breathe.

Bake for approximately 1 hour, turning about every ten minutes, so the tiny bits don't burn. The cauliflower should just lightly brown and dry out considerably (end volume will be about ⅓ what you started with)
Chicken Fingers
Preheat oven to 425 degrees.

Beat egg and buttermilk together.

Dredge the chicken tenders in the egg wash, then in the cauliflower crumbs. Pat lightly to ensure sticking, and lay out on a baking sheet.

Mist the cauliflower coated chicken fingers with a Paleo friendly oil, or lightly baste with a melted solid fat.

Bake for 15-16 minutes.
Nutrition
Serving:
2
tenders
|
Calories:
180
kcal
|
Carbohydrates:
8
g
|
Protein:
30
g
|
Fat:
3
g
|
Fiber:
4
g