A Biscoff Pavlova topped with fresh sliced peaches and crumbled cookies is a fabulous summer dessert!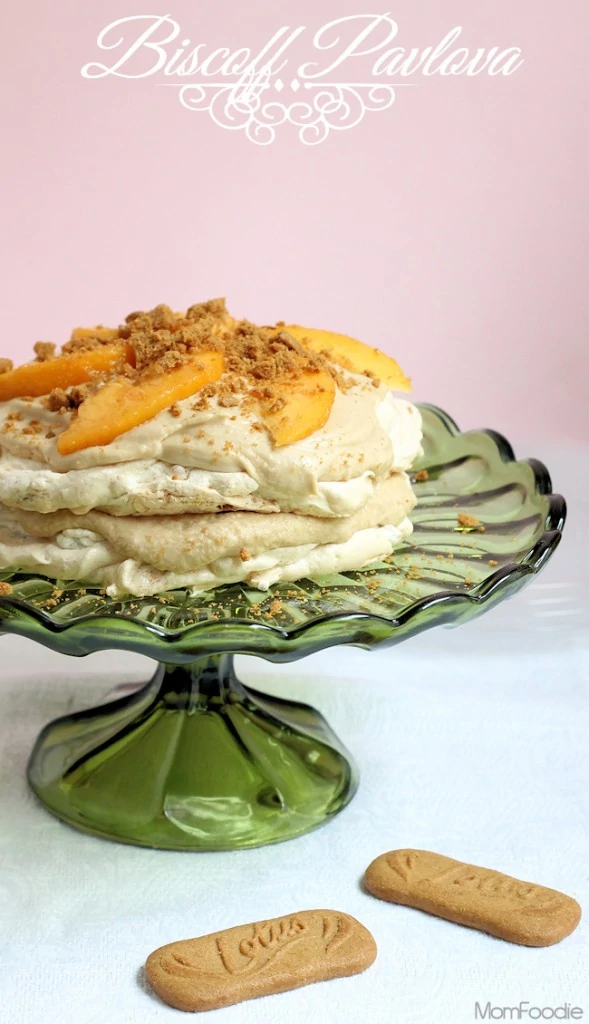 I'm almost ashamed to admit, I actually never tried Biscoff spread until a couple weeks ago. As an avid foodie, I'd always been curious about this elegant sweet Belgian spread made from the iconic Biscoff cookie (known as Lotus Speculoos cookies in Europe), after seeing so many lovely desserts featuring it .
I just never seemed get around to picking up a jar. I'm now happy to say, I am a Biscoff virgin no more. I've now tried it on a wide array of fruits, chocolate, ice cream and nuts, as well as, integrating it into some recipes… and yes, it tastes like cookies.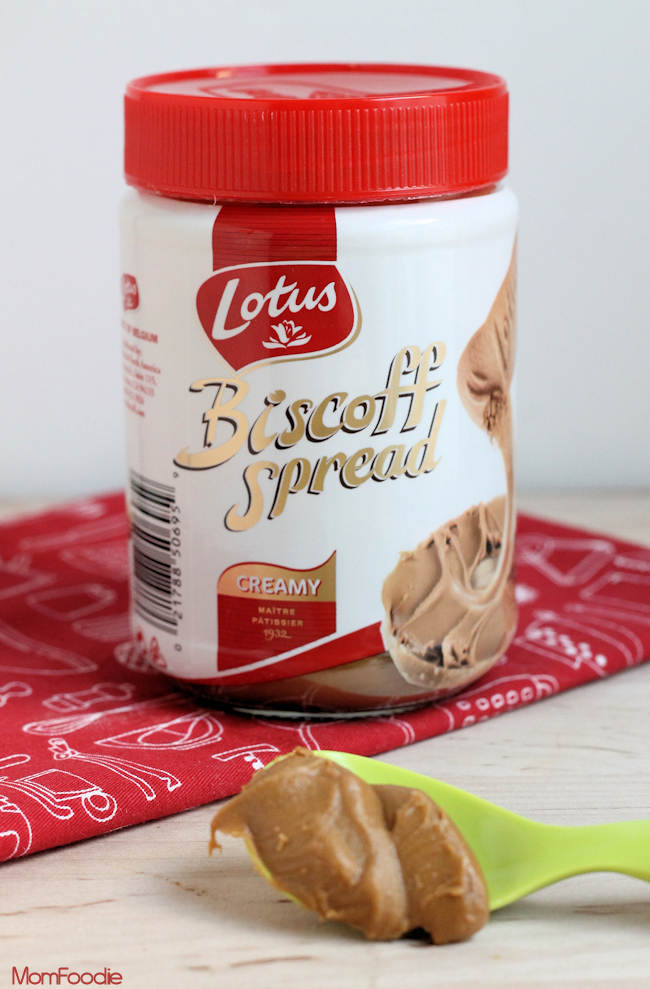 I felt the Biscoff spread called for a worldly first act, so I decided to make a Pavlova, as my first Biscoff dessert. For those of you not familiar with the pavlova, it it a European style meringue dessert with whipped cream filling and topped with fruit. As the legend goes when famed ballet star Anna Pavola visited Australia and New Zealand, a competition was arranged and the top chefs from both countries presented their most fantastic desserts to Pavlova. She selected this meringue based dessert, and it was henceforth given her name. The two countries fight to this day over the claim of developing the dessert.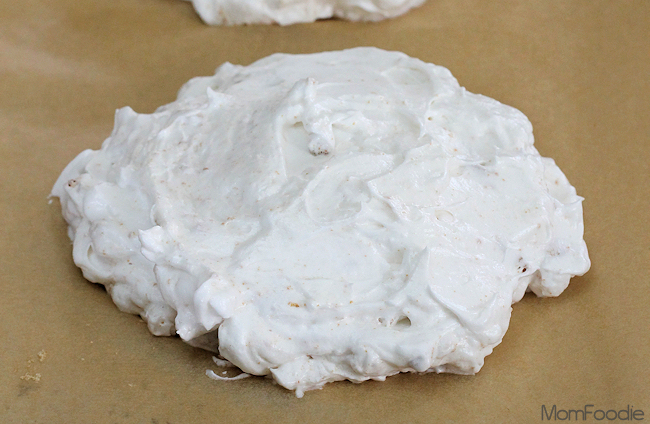 Both Biscoff cookies and spread were used in this Pavola. The Biscoff spread blended in nicely with the whipped cream, thickening it a bit. Cookies were added to the meringue for added texture and flavor. They were also crumbled over the fresh sliced peaches.
While this Biscoff Pavlova may not be the sort of dessert many American cooks are used to making, if you have patience with it, it really isn't difficult. The filling and topping are a breeze. Where some cooks have an issue is with the meringue. If you whip the egg whites nice and stiff and resist the temptation to remove the meringue from the oven prematurely, it should be fine though.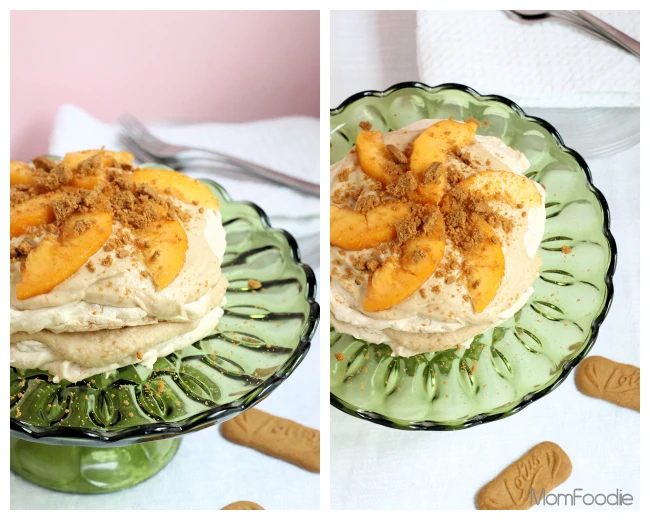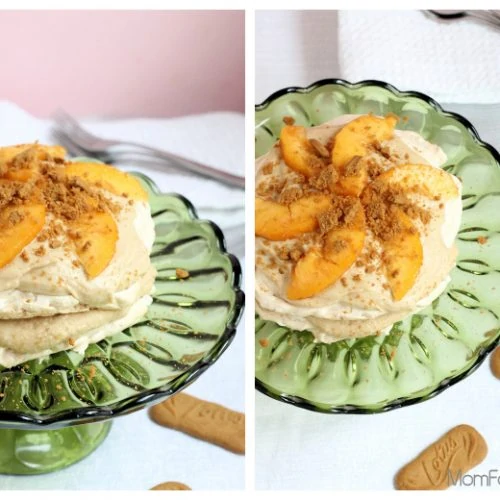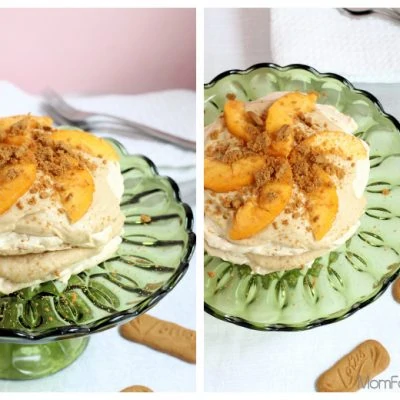 Ingredients
Biscoff Meringue
4

room temperature egg whites

¼

teaspoon

cream of tartar

1

cup

confectioners sugar

2

teaspoon

corn starch

6

Biscoff cookies

crumbled
Biscoff Cream Filling
1

cup

heavy cream

¼

cup

Biscoff spread
Topping
1

peach

peeled, pitted and sliced

2

Biscoff cookies

crumbled
Instructions
Preheat oven to 350 degrees.

Beat the egg whites on high until foamy, add the cream of tartar and continue to beat until it forms soft peaks, the add the sugar and cornstarch gradually. Beat until stiff peaks form. (when you think it is done, you probably need to beat it a little more).

Gently fold in the crumbled Biscoff cookies.

Line a baking sheet with parchment paper and pipe or spread the meringue out into two disks (or six if you prefer individual pavlovas)

Place the meringues in oven, then reduce heat to 250 degrees and bake for 1 hour. After the hour, shut off oven, leave the door closed, and LEAVE THE MERINGUE IN for 2 hours until fully cooled.

Once the meringue is fully cooled, set aside in dry place (or store in airtight container if you will be assembling a day or two later).

To make filling: Beat ¾ cup of the heavy cream in cold mixing bowl, until it forms peaks. Mix the other ¼ cup in the Biscoff to loosen it up, then add this to the whipped cream and beat for about a minute.

Break off the top crust of meringue, and top with the Biscoff whipped cream. Layer, if you like.

Top with sliced peaches, and crumbled Biscoff cookies. Serve.