Press sample provided from Zoku.  All experiences and opinions, as well as the recipe,  presented here are my own.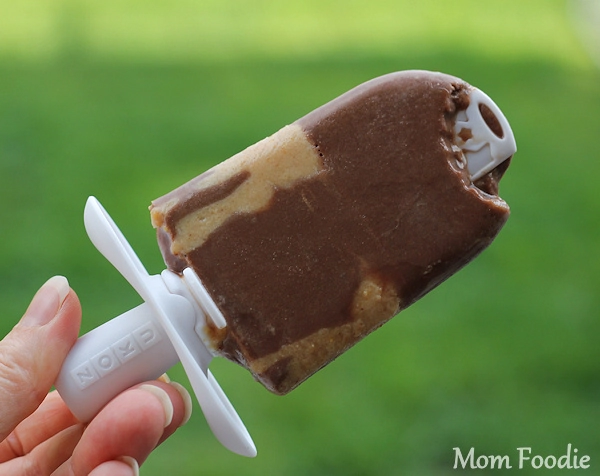 One of my favorite candy bars is Reese's, and yes, the candy did inspire me to come up with these freezer pops.  I already make Lil' Foodie's chocolate milk from scratch (to avoid HFCS), so I have made homemade fudgsicles many times before,  thus all I had to come up with was the peanut butter part of the recipe.  I decided to keep that part very simple, since it was just a small portion of the bar.  Lucky for me, I have a Zoku pop maker, so the wait for these was not going to be long at all.  As you can see by the chomp I took out of the pop above, while walking out to snap a picture of it, patience is not always my best virtue (and with a pop fiending 5 year old, never more than the next room away, you learn to take your opportunities when you can) .
Now you can make these pops in a regular pop mold, they will still taste just as good, but you might not be able to enjoy them until tomorrow. That is... well...  lame.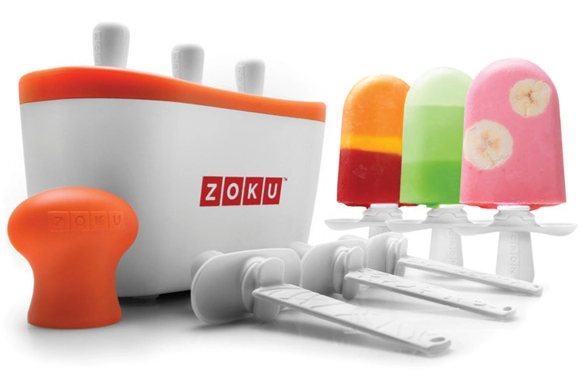 Once you have a Zoku in your freezer, freeze pops will be ready in about 7 minutes!  After the initial 24 hour freeze of the unit, I have kept mine right in the freezer & ready for action pretty much all the time.  I make a batch of pops, and whichever ones don't get eaten, stay right in the maker. With juice pops I wash the unit after about 3 batches, with dairy based pops after 1-2 uses.  Clean up is pretty much just a really good rinse and wipe down, then I put the unit right back in the freezer, so it is still holding some of it's coldness... thus it won't take a full 24 hours to be ready for use again.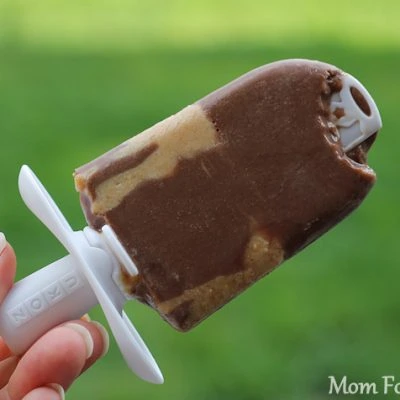 Chocolate Peanut Butter Freeze Pops
Fast Chocolate Peanut Butter Freeze Pops
Print
Pin
Rate
Ingredients
1

tbs

hot water

3

tbs.

cocoa powder

¼

cup

plus 2 tbs sugar

¼

teaspoon

Kosher salt

use ⅛ if substituting table salt

1

teaspoon

vanilla

1

and ¼ cups milk

I use 1%

¼

cup

natural creamy peanut butter
Instructions
Whisk together the hot water and cocoa until disolved.

Add ¼ cup of the sugar, the salt and vanilla mix well.

Add 1 cup of the milk, mix and set aside.

In separate bowl mix the peanut butter, ¼ cup of milk & 2 tbs of sugar. Mix well.

Pour a little of the chocolate mix into your pop maker, and let it set (freeze) a bit, add some peanut butter mix, this will be thicker, some keep the layer relatively thin. You can then add more chocolate mix.

Freeze solid, and serve
Notes
* if using a pop maker, that you pour mix in from top with stick already inserted like the Zoku, you can make extra layers if you want.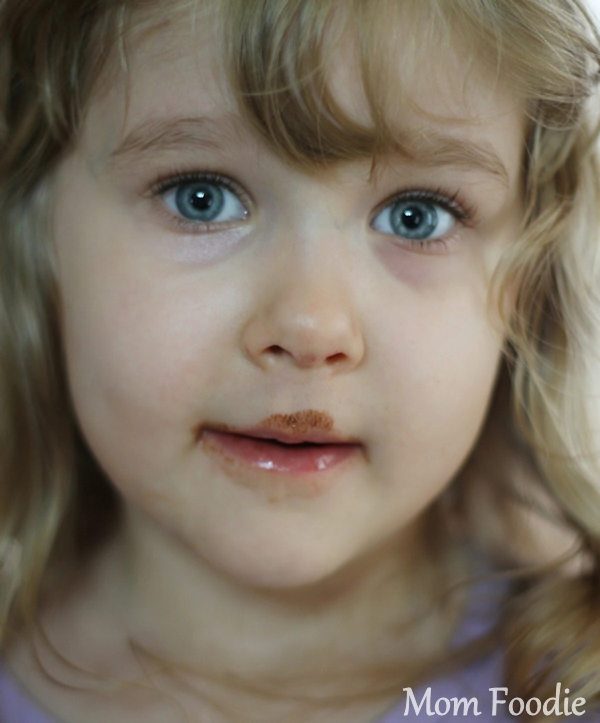 Just in case there was any doubt in your mind.  Lil' Foodie was stalking me, and did get the rest of the Chocolate Peanut Butter Freeze Pop.