This post is brought to you by "Cans Get You Cooking" and Mom It Forward Blogger Network.  All opinions, experiences and recipe are my own.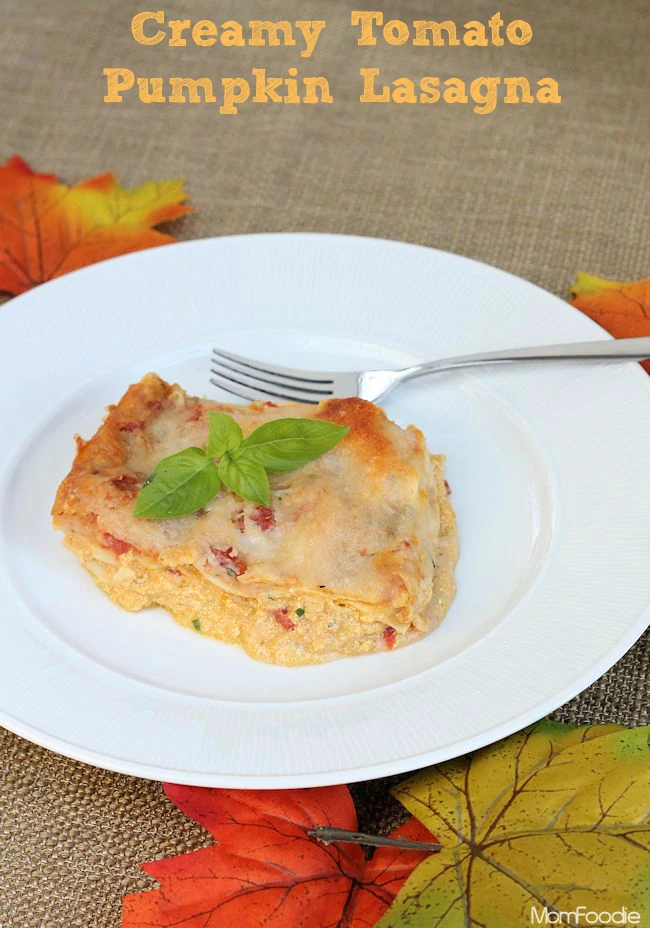 Want something savory that screams fall? How about Pumpkin Lasagna!
This Creamy Tomato & Cheese Pumpkin Lasagna Recipe is an easy to make and filling meatless meal.  I've made butternut squash lasagna on many occasions and enjoy it, so this wasn't too far out there for me.  Since butternut squash is a little richer in flavor than pumpkin, I decided to make a pumpkin ricotta blend for the filling.  This worked out well, especially for a cheese lover like myself.  Using canned evaporated milk, rather than heavy cream to make the sauce kept fat and calories reasonable for the recipe, without sacrificing taste.  The bonus, both pumpkin and evaporated milk will be frequent sale items over the next few months, so it is a budget friendly meal as well.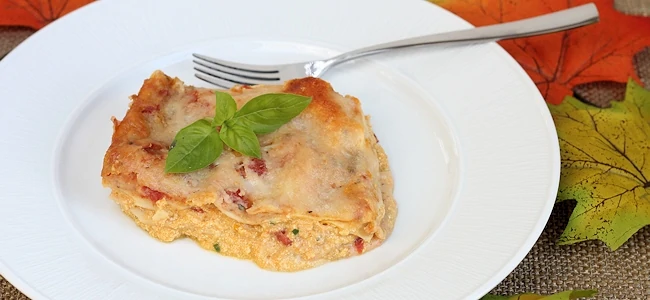 Cans Get You Cooking
You may have noticed I used several canned products in this recipe, most noticeably canned evaporated milk.  I usually have this on hand in my pantry, since milk and cream tend to spoil in my house and I like the way it adds a rich creamy taste with far less fat & calories.
Apparently, I'm not the only one tossing out a lot considering 73% of Americans throw away spoiled fruits and vegetables on average two times a week.  I don't know about you, but it drives me crazy when I have to throw out spoiled food.  It is such a waste of money and resources.  Canned foods, with their extended shelf life can help avoid a good deal of food waste, as well as add variety to what is available one hand on any given day.  Greater available variety, makes cooking homemade meals easier, more enjoyable and makes for tastier results.
For more information about the benefits of cooking with canned food and some great recipes, check out the Cans Get You Cooking You Tube Channel, their Facebook page and Pinterest account.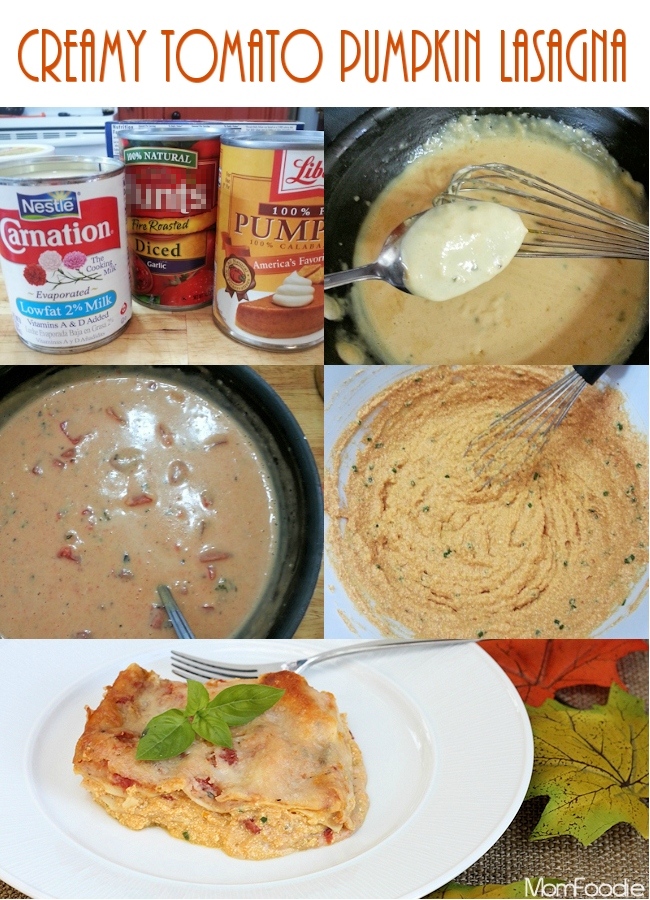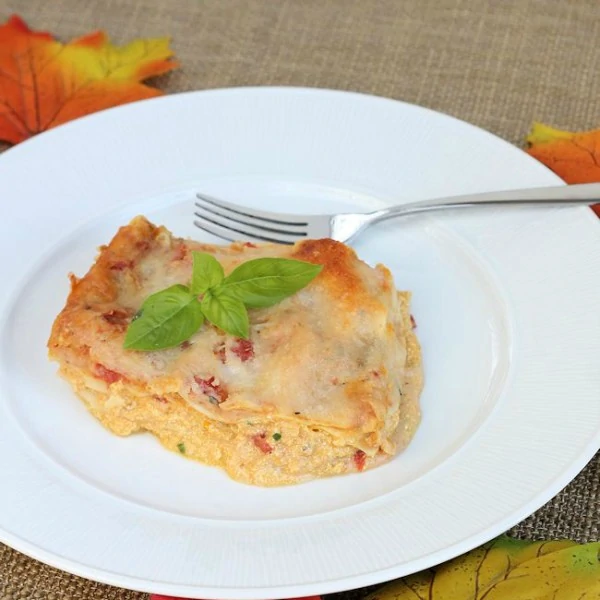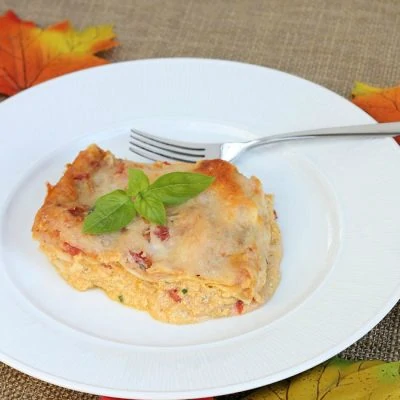 Ingredients
no-boil lasagna noodles

approx. half a box

12

oz.

Italian blend shredded cheese or mozzarella
Creamy Tomato Sauce
2

tbs

butter or spread

½

teaspoon

fresh thyme

1

clove

of garlic

minced

1

can

12 oz Evaporated Milk (I used 2%)

2

tbs

all purpose flour

2

teaspoon

chicken or vegetable base

preferably MSG free

15

oz

Fire Roasted diced tomatoes

can

2

tbs.

Parmesan or Romano cheese

few grinds of fresh black pepper
Pumpkin Ricotta Filling
15

oz

pureed pumpkin

can

2

cups

16 oz. Ricotta cheese

2

tbs.

Parmesan or Romano cheese

1

large egg

1

tbs

chives or scallions

chopped
Instructions
Preheat oven to 350 degrees.

Start preparing the sauce: Melt butter/spread in saucepan over med-high heat. Once melted add the thyme and garlic, saute until garlic is cooked (about a minute).

Pour in evaporated milk, add flour immediately and whisk well, add the stock base and continue whisking. Once the sauce is thickened to the point it coats spoon back about ⅛th of an inch thick, add the can of tomatoes and Parmesan.

Continue stirring reduce heat to low and cook another 2 minutes, then add pepper, stir and set aside.

Combine ingredients for filling. Set aside.

Spread a layer of sauce on bottom of 8x11 lasagna pan.

Top with no-boil noodles, then a tiny amount of more sauce. Sprinkle a little cheese on, then spread an inch thick layer of the pumpkin mixture, sprinkle a little more cheese, the a layer of noodles. Top with a little sauce and cheese, then remain pumpkin mixture, top with a little cheese then final layer of noodles.

Top off the final layer of noodles with remaining sauce and a generous amount of cheese.

Place the lasagna pan on a baking sheet, and bake for 40 minutes, turning the pan about halfway through.

Allow the lasagna about 20 minutes rest time to cool and set before serving.
Nutrition
Calories:
396
kcal
|
Carbohydrates:
27
g
|
Protein:
21
g
|
Fat:
22
g
|
Saturated Fat:
13
g
|
Cholesterol:
95
mg
|
Sodium:
586
mg
|
Potassium:
261
mg
|
Fiber:
2
g
|
Sugar:
4
g
|
Vitamin A:
9170
IU
|
Vitamin C:
3.5
mg
|
Calcium:
406
mg
|
Iron:
1.9
mg