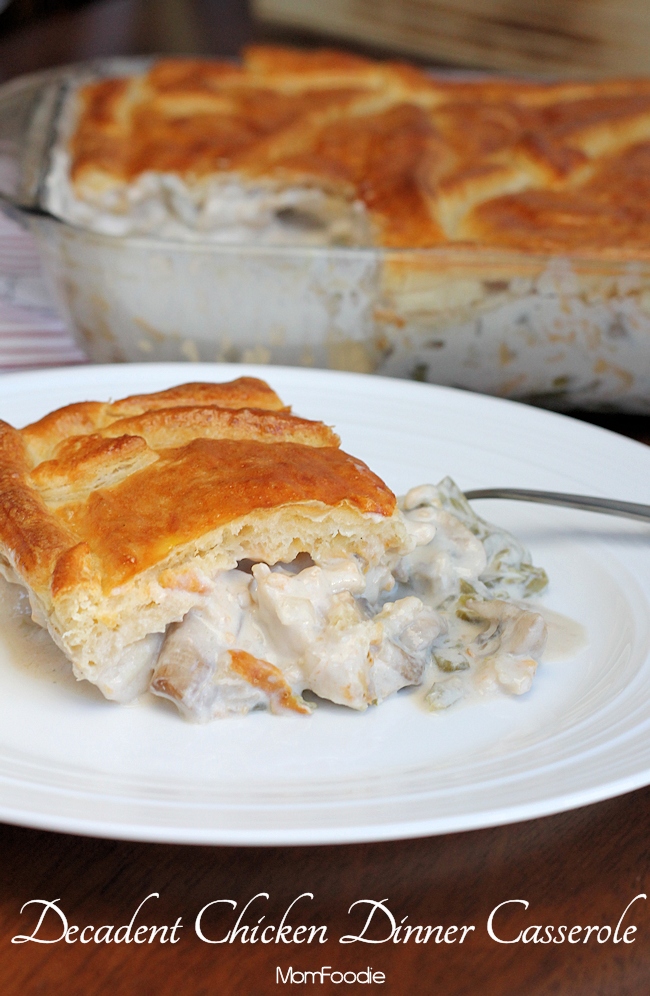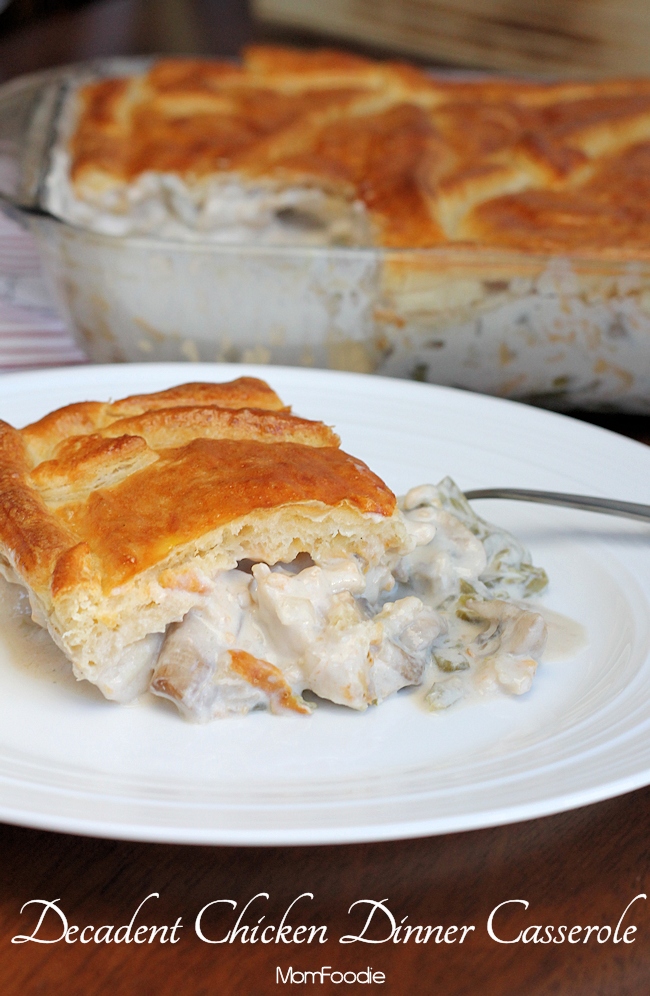 To me there is something so decadent about the French croissant, and what after all is a Pillsbury Crescent roll but the American version of this lovely pastry… only available for anyone to make fresh in just a few minutes. So, when I got the opportunity to create a recipe featuring Pillsbury crescent rolls, visions of all things French and luxurious swirled in my mind, tempered by good old Yankee practicality.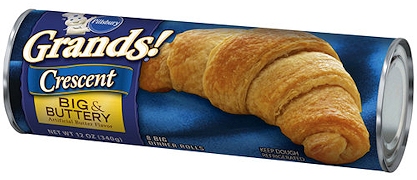 I enjoy chicken pot pie, but too many of them lack in flavor. Here I decided to make a chicken pie style casserole, but with stepped up the flavor and richness. I also spun a French theme through the ingredients chosen.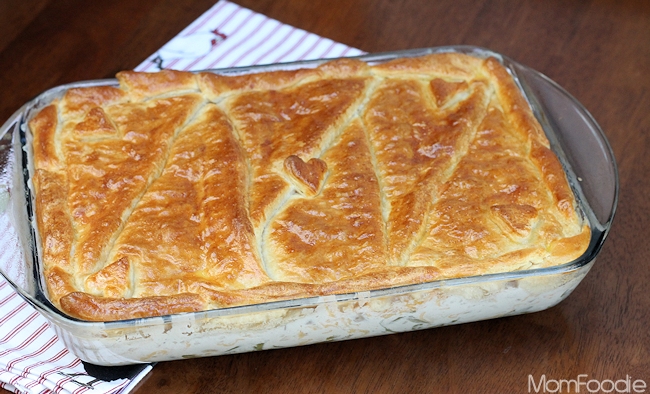 The resulting chicken casserole, melded chicken, mushrooms and French style green beans in a creamy cheesy sauce flavored with French onion soup and topped with a tender croissant crust, simply made from Pillsbury crescent rolls.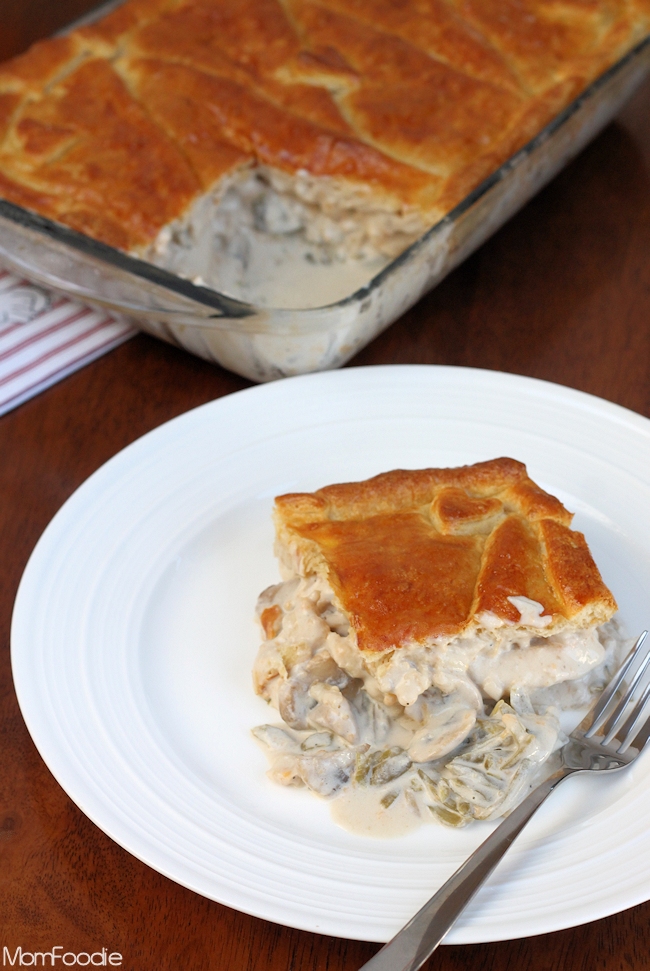 Print
Decadent Chicken Dinner Casserole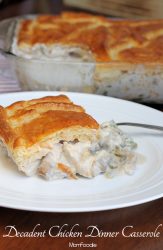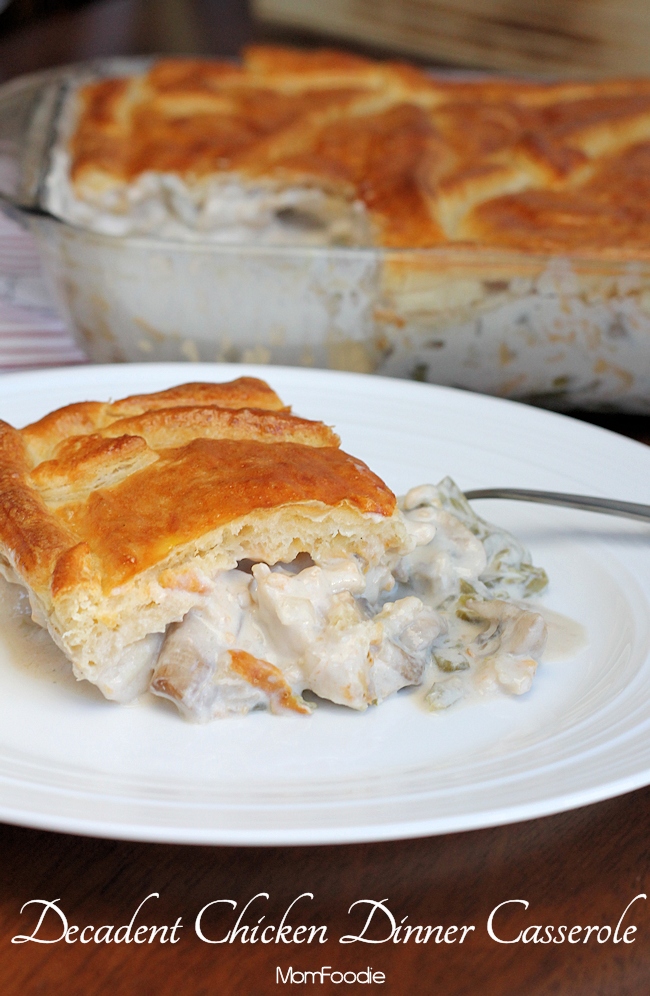 Author:

Robin Gagnon

Prep Time:

10 mins

Cook Time:

30 mins

Total Time:

40 minutes

Yield:

8
Ingredients
1 lb chicken breast trimmed
1/4 cup all-purpose flour
generous pinch of salt
4-5 grinds of fresh black pepper
1/4 cup butter or spread
1 clove garlic, minced
8 oz mushrooms, sliced
2 cups water
1 package French onion soup mix
1 8 oz package of cream cheese or Neufchatal cheese
2 cans French cut green beans
1 1/4 cups shredded sharp cheddar cheese
1 canister (12 oz.) Pillsbury Grands Crescent Rolls
1 egg
Instructions
Preheat oven to 375 degrees.
Cut the chicken into small bite sized pieces. Mix flour salt and pepper together, and dredge the chicken in it, taking care to coat it completely.
Melt the butter or spread in skillet over med-high heat, add the garlic and half the chicken, stir the chicken around until coated, then add remaining chicken, stir until the flour coating is cooked, and slightly crisped. Remove chicken to bowl and set aside.
Saute the mushrooms in same bowl, no need to add more butter, once the mushrooms start to release their liquid the will cook fine.
Whisk the package of French onion soup into 2 cups of water. Once the mushrooms are mostly cooked, add the soup and cream cheese.
Stir until cream cheese is mostly dissolved, then return chicken to pan, and cook for 5-6 minutes, until it is starting to thicken. Shut off burner.
Spread the French green beans out on bottom of greased 8×11 baking dish.
Top the green beans with 1/2 cup cheddar, then the chicken mixture, then 3/4 cup of the cheddar.
Open the canister of Pillsbury Grands crescents, and roll out. Place 6 of the crescent triangles on top overlapping a little. Use the other 2 to make an edge crust, and cut out a few decorative shapes with small cookie cutters if you like.
Beat one egg, and baste crust with it.
Bake 18-20 minutes. Top should be a little browned but not burnt at all.
Cool 15 minutes before serving.
Want a winning weeknight dinner the family will enjoy, make Pillsbury Crescent Rolls. Get Recipes at www.Pillsbury.com
Disclosure: Compensation was provided by General Mills via Glam Media. The opinions expressed herein are those of the author and are not indicative of the opinions or positions of General Mills.