This free printable Dinosaur Coloring Activity Placemat teamed with dino chicken nuggets make mealtime so much easier for frazzled moms. The dinosaur-shaped chicken breast nuggets are ready in minutes and the coloring placemat helps occupy kids during the short cooking time. It also reinforces the dinosaur theme and encourages balanced meals, particularly for kids that are huge dino fans. It's time to embrace your kids playing with their food, full-throttle, and enjoy stress-free meals.
Post sponsored by Mirum. Opinions are 100% my own.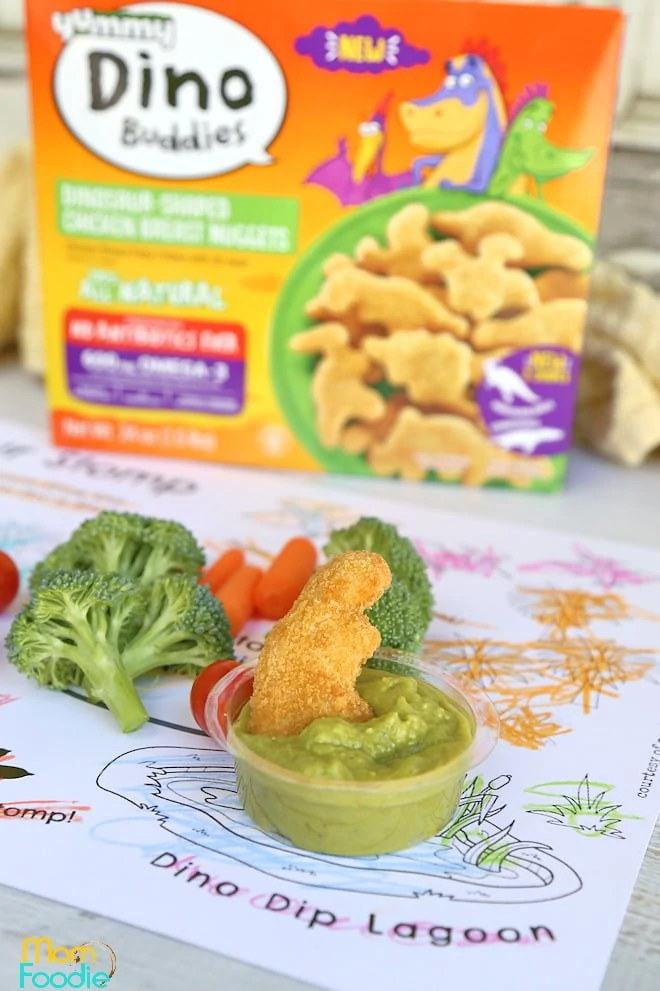 Dinosaur Mealtime Activity
Of course when your chicken nuggets are already shaped like dinosaurs, playtime and creativity are pretty easy to jump into. To make it even easier and boost imaginative play, I designed this large dinosaur-themed placemat for kids. Teaming raw veggies and a single serve dip with the easy to prepare Yummy Dino Buddies makes preparation fast and clean up a breeze.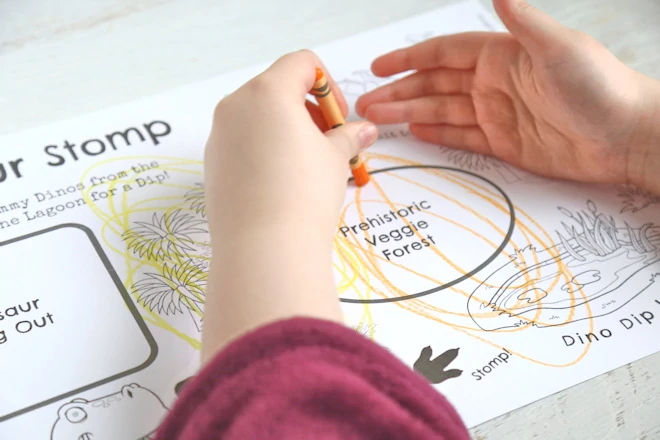 The printable placemat is two sheets of paper wide to create a big, fun space to play. Kids can color the placemat while waiting for their food to cook. If they are occupied creating their own food play surface, there is far less chance of misbehavior.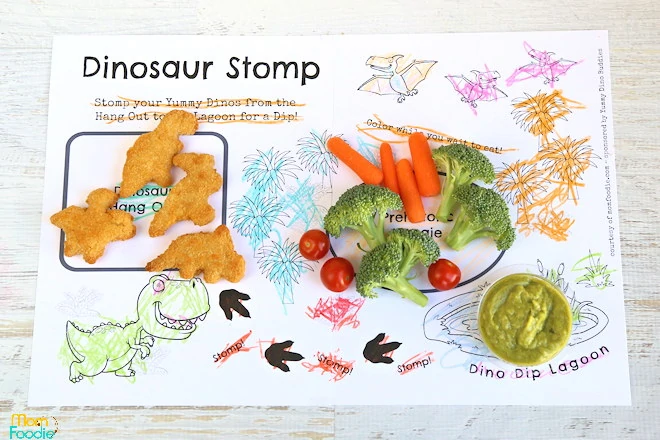 Once the  Yummy Dino Buddies are ready to eat, place a serving of them on the Dinosaur Hang Out space. Fresh raw veggies populate the Prehistoric Veggie Forest and a single serving of hummus or guacamole makes a perfect lagoon for the Dino Buddies to take a dip in. Let the food play commence!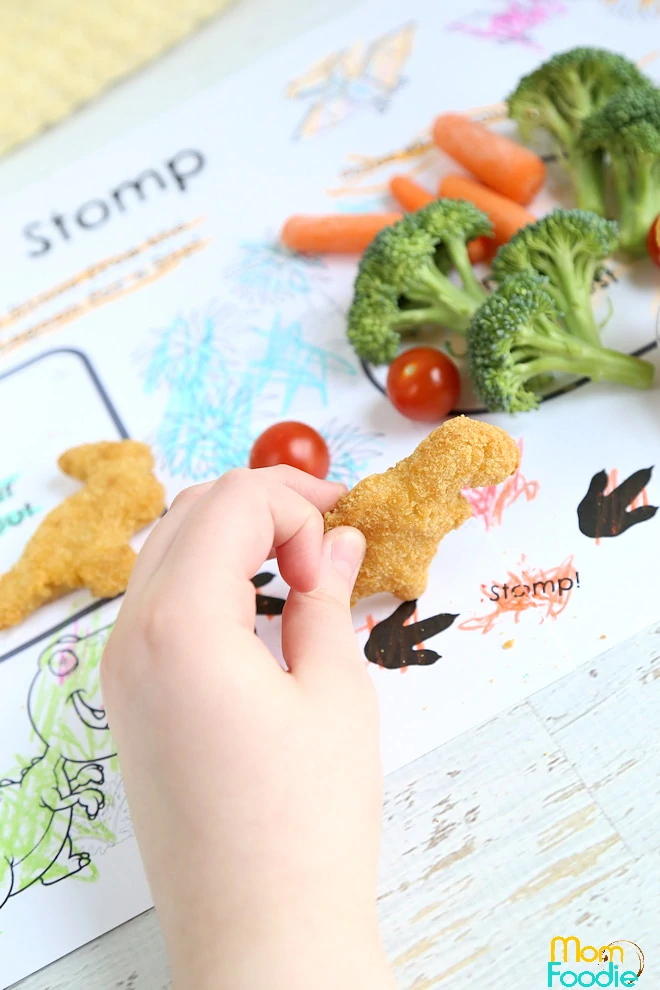 When it is time to dip, your child can stomp their dinosaur along on the footprint path. Stomp! Stomp! Stomp!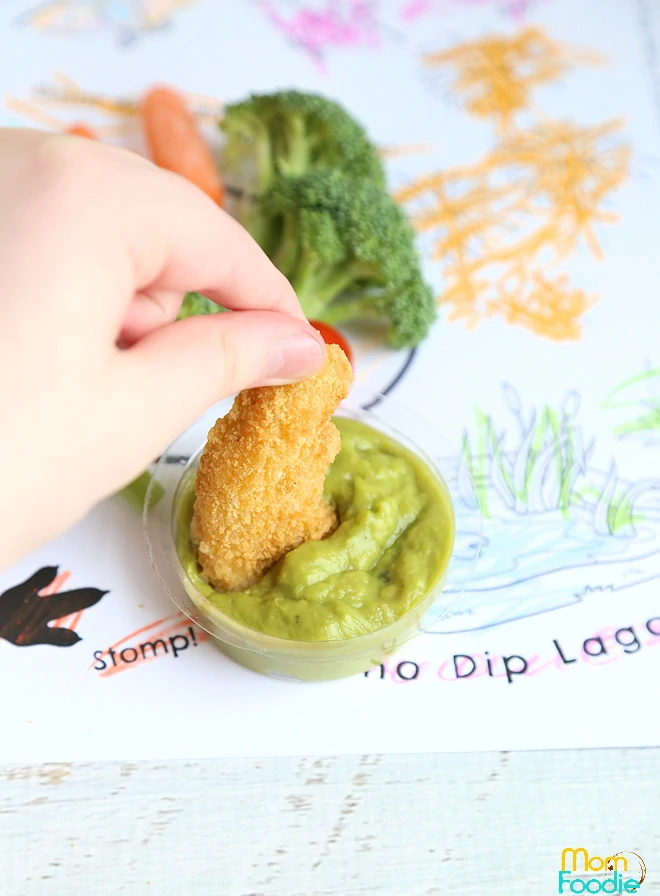 Then, their Dino hops into the lagoon.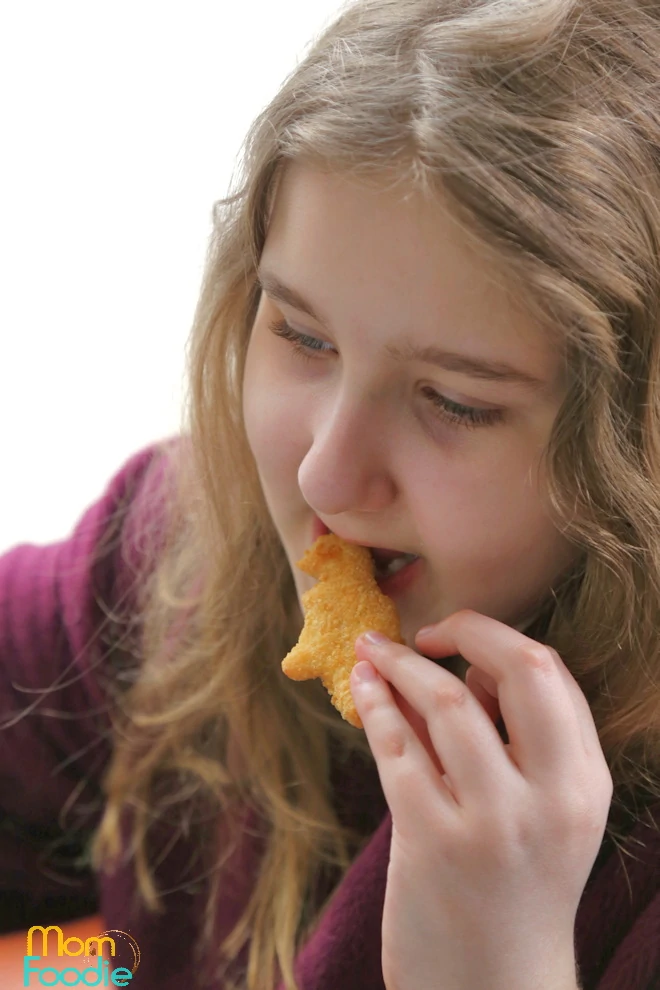 ... or just gets his head bit off before he even makes it...lol
Yummy Dino Buddies
Don't let the fun shapes fool you. As I mentioned above, Yummy Dino Buddies are 100% natural chicken breast nuggets (white meat only). The chickens used in making these are antibiotic-free and raised without hormones. No artificial preservatives are used in making the nuggets and they are fortified with Omega-3 fatty acids from canola oil and flax.
Dinosaur Placemat
Get ready for a fun Dino Buddies meal!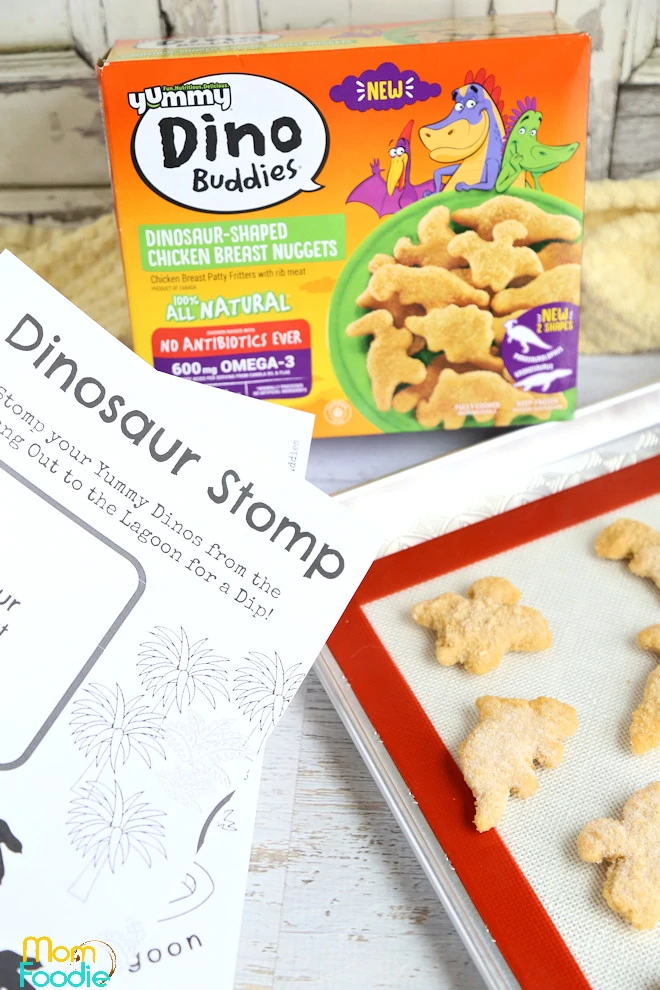 Print out the placemat sheets, pop your Yummy Dino Buddies in the oven and find some tape.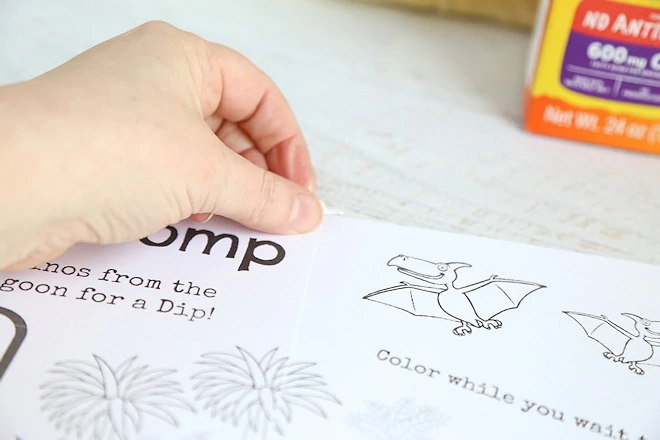 Line up the two halves of the placemat and tape the edges of the seam to hold in place, then flip over and put a couple pieces of tape on the back seam to hold the activity mat together.
If you are fussy like me, you may want to trim one of the pieces, so it will line up all pretty. The gap will be small though, so you can skip it if you aren't crazy about that sort of thing.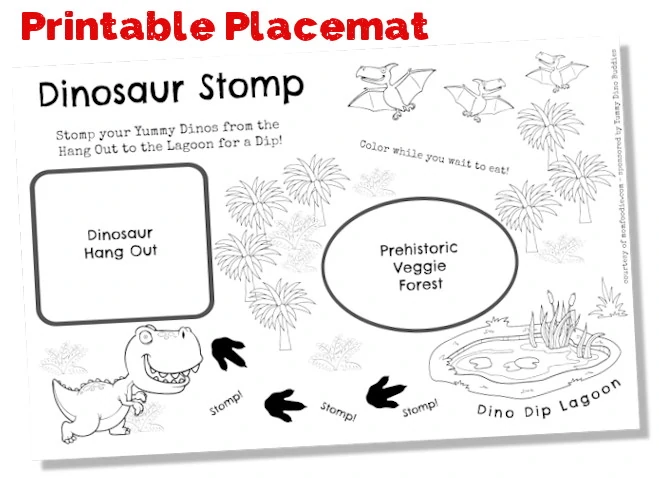 Free Printable Placemat
Here are the files to print the big dinosaur coloring placemat. Why not print out a small batch of each, so you can have these large placemats ready whenever your kids want some Yummy Dino Buddies.
If you like this, be sure to check out my free printable Dinosaur Cootie Catcher Joke Teller too!