A Free Printable Thanksgiving Jokes for Kids Cootie Catcher to keep them occupied on the holiday. Older kids can fold the cootie catchers as an origami craft project and kids of all ages can play with them.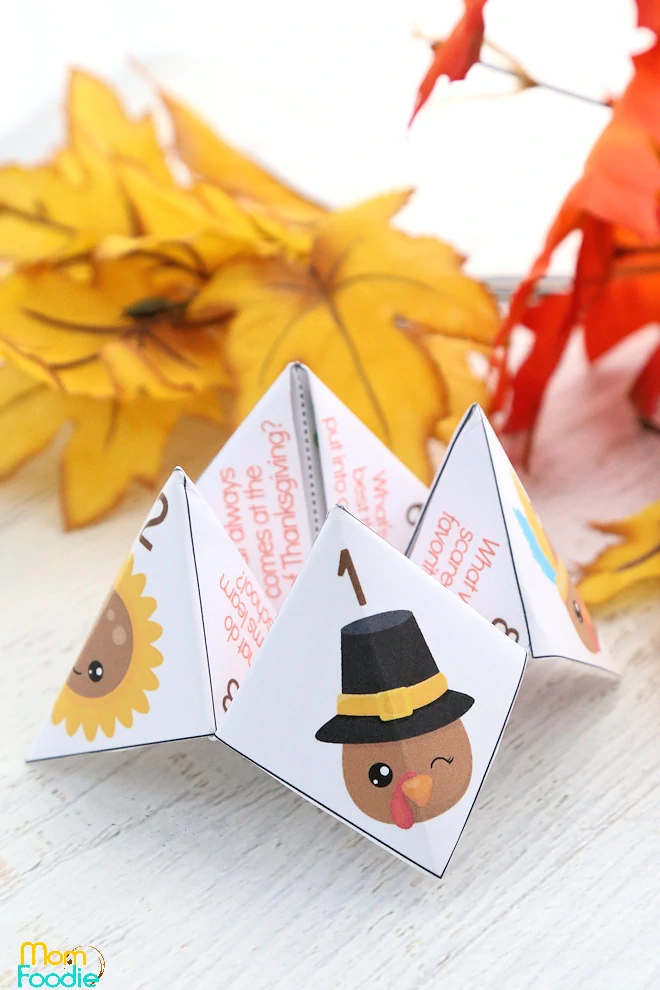 Cootie Catcher with Thanksgiving Jokes for Kids
As a kid we called these paper fortune tellers, but I've become fond of the other name they go by… cootie catchers. This free printable Thanksgiving cootie catcher tells kid's Thanksgiving jokes. What a great way to get kids interacting with distant family members, by telling them jokes.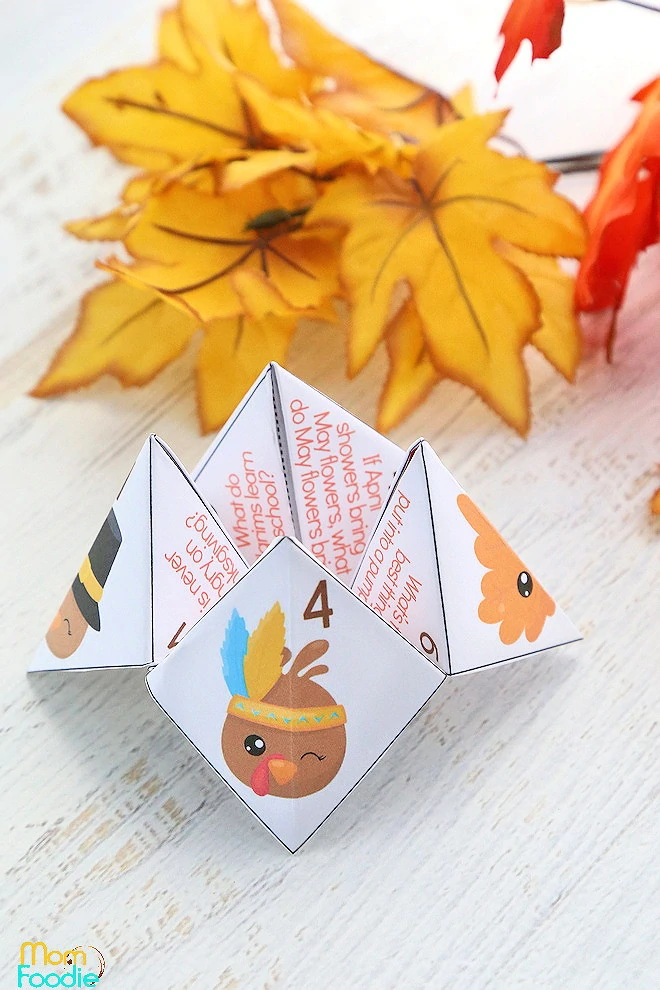 The Thanksgiving themed printable has four cute characters on the outside of the paper fortune teller, each with a number. Children pick a character and count out the corresponding number with the teller to bring you to a silly question. . The answers to the riddle jokes are folded inside. See folding instructions below.
Serve the kids some Pumpkin Spice Popcorn Party Mix or Pumpkin Cookies and Pumpkin Pie White Hot Chocolate, while they play with the paper toys.
While you are printing, print off a few of my "Save the Turkey" Thanksgiving Mazes for the kids too.
How to Fold a Thanksgiving Joke Teller
Here I will walk you through the simple process of folding the Thanksgiving cootie catcher with pictures. If the kids are all younger, fold the toys beforehand. If you have a couple crafty older kids around, leave all of this to them.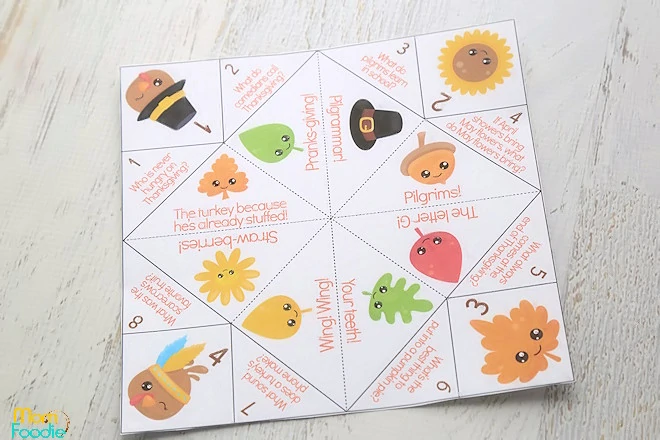 1.CUT IT OUT
Trim off the excess paper after printing.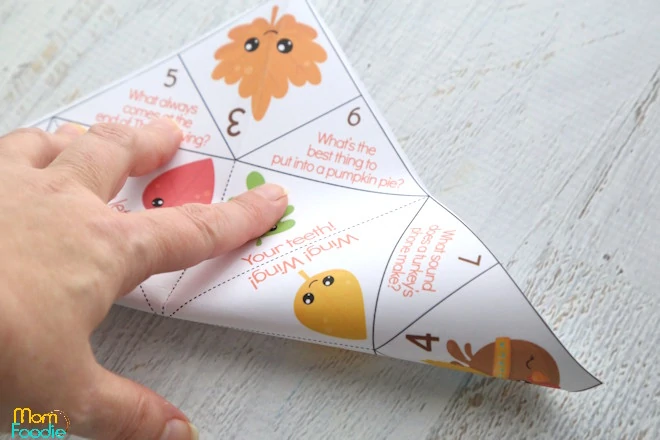 2. DIAGONAL CREASES
Lay the paper printed side down and  fold and unfold diagonally to create creases in the paper template.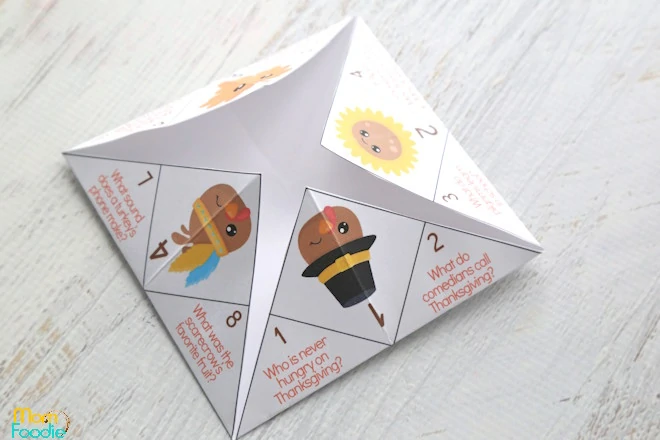 3. FIRST FOLD IN
Keep the printed side face down and fold the corners in.
4. FOLD AGAIN
Flip the cootie catcher over and fold the corners in again.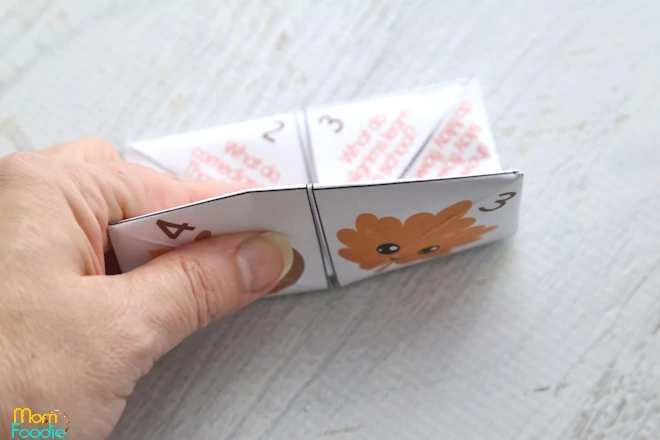 5. RECTANGLE CREASE
Now fold straight across to create a rectangle. Unfold and repeat across this fold.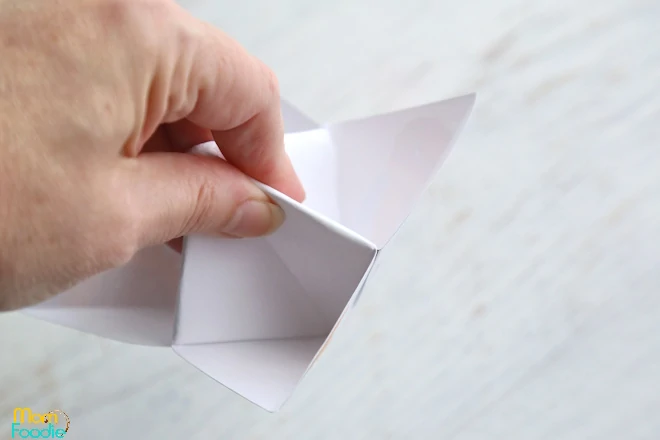 6.OPEN AND PINCH
Now open up the joke teller and crease the edges to help the cootie catcher hold it's shape. It is now ready to tell Thanksgiving jokes to your kids!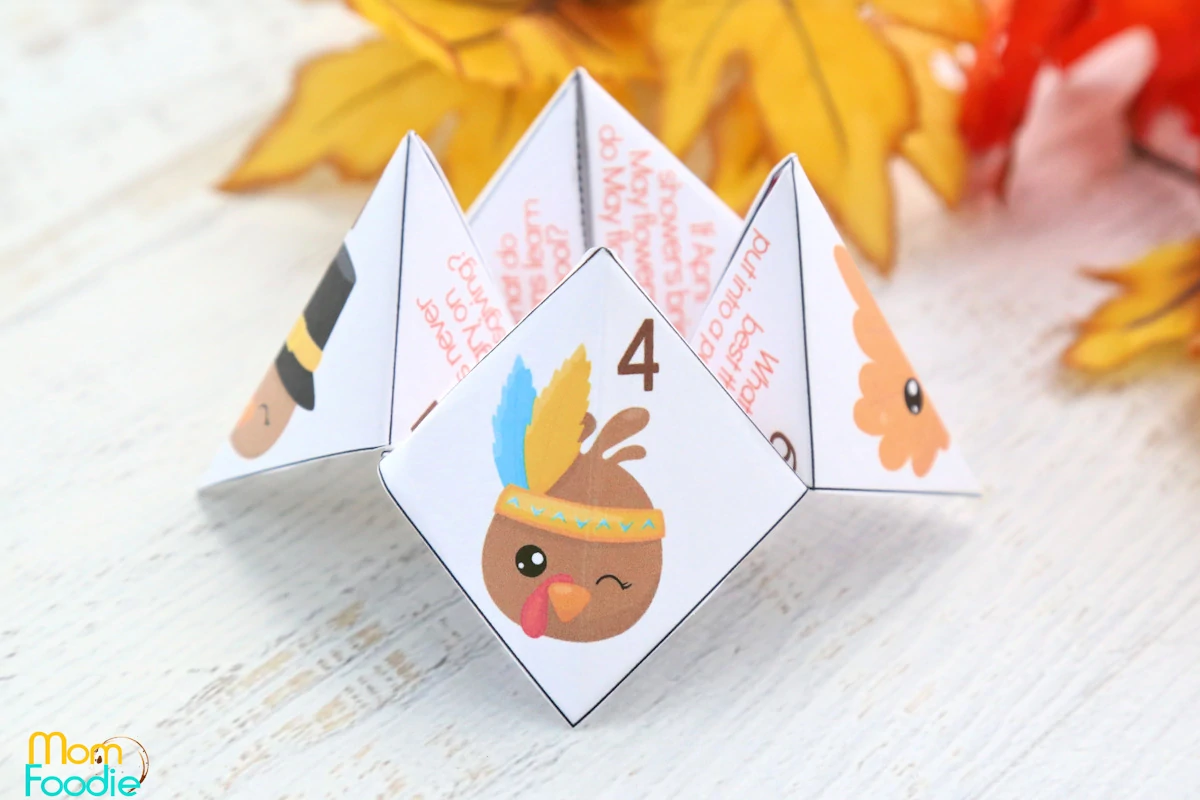 PRINT THE THANKSGIVING COOTIE CATCHER
Here is the pdf file so you can print out your own.
Standard printer paper is fine, but I prefer using cardstock for this paper toy so kids will get more use out of it.
TIP – Make sure to select "fit to page" when printing.
PRINT >> Thanksgiving Jokes For Kids Cootie Catcher
If you liked this free printable check out my Halloween Cootie Catcher and Dinosaur Jokes Teller too!