Fresh Apple Cinnamon Scones are perfect for fall baking. You'll love how your home will be fragranced with the chopped apples and cinnamon while the scones bake. The delicious fall treat is perfect for brunch or simply with coffee on a crisp morning.
Cinnamon Apple scones are also a fabulous choice for celebrating the holidays or as a stand-in for pie or turnovers. The flavors in the recipe are a classic combination for Christmas too!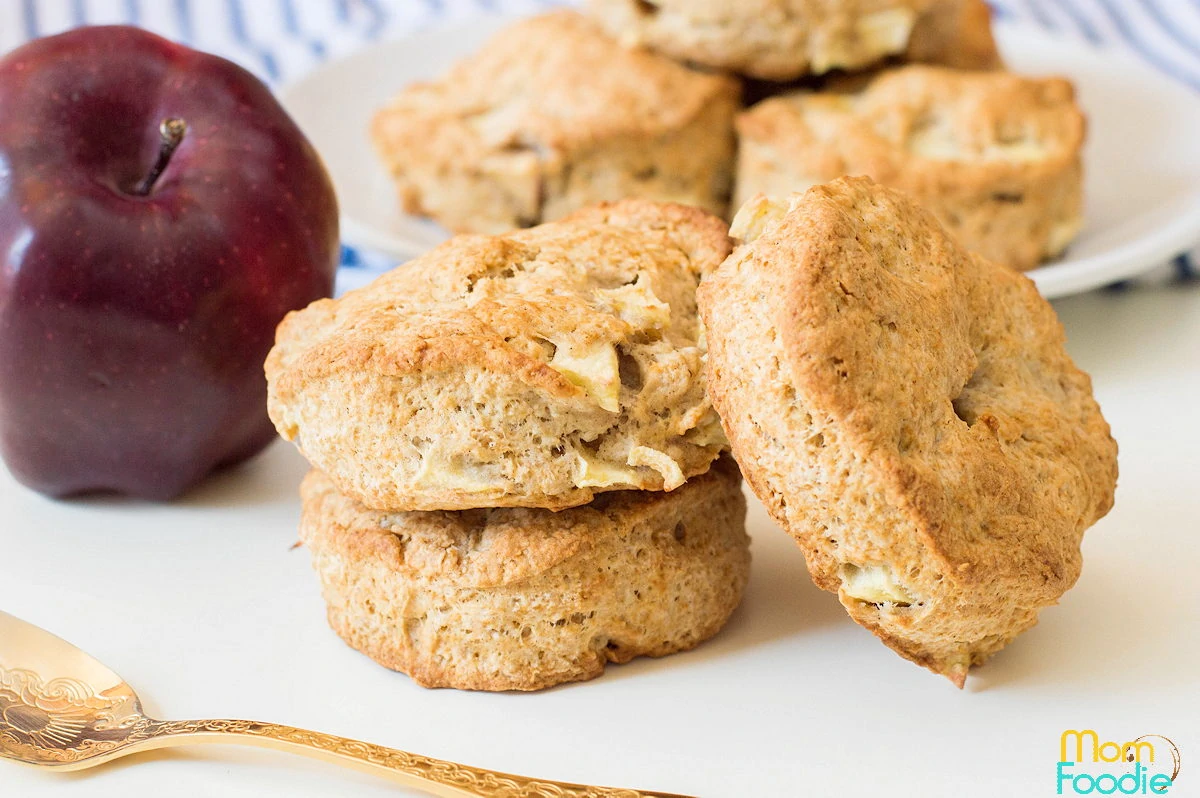 Apple Scones
Apple pie gets far too much attention this time of year. I am more of a scone girl myself. I find them more versatile. You can eat an apple scone anytime, even grab one for the road. No need to stop at a coffee shop.
This scone recipe uses fresh apples and plenty of ground cinnamon, a delightful pairing anytime of year, but iconic of autumn. They can even be made ahead, to be the perfect host when you have overnight guests. Making these sweet flaky scones would also be a fabulous activity to do with kids after taking them apple picking. They could even take their accomplishment to school with them the next day.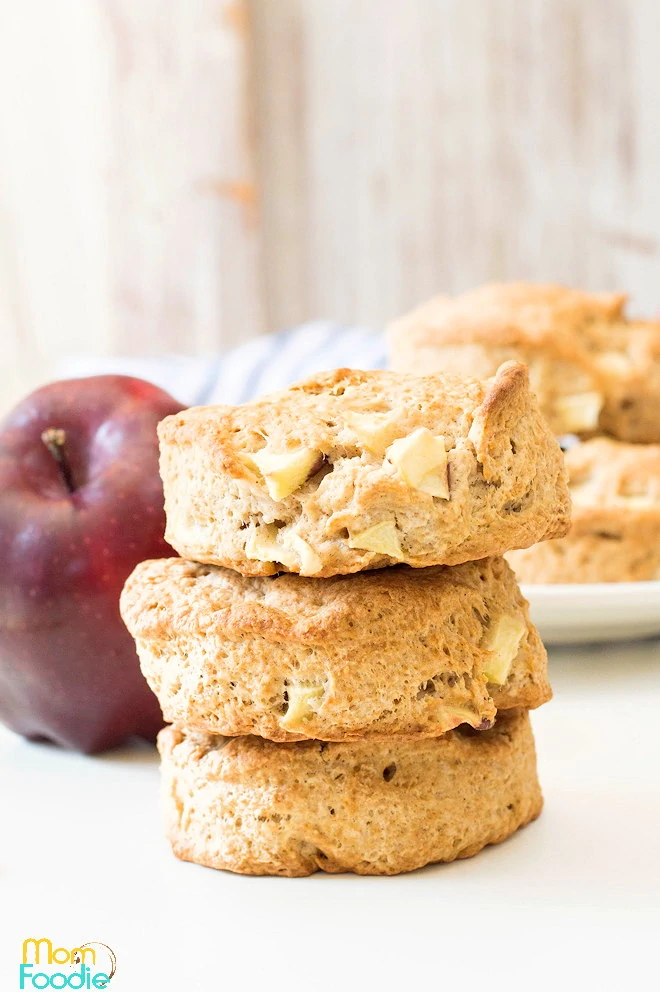 How to Make Apple Cinnamon Scones
Here is a visual guide to preparing the scones with step-by-step directions in pictures. Printable recipe card below.
The recipe makes 8 servings.
Prep Time: 25 mins Bake Time: 15 mins
Ingredients you will need for the scone recipe:
1 medium apple
2 cups all purpose flour sifted
2 teaspoon baking powder
1 teaspoon baking soda
Pinch salt
¼ cup granulated sugar
1 teaspoon ground cinnamon
¼ cup butter (½ stick) cold
½ cup milk
½ teaspoon pure vanilla extract
Directions:
Start by preheating your oven to 425 degrees F. Also line a sheet pan with parchment paper or a silicone baking mat.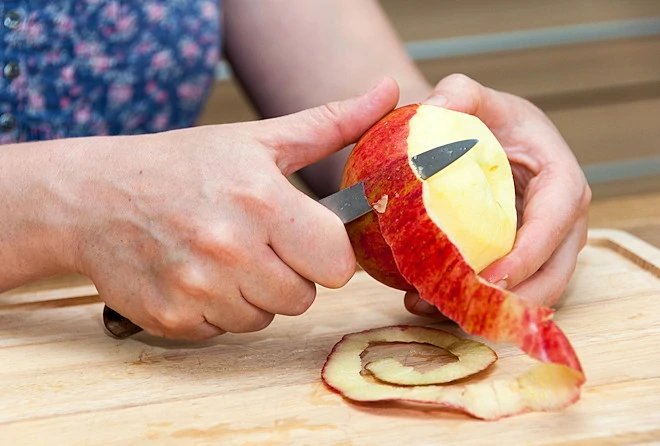 Peal and dice apple into small pieces. Set aside.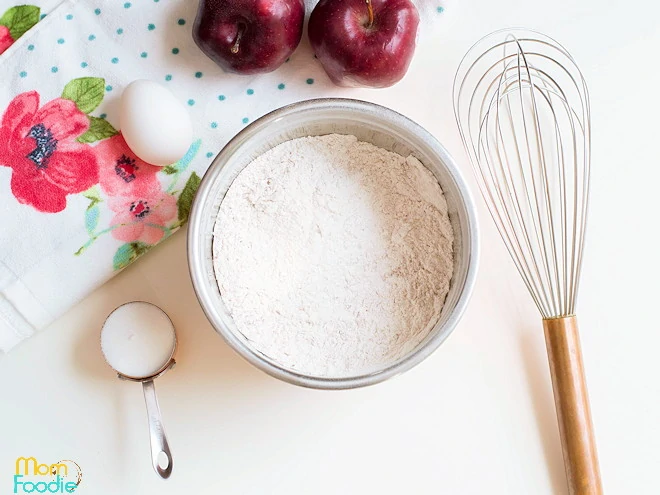 Mix dry ingredients together in a large mixing bowl.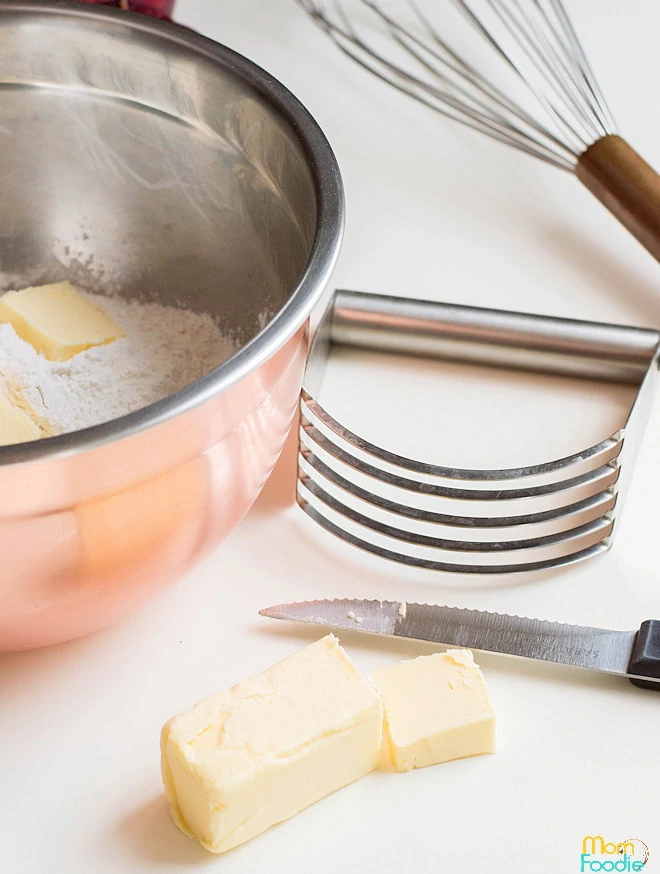 Cut cold butter into chunks. The colder the better for tender flaky results. Pop it in the freezer a few minutes before if you like, but don't actually freeze it.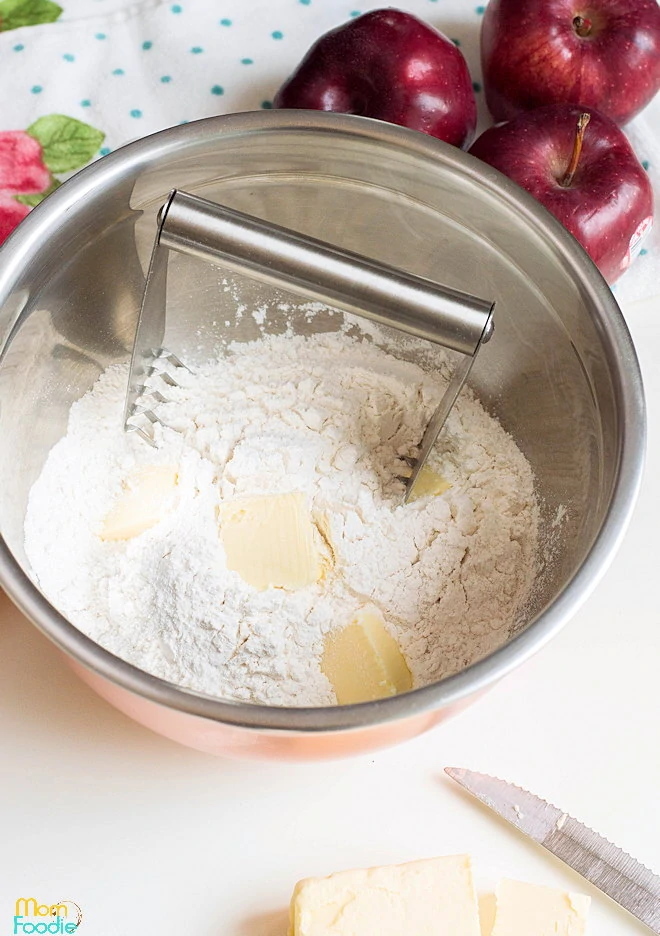 Cut the butter into the dry mix with a pastry cutter.
No Pastry Cutter?
Simply use the largest fork you have or cut in the butter into the dry ingredients with two butter knives. Neither is ideal, but will work in a pinch.
Mix in milk and vanilla then add the diced apples to the bowl. Mix them in then lay out on a clean lightly floured surface to gently knead until you have a nice dough ball. For a tender scone be gentle do not overwork the dough!
Yes, you can use heavy cream instead of milk. You may just need to add an extra tablespoon or so.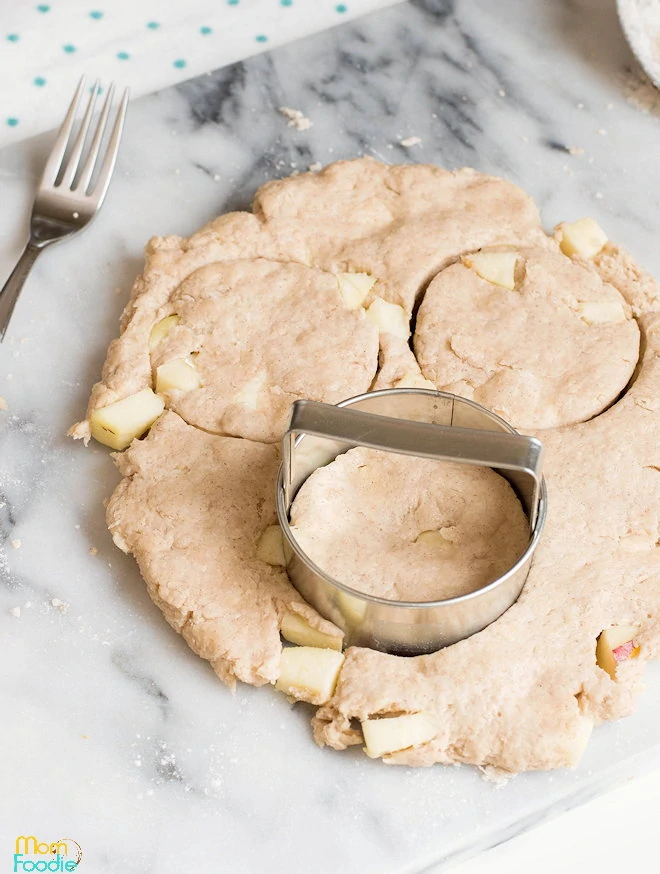 Roll the scone dough out about an inch thick. Cut out the scones with round cutter or form dough into a rounded shape and cut into 8 wedges with a sharp knife. Place the shaped scones on the prepared baking sheet. Leave an inch or two between each scone.
Bake for 15 minutes, until lightly golden brown at edges. Cool a little before serving. Scones are best served warm.
Variations on the Recipe
I encourage making recipes your own. Here are a few simple ways to adjust this recipe.
Add more cinnamon flavor to the scones by mixing cinnamon baking chips into the dough along with the diced apples. The cinnamon chips will add little bursts of flavor.
Raisins or dried cranberries are also a great addition. Toss in a ¼ cup of either along with the apples.
Make caramel apple cinnamon scones by adding caramel chips to the mixture.
Drizzle icing over the cooled scones.
Brush on a light egg wash and dunk each unbaked scone upside down in coarse sugar before baking for a sweet crunch.
Sprinkle powdered sugar over the scones before serving.
Serving Apple Cinnamon Scones
Of course, the traditional clotted cream goes great with these homemade scones. Butter, whipped heavy cream or even Greek yogurt could be used if you prefer.
Jam is the other classic condiment for scones.  In my opinion, apricot jam, orange marmalade, apple jelly or even apple butter would be nice with the apple flavor of these scones. A little smear or drizzle of gooey homemade Crock Pot Caramel might do the trick as well.
Of course serving these delicious scones with a another seasonal scone would be wonderful, so why not try out my Cranberry Orange Scone recipe as well.
Storing
Any leftover scones should be sealed in an airtight container to help keep them fresh. They will last a day or two on the counter or up to about 5 days in the fridge.
What kind of apples should I use in scones?
Most apples will be fine in the recipe, but some do hold up better in baked goods or have more concentrated flavor. Honeycrisp, Braeburn and Pink Lady are all great choices. The granny smith apple is a nice tart choice that is popular for scones.
More Recipes You May Like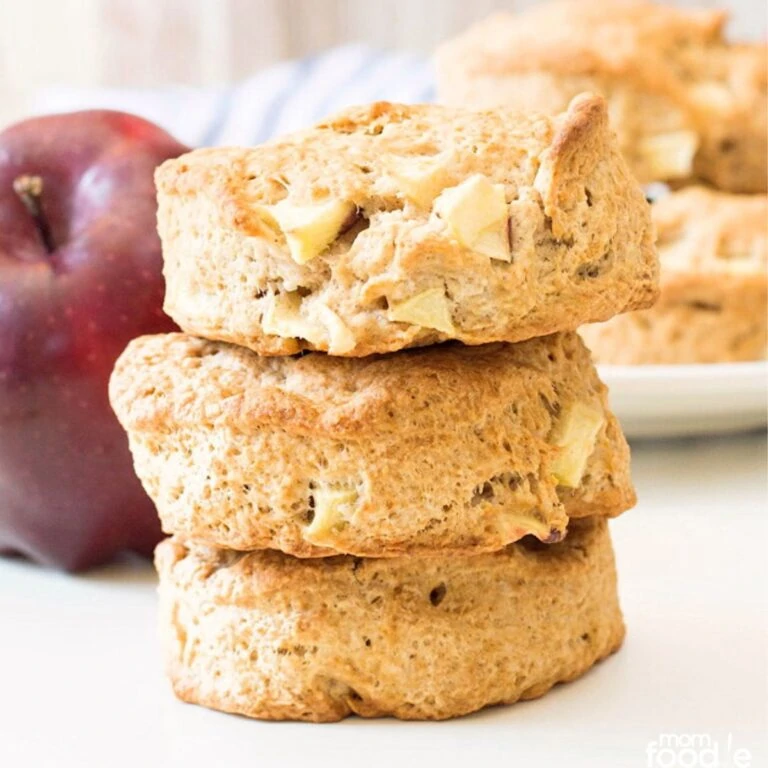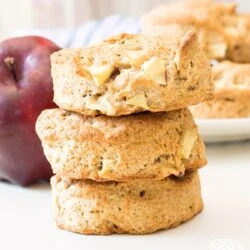 Apple Cinnamon Scones
These apple scones are a lovely fall brunch recipe. The combination of apples and cinnamon is such an iconic fall flavor after all.
Print
Pin
Rate
Ingredients
1

apple

2

cups

all purpose flour

sifted

2

teaspoon

baking powder

1

teaspoon

baking soda

Pinch

salt

¼

cup

granulated sugar

1

teaspoon

cinnamon

¼

cup

unsalted butter (½ stick)

cold

½

cup

milk

½

teaspoon

pure vanilla extract
Instructions
Line a baking sheet with parchment paper and set aside.

Preheat oven to 425 degrees F.

Peel and core apple, then cut apple into small cubes and set aside.

In a large bowl, sift together flour, baking powder, baking soda and salt.

Add sugar and cinnamon into flour mixture and mix.

Cut cold butter into small slices and cut it into bowl of flour using a pastry cutter.

Add milk and vanilla, stir until ingredients to start forming the dough.

Add diced apple and roll on a clean working surface. Knead gently until dough forms.

Roll the scone dough with a rolling pin, until it's about 1 inch thick.

Use a cookie cutter that's about 2 ½ - 3 inches in diameter and cut dough into circles.

Place scones on lined baking sheet, about 1-2 inches apart from each other.

Bake for 15 minutes. Allow to cool slightly before serving. Enjoy!
Nutrition
Calories:
212
kcal
|
Carbohydrates:
35
g
|
Protein:
4
g
|
Fat:
7
g
|
Saturated Fat:
4
g
|
Cholesterol:
17
mg
|
Sodium:
217
mg
|
Potassium:
204
mg
|
Fiber:
2
g
|
Sugar:
9
g
|
Vitamin A:
214
IU
|
Vitamin C:
1
mg
|
Calcium:
82
mg
|
Iron:
2
mg