My daughter loved this fresh baked Garlic Focaccia Bread with Thyme.  It  flew off the counter. Every time I turned around I saw another slice of garlic focaccia walking by in her little hands. Of course, like many kids her age, she picked off the "green stuff"… I guess no thyme next time I bake this.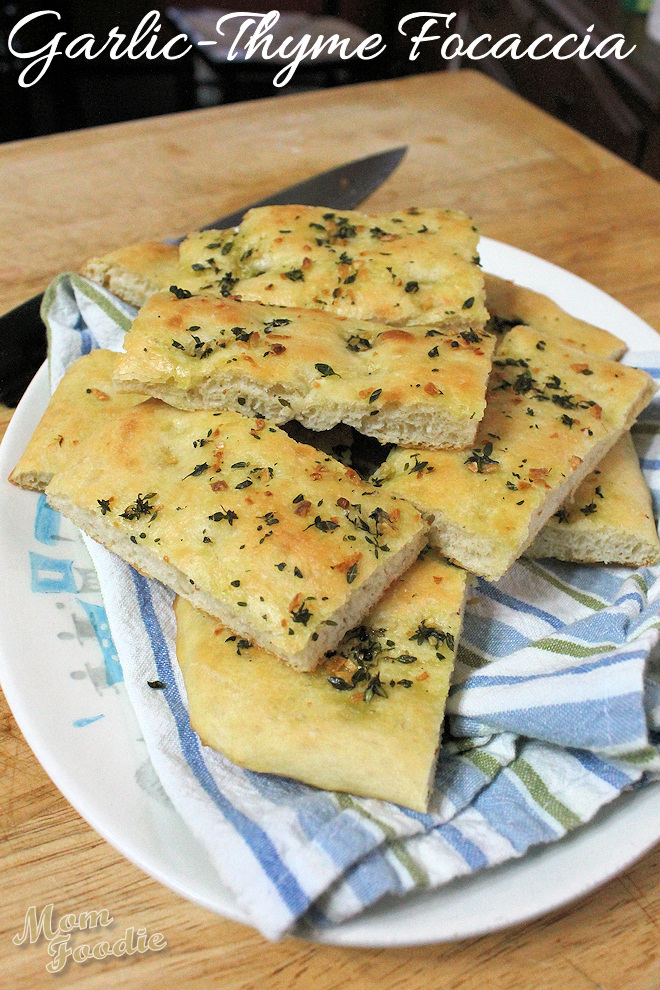 Garlic Focaccia – Baking from Scratch
Last summer, when my daughter was on a gluten & dairy free regime, I baked for her a lot. From those months and the ones following, we found that while my Little Foodie wasn't particularly bothered by freshly baked or organic breads, some shelf breads contain chemicals that do seem to adversely effect her. I've cut back bread consumption in our home, but we still have it occasionally, and when we do I like to make it well worth the indulgence… like with this garlic bread focaccia.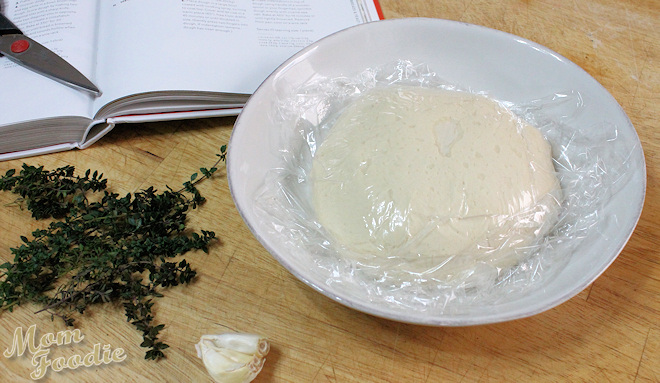 My recipe for Garlic-Thyme Focaccia is based off one in my copy of Cooking Light's The New Way to Cook Light, but the recipe can also be found on the Cooking Light website.  I didn't alter the recipe much, other than boosting the garlic and keeping it in the oil topping the focaccia bread.  If you prefer a more subtle garlic flavor, follow their directions, rather than mine.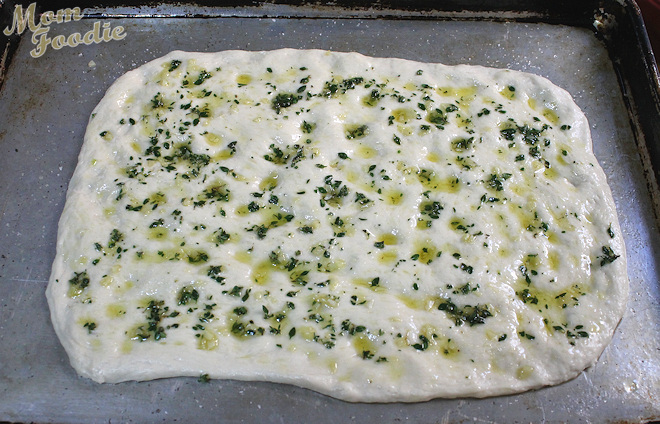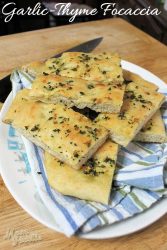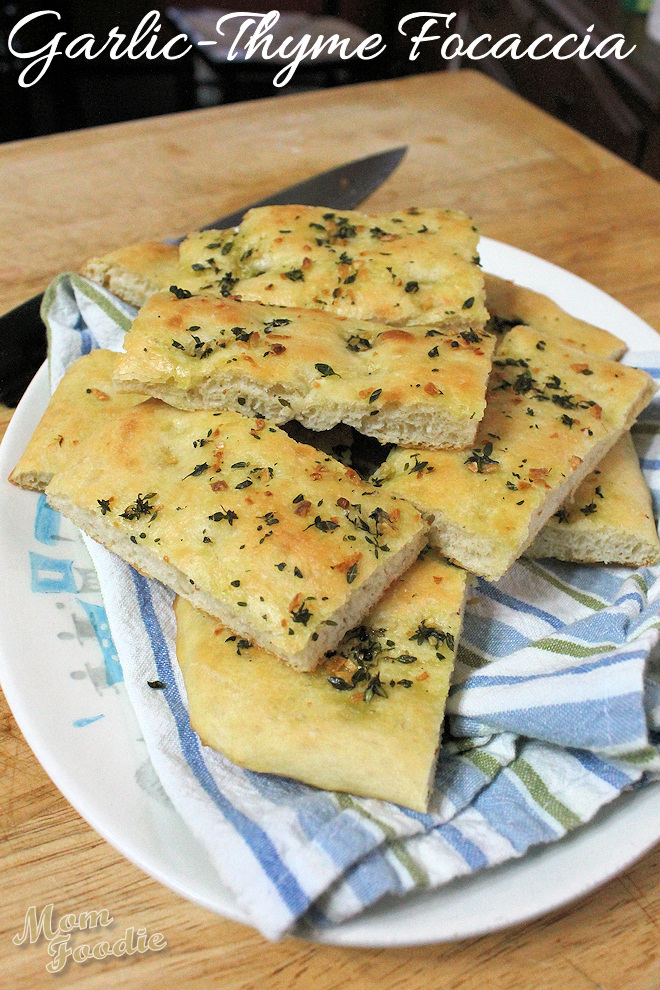 Garlic Focaccia Bread with Thyme
This Garlic Focaccia Bread with Thyme is an easy recipe, that your family will enjoy. It is great for dipping in oil and as a side for nearly any Italian dish.
Ingredients
1

cup

warm water

1

tsp.

sugar

1

package dry active yeast

1/2

teaspoon

Kosher salt

2 1/3

cups

flour

Cooking spray

1 1/2

tablespoon

olive oil

3

garlic cloves

minced

1

tablespoon

chopped fresh thyme

3/4

teaspoon

Kosher salt
Instructions
Mix sugar into warm water, then stir in yeast. Set aside to activate.

Put flour in large mixing bowl.

Once the yeast is activated, stir in the salt, then pour into mixing bowl with flour. Churn with dough hook until a single clump is formed.

Spray a glass or ceramic bowl with cooking spray. Oil your hands lightly as well.

Use your hands to remove dough from hook and form into a a ball.

Place dough in sprayed bowl, and cover loosely with plastic wrap. Put in warm place to rise.

While dough is rising: Put oil in small skillet, over med-high heat. Once hot add the garlic, stir for about 30 seconds, then take off burner and add thyme.

Once dough has doubled in size, stretch it on baking sheet coated with cooking spray (8x12 rectangle, or a little larger if you prefer a thinner focaccia).

Baste dough with the garlic-thyme oil, making sure to spread out the bits of garlic and thyme.

Poke the dough with your fingers, to create dimples, then sprinkle lightly with salt. Set in warm spot, to rise again.

Preheat oven to 425 degrees.

Bake for 14-15 minutes.

Cool on wire rack or kitchen towel.
I've made this garlic focaccia bread recipe again since the batch shown here.  I skipped the thyme and reduced the amount of salt on top in favor of some Parmesan cheese and a bit of fresh ground pepper.  I also swapped 1/3 cup of the flour for garbanzo bean flour.  It came out great, and was highly approved by Little Foodie 🙂