This Grilled Tomato Ricotta Pesto Vegetable Bruschetta featuring amazing pesto from our sponsor Filippo Berio is an easy flavor packed Italian dish that is perfect for summer entertaining.  It also makes a great meatless meal for the family.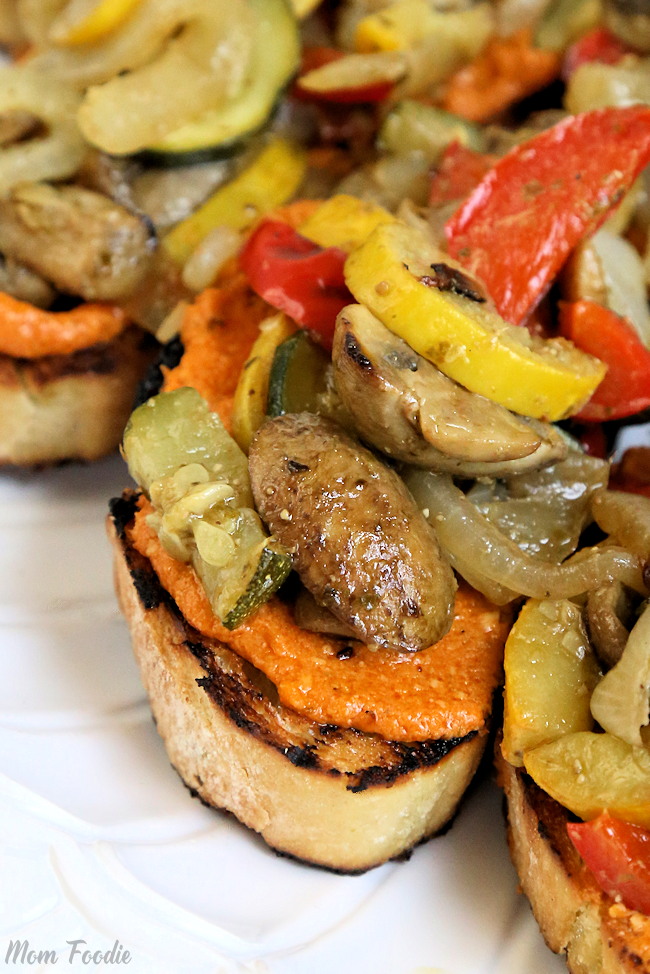 Grilled Tomato Ricotta Pesto Vegetable Bruschetta
This bruschetta is a great way to make use of summer vegetables, such as zucchini. While I selected zucchini, yellow summer squash, sweet onions, sweet red peppers and mushroom, most vegetables suitable for grilling can be swapped in. The are simply tossed in a 50/50 mixture of Filippo Berio's Classic Pesto cut with olive oil (the same mixture used to baste the bread slices for grilling).
The smokey flavor from the grill infuses into the pesto veggies and grilled pesto bread. When a jar of their rich Tomato & Ricotta Pesto is slathered on each slice, simple bread and veggies is elevated to divine. I am sure most of you are familiar with classic basil pesto, but the other may be new to you. Tomato & Ricotta Pesto is quite spreadable and is a fantastic addition to sandwiches and sauces.  Here it adds flavor and creaminess while adhering the pesto vegetables to the grilled bread.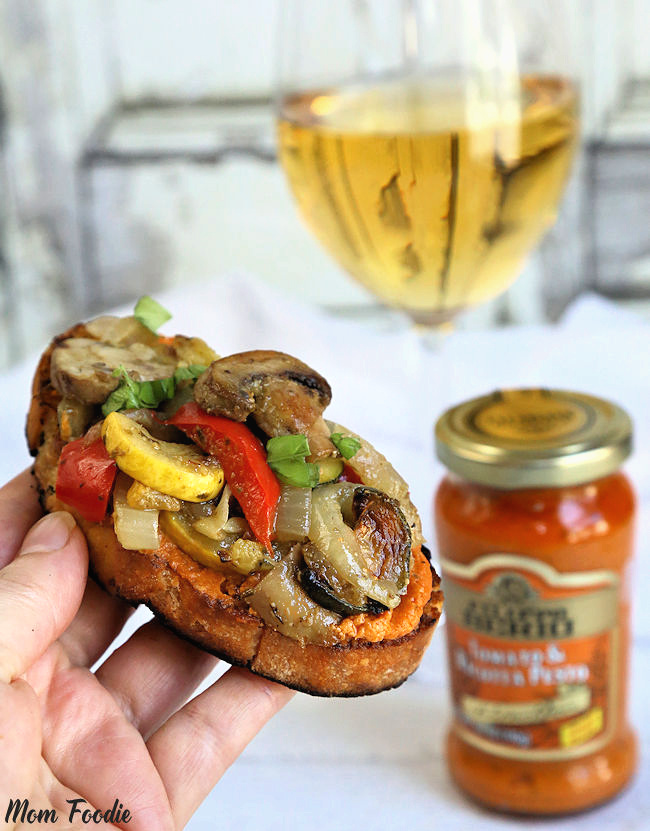 Discover your "Pestonality" at Crave RI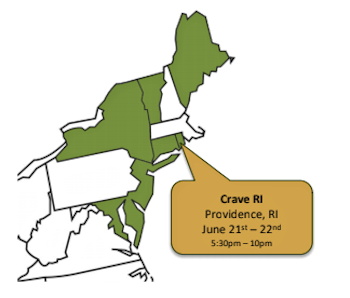 Filippo Berio is touring the coast of the northeast this summer and the Crave RI event is one of their eleven stops. The Filippo Berio team will both educate event attendees on pesto and offer samplings of their wide selection of pesto sauces. By trying and discussing the uses and characteristics of each pesto, you can discover which ones will incorporate best into your own home cooking.
The CVS Health Charity Classic Crave RI event is on June 21, 2018 and June 22, 2018 (Open 5:30 to 10 pm both days).  The team will be there both days. I'll be going on Thursday the 21st... perhaps I'll see you there 🙂
Here are the currently scheduled stops for the tour:
June 21st – 22nd  - Crave RI (Providence, RI)
July 28th - Rose and Bubbly (Riverhead, NY)
August 12th - Vermont Cheesemakers Festival (Shelbourne Farms, VT)
August 26th - Hampton Classic (Bridgehampton, NY)
September 8th – 9th - Hudson Valley Food/Wine Festival (Hudson Valley, NY)
September 22nd - Greenwich Food + Wine Festival (Greenwich, CT)
October 7th – 8th - Taste of D.C. (Washington D.C.)
October 21st - Harvest on the Harbor (Portland, ME)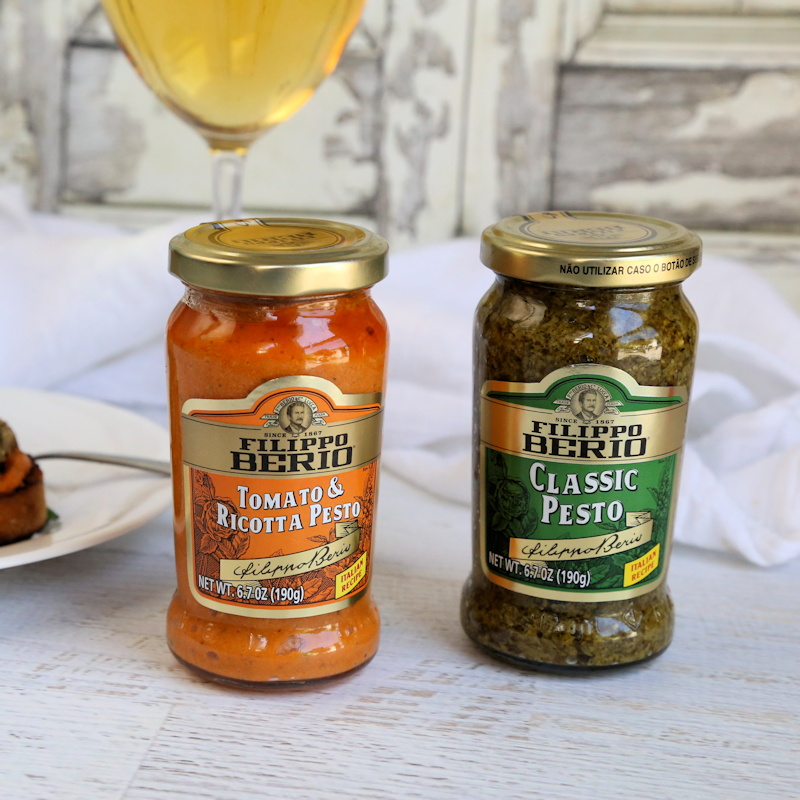 Make the Tomato & Ricotta Bruschetta with Grilled Pesto Vegetables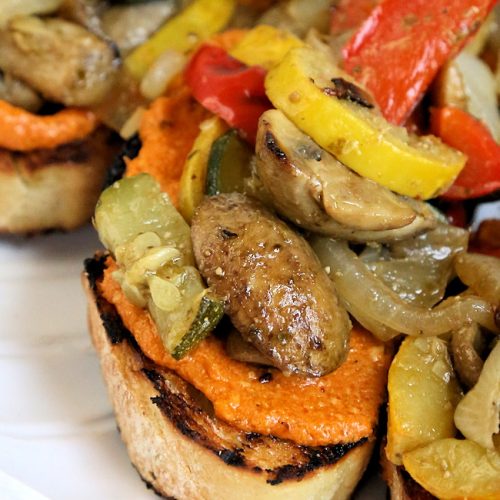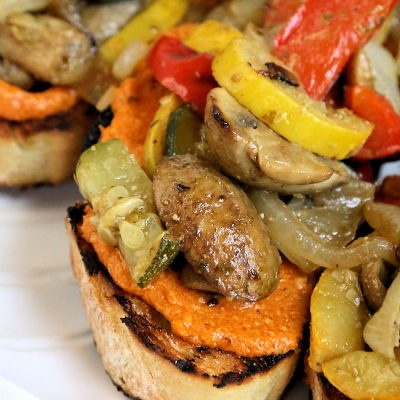 Grilled Tomato Ricotta Pesto Vegetable Bruschetta
Grilled Tomato Ricotta Pesto Vegetable Bruschetta is a hearty meatless appetizer, which is also suitable for an entree.
Print
Pin
Rate
Ingredients
¼

cup

Filippo Berio Olive Oil

8

thick slices

crusty bread

day old is fine

1

zucchini squash

small, sliced

1

yellow summer squash

small, sliced

½

sweet red pepper

sliced

½

Vidalia onion

sliced

4

oz

mushrooms

sliced
Instructions
Preheat your grill to med-high. Approximately 400 - 450 degrees. A wood fire grill will add a nice smokiness, but any grill will do.

Mix the Classic Pesto and olive oil together.

Baste the bread slices lightly with the pesto oil mixture and set aside.

Toss the sliced vegetables with the remaining pesto oil mixture in a large bowl.

Dump the vegetables onto two large crossed sheets of foil.

Wrap up the vegetables loosely in the foil and poke 2-3 small holes in bottom to drain juices.

Place foil wrapped vegetables on grill. Unwrap after 5-7 minutes. Toss around on foil and leave open to finish grilling. They are done when soft and a little caramelization has started. Remove from grill and set aside.

Place the bread slices on grill. Turn frequently, and be watchful of burning. When bread is crispy and light to medium browned they are done.

Spread Tomato & Ricotta Pesto on slices. One jar covers approximately 8 slices. Bread size will effect coverage.

Top each off with the grilled vegetables and serve.