This Sausage Pesto Pasta with artichokes and tomatoes features Pasta Night Mild Italian Style chicken sausages from our sponsor Al Fresco chicken. The pasta dish is quick and easy to make. It takes just a few ingredients but the flavors meld together to taste like something you labored over. Don't tell anyone what a breeze it really was.

Sausage Pesto Pasta
This health conscious version of Sausage Pesto Pasta is flavorful, but requires limited ingredients. The chicken sausage itself brings a lot of flavor to the dish and is quite fragrant while cooking. The artichokes add a like tangy zip and the tomatoes provide a fresh sweet pop. The pesto along with a little added Parmesan round out the sauce and add richness.

Less Saturated Fat
The recipe is a great choice for those watching their saturated fat intake. Firstly. the chicken sausages used in this recipe are lower in fat and sodium than pork sausages. Rather than adding butter, cream or chicken stock, pesto sauce and the liquid from a small jar of marinated artichokes makes up the bulk of the sauce.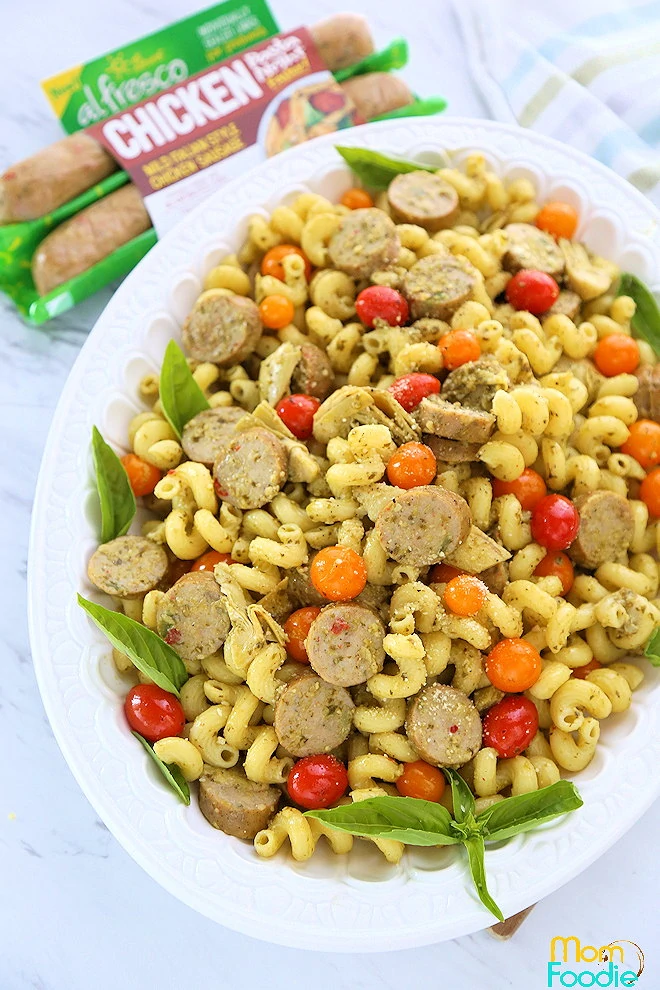 How to Make the Sausage Pasta
Time to walk you through the simple process of making this easy pasta dinner. Recipe pictures help newer cooks feel confident and are nice to glance over even for experienced foodies.
FIRST: Put on a big pot of water to boil. Cooking the pasta takes longer than the rest of the recipe. The rest can be finished while the pasta is cooking.
Cook the pasta al dente (a little bit firm).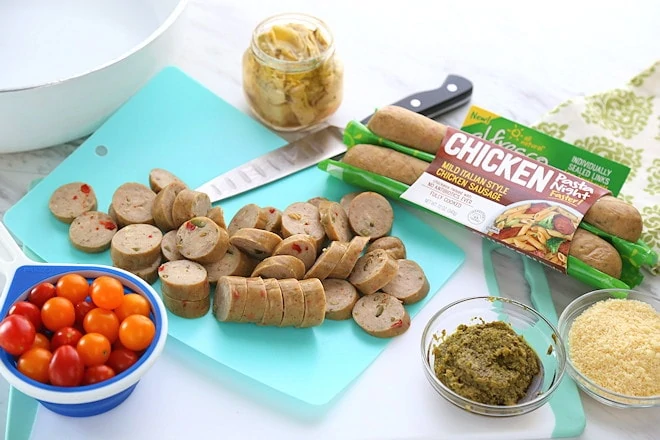 Here are all the ingredients you will need other than the cooked pasta, which is tossed in last.
Al Fresco Mild Italian Style Sausages
olive oil (somehow didn't get in the pic)
small grape or cherry tomatoes
small jar of marinated artichoke quarters
pesto sauce
Parmesan cheese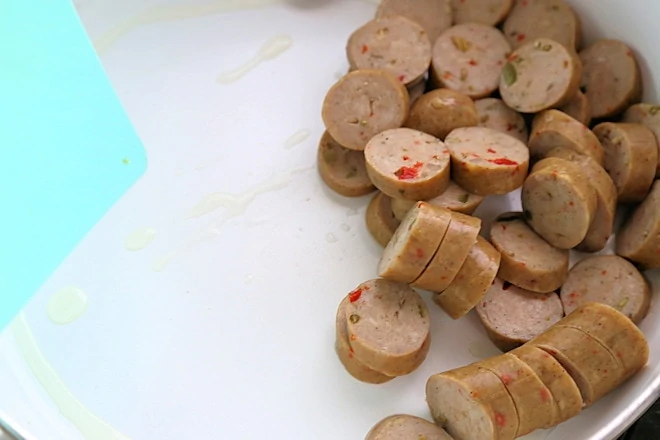 Start the sauce by pouring oil in a large skillet over medium-high heat. Toss in your sliced sausages once the pan is hot. Saute for 2 minutes.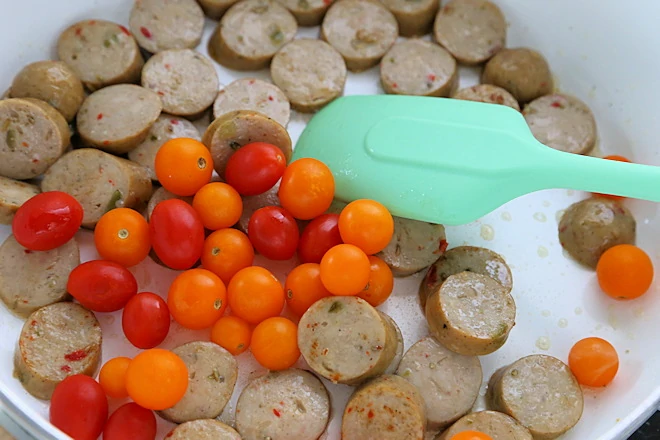 Dump in your tomatoes. Cook for 1 minute while stirring regularly.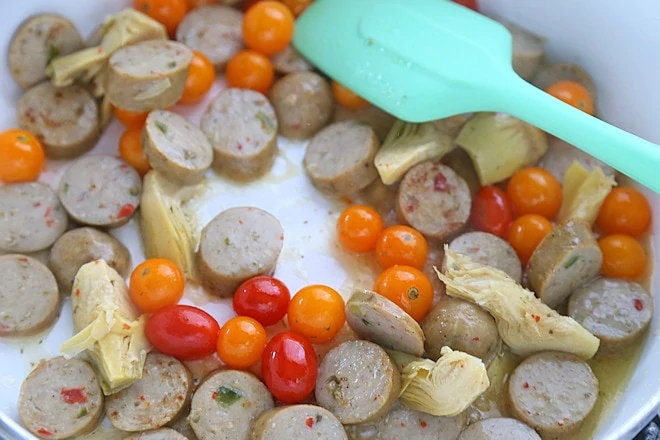 Now empty the jar of artichokes into the pan. Cook for a minute to dissipate the vinegar in the marinate.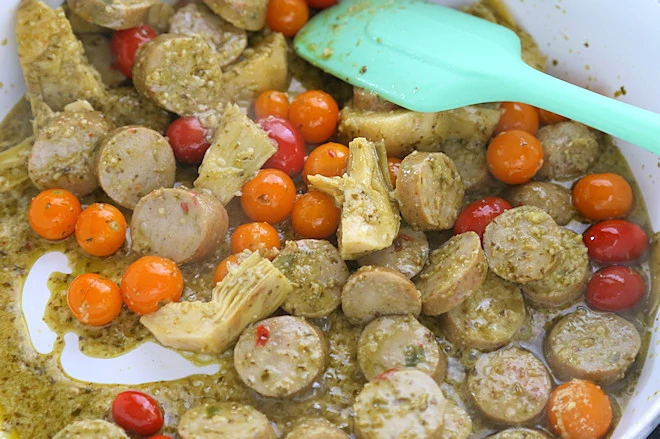 Now stir in the pesto and the Parmesan cheese. Cook while stirring one final minute to meld all the flavors together.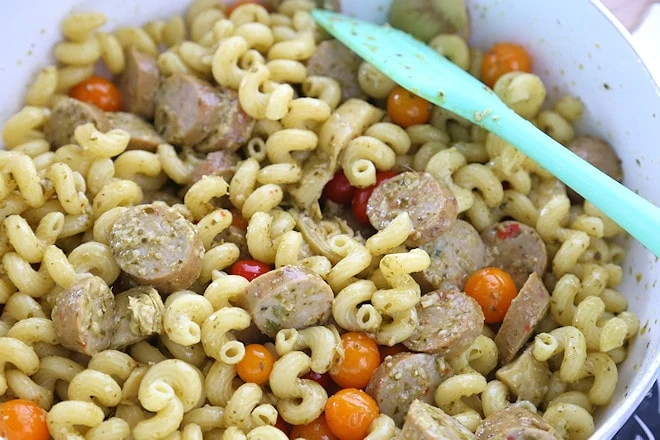 Turn off the burner. Add the pasta and toss to coat and distribute ingredients well.
Serve with fresh ground pepper and more grated cheese.
AL FRESCO CHICKEN
Al Fresco has a large selection of chicken products, that help make preparing smart dinners easy. Their chicken versions have less fat and less sodium than pork products. Most of the products are also gluten-free. The sausage used in this recipe is fully cooked and only needs to be warmed to serve.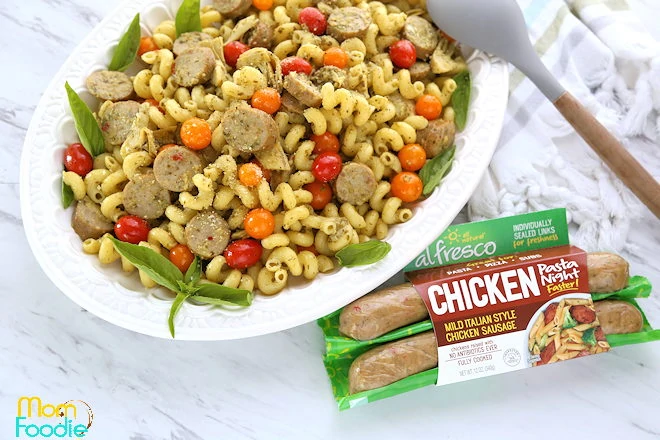 CHICKEN NIGHTS FASTER
Al Fresco's new line of chicken sausages is called Chicken Nights Faster. These are the varieties offered:
This line of sausages is all about making dinner preparation easier, without sacrificing flavor.
Convenience was also considered when packaging these fully cooked sausages. They are packaged as two individually sealed sausages. This makes creating meals for one or two easy and preserves the shelf life of the remaining link. When making dinner for the whole family, just open both sides of the package.
Each Chicken Nights Faster package is labelled for a perfectly matched use. This takes the guesswork out of preparing dinner. Of course, you can use them in whatever recipe you like, but you can't go wrong with their suggestions. You can really swap them in most chicken recipes with fantastic results.... and less clean up.
Keep in mind my other sausage recipes on the site, such as Instant Pot Kielbasa pasta, Italian Sausage Peppers and Onions with Balsamic, Spicy Cajun Chicken and Sausage Pasta and Kielbasa with Potatoes can easily be made with chicken sausages instead.
MORE CHICKEN SAUSAGE RECIPES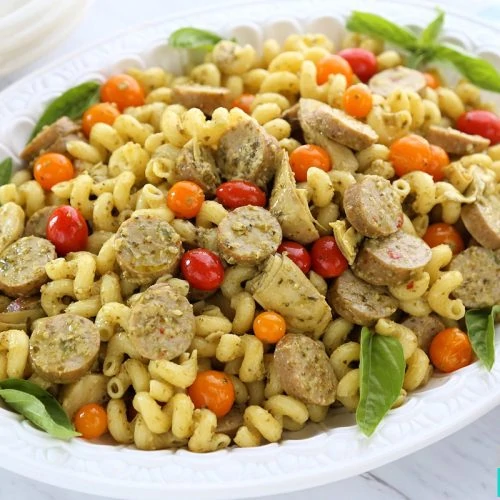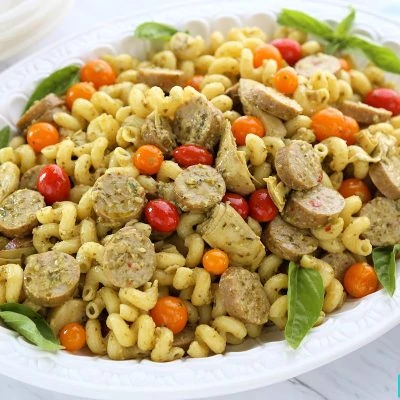 Sausage Pesto Pasta Recipe
Easy Chicken Sausage Pesto Pasta with artichokes and fresh tomatoes. Quick family dinner.
Print
Pin
Rate
Ingredients
¾

box

pasta

1

package

Al Fresco Mild Italian Style Sausages



1

tablespoon

olive oil

1

cup

grape tomatoes

, or cherry tomatoes

6

oz

marinated artichoke quarters

, small jar WITH liquid

¼

cup

pesto sauce

2

tablespoon

grated Parmesan cheese
Instructions
Start by cooking the pasta to al dente. While it is cooking start on the rest of the preparation.

Pour oil in skillet over medium high heat. Once hot add the sliced chicken sausages and saute for two minutes.

Add tomatoes and saute one minute.

Dump in the jar of marinated artichokes, stir and cook for a minute to steam off some of the vinegar.

Add the pesto and Parmesan cheese. Stir well.

Toss the pasta with pan mixture to coat. Serve.
Notes
Cook time for the sauce is only 5 minutes. I put 7 as it will take about that long for the pasta to cook. Nutrition information provided is an estimate and will vary based on brands used.
Nutrition
Calories:
396
kcal
|
Carbohydrates:
46
g
|
Protein:
19
g
|
Fat:
15
g
|
Saturated Fat:
2
g
|
Trans Fat:
1
g
|
Cholesterol:
47
mg
|
Sodium:
647
mg
|
Potassium:
184
mg
|
Fiber:
3
g
|
Sugar:
4
g
|
Vitamin A:
432
IU
|
Vitamin C:
5
mg
|
Calcium:
51
mg
|
Iron:
5
mg