These Grim Reaper Cupcakes are perfect for Halloween and a little bit different. I think they are mad because they can't find their scythes... so watch out!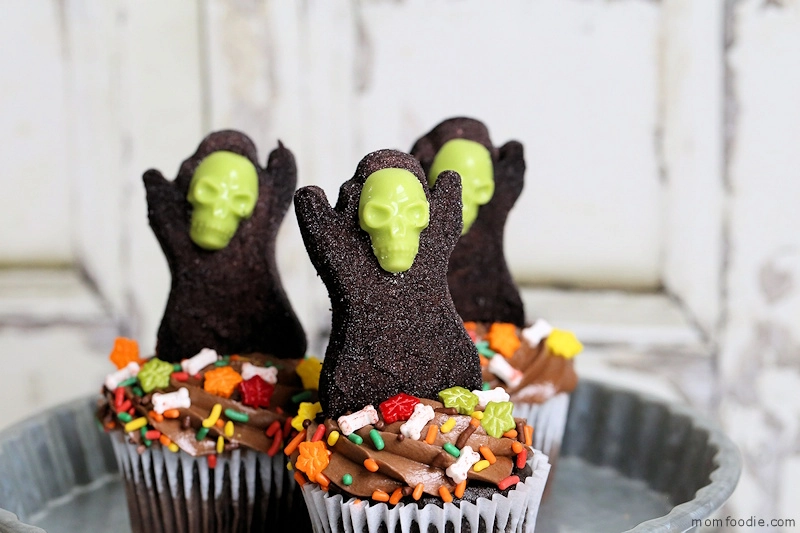 Grim Reaper Halloween Cupcakes
It doesn't take any special pastry decorating skill to make these wee Grim Reapers.  I sure don't have any. The character is made in just a few easy steps.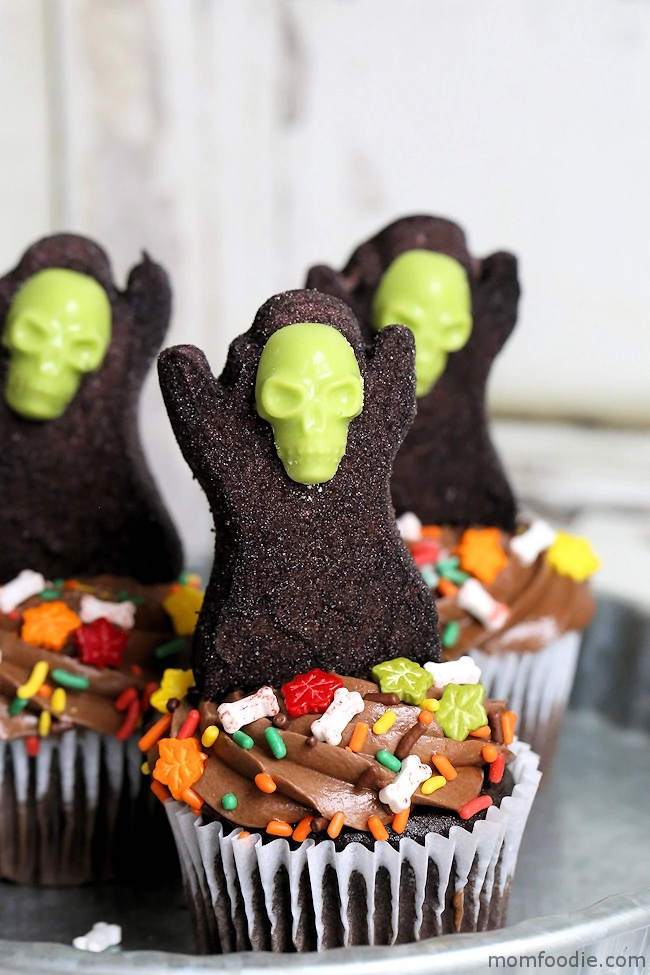 Making the Halloween Cupcake Toppers
Here is how to transform Peeps Marshmallow Ghosts into grim Reapers.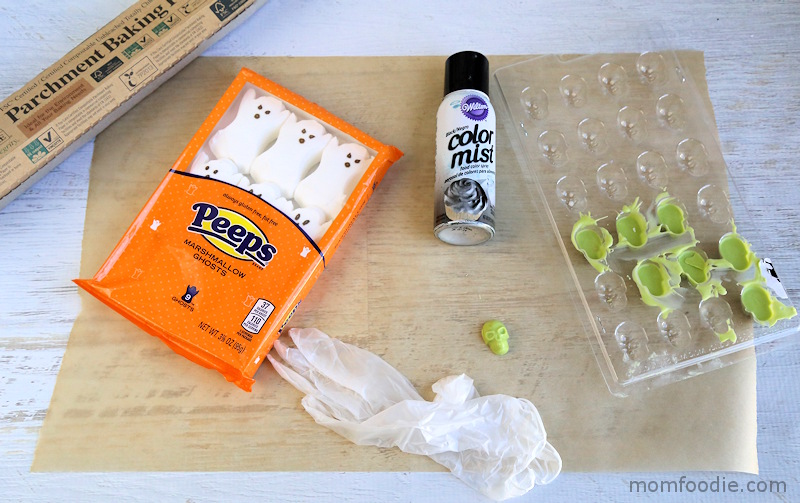 This is what you need: The ghosts
, black edible spray paint
, green or white candy melts
, skull candy mold
and a little bit of icing. To keep you and your surface clean while spraying, you should also have gloves and some paper.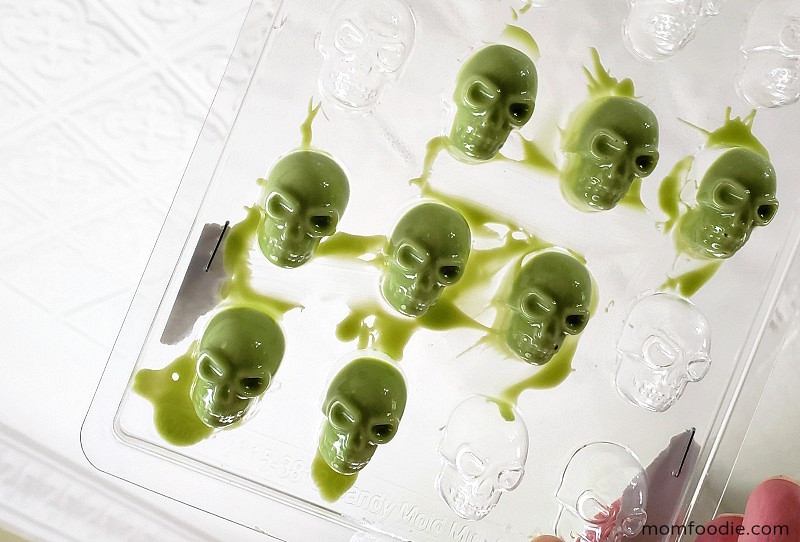 Just pour enough melted candy into each mold to cover the face of the skull. Don't fill them all the way. They should be thin to apply on the marshmallow body.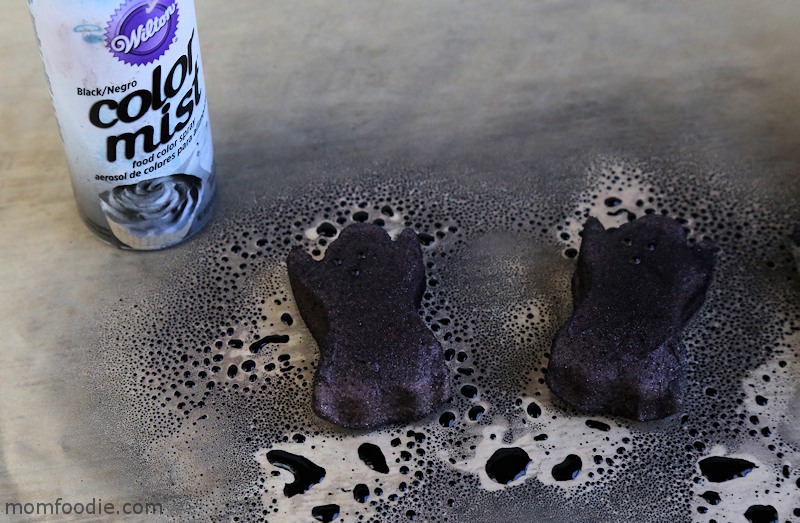 After spraying both sides, remove your ghosts to fresh paper to dry. The skulls can then be adhered with icing.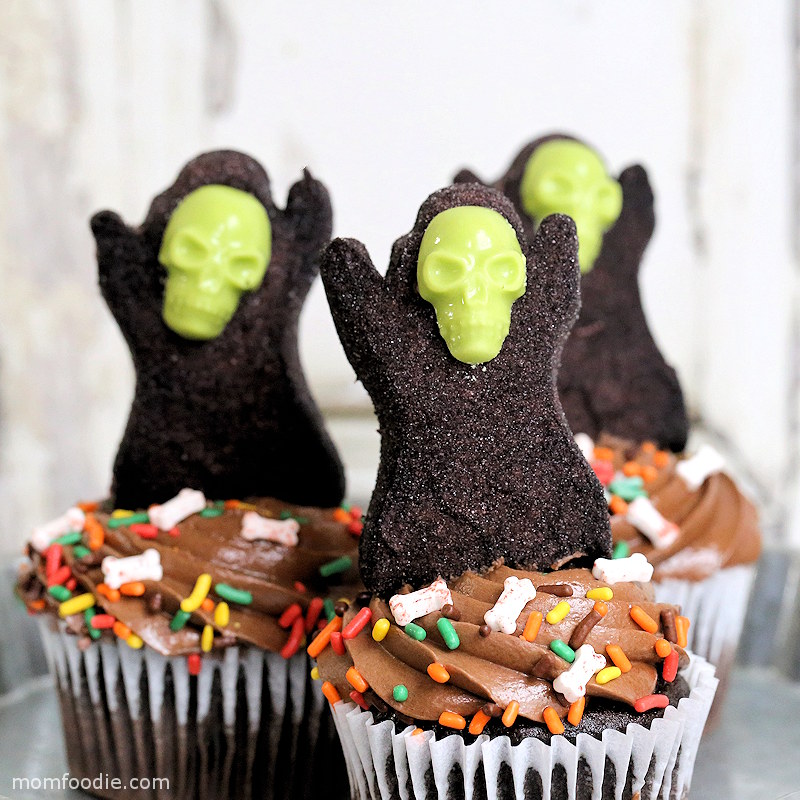 The little Reapers are then squashed onto the top of each cupcake with Halloween sprinkles cast around them.  I just did bones
and fall colored sprinkles
at first, then found the fall leaves sprinkles
in one of my stashes (shown in two top images).
Since my focus was on making the toppers I did not bake these particular Halloween cupcakes from scratch, I just used box mix. This could even be a great way to dress up store bought with your own touch.
Check out some more creepy good Halloween fun >>> Halloween Treats!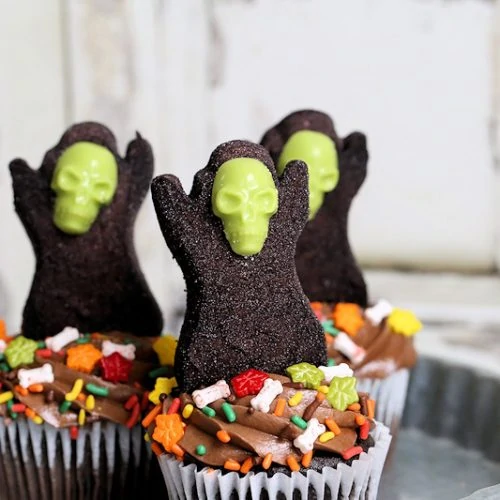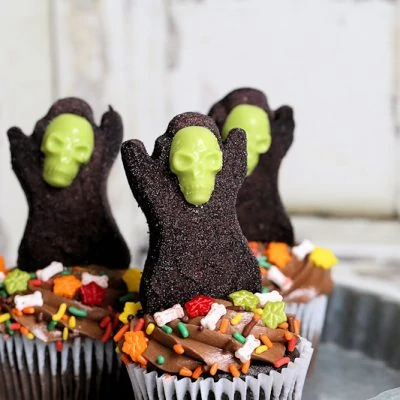 Grim Reapers for Halloween Cupcakes
Make the Grim Reaper toppers and create some unique Halloween cupcakes this year!
Print
Pin
Rate
Ingredients
Cupcakes
Chocolate cupcakes with chocolate frosting

(to mimic graveyard soil)
Instructions
Separate your ghosts, set them on a large sheet of parchment or newsprint. Put on some disposable gloves and mist the ghosts on all sides, using a couple coats. Set aside to dry.

Place candy melt wafers in a glass measuring cup or other microwave safe container. Zap on defrost in short intervals of about 20 seconds, stirring to see when smooth. Pour just a little in each mold cavity (just enough to make the face part). Place in refrigerator to harden, then pop out of molds.

Once the painted marshmallows are dry, squeeze some icing on to the backs of the skulls and adhere over where the ghost's faces were.

Push each Grim Reaper into the frosting of a cupcake. They should stand fine, but if you have an issue, use a toothpick to ensure it stays in place. Generously decorate the cupcake with sprinkle bones and leaves. Serve,