Love is in the air… well, Valentine's Day is coming up anyway. So today, I have a simple Heart Shaped Puff Pastry Pear Tart for you, perfect as a romantic Valentine's dessert. This heart shaped pear tart shows a lot of love and care, but really is pretty easy. This would even be a great way to add a homemade finishing touch to a take out restaurant meal, just remember to leave the puff pastry out to thaw before you head off to work in the morning on Valentine's Day.

Making the Heart Shaped Puff Pastry Pear Tarts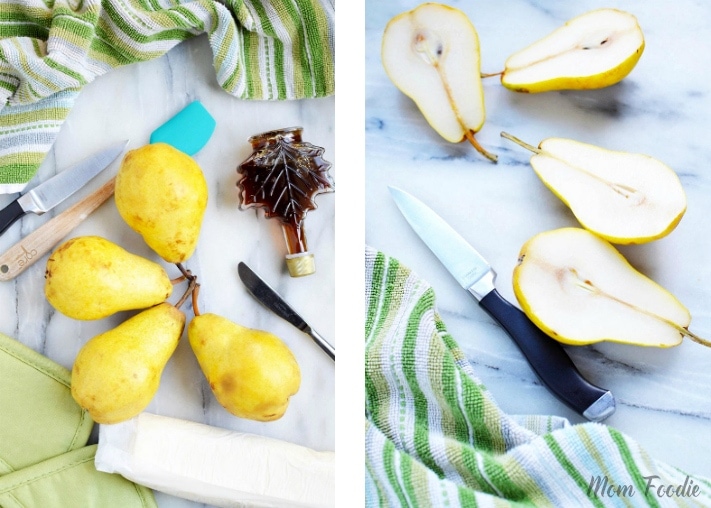 This romantic puff pastry pear tart looks far more fancy than it actually is. It only requires three ingredients: puff pastry sheets, two pears and some pure maple syrup. The pears are sliced in half lengthwise, peeled and cored, but the stems are left on.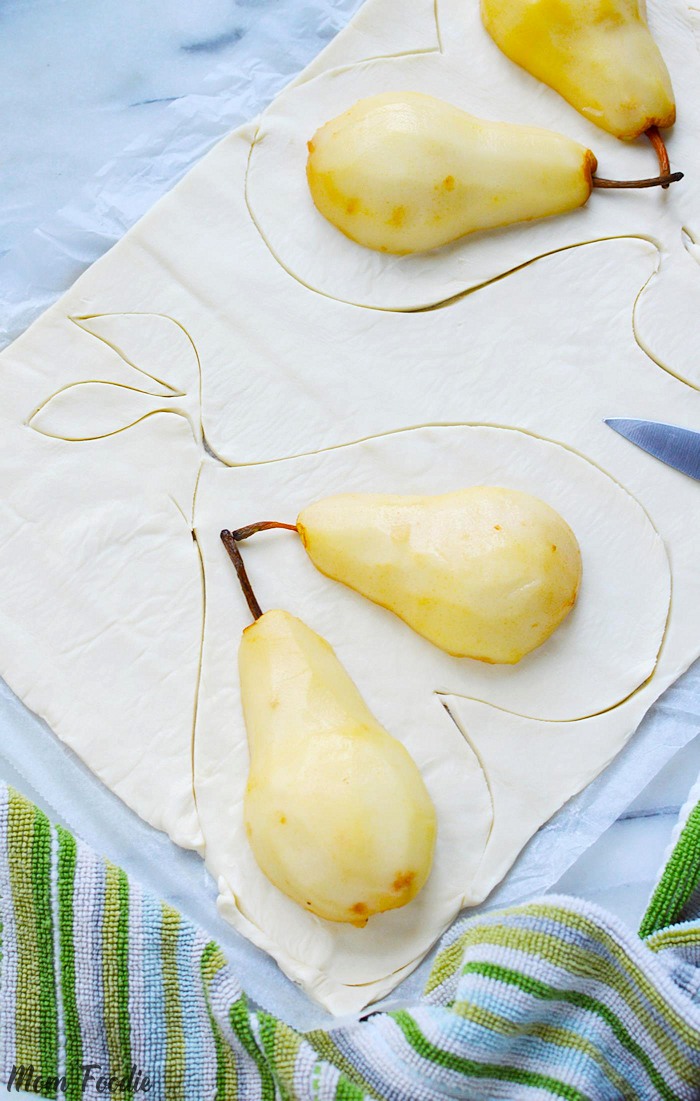 The pear halves are then positioned on top of the pastry dough (which is on parchment) as shown above to create roughly a heart shape. Then cut around the pears leaving at least 1/2 an inch of dough around the fruit. You can also cut the shape of a stem and leaves as part of the silhouette. No worries the pastry puffs while baking and is very forgiving to those of us with limited artistry skills.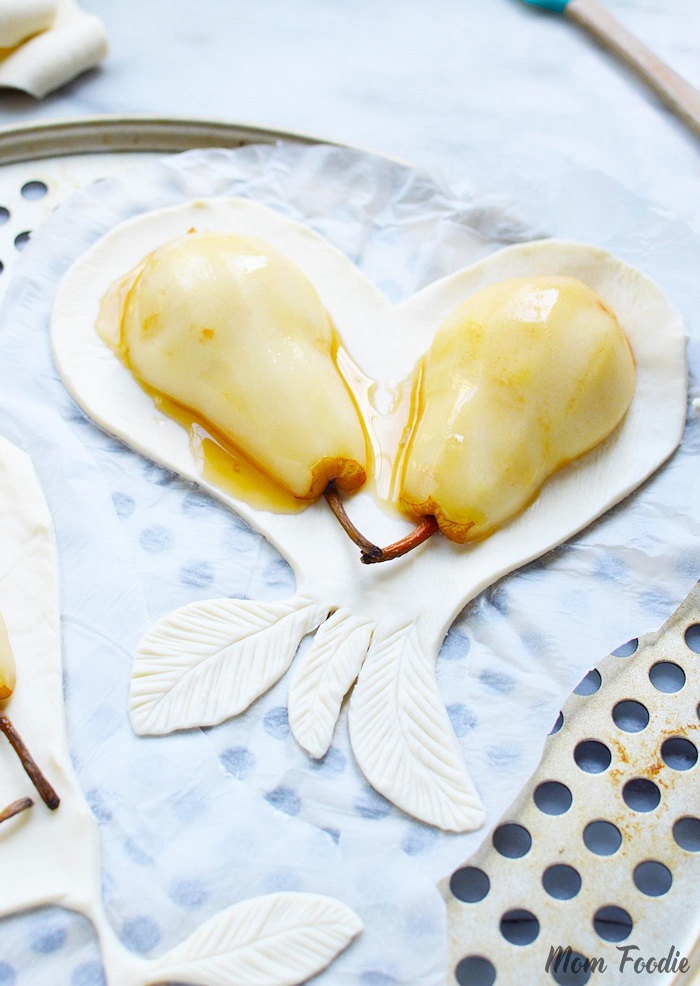 Now drizzle some maple syrup over the pears and lightly bast on the pastry.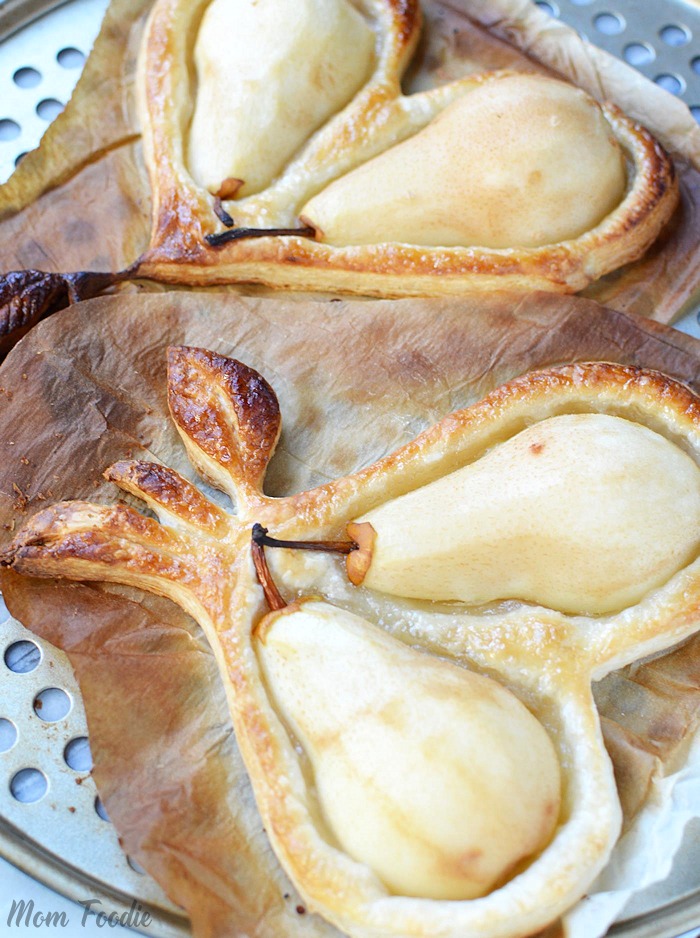 Bake the heart shaped puff pastry pear tarts at 400 degrees for about 18 minutes. The puff pastry will be well puffed and golden brown at edges.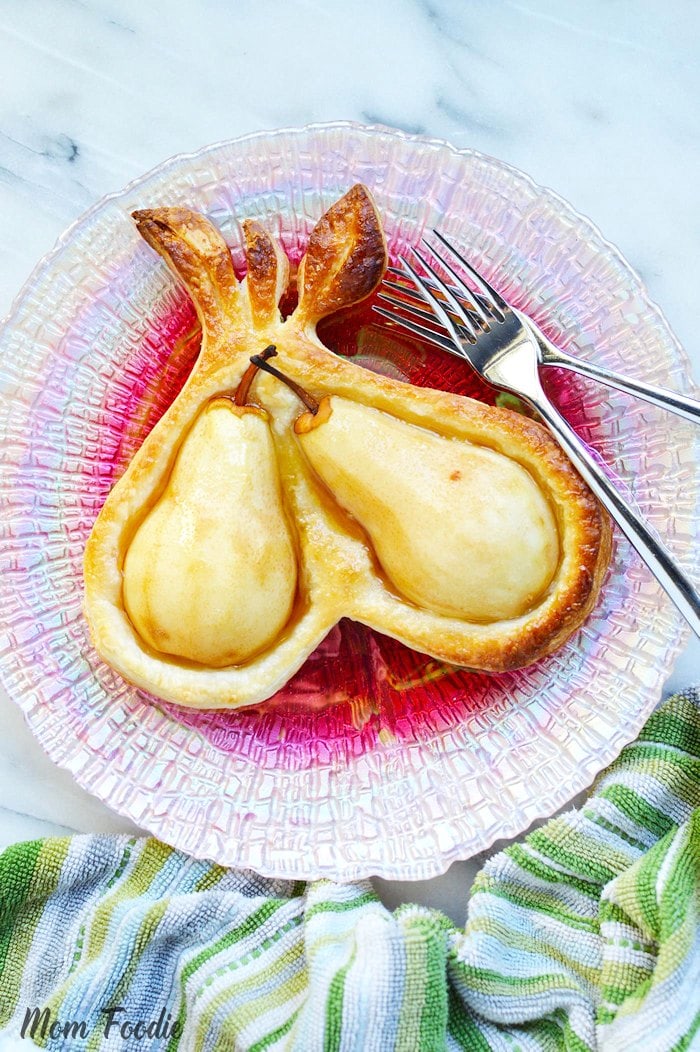 The heart shaped dessert tart is ready to serve. You could sprinkle on some chopped nuts if you like, but I think it is lovely just as it is.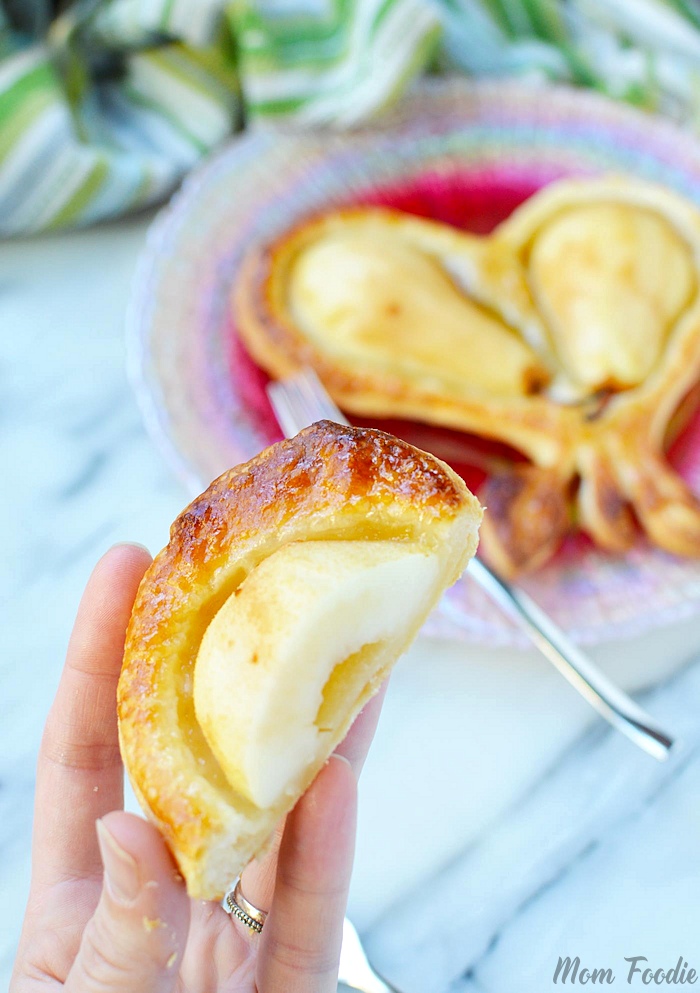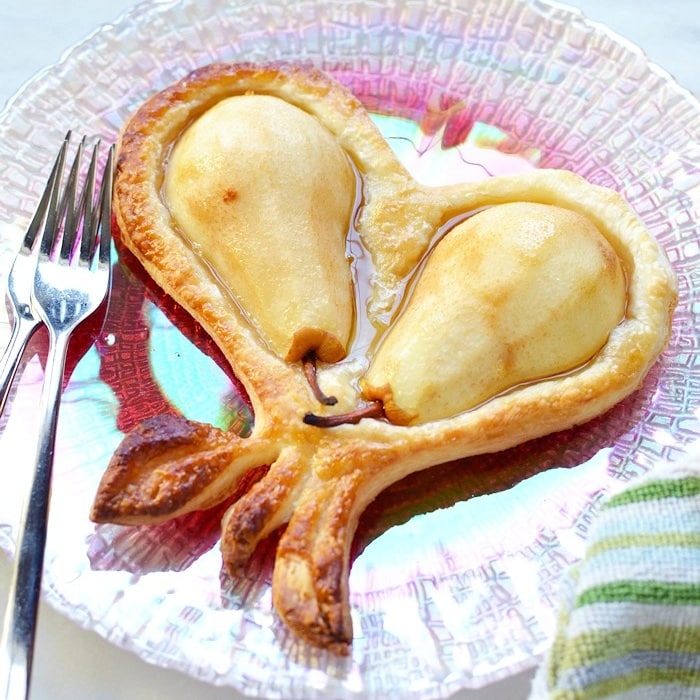 Ingredients
2

ripe pears

ideally with a bit of stem left

1

puff pastry sheet

we use a refrigerated one

1,5

tbs

pure maple syrup
Instructions
Preheat the oven to 400 degrees.

Unroll or fold your chilled but not frozen puff pastry on parchment paper and let rest for a few minutes while you prepare the pears.

Wash, peel, cut in half and carefully remove the center core from the ripe pears. I use a spoon to scoop out the center and a knife or kitchen scissors to snip the long part of the stem that's still inside the pear.  Try to leave the exterior portion of the stem intact if possible.

Plan out the spacing on the puff pastry sheet to make sure you can fit the pears, all with a little extra room around them for the pastry to puff up around the pears. Depending on the size of pears and pastry sheet you may want to do one set of pears together and then two individual ones.

Once the pears are in place on the puff pastry, use a sharp knife to carefully cut around the fruit, leaving at least ½ inch of dough around each pear. The leaves on top are completely optional. If you would like to make those as well, simply free hand cut the dough for as many leaves as you would like near the stems.

Use a pointed spoon or small butter knife to gently press down (but not all the way through) the leaves to create the veins and detail in the leaves.

Cover the pears and pastry with a bit of pure maple syrup, brushing the excess away from the edges so the sugars wont burn.

Bake for 17 to 19 minutes-please keep in mind this estimate may vary depending on the size of the pears and puff pastry, the ripeness of the pears and how your oven cooks. The pastry will be done when it has nicely puffed up around the pears and is golden brown.*
Notes
*Keep a close eye on the pastry as the time goes by to ensure they do not overcook in the last few seconds. You could also cover everything in foil for the beginning and then take it off to help brown the pastry at the end. These are delicious right away, ideally you'll want to make these fresh and enjoy the same day
Nutrition
Calories:
546
kcal
|
Carbohydrates:
70
g
|
Protein:
6
g
|
Fat:
28
g
|
Saturated Fat:
7
g
|
Sodium:
186
mg
|
Potassium:
285
mg
|
Fiber:
6
g
|
Sugar:
26
g
|
Vitamin A:
45
IU
|
Vitamin C:
7.7
mg
|
Calcium:
40
mg
|
Iron:
2.2
mg