These Cajun chicken appetizers are mini open faced sandwiches, making them great finger food and very well suited to serve as an appetizer. I do love mini sandwich appetizers and these make for fabulous mardi gras or football party food!
These spicy Chicken Open Faced Sandwiches are a great Cajun appetizers recipe and super easy to make too. The little sandwiches are also perfect along with a nice bowl of soup for a delicious lunch.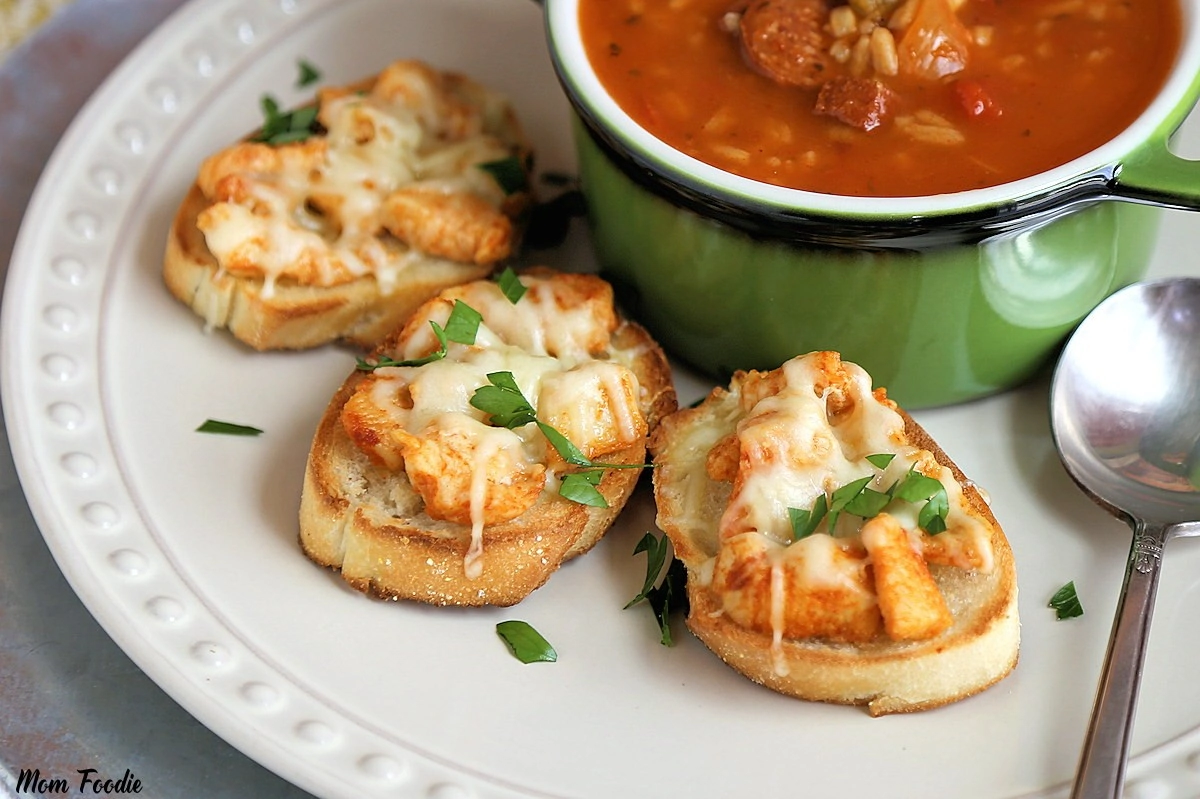 Cajun Chicken Appetizers - Making the Mini Open Faced Sandwiches
Let's get the party started with some delicious easy Cajun appetizers.
Ingredients You will Need
½ pound chicken breast
¼ tsp sea salt
¼ tsp smoked paprika
¼ tsp onion powder
¼ tsp sugar
⅛ tsp cayenne pepper
1 tablespoon olive oil 1 teaspoon to saute chicken, 1 tablespoon to baste bread
¼ tsp garlic powder
12 half inch slices of baguette
⅔ cup shredded cheese or sliced provolone cheese I used an Italian blend
Here is a quick visual walk through of making these mini open faced sandwiches. Full printable Cajun appetizers recipe card can be found below.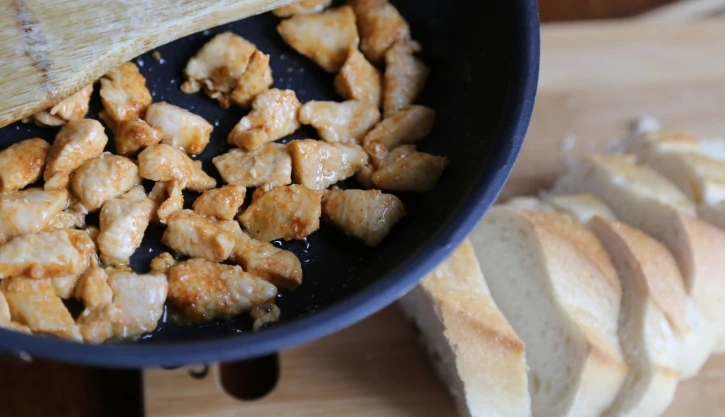 Small pieces of chicken are coated in Cajun seasoning, then quickly sauteed in a little olive oil. Use the Cajun spices as listed in the recipe card or swap a ½ tablespoon of my homemade Cajun Seasoning mix.
Half inch slices are cut off a French baguette.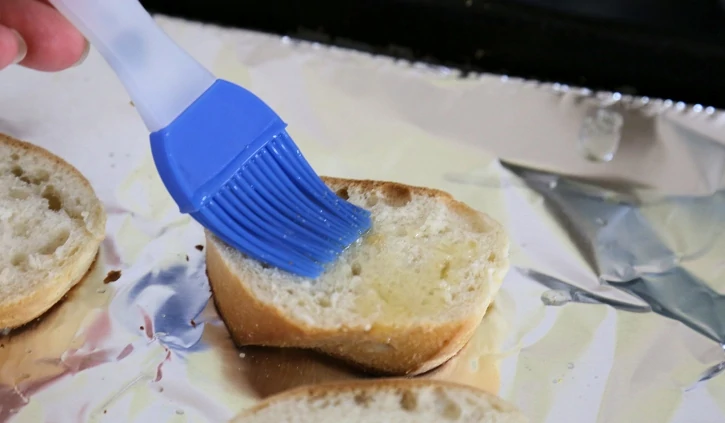 The slices of French bread are basted with garlic oil, and lightly toasted on each side under broiler.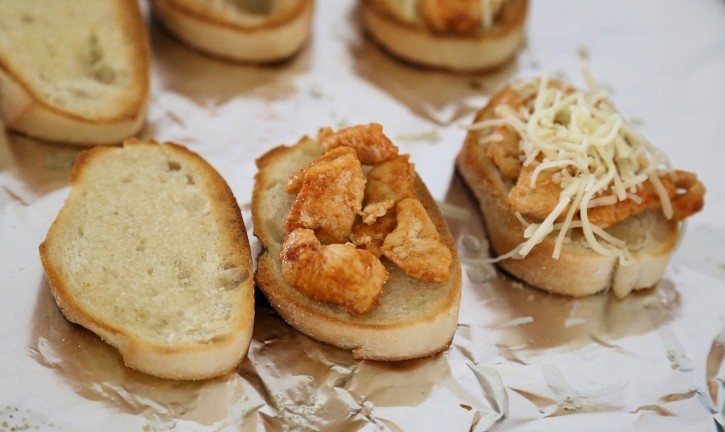 Each toast is then topped with the Cajun spiced cooked Chicken and shredded cheese. Broil until cheese is melted and bread edges are golden brown.
Voila, your Cajun chicken mini sandwich appetizers are done!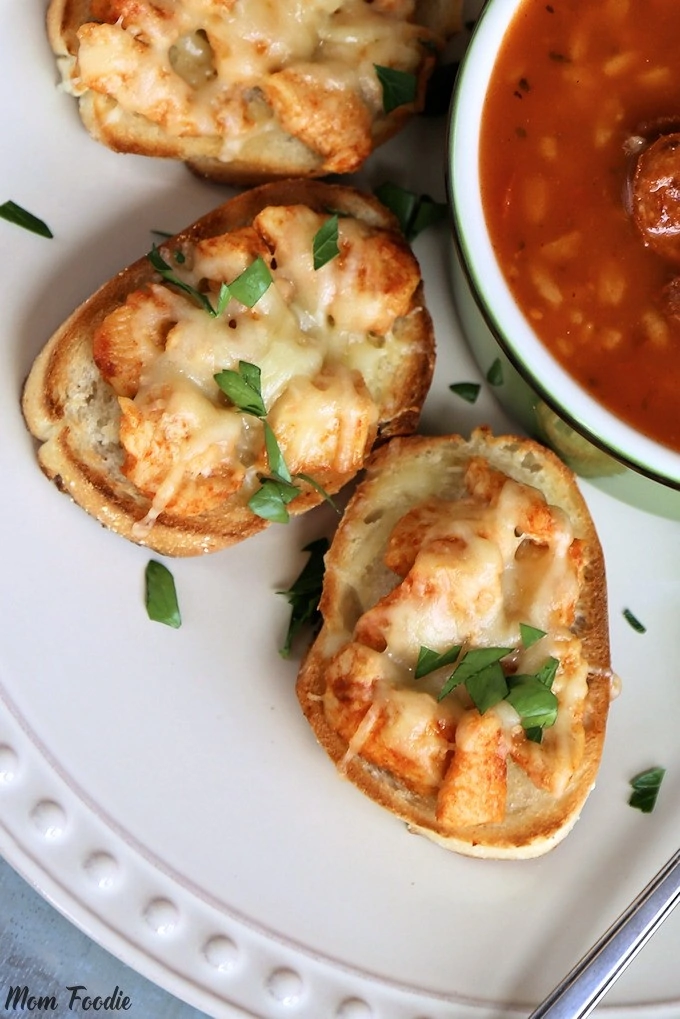 Serve with fresh chopped parsley (as shown), diced cherry tomatoes, a nice splash of hot sauce or a drizzle of blue cheese or ranch dressing!
The appetizer would make a great starter for some Cajun chicken and sausage pasta or a dish of Red Beans and Rice.
Variations on the Chicken Sandwich Cajun Appetizers
Add some sliced green peppers into the skillet with the chicken when cooking.
Toss the sauteed chicken with a couple tablespoons of softened cream cheese while still hot, to make a creamy coating.
Swap chicken andouille sausage for the boneless chicken breast meat.

Let me know how these Cajun chicken appetizer recipe goes over with your family and guests. Why not make a whole spread of fun easy finger foods and Cajun appetizers for your next party! I have some recipes below.
Easy Party Spread
Pick a few of these easy and delicious finger foods below and you'll have a party spread in no time! Let's celebrate game day or Mardis Gras! They are all great for starting a dinner featuring Cajun dishes too.
Chicken appetizer recipes:
Here are a few chicken appetizer recipes you may like that go beyond the standard buffalo wings, chicken tenders or Cajun chicken dip.
Easy party appetizers:
These are classic appetizers, some with a little twist, that are always a hit with guests.
Party Drinks:
These simple spicy toasts are one of my very favorite chicken appetizer recipes. I hope you like them.
Q&A
Can I use leftover chicken for this recipe?
Yes, leftovers or rotisserie chicken would work fine. Simply toss the shredded chicken in the Cajun seasoning spices. Add a drizzle of oil or chicken broth if the chicken mixture seems dry(cream cheese would be a good option too). Then put on the toasted bread and proceed with the rest of the recipe.
What do I do with leftovers?
Store remaining mini sandwiches in an airtight container or place on a plate and snuggly cover with plastic wrap. Reheat in oven at 350 for 5-7 minutes until heated through.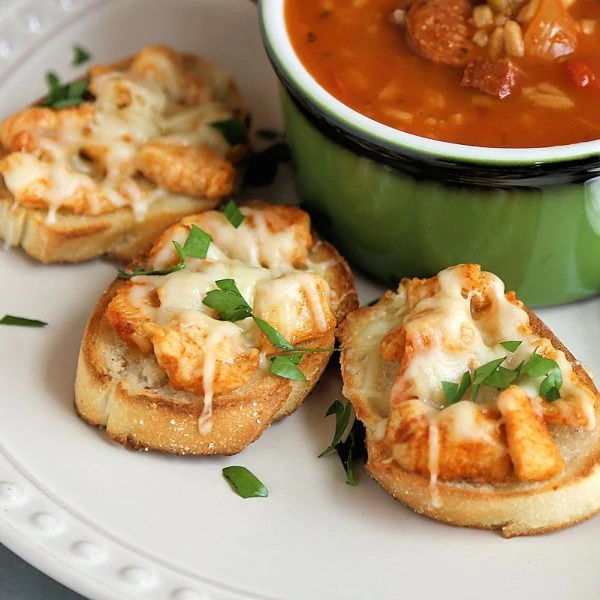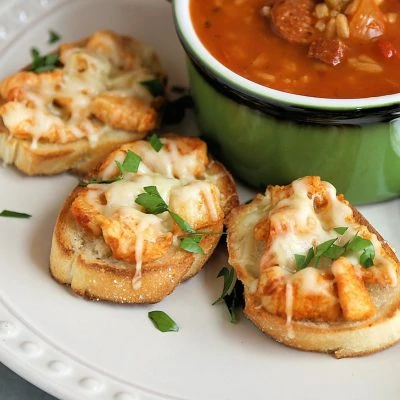 Cajun Chicken Appetizers Open Faced Sandwiches
These Cajun chicken appetizers are mini open faced sandwiches. They are perfect for any party or gethering, but also great as a meal with a simple bowl of soup.
Print
Pin
Rate
Ingredients
8

oz

chicken breast

or use ground chicken if you prefer

¼

teaspoon

sea salt

¼

teaspoon

smoked paprika

¼

teaspoon

onion powder

¼

teaspoon

sugar

⅛

teaspoon

cayenne

1.5

tablespoons

olive oil

½ tablespoon to saute chicken, 1 tablespoon to baste bread

¼

teaspoon

garlic powder

french baguette

⅔

cup

shredded cheese

I used an Italian blend
Instructions
Cut chicken into small pieces (smaller than bite sized).

Mix salt, paprika, onion powder, sugar and cayenne in bowl, then toss the chicken in it.

Turn broiler on high to preheat.

Place ½ teaspoon of olive oil in skillet over med-high heat. Once hot add chicken and quickly saute until cooked through. Set aside.

Baste each side of the the baguette slices, place on foil lined pan and lightly toast each side under broiler.

Top with chicken and shredded cheese then broil until cheese is melted.

Serve with soup to make a meal.