Homemade Kettle Chips rock! Learn how to make your own potato chips at home. It is actually quite easy.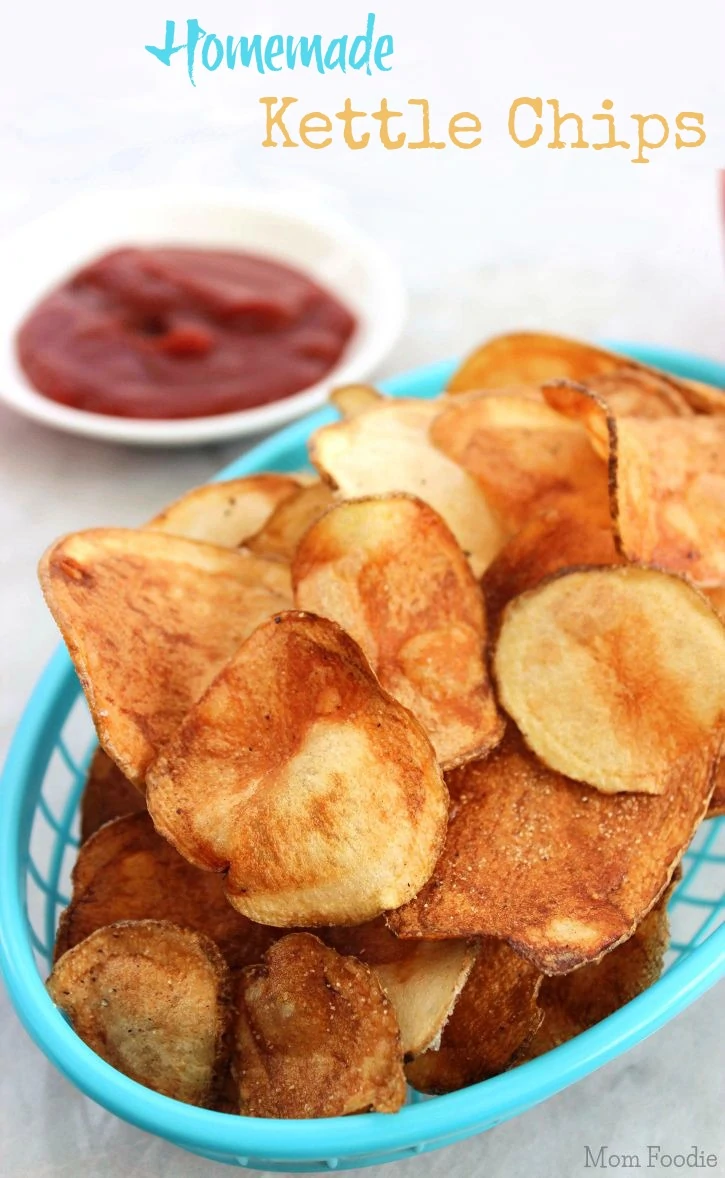 Homemade Kettle Cooked Chips
It is actually sort of funny to be making a copycat of Kettle Chips, since they are copying homemade chips. The name has sort of connected with this style of potato chip though. No matter what you call them, these homemade potato chips are sure to please your family. While these are simply seasoned with a sprinkle of salt and pepper, this copycat kettle chip recipe is the perfect opportunity to make some special chips featuring your favorite seasonings.
While these are called Kettle Chips, if you make homemade potato chips frequently I suggest investing in a deep fryer. They are reasonably priced and you can easily reuse the oil several times.
Kettle Cooked Chips vs Regular
As the name would indicate these are cooked in a kettle, Dutch oven or deep fryer, rather than with an industrial conveyor belt type of cooking, baking or air frying.
The kettle cooked potato chips are often sliced a little thicker also.
How to Make Kettle Chips
Here is a quick visual guide to making homemade potato chips. Full printable recipe card below.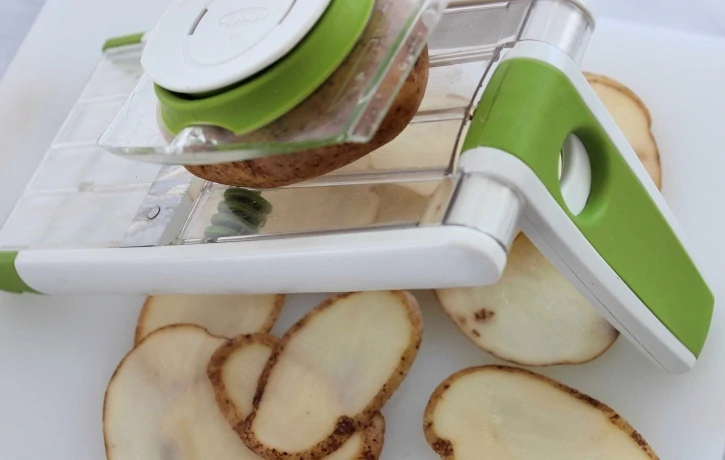 The first step is to slicing potatoes. Slice potatoes on a mandolin to get nice even thin slices. Sure, if you have well honed knives and good knife skills, you could slice the chips, but using a mandolin slicer makes much more practical sense.

Soak the chip slices in cold water to remove the starch and any residual grit. Remove the kettle chips to towel to dry. Make sure to dry them well to avoid oil spatter.
Heat oil in kettle (Dutch oven)until it comes to temperature of 400 degrees F. Starting cooking the chips in small batches until they are fried golden brown. Then drain on paper towels and allow to cool.
Test the temperature of the frying oil between batches. Increasing temperature temporarily if needed. It is essential to keep oil hot for great results.
Season the kettle cooked chips while hot. Enjoy your crisp crunchy delicious results.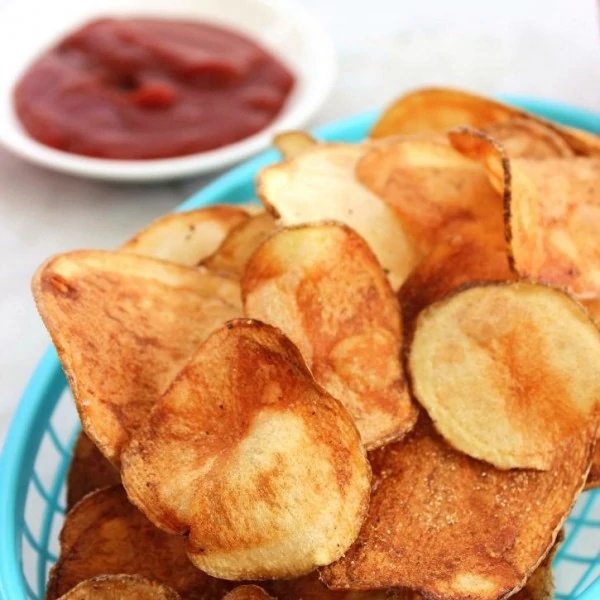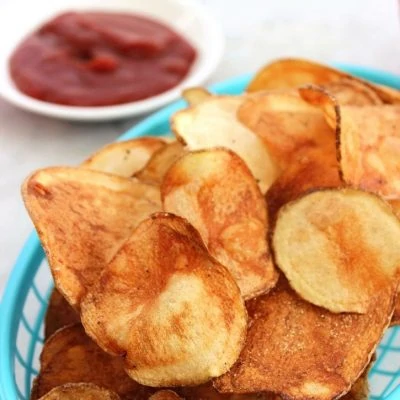 Kettle Chips Recipe
How to make Kettle Chips. Easy homemade kettle chips.
Print
Pin
Rate
Ingredients
1

lb

Potatoes

Yukon Gold preferred

Vegetable Oil

for Frying

Sea Salt & Fresh Ground Black Pepper

or seasoning of choice
Instructions
Wash the potatoes well.

Thinly slice potatoes into chips using a mandolin, then soak them in cold water bath.

Heat a few inches of oil in dutch oven or similar heavy pan to temperature of 400 degrees.

Dry potatoes one batch at a time on paper towels.

Prepare another plate lined with paper towels for the chips as they come out of the oil.

Cook in small batches in the oil, stirring and turning often.

Remove when brown and crispy and place on towels to cool..

Salt and pepper (or other seasoning) should be applied immediately (while hot) to adhere.

Repeat with remaining potatoes.
Notes
Nutritional data calculated based on an assumption of 1 ounce of retained oil.  This is just an estimate.
Nutrition
Calories:
127
kcal
|
Carbohydrates:
14
g
|
Protein:
3
g
|
Fat:
7
g
|
Saturated Fat:
6
g
|
Sodium:
11
mg
|
Potassium:
468
mg
|
Fiber:
3
g
|
Vitamin C:
13
mg
|
Calcium:
34
mg
|
Iron:
4
mg
Alt spellings: kettles chip, kettel chips