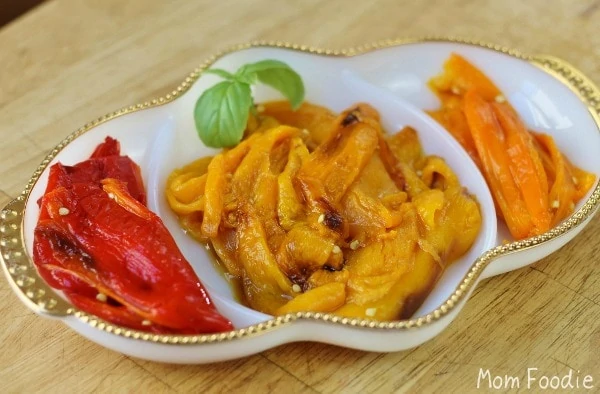 Roasting peppers is so easy, that paying the exorbitant prices asked for fresh roasted peppers in the market is, well, crazy.  If you don't know how to roast a pepper, no worries, you will in about a minute, and with a little work you will be enjoying your own.  They will taste better than most you have had too.
Pretty much any pepper can be roasted.  I usually stick to sweet red, yellow or orange varieties, but occasionally roast Poblanos or other mildly hot peppers (they go wonderfully in home fries).  End of summer abundance, or slightly shriveled reduced produce finds, can really bring down the cost of making your own roasted peppers.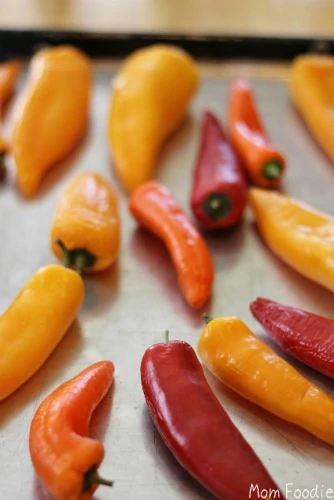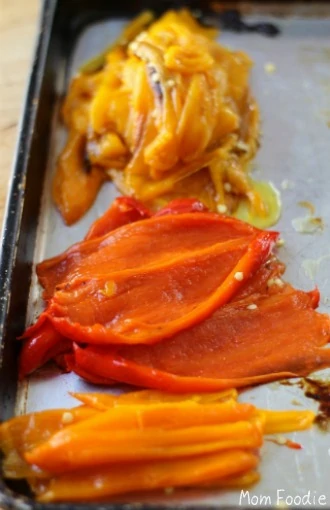 They key to the best roasted peppers is NO WATER.  Some will suggest cold water to help remove skin and seeds... you are removing a lot of flavor that way.  Make sure to strain and save the pan juices, they are a divine flavoring addition to simmered grains and stews.
O.k. here we go...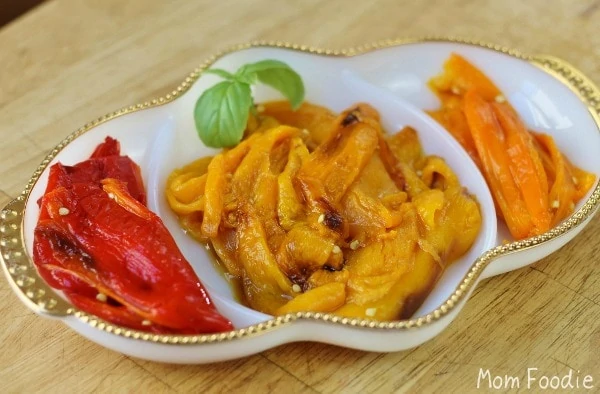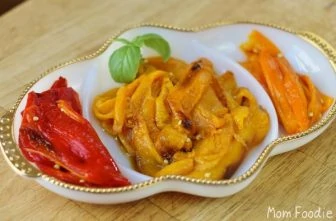 How to Roast a Pepper
Once you try roasting your own peppers, you will never buy roasted peppers in the store again.
Print
Pin
Rate
Ingredients
Peppers

yup, that's it. anything else is optional
Instructions
Preheat oven to 400 degrees.

Rinse and dry peppers.

Put peppers on baking sheet.

Roast for about 15 minutes, then turn. Smaller peppers like the ones shown here will only need one turn, and will be done in about ½ an hour. Larger peppers will need to be turned a few times, and roasted longer, 45 minutes should do it for those.

Remove pan from oven, and set aside to cool.

Once the peppers are cool and shriveled, peel off the skin and de-seed them. Avoid the temptation to rinse the seeds off, you will lose a lot of flavor that way.

Put your finished roasted peppers in container and pour the juices from the pan in with them, for extra flavor.
Notes
You can add olive oil, a little Kosher salt, roasted garlic or herbs to your roasted peppers if you like, but they will be quite tasty served simply in their own juices, as shown above.