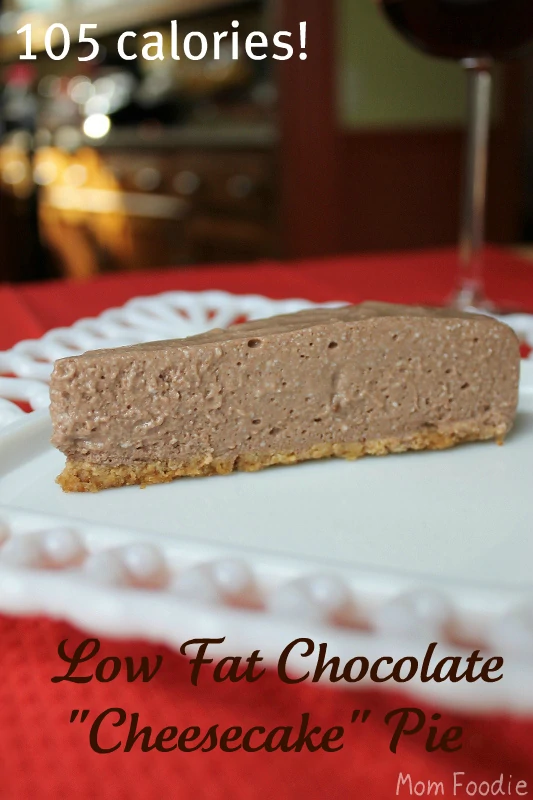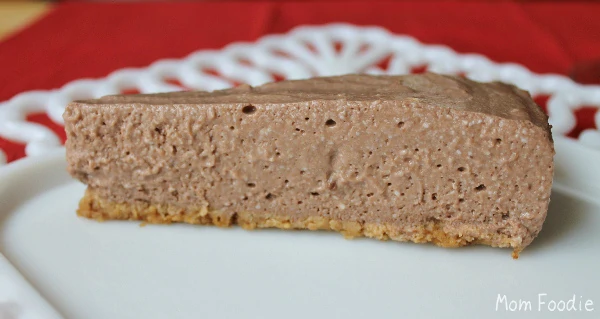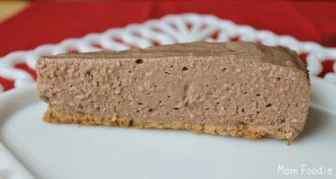 Low Fat Chocolate "Cheesecake" Pie
At 105 calories there is no need to skip dessert!
Print
Pin
Rate
Ingredients
Chocolate Filling

2

packages of lite silken tofu

1

package fat free cream cheese

1

tsp.

vanilla

½

tsp.

cinnamon

2

tbs.

sugar

3

tbs.

cocoa powder

½

cup

boiling water

1

packet of gelatine

½

cup

semi-sweet chocolate chips

8

individual packets of Equal

Peanut Butter Crust

6

low fat graham crackers

2

tbs.

Peanut Butter

2

tbs

water

plus more if needed
Instructions
(To Make Crust)

Preheat oven to 350 degrees.

Finely grind the graham crackers in food processor.

Pulse in peanut butter.

Add 2 tbs. water. Pulse. Add another tsp. if small wad of mixture will not loosely hold together.

Dump mixture into spring-form pan, spread out and press lightly until bottom is evenly covered. (you may need to use the back of a spoon, which has been coated with cooking spray)

Bake at 350 for 10 mins.

(To Make Filling)

Put the drained tofu, cream cheese & vanilla in mixing bowl and mix on med-high until smoothly combined.

Add cinnamon and cocoa. Beat well.

Measure the chocolate chips and set aside.

In mixing cup, add gelatine to boiling water, stir, then immediately add the chocolate chips. Mix well.

Pour the chocolate mixture into the tofu/cream cheese, Mix well.

Add 6 packets of the Equal beat well, taste. It will probably need 2 more packets, but suit to your taste.

The mixture should be light, from all the air incorporated in mixing.

Pour into spring-form pan over Peanut Butter Crust.

Refrigerate overnight.
Notes
Pie was originally cut into 8 pieces, but the consensus was that it was too filling (more like a meal). 1/16th is the perfect after dinner dessert portion. Serve some sliced strawberries or banana with this low fat dessert, if you want a little more color on the plate.
Nutrition
Serving:
1
/16th of pie
|
Calories:
105
kcal
|
Protein:
7
g
|
Fat:
4
g
I love cheesecake, but very rarely have it.  Who can afford the calories, never mind the mind-boggling amounts of fat, in most cheesecakes.  After a good deal of investigation, and a couple failed attempts, I've come up with a low fat chocolate cheesecake, with yummy peanut butter crust. It has only 105 calories per serving, so there is no need to skip dessert.  The texture, and flavor ended out being about half-way between cheesecake and chocolate pudding pie, hence the addition of the word pie to the name.