Tuscan Chicken aka Marry Me Chicken is a delicious meal to make even if marriage proposals are not on your wants list.
The chicken is seared then pressure cooked in a rich sun dried tomato cream sauce with garlic and thyme. Using the Instant Pot for this creamy Keto Tuscan Chicken recipe is easy and ensures tender results.
Marry Me Chicken is Keto-friendly too!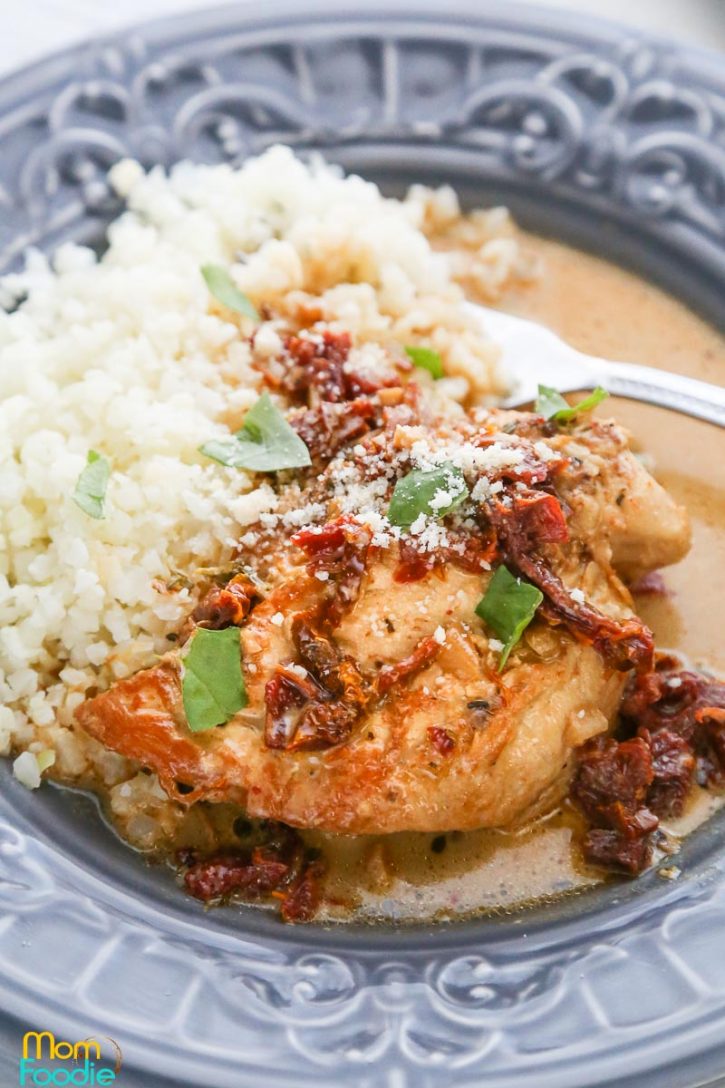 Tuscan Chicken, Marry Me Chicken
This simple creamy chicken dish with sun dried tomatoes has become quite popular in recent years. It is also frequently called Tuscan Chicken.
While typically prepared in a skillet on the stove top then transferred to the oven to bake for a little while to finish, this Marry Me Chicken is made entirely in the Instant Pot electric pressure cooker.
Instant Pot Tuscan Chicken
This creamy chicken in sundried tomato cream sauce is made modern with the use of an electric pressure cooker.
When cooking Marry Me Chicken in the Instant Pot a little less broth is used, since less liquid will dissipate.
This will soon become one of your go-to Instant Pot Recipes. I know it has for me.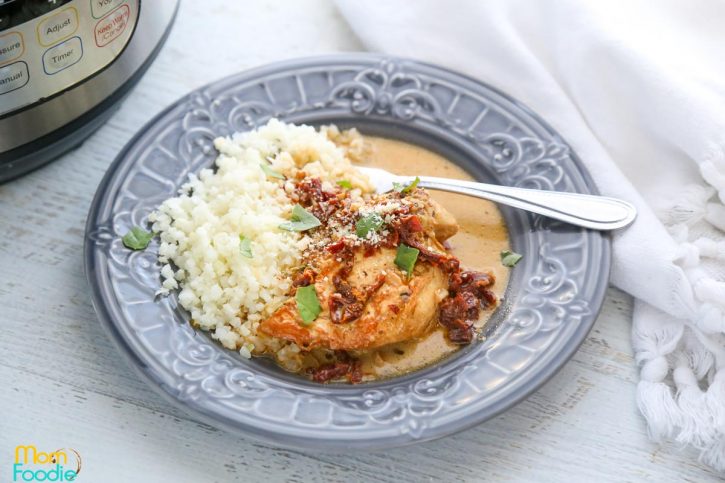 Keto Tuscan Chicken
Yes, this low carb Tuscan chicken is keto-friendly. It has 5 net carbs per serving.
The carbs in the dish come from sun dried tomatoes and garlic. When served with a simple low carb vegetable side dish, such as the simply sauteed cauliflower rice in the images it makes a filling keto dinner with great ratios.
I used avocado oil and chicken bone broth when making the recipe, and those are ideal choices for keto dieters, but smart choices for everyone.
How to Make Marry Me Chicken in the Instant Pot
Here I'll walk you through making Tuscan style Marry Me Chicken. The printable recipe card is below.
Ingredients for Tuscan Chicken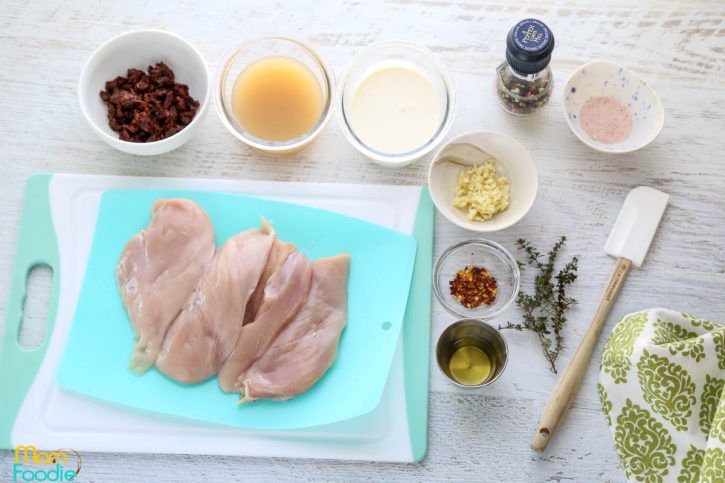 2 tbsp oil (I used avocado oil, but classic olive oil or any oil good for frying is fine)
1 pound of chicken breast cutlets
sea salt and fresh ground pepper, to season cutlets
2 cloves of garlic, minced
3-4 sprigs of fresh thyme (or 1/2 tsp dry thyme) Feel free to substitute Italian seasoning if you prefer. 
1/2 tsp crushed red pepper flakes
1/2 cup reduced sodium chicken broth (I actually used chicken bone broth)
1/2 cup heavy cream
1/3 cup  chopped sun-dried tomatoes (drained oil packed)
fresh basil leaves (optional garnish, not shown above)
Parmesan cheese (optional garnish, not shown above)
Yes, you can use boneless chicken thighs instead of breasts if you prefer, see note below.
Preparing
Set the Instant Pot to saute. Once it is hot, pour in the oil. Season the chicken breasts with salt and pepper, then nestled them into the bottom of the pot.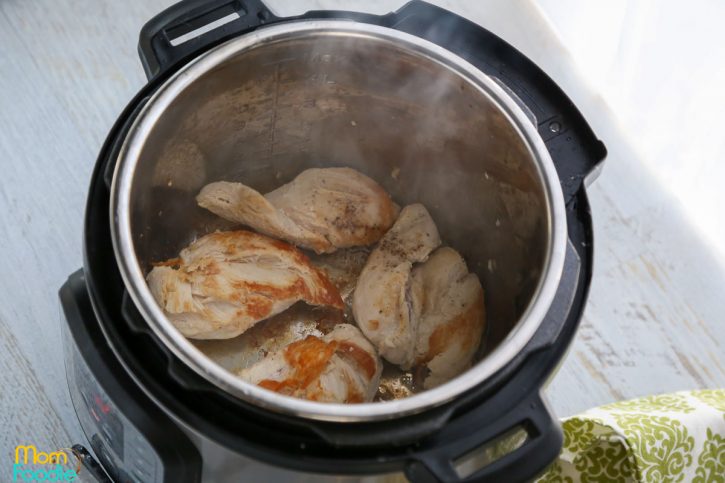 Cook the chicken for 5-6 minutes.
Then flip and cook an additional 3-4 minutes. Remove and transfer chicken to a bowl.
Tip: Don't try flipping the chicken until at least 5 minutes, it won't release easily until at least that point.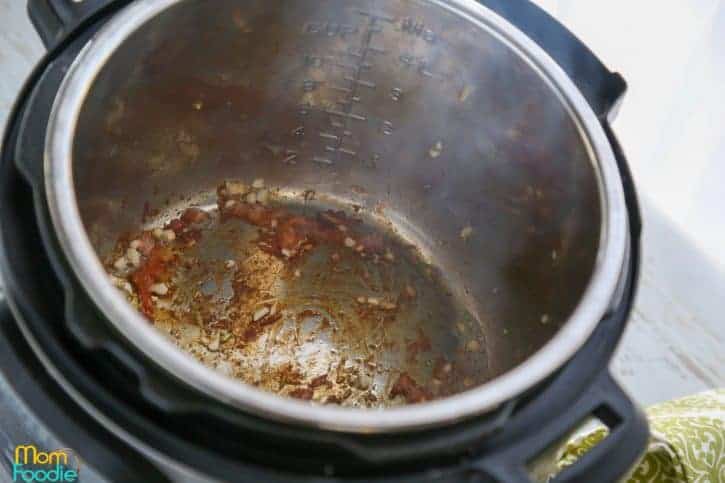 Drop the garlic into the pressure cooker and stir. Cook a minute or two, then add the thyme, and red pepper flakes.
Stir in the broth, then the cream and sun dried tomatoes.
Bring to a boil, then turn off pot add the chicken back in and ladle sauce over top of chicken.
Lock on the Instant Pot cover. Manually set to high pressure with timer for eight minutes.
Lock the pressure valve. Quick release after the eight minutes, by carefully toggling the valve to venting.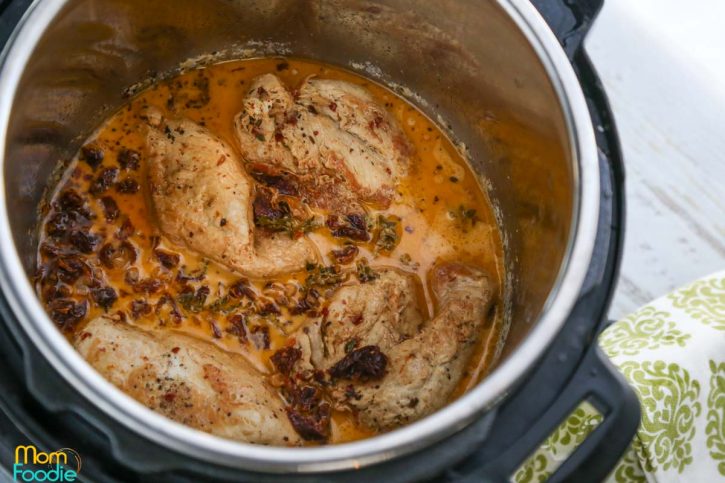 Serve over rice, noodles or mashed potatoes. If following a keto diet serve with low carb sides, such as zucchini noodles, cauliflower mashed or cauliflower rice as shown.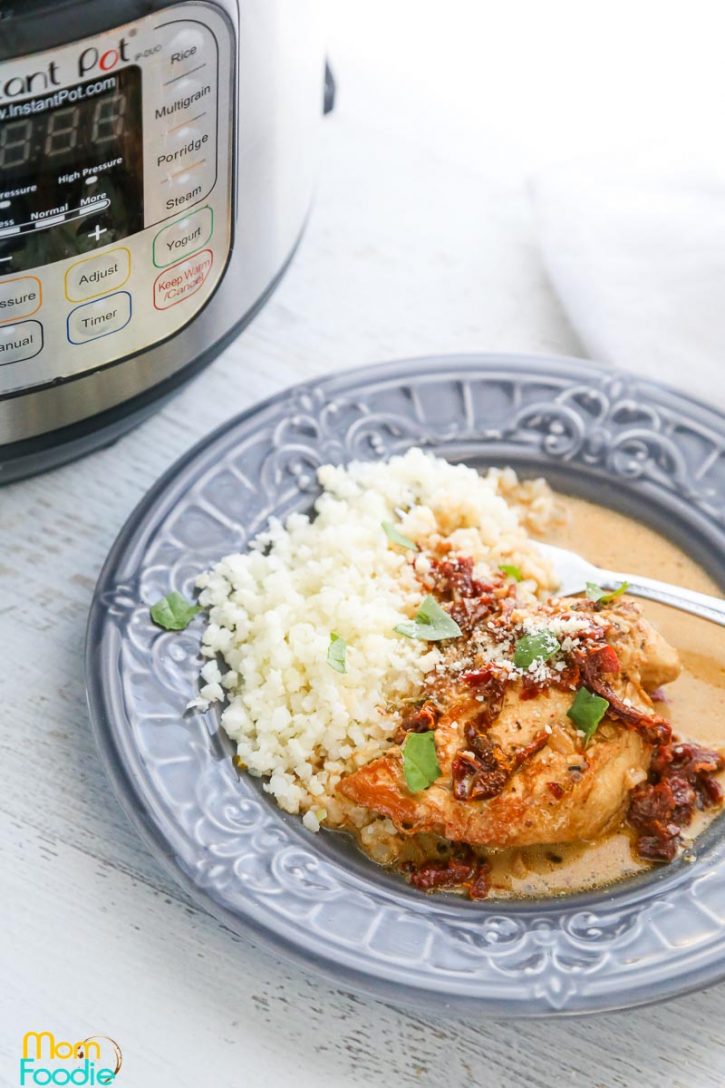 Using Chicken Thighs?
While I've used chicken breasts in this recipe, boneless chicken thighs are equally good in the Marry Me Chicken recipe.
If you opt to use chicken thighs simply select 10-12 minutes rather than 8 minutes of pressure cooking.
More Instant Pot Recipes