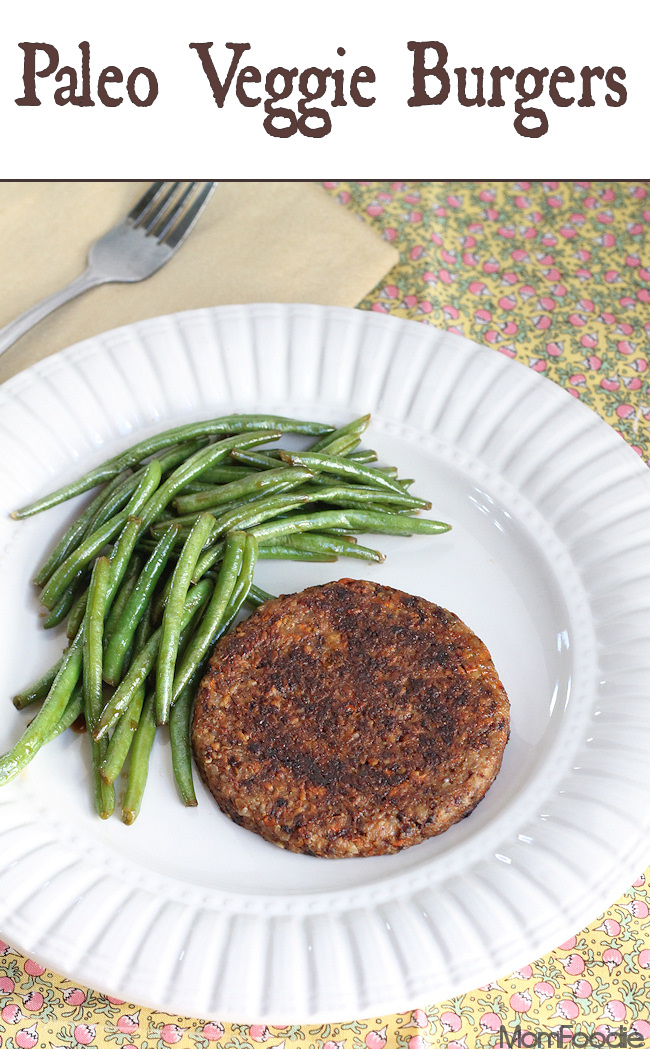 There seems to be a general lack of  Paleo or even gluten-free Veggie Burger recipes around.  When I saw "paleo" recipes with beans in them it reminded me of when my daughter was on a gluten & casein free diet and I couldn't find any gluten-free veggie burgers in the store.  It annoyed me.  Now some would say, why would someone on Paleo be eating a veggie burger?  Well, not everyone who eats veggie burgers is vegetarian.  I eat them, but I also eat seafood, chicken and the occasional pork product.  I very rarely eat beef, and the few times I do, it is either a steak tip end or thinly sliced brescola (an Italian dry cured beef).  I'm not on Paleo, but what if I was… mission Paleo Veggie Burger commenced.
Paleo/ Gluten-Free Veggie Burgers (Origin)
Beans, soy and/or grains are a big part of typical veggie burgers.  None were going to be allowed, so suitable stand-ins were needed.  I recently made "bread crumbs" from cauliflower for some Paleo Chicken Fingers, and this seemed an even better fit for the cauliflower crumbs.  For this recipe I also added small shredded pieces of carrot to the roasting pan, as well.  Egg and a little tapioca starch would bind the burgers together and some ground walnut added a bit more protein, healthy fat and texture.  Minced garlic and onion were brought in to provided a boost of flavor.
The mixture seemed to have the consistency I was looking for, so I formed it into patties between sheets of plastic wrap, and popped them in the fridge to firm up a little.
Paleo Gluten-Free Veggie Burgers (Results)
After a short stay in the refrigerator, the paleo veggie burgers  were firmed up & just as sturdy as store bought.  They cooked up nicely in a skillet over medium heat, holding together very well.
I tried my burger plain and found it mildly sweet from the carrots and onion.  I decided it really didn't need any condiments, and finished it that way.  I would say the cauliflower added a nice character to the burger, and while carrot was pleasant, versions with sun-dried tomato or dried mushroom instead would probably be equally tasty.
A dehydrator would make the process of making these so much easier. I definitely need to get one SOON.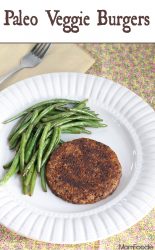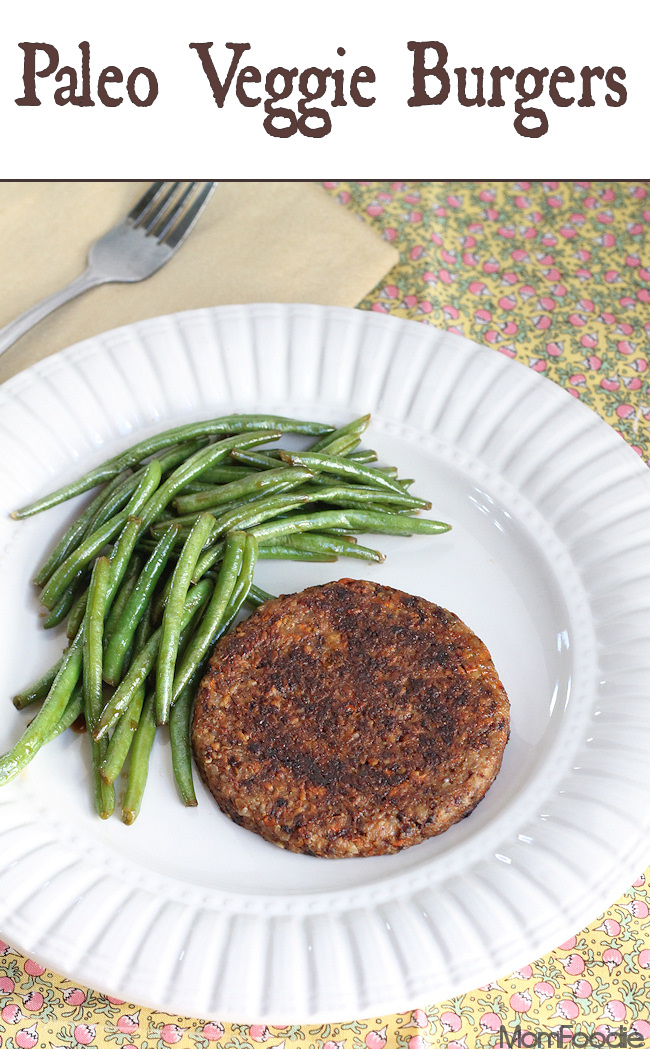 Paleo Veggie Burgers (Gluten-free, Grain-free, Legume-free)
Ingredients
1

head

cauliflower

2

carrots

1/2

cup

ground walnuts

substitute ground sunflower seeds if nut allergies are an issue

2

cloves

garlic

minced

2

cups

white onion

minced

2

eggs

1

tbs

tapioca starch
Instructions
Preheat oven to 325 degrees (300 if you have convection)

Shred the florets of the cauliflower with a microplaner, or pulse until riced in food processor.

Grate the carrot cross grain to make short bits ( or food process as well).

Spread the cauliflower and carrot out on large baking sheet. Allow plenty of air circulation (use two pans if you have too).

Roast for about an hour turning every ten minutes, so the small bits won't burn.

Saute onions & garlic very lightly, while cauliflower is roasting.

Once everything is cool combine all the ingredients in mixing bowl, and stir well.

Form into 4 patties by pressing between sheets of plastic wrap and tucking in the sides to make uniform patties.

Refrigerate for at least 1/2 an hour before cooking.

Cook over medium heat in lightly oiled pan, until nicely browned.
Nutrition Facts
Paleo Veggie Burgers (Gluten-free, Grain-free, Legume-free)
Amount Per Serving
Calories 235
Calories from Fat 126
% Daily Value*
Total Fat 14g 22%
Cholesterol 81mg 27%
Sodium 99mg 4%
Potassium 751mg 21%
Total Carbohydrates 22g 7%
Protein 9g 18%
* Percent Daily Values are based on a 2000 calorie diet.