Want to make some fun and easy Easter treats that will look pretty on your table? Try these Pastel Chocolate Rice Krispies® Bars.  All you need are two ingredients (and some sprinkles if you like), and a microwave.  No baking required!
This post is sponsored by Rice Krispies®.
What are Pastel Chocolate Rice Krispies

®

Bars?
If a Rice Krispies® treat married a chocolate bar, this would be their baby in her Easter outfit.  The bars are nice and chunky, but rather than using butter and marshmallows cooked on the stove top to bind the Rice Krispies® together, I've simply used colorful candy melts (sometimes called candy wafers). Yes, I know candy melts are not technically chocolate, but neither is white chocolate.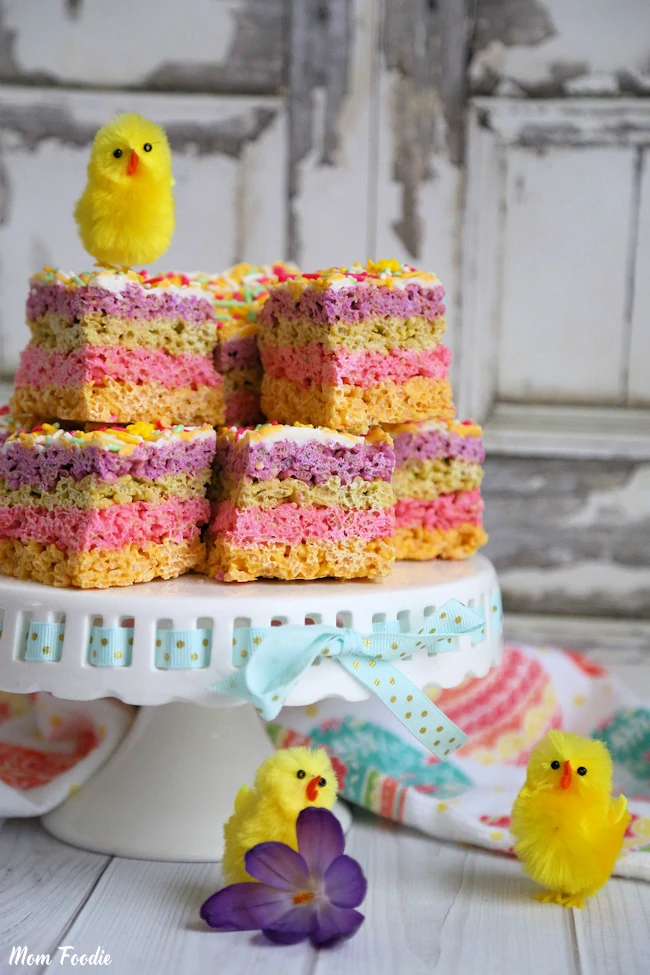 Making Pastel Chocolate Rice Krispies

®

Bars
I've made several batches over the past few days.  The original idea was to make more of a candy bark with the Rice Krispies® providing a nice crunch.  The bark was OK and looked pretty, but I wanted something that I could give my daughter that was a smarter option to Easter chocolate and jelly beans.  My answer was to pump up the Rice Krispies® quota!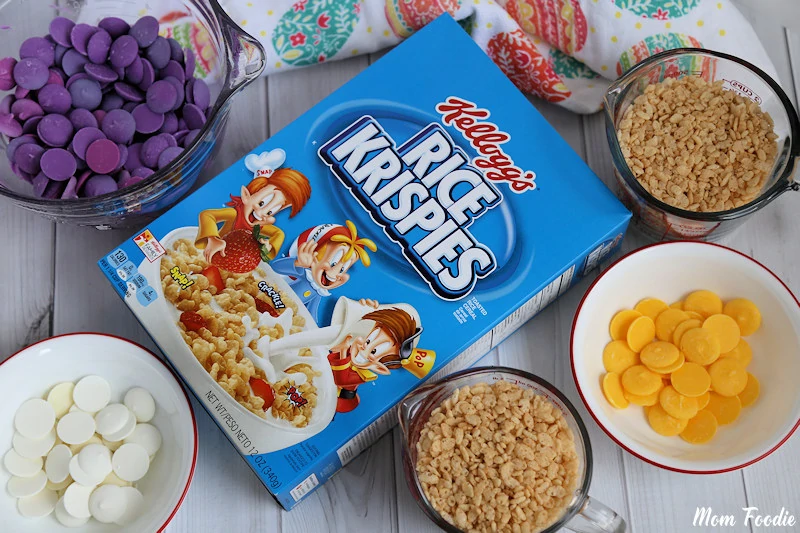 My first batch was purple chocolate Rice Krispies® bars with yellow and white drizzle and topped with sprinkles.  My daughter liked them, but I thought they could be prettier and needed just a bit more cereal. I finally achieved what I wanted with the pastel striped bars featured here today.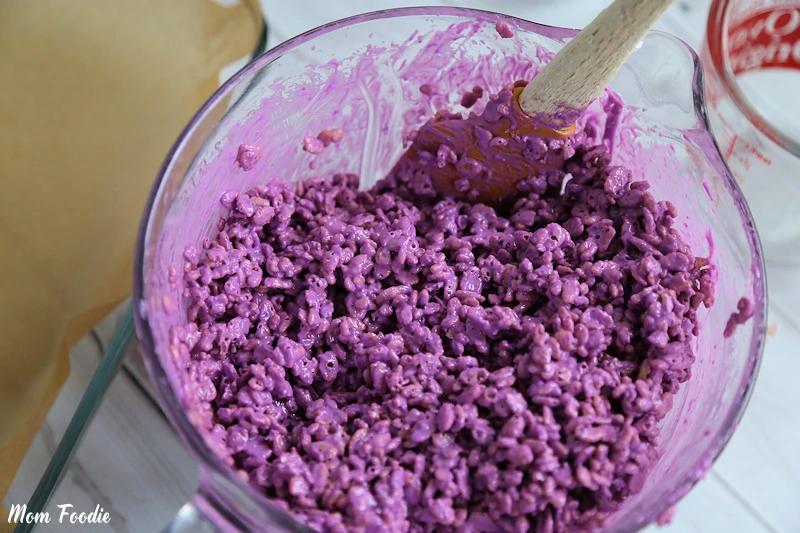 One great plus to using the colorful candy melts is how easy it is to see that the Rice Krispies® are fully coated. This is essential to make sure they are not crumbly.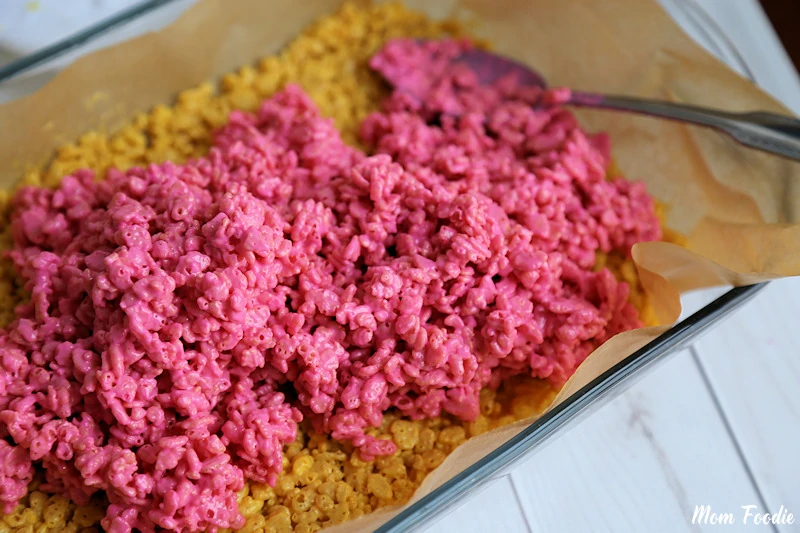 For each layer, the mixture is simply spread out and smoothed in a parchment lined baking dish.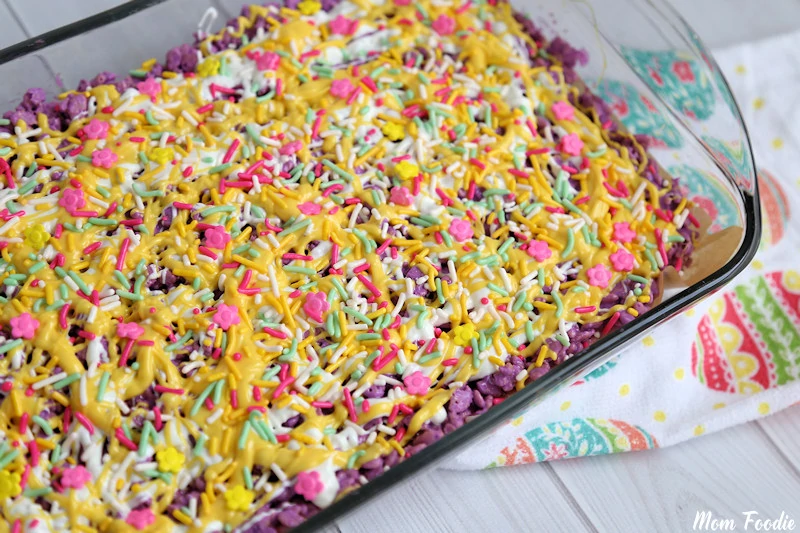 The final layer is topped with candy melt drizzles and complimentary sprinkles. The whole thing will easily lift out to be cut once cool.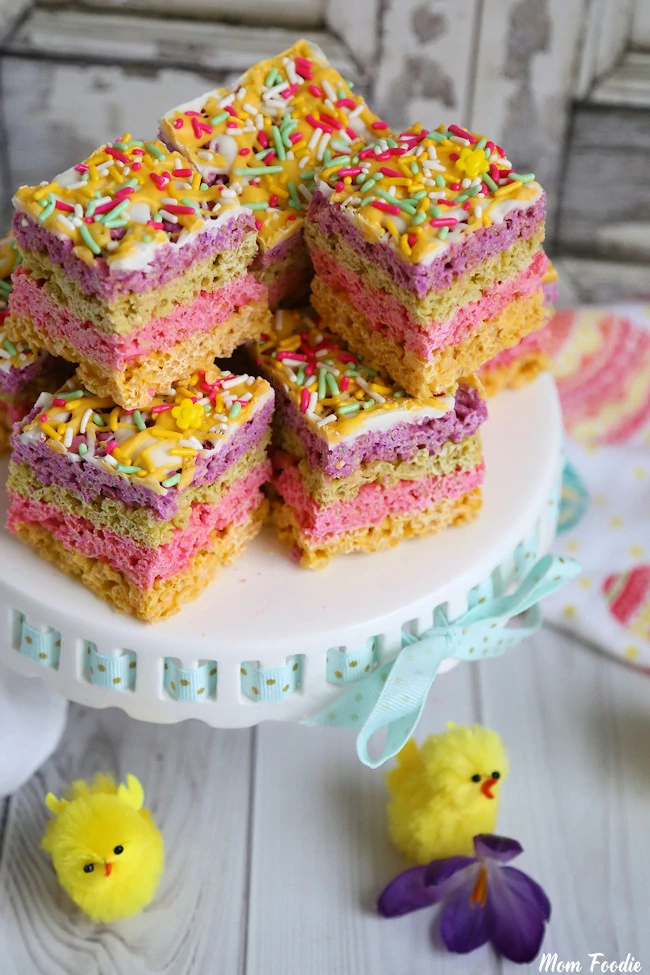 I used yellow, pink, light green and purple melts for the layers of the Rice Krispies® Bars themselves and white then yellow for drizzling.  The sprinkles adhere readily to the warm melted candy.  Feel free to change the batch size, the number of stripes, etc., just keep in mind a 1 cup to 2 cup ratio of candy melts to Rice Krispies®.  The recipe could be made for any occasion, just swap in the appropriate colors.
Considering how much my daughter went crazy for this last batch, I see a lot of these Rice Krispies® bars in our future.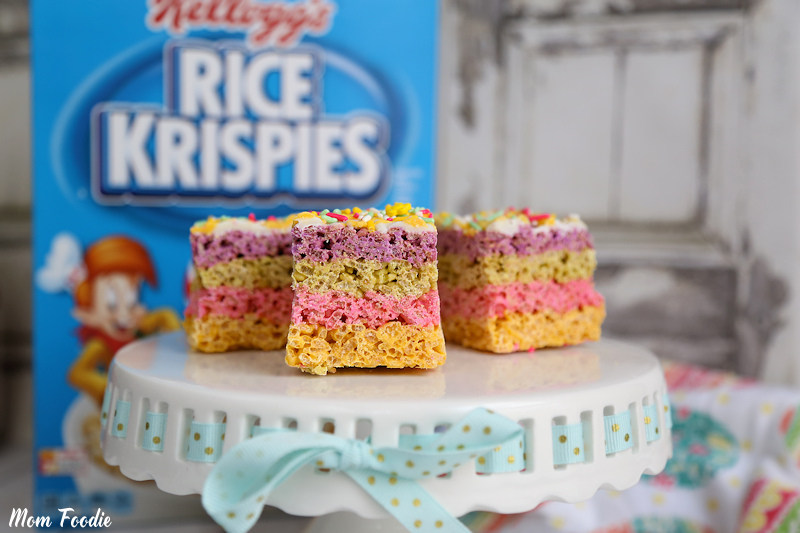 Want more cute Easter Treats to make with Rice Krispies®?  Check out additional recipes on their website or across Pinterest, Facebook & Twitter #RiceKrispies.
Grab Your Supplies!
&
Sprinkles 3.5 Ounces-Daisy
Rice Krispies Toasted Rice Cereal, 18-Ounce
Wilton 1911-1358 Lavender Candy Melts, 12-Ounce
Wilton 1911-424 Candy Melts, 12-Ounce, Bright Pink
Scott's Cakes 1 Pound Easter Sprinkle / Jimmie Mix
Wilton Yellow Candy Melts, 12-Ounce
Wilton 1911-1300 Candy Melts, Bright White
Reynolds Premium Parchment Paper (Non-Stick, 75 Square Foot Roll)
Looking for more fun Easter treats? Try my Easter Magic Cookie Bars or Easter Popcorn Snack Mix!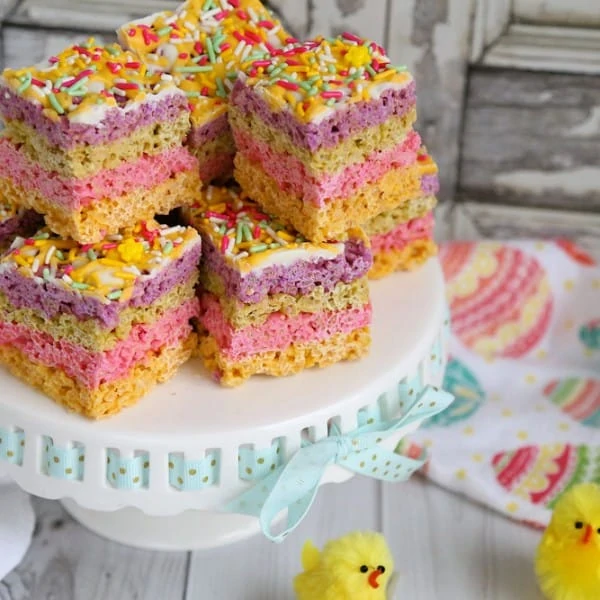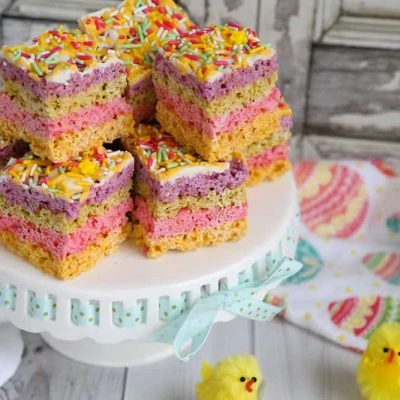 Pastel Chocolate Rice Krispies Bars: No Bake Easter Treats
These Pastel Easter Rice Krispie Chocolate Treats are a no bake dessert sure to thrill everyone.
Print
Pin
Rate
Ingredients
5

cups

candy melts

1 cup per stripe, and ½ cup each for two drizzle colors

8

cups

Rice Krispies

candy sprinkles
Instructions
Line an 8x11 baking dish with parchment paper.

Put one cup of the candy melt color you have selected for your bottom layer in a microwave-safe mixing bowl (batter bowl is ideal). Microwave on high for 1 minute. Stir, then repeat in 20-second intervals until the wafers are nearly melted. At that point, briskly mix until the remaining bits melt.

Add 2 cups of Rice Krispies® and mix well, until completely coated in the candy. Spread the mixture into the lined baking dish, and smooth with the back of a spoon. Place in refrigerator (to assist setting), while you wash and dry bowl and repeat the process for the next layer.

After final layer, melt a ½ cup of the candy wafers and drizzle on top, then repeat with another color. Immediately add the sprinkles so they will adhere.

DO NOT REFRIGERATE after this step. Allow the Rice Krispies® Bars to cool until set at room temperature. If too cold the bars will not cut well.
Notes
*1 cup is roughly 5 ounces of candy melts
Nutrition
Calories:
185
kcal
|
Carbohydrates:
27
g
|
Fat:
7
g
|
Saturated Fat:
6
g
|
Sodium:
93
mg
|
Potassium:
15
mg
|
Sugar:
18
g
|
Vitamin A:
830
IU
|
Vitamin C:
7.8
mg
|
Calcium:
1
mg
|
Iron:
3.8
mg