Bunny Potato Croquettes are the perfect savory snack, appetizer or fun side dish for Easter.  Most of the recipe can prepared far in advance, so the croquettes won't be much work at all when you have guests.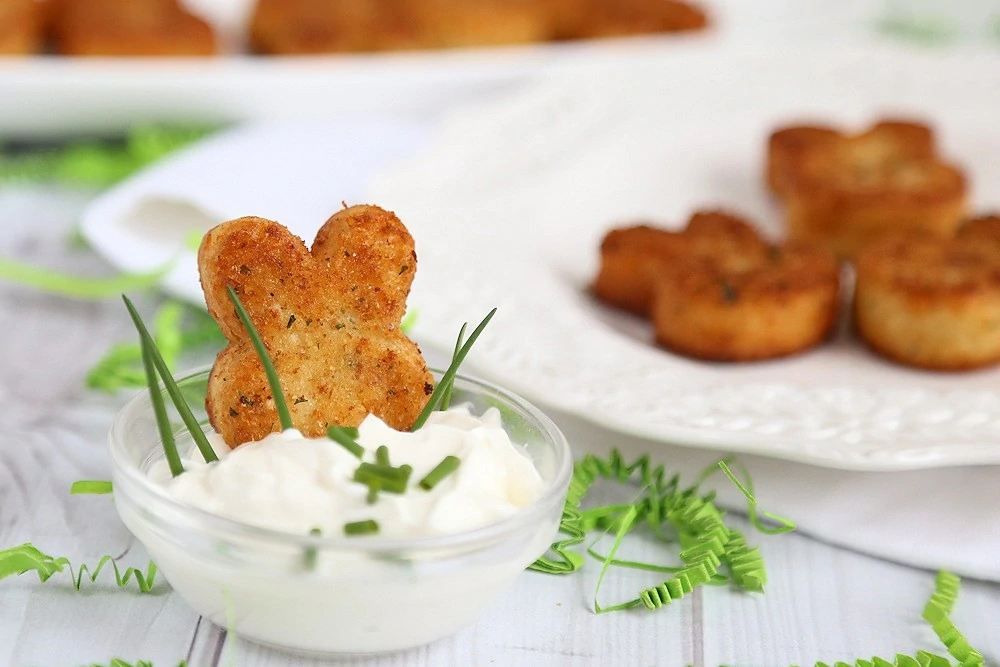 A Savory Easter Treat
It seems that so many of the cute holiday foods on Pinterest are desserts.  While I enjoy sweets as much as the next person, I wanted to make something cute and savory for Easter.  Something that could be part of the meal itself.  It had to be kid friendly, yet something adults would also enjoy.
I found some bunny silicone molds
that were just the right size to form bite-sized Easter croquettes with no fussy details to mess up.  My plan was to freeze the croquettes in the molds so they would hold their shape, then either bake in the oven or pan fry them.  Both methods ended out working, but I preferred the fried results.
Grab a Silicone Bunny Mold to make this Project
Wilton 2105-0434 Bunny Silicone Treat Mold, 24 Cavities- Discontinued By Manufacturer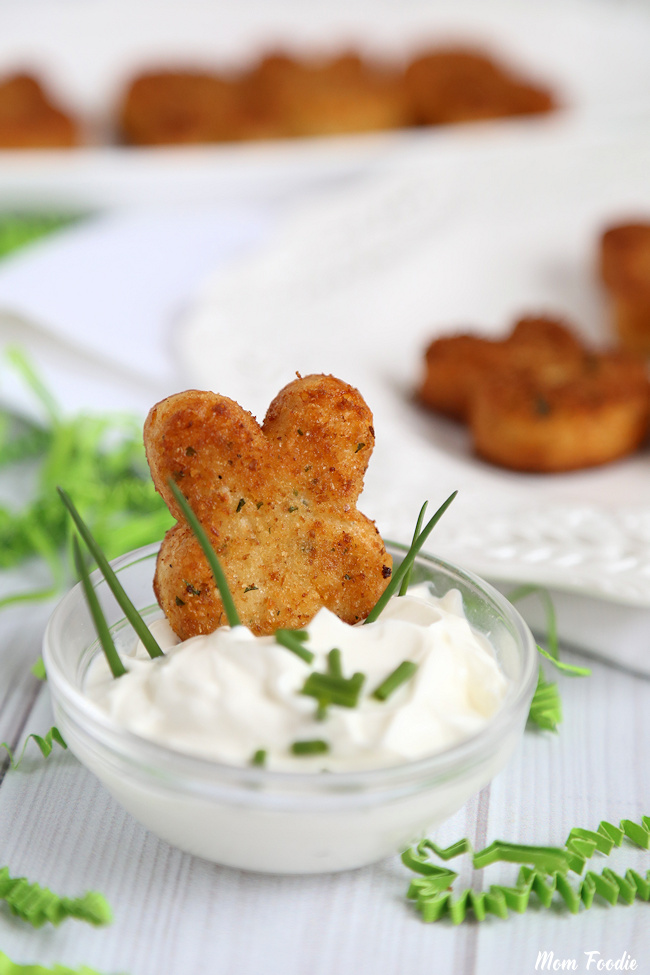 I served the potato croquettes as a snack with a simple dip of sour cream with some chopped chives.  They have plenty of flavor, so would not necessarily need anything as a side dish for Easter dinner.
How to Make Easter Bunny Potato Croquettes
Here is a quick visual walk-though of the process of making the bunny potato croquettes.  Full recipe below.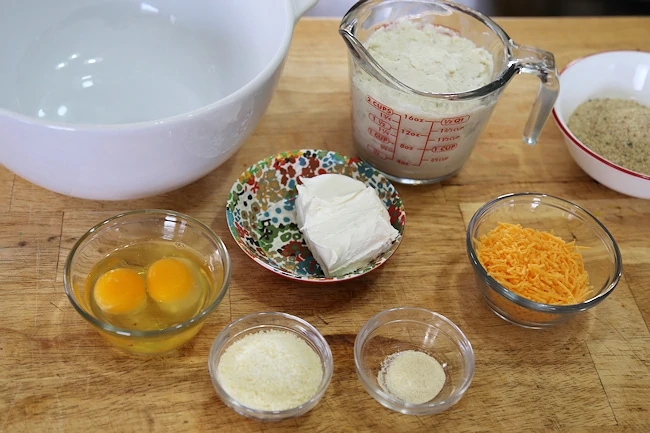 The basic simple ingredients used to make the croquettes. Many are probably in your home already. The Easter bunny silicone mold
I used is widely available in craft and department stores. Mine is a generic brand, but Wilton makes the same one.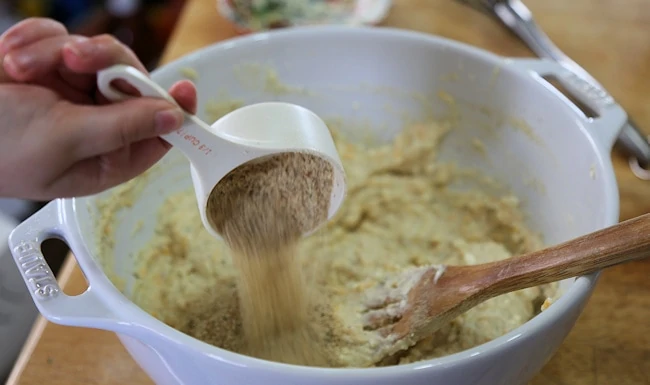 The croquette mixture is both thickened and seasoned by the addition of Italian bread crumbs.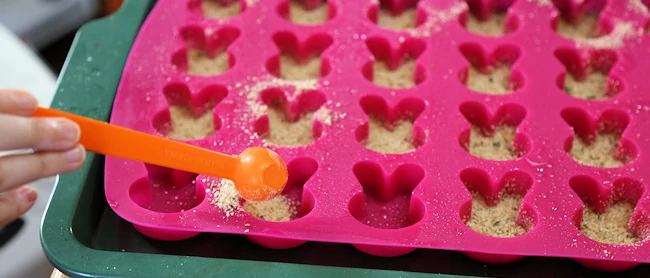 The mold is placed on a baking sheet
and coated with oil from a mister
or non-stick cooking spray. A ½ teaspoon of Italian bread crumbs is poured into each individual bunny mold
. A couple shakes of the tray will help the crumbs uniformly cover the bottom of the molds.

Grab one of these Oil Misters. I promise you will not regret it (no more need to buy cooking spray).
Misto Brushed Aluminum Olive Oil Sprayer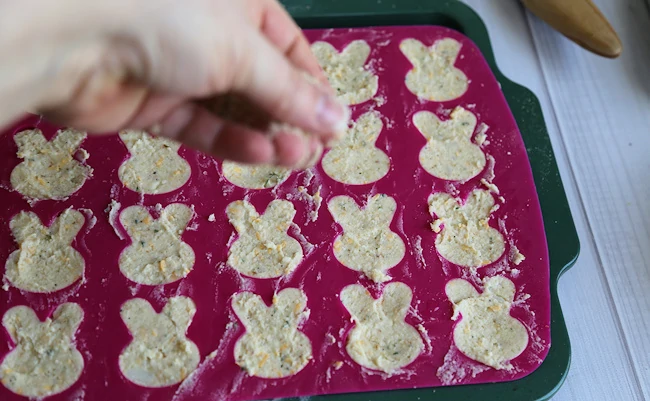 Scoop the potato mixture into each mold,  take care to press mixture into the corners and ears. Smooth the tops, then sprinkle generously with bread crumbs.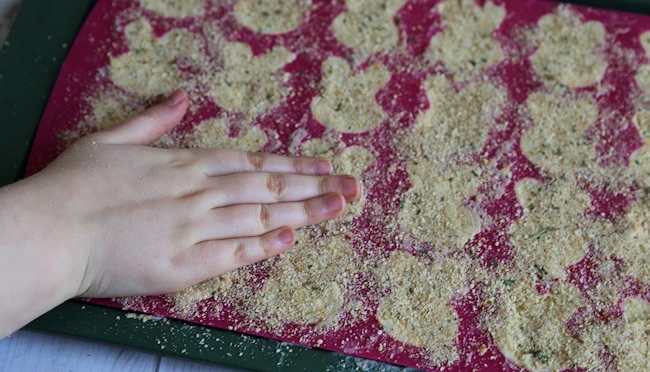 Pressing the crumbs down was one of my daughter's jobs.  It adheres the crumbs and ensures the croquettes are nicely packed down.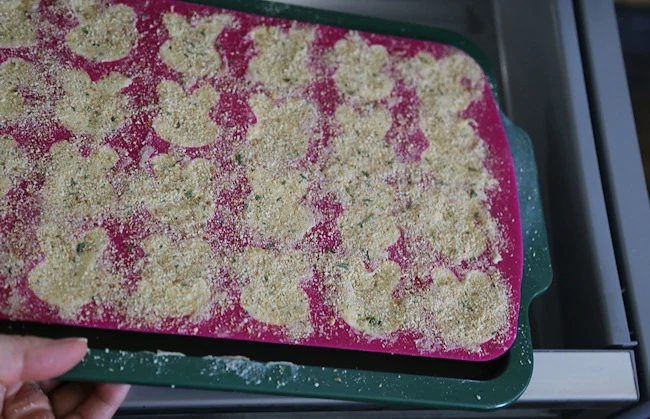 The tray was misted with oil (I used an oil mister
rather than cooking spray for things like this) and placed in freezer for at least an hour to freeze through. Once frozen they are ready to pan fry or bake in the oven.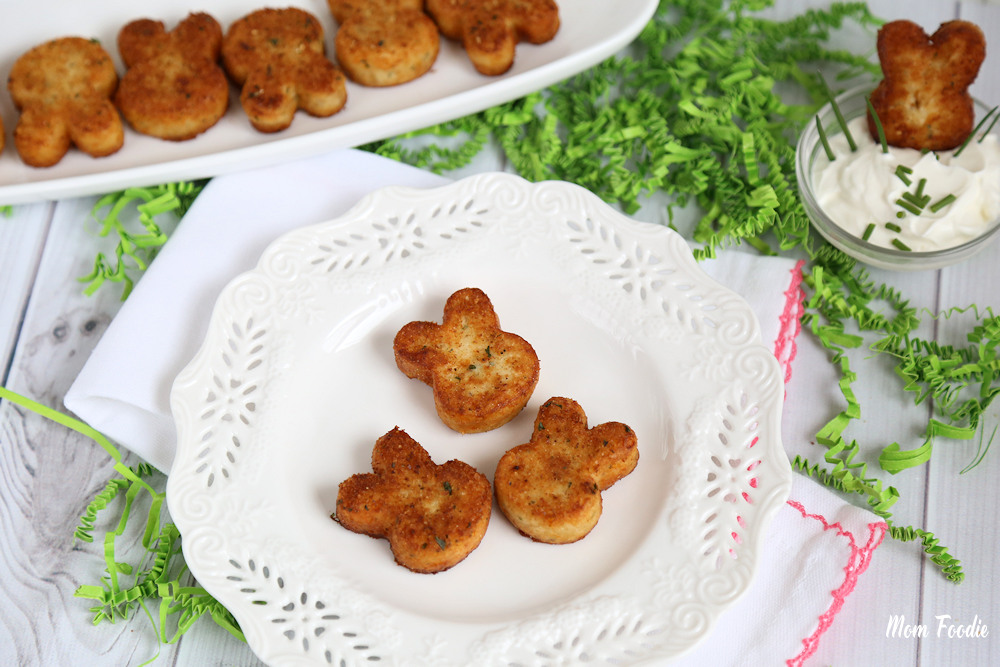 I preferred the pan-fried croquettes over the baked, since they were a bit crispier, but both were good.
Now that you have a great savory Easter treat, how about an Easter Ricotta Pie or Pastel Magic Bars for dessert!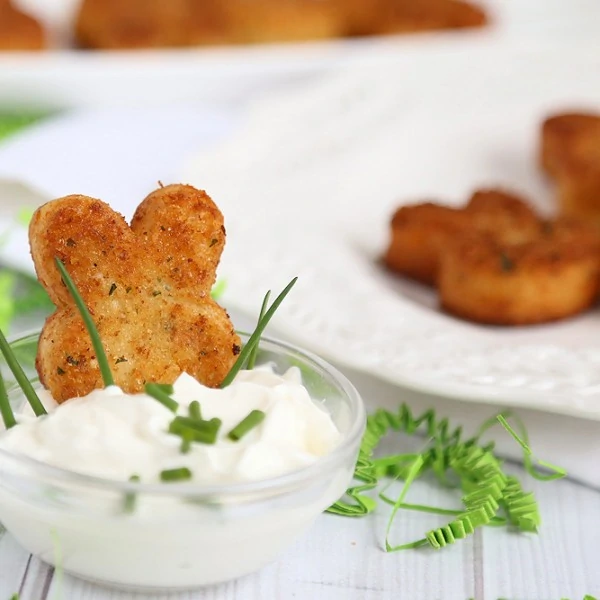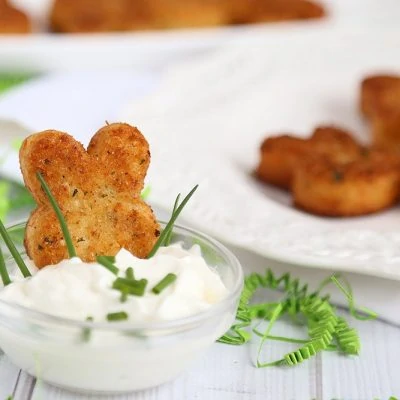 Easter Bunny Potato Croquettes Recipe
Potato Croquettes shaped like the Easter Bunny , such a fun Recipe
Print
Pin
Rate
Ingredients
2

cups

leftover mashed potatoes

4

oz.

cream cheese

softened

2

large eggs

beaten

3

tbs

Parmesan cheese

½

teaspoon

onion powder

½

cup

finely shredded cheddar cheese

1 ⅔

cups

Italian bread crumbs

⅔ cup in croquette mixture, rest for coating

oil

for coating the mold & frying
Instructions
Mix the potatoes and cream cheese together, then mix-in eggs, cheeses and onion powder.

Mix in ⅔ cup of the breadcrumbs.

Place mold on baking sheet. Mist silicone mold with oil or cooking spray. Coat bottom of each mold with a half teaspoon of Italian breadcrumbs. Shake to ensure full coverage

Dollop the mixture into the molds. Use care to ensure it is pressed into ears and corners. Smooth off the tops.

Generously sprinkle crumbs over molds and pat down with the flat of your hand. Mist tops with oil (or cooking spray). Place in freezer for one hour minimum.

Pop the bunny croquettes out of the molds. Gently brush off stray crumbs.
Pan-frying
Put ¼ inch of oil in bottom of skillet over medium heat. Once hot drop a few bunnies in. Leave plenty of room to flip them. Cook until you can see edges start to brown (approximately 2 minutes), then flip and cook about 2 more minutes. Flip again to cook each side another 30-45 seconds then remove to paper towel to drain oil.
Baking
Preheat oven to 400 degrees. Line a baking sheet with parchment paper. Place bunnies on baking sheet. leave some space to flip them. bake for 11-12 minutes until bottoms are lightly browned. Flip and bake an additional 8-9 minutes.

More Easter Fun!
Easter Popcorn Recipe: Pastel Chocolate Covered Popcorn
Easter Bath Bombs: Pink Bunny Lemongrass Bath Bombs  from sister site Beauty Crafter
Amazing Easter Yard Decorations that Make Your Home Inviting
How To Save Money on Easter Baskets