Root Beer Float Whoopie Pies are sure to be a big hit with the kids, and I have the easy recipe to share with you today.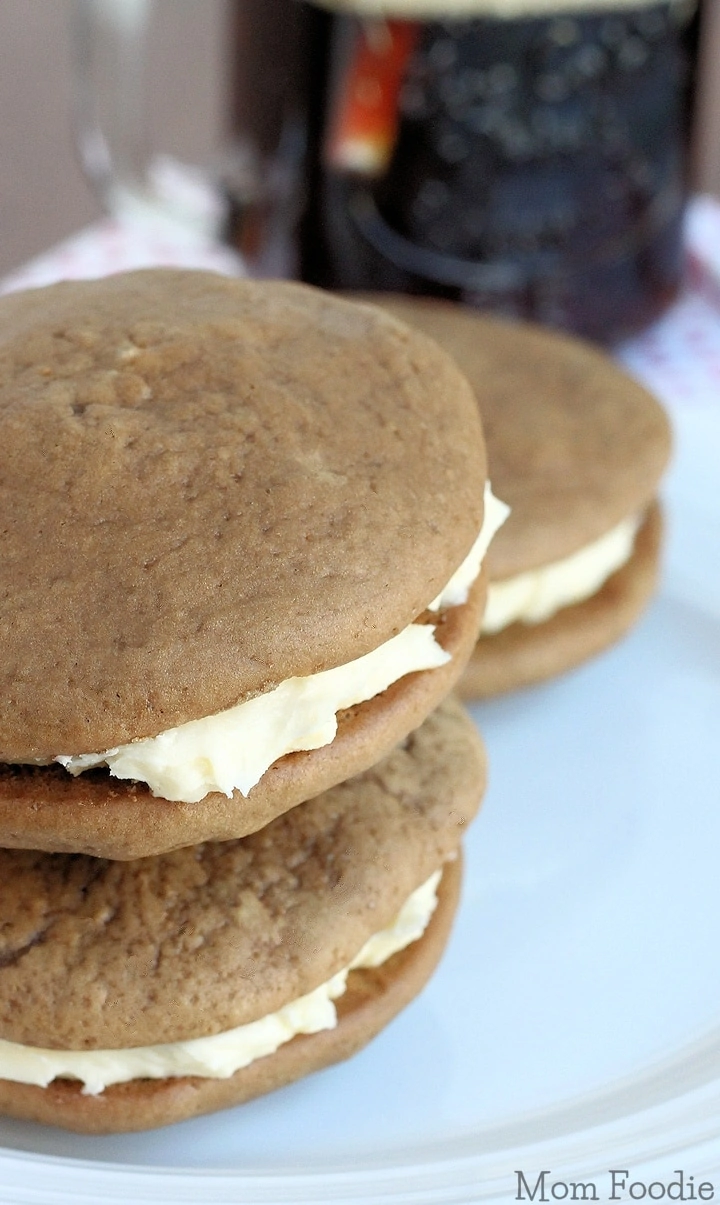 Article brought to you in collaboration with McCormick. Recipe and opinions are my own.
Root Beer Float Whoopie Pies (a recipe to honor memories)
Root Beer brings back a lot of childhood memories for me.  My parent's were always into one project or another.  When we were kids, my dad made and bottled root beer with my brother and I.   We even tried digging up some sassafras roots to make our own extract once, but that didn't work out so well (it was dreadful).  Boy, were we excited to drink that homemade soda.  It was never quite as bubbly as the store bought stuff, but we thought we were mighty cool making it (or should I say hovering over our father while he made it).  Now, root beer floats are a fond memory for any kid, but when you make them with your own homemade root beer... that blows the fun quotient up a little bigger.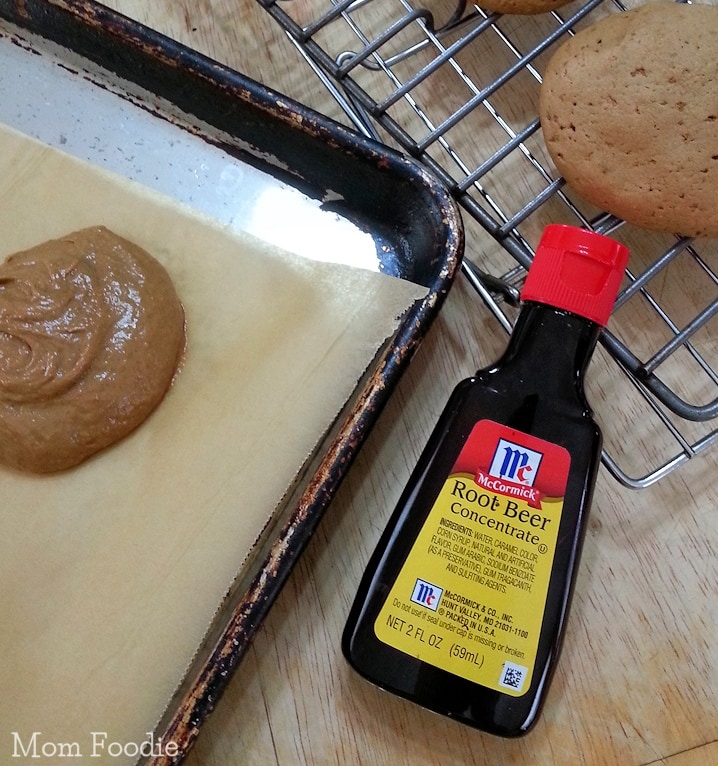 Now what could replicate the fun of homemade root beer, without actually making root beer soda, well, the "funnest" of all desserts of course the whoopie pie.
No, I didn't dig up any sassafras roots to make these whoopie pies.  I actually think it is illegal to do so in my state & unless treated first does have some mildly poisonous properties.  I used good old McCormick Root Beer Concentrate to make them (as well as a Root Beer Float Sugar Scrub, which I will be sharing with you in a few days).  It was probably what we used to make that childhood root beer too.
In 1889, Willoughby M. McCormick went door to door selling one of McCormick & Company's first products, Root Beer Extract. From there, the product quickly rose in popularity and led to a trending sensation of root beer floats and root beer home brewing in the early 1900s.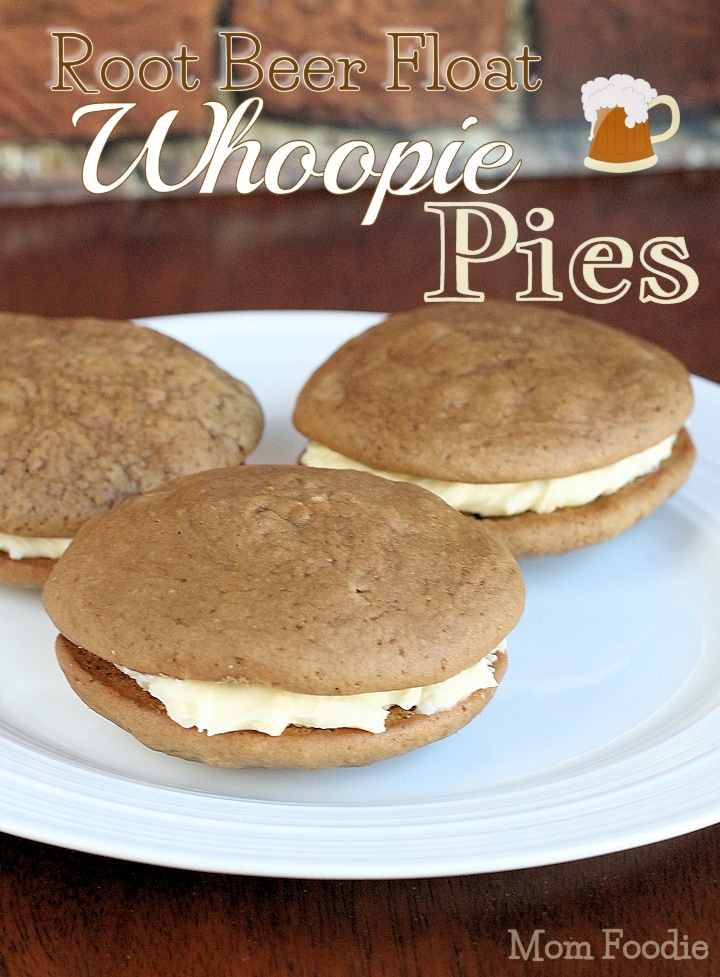 These would be great served after Instant Pot Root Beer Pulled Chicken!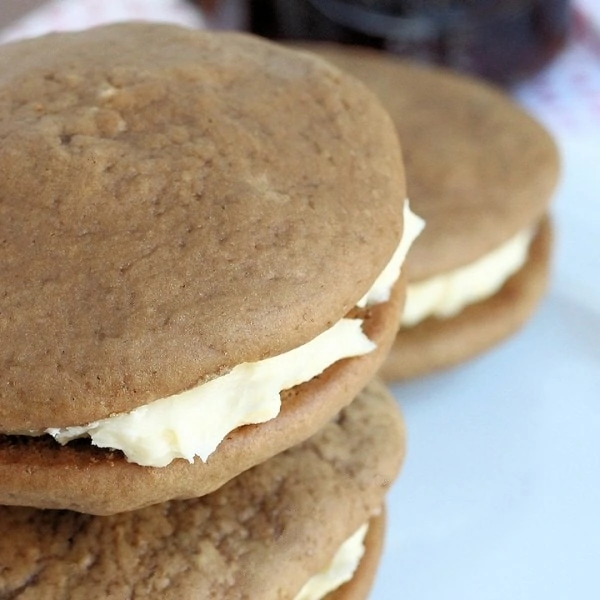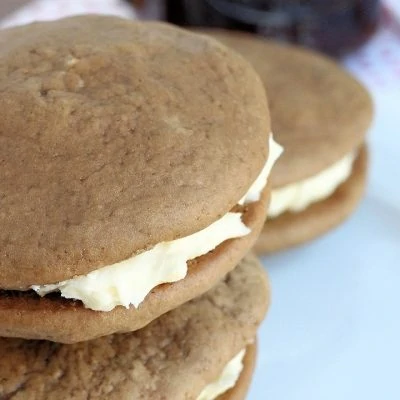 Ingredients
Cakes
¼

cup

shortening

room temp.

½

cup

butter

room temp.

¾

cup

dark brown sugar

½

cup

sugar

1

teaspoon

kosher salt

1

teaspoon

baking soda

3

cups

flour

1

large egg

¾

cup

buttermilk

½

cup

milk

or water

2 ½

teaspoon

McCormick Root Beer Extract

½

teaspoon

McCormick Vanilla Extract
Filling
½

cup

butter

½

cup

shortening

3

cups

confectionery sugar

2

teaspoon

McCormick Vanilla Extract

**add a teaspoon or two of milk if frosting is too thick for you
Instructions
Preheat oven to 375 degrees, and prep baking sheets with parchment paper.

Cream together the butter, shortening, sugars and salt. Add the remaining cake ingredients and mix well.

Ladle approx. 2 tbs of the batter onto parchment, leaving a couple inches between.

Bake for approximately 10 minutes, until center of batter has set.

Cool on racks.

Whisk together the frosting filling.

Once the cakes are cool frost underside of one, and place another on top to make a sandwich. Serve.
In 2014, McCormick marks its 125th anniversary by celebrating the role flavor plays in all of our lives, inspiring flavorful conversation, and giving back to communities around the world. McCormick's Flavor of Together program is a yearlong initiative to share 1.25 million stories about how flavor both unites and defines people across the globe. For every story shared on any of McCormick's brand websites or social channels, McCormick will donate $1, up to $1.25 million, to United Way to help feed those in need. All are invited to join the conversation at Flavoroftogether.com where they can share their flavor story and discover globally inspired dishes, videos, news articles and more. Stories can also be shared on social using #flavorstory.

Well, I've Shared my Flavor Story with you.  What flavors bring memories and stories to your mind?