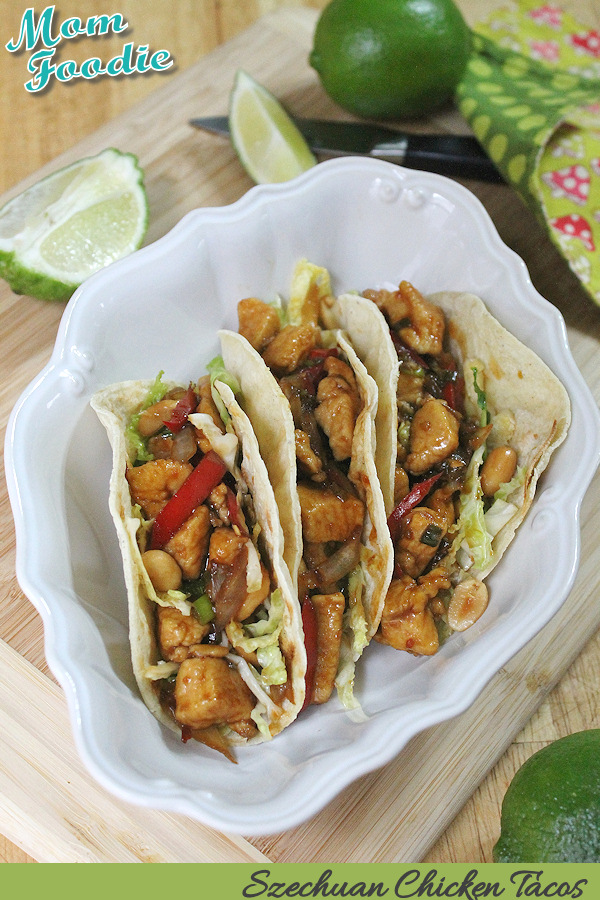 I had been eyeing the Kung Pao Chicken Tacos featured in Cooking Light recently, and was planning to try making them eventually.   Today, I had a serious craving for spicy Asian, so it seemed the perfect time to try making this food truck inspired taco recipe.  I looked at the photos and recipe, to see what I needed to pick up at the market to make it happen, and decided some changes were in order, to satisfy my personal immediate craving.  Celery... no thanks, I like it, but I'm kicking it out of my tacos.  I also pondered adding lettuce or something for that cool contrasting crunch I adore so, in traditional tacos.  I would solve that dilemma at the market, knowing some frisky piece of produce would say, "hey lady over here, pick me".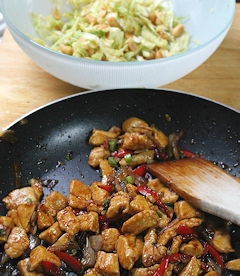 At the market, I grabbed a red pepper, sweet onion & scallions.  This dish was metamorphosing into Szechuan Chicken tacos... similar, yes, but a different branch of the species.  I gazed at the available lettuces & greens,  comparing the pros & cons of each option.  The more I looked, the more I started to want coleslaw, but that just didn't seem quite right.  I must have been quite the site, standing there staring at the veggies like I was in some sort of a produce museum.  Then the Savoy cabbage said "Hey, lady" ... and it all pieced together.  An Asian slaw from the lighter textured Savoy would do the trick.  I would even toss the peanuts in with it.  Oh, yeah!  I headed home with my fresh supplies.
Enough, of my inane ramblings, here is the resulting recipe....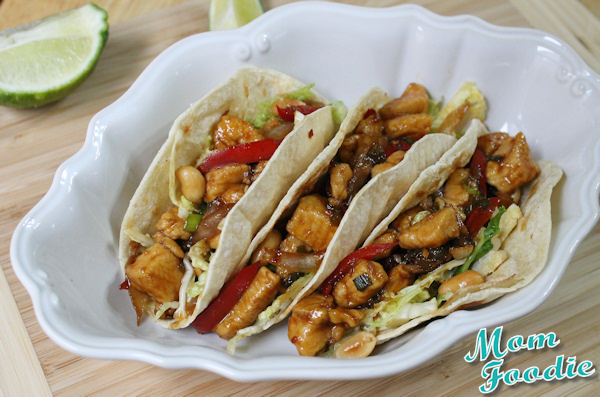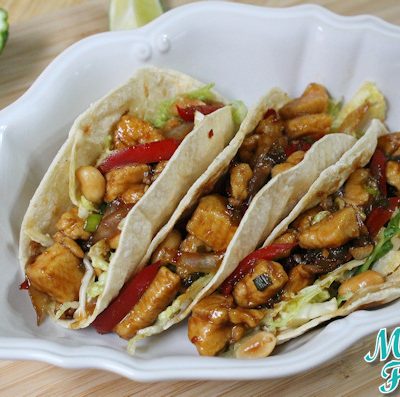 Szechuan Chicken Tacos
Szechuan Chicken Tacos are a twist on the traditional that brings to cultures together.
Print
Pin
Rate
Ingredients
¾ - 1

lb

chicken breast

2

tbs.

cornstarch

1

tbs.

canola oil

1

cup

sliced sweet red pepper

1

cup

chopped sweet onion

¼

cup

thinly sliced scallion

2

dozen corn tortillas
Asian Slaw
2 ½

cups

shredded Savoy cabbage

approx. ½ a head

1

tbs.

rice wine vinegar

¼

tsp.

sesame oil

1

teaspoon

brown sugar

½

teaspoon

low sodium soy sauce

I use gluten-free

1

tsp.

fresh lime juice

⅓

cup

unsalted or lightly-salted peanuts

I used cocktail peanuts
Szechuan Sauce
¼

cup

low sodium soy sauce

1 ½

tbs.

fresh lime juice

1

teaspoon

fresh grated ginger

3

tbs.

rice wine vinegar

3

tbs.

light brown sugar

1

tbs

sambal oelek

chili paste

1

teaspoon

sriracha hot chili sauce

1

clove

of garlic

crushed minced

½

teaspoon

sesame oil
Instructions
Toss together the ingredients for the slaw, and set aside.

Whisk together the sauce ingredients and set aside, as well.

Cut the chicken breast into bite size pieces add cornstarch, and toss to coat the chunks.

Put canola oil in large wok or skillet over med-high heat, once it is hot add the peppers & onions. Stir fry for a minute.

Add the chicken, and stir fry until cooked through.

Add the sauce, stir over heat until sauce is thickened and chicken is glazed. Remove from heat & toss in scallions.

Place corn tortillas under broiler, when a light char starts, flip them and very lightly char other side. Remove and gently fold over while hot & fill with slaw and stir fried chicken.
Notes
With gluten-free soy sauce & corn tortillas this is a gluten-free recipe. If that is not a concern, standard reduced sodium soy sauce is fine & flour tortillas would be an acceptable substitute for corn (the dish would be more like Mooshi then).