This recipe was developed to celebrate the launch McCormick Gluten-Free Recipe Mixes. I am a member of the Healthy Aperture Blogger Network, and was compensated for my time.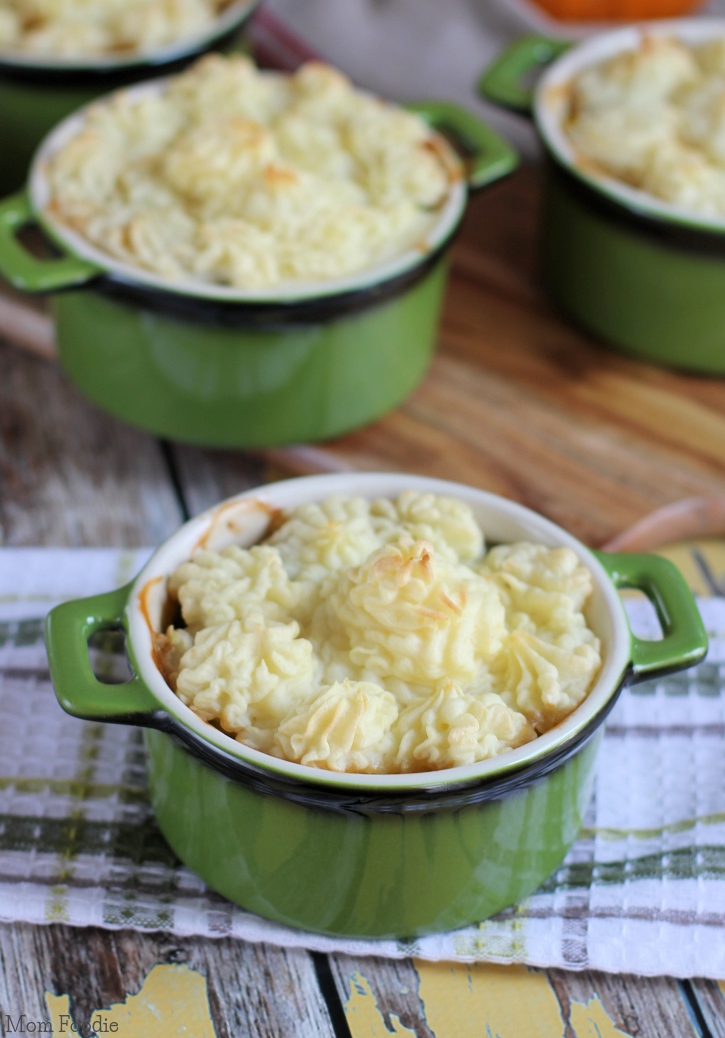 Thanksgiving is right around the corner now, and we all seem to end out with leftovers.  This Turkey Shepherd's Pie is a gluten free meal all in one, that while designed to make use of leftovers can readily be done year round (just fry up a pound of lean ground turkey).  The turkey is moist and flavorful due to the use of McCormick Gluten-Free Turkey Gravy Mix.  One packet provided just the right amount of gluten-free gravy for the casserole.

Making Gluten-Free Turkey Shepherd's Pie
The casserole was divided into 4 mini casseroles (crocks hold just over a cup, and the potatoes come up over the edge, so these are hearty portions).  Yes, you can just use one larger casserole dish, but individual ones are more fun in my humble opinion.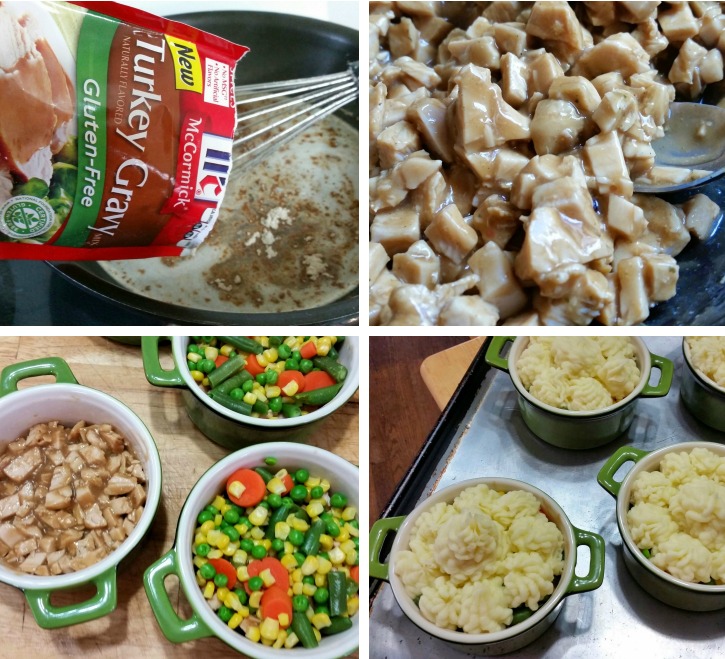 With the help of the McCormick gluten-free turkey gravy, this was such an easy dish to make gluten-free.  I know, Shepherd's Pie typically is a gluten-free meal, but for turkey you really do need some gravy (which is usually made with wheat flour).  The other ingredients are naturally free of gluten anyway, so ... easy as pie (Shepherd's Pie that is).
McCormick's New Line of Gluten-Free Seasoning Mixes
The new gluten-free seasoning mixes from McCormick are certified by the National Foundation for Celiac Awareness, so you know it is safely gluten-free, with no hidden gluten in it, and no MSG or artificial colors and flavors. The line includes Taco, Chili and Brown Gravy, in addition to the Turkey Gravy I featured in today's recipe.
If you are following a gluten-free lifestyle, or love someone who does, I encourage you to check out the selection of easy gluten-free recipes on the McCormick website.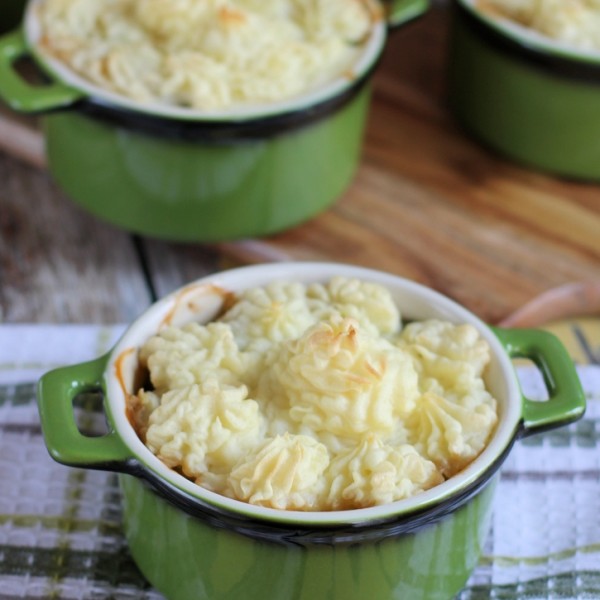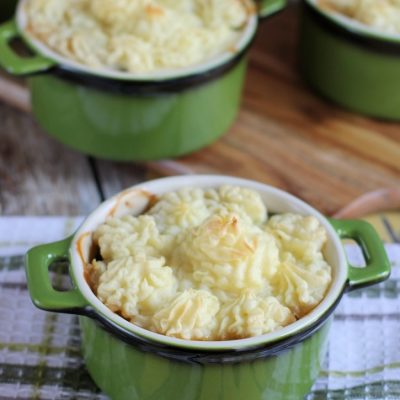 Ingredients
1

Packet of McCormick Gluten-Free Turkey Gravy Mix

3

cups

chopped leftover turkey

or a pound of ground turkey, cooked & crumbled

1

bag steamable frozen mixed vegetables

or leftover veggies, heated until thawed

3

cups

Whipped potatoes
Instructions
Preheat oven to 375 degrees.

Whisk the Turkey Gravy Mix into 1 cup of cold water and bring to boil. Remove from burner and whisk a couple more times, them mix in the chopped turkey.

Divide turkey mixture into mini casseroles (approx 1 cup size)., then split the bag of mixed vegetables between them, spreading out evenly.

Top with piped or dolloped whipped potatoes.

Bake for 30 minutes, until edges of potato topping start to lightly brown.
Notes
I mashed 2 lbs of potatoes, with ⅓ cup buttermilk, 2 tbs butter & ½ teaspoon Kosher salt. (I had just a little left over)
Feel free to use instant if you prefer.