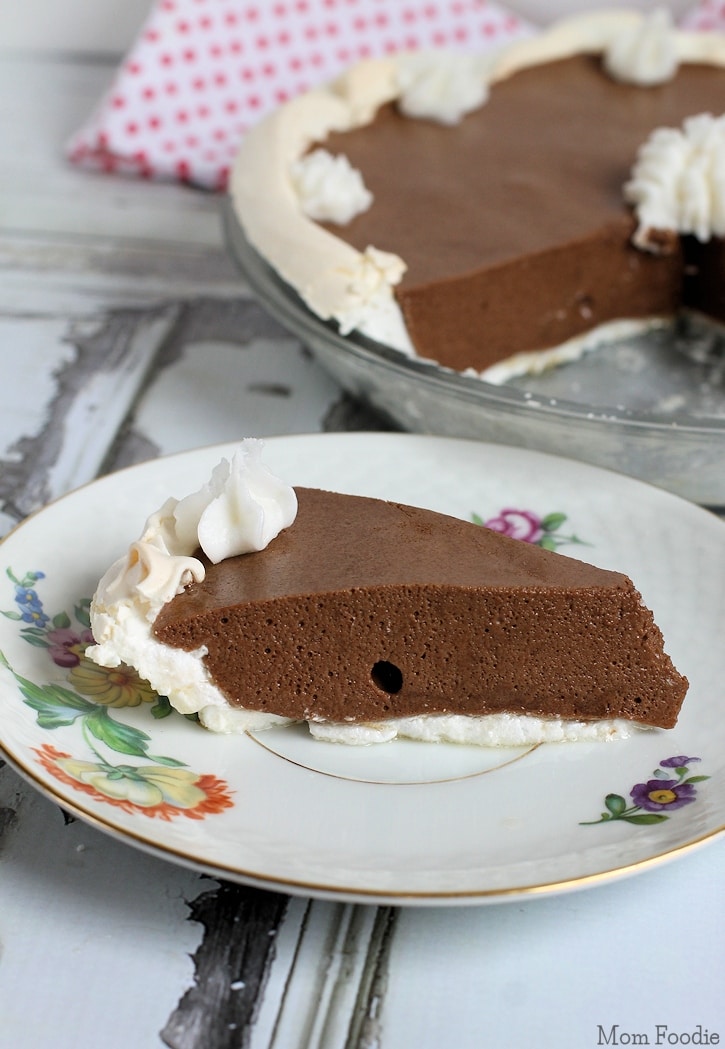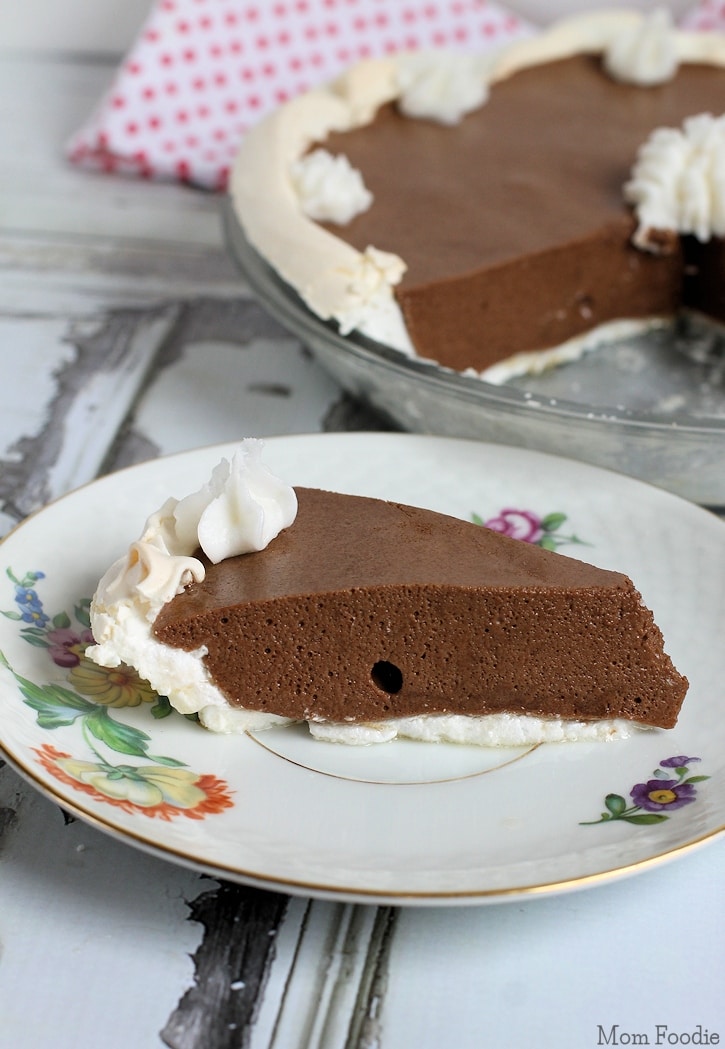 Making this Chocolate Angel Pie filling dairy-free was a breeze, with the help of Silk Coconut Milk. Now that is not to say I didn't have my struggles, but they were related to the face that Angel Pie uses meringue as a crust, sort of like a Pavlova, but usually done in a pie plate. While in the end I did manage to create a presentable pie, next time I will use a graham or nut crust in a spring form pan. I adore the fluffy non-dairy pudding and how it is accomplished with natural ingredients, but the meringue was just O.K.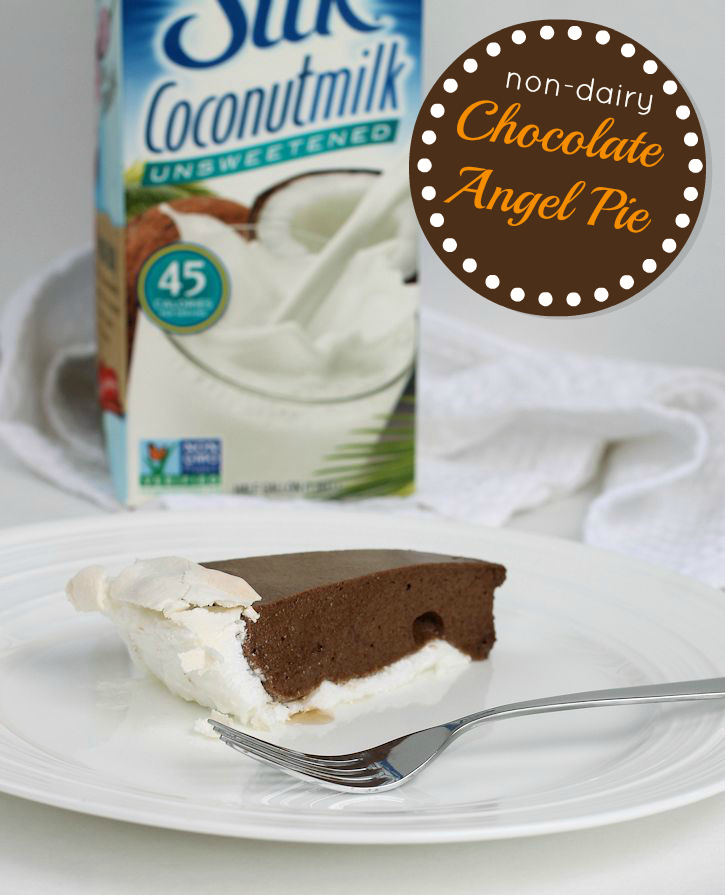 The filling was rich and chocolately. It was relatively fluffy, yet held it's shape well. I will definitely be making more fillings like this. I used organic eggs, since while the yolks were fully pasteurized, the whites really aren't. Of course, this is mostly a concern of recent years. People have been adding eggs into cold drinks for centuries and eating sunny side up eggs. The Silk Coconut Milk worked wonderfully in the recipe and added very little in the way of fat and calories. Sugar is really where the calories come from in this dessert. I will be trying a stevia blend in my next pie.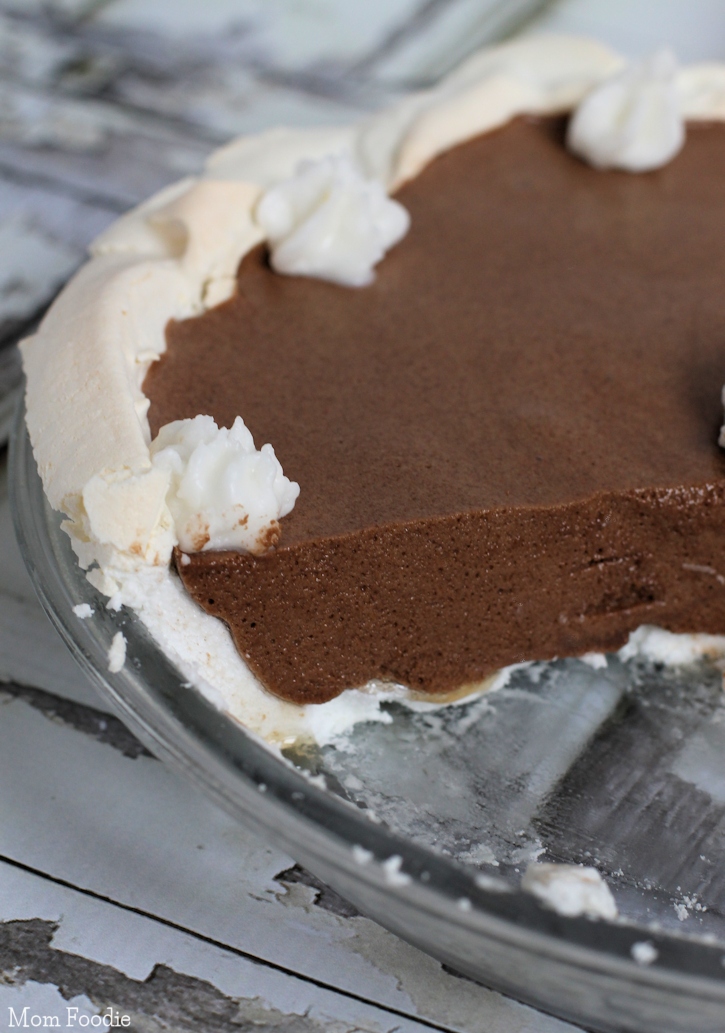 I have really been enjoying the use of Silk Coconut milk in my recipes over dairy. The unsweetened version is only 45 calories per serving (1 cup) and is surprisingly rich in flavor. It also has 50% more calcium than dairy milk and is GMO free.
Save Money & Grab Great Recipes!
Silk is currently offering a $1.00 off any 1 half-gallon Silk Coconut Milk coupon on their site, be sure to stop in and grab one. If you are living a non-dairy lifestyle, or just enjoy healthy recipes (especially those featuring coconut or coconut milk) follow this Pinterest board the brand and bloggers are sharing on >> http://www.pinterest.com/lovemysilk/coconut-recipes/
Print
Chocolate Angel Pie Recipe (gluten-free, dairy-free)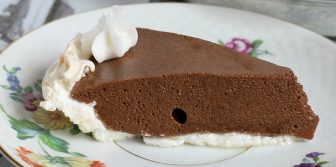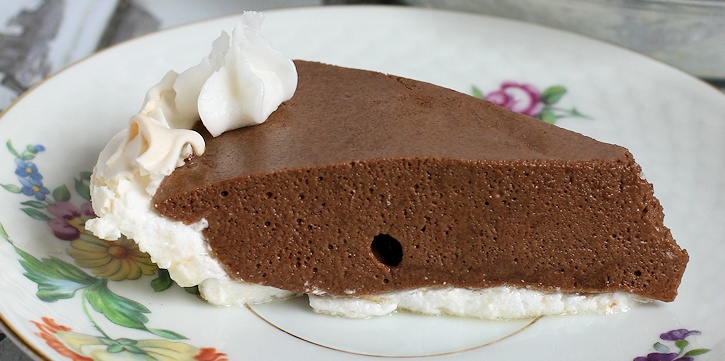 Gluten free Chocolate Angel Pie Recipe is also dairy free
Author:

Robin Gagnon

Yield:

8

Category:

dessert, pie

Cuisine:

American
Ingredients
Meringue Crust
Non-Dairy Chocolate Chiffon Filling
1 package gelatine (unflavored)
1 1/3 cups unsweetened Silk Coconut Milk
3 ounces semi-sweet chocolate (chopped or chips)
3 egg yolks (save one from meringue crust)
Instructions
Prepare meringue shell (or use crust of choice)
Preheat oven to 275 degrees.
Grease pie plate.
Beat egg whites & cream of tartar until soft peaks form, then add sugar and beat until stiff peaks form.
Pour the eggs into greased pie plate and spread out to form crust. bake for 30-40 minutes, until edges are slightly golden, and crust is not jiggly at all. Shut oven off, crack the door open and leave for 5-10 minutes, before removing to cool. Once cooled to room temp, it is ready to fill.
Prepare the Non-Dairy Chocolate Chiffon Filling
Place gelatine, 1/2 cup of sugar and salt in pan over medium heat and stir in the Silk Coconut Milk. Once the gelatine had dissolved add the chocolate and coco powder. Mix well until chocolate is dissolved.
In a small bowl whisk the egg yolks, then add a 1/4 cup of the hot mixture while stirring. This will temper the eggs. Then add the eggs to main pot. Cook, stirring until thickened, then remove from heat and set aside.
In a fresh bowl, beat the egg whites with cream of tartar until soft peaks form, then add 1/3 cup of sugar, beat until stiff peaks form.
As soon as the chocolate mixture is cool enough to put your finger in, fold in meringue.
Pour filling mixture into crust and refrigerate for 3 hours before serving.
This is a sponsored conversation written by me on behalf of Silk. The opinions and text are all mine.