This collection of delicious Whole 30 snacks recipes are a great way make to make sure you stay on track with your  Whole 30 diet plan.

Importance of Snacks in Whole 30 Diet Plan
The Whole 30 diet plan (Whole30) is meant to reset your metabolism. Dumping processed foods and those that cause inflammation allow your digestive system and hormones to fall into balance.  While many chose to go past the initial 30 day plan and make this their typical way of eating, those first few weeks can be especially challenging, and planning ahead and having a collection of healthy Whole 30 snacks recipes can make the difference between success and failure. If you allow yourself to get too hungry, the likelihood of going astray is significantly higher.
If you also need some entree recipes check out my collection Whole 30 Meal Ideas to Rock the Whole 30 Diet Plan!
Whole 30 Snacks Recipes
These Whole 30 snacks recipes are simple delicious additions to add to your Whole 30 diet plan. Healthy snacks are so important for success on any nutritional plan.  I hope you enjoy!
Buffalo Chicken Dip - Life in the Greenhouse
Gluten Free and Paleo Chicken and Zucchini Poppers - One Lovely Life
Whole30 Sweet Potato Protein Breakfast Bowl - Fit Mitten Kitchen
Orange Ginger Carrots - Reuse Grow Enjoy
Paleo and Whole30 Mocha Latte - Farmstead Chic
Paleo Whole30 Chicken Cobb Salad with Buffalo Ranch - Paleo Running Mom
5 Minute Paleo and Whole30 Carrot Raisin Pineapple Salad - Noshtastic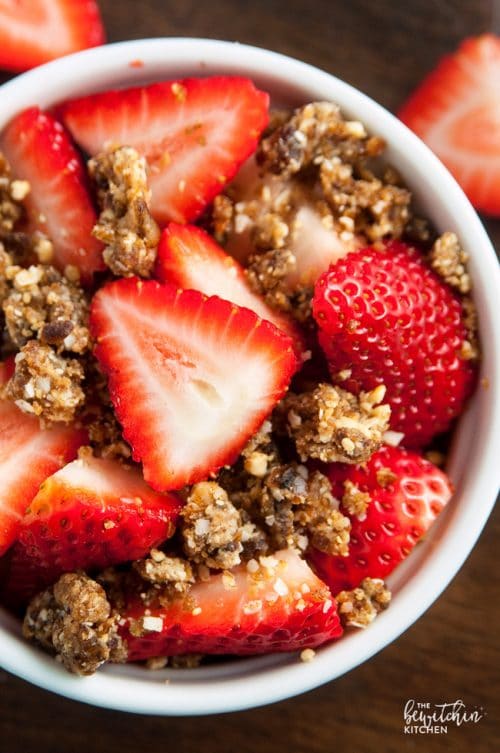 Strawberries with Coconut Cashew Crumble - The Bewitchin Kitchen
Whole30 Tuna Poke Avocado Boats - Anya Seats
Whole30-friendly Baked Cinnamon Apples - Just Paleo Food
Peanut Butter Filled Dates - Cheap Recipe Blog
Whole 30 Potato Salad - Taste of Lizzy T's
Whole30 Green Smoothie - Happy Being Healthy
Whole30 Pepper Nachos - Stay Fit Mom
Whole30 Roasted Rainbow Carrot - The Pike Place Kitchen
Copycat Cashew Cookie Larabars - Fit Foodies Finds
Crispy Whole30 Carrot Fries - Rachl Mansfield
Whole30 Blueberry Banana Smoothie Bowl - Fortuitous Foodies
Paleo and Whole30 Shrimp and Avocado Salad - Frugal in Florida
Whole30 Apple Crisp - Stirring Stew
Crispy Bacon Wrapped Asparagus - Wholesome Yum
Apple and Almond Butter Sandwiches - The Whole Smiths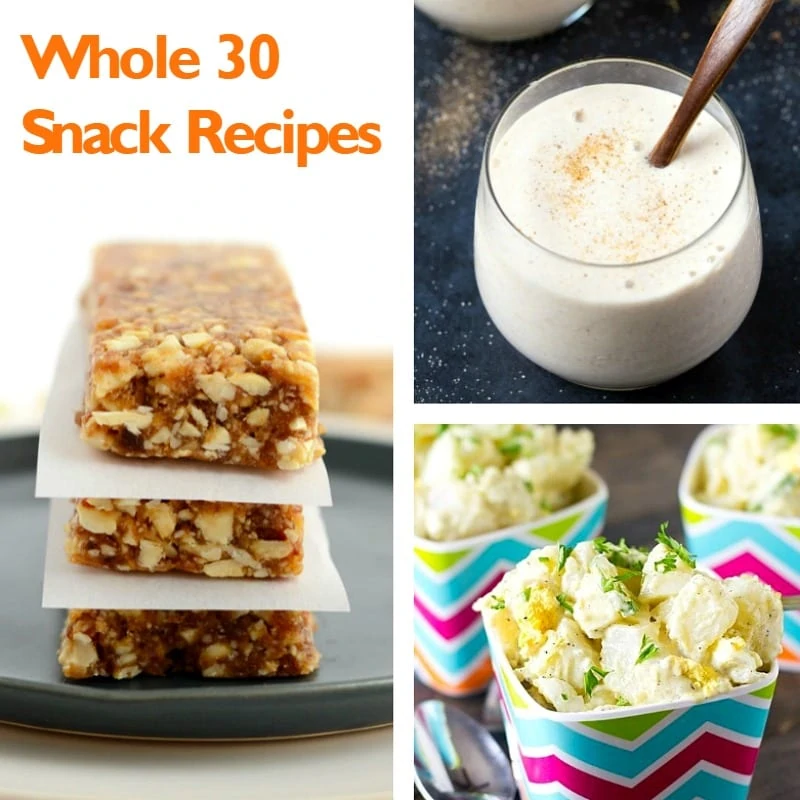 I hope this collection of Whole 30 Snacks recipes helps you succeed on your quest for healthier living.  You are worth it.