Nothing beats a delicious fresh homegrown strawberry on a hot summer day!  Growing strawberries in raised beds is a pretty easy way to grow a great strawberry crop.
If you keep some simple tips in mind when planting and caring for your raised strawberry bed, you will harvest an abundance of fresh organic strawberries to enjoy this summer!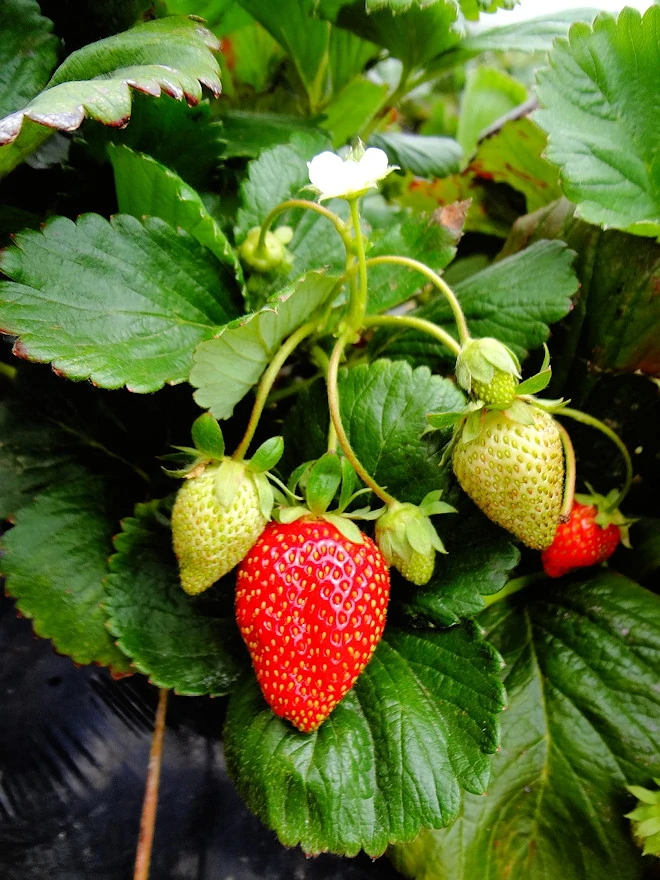 Growing Strawberries in Raised Beds 
Here I'll cover all the basics of growing strawberries in raised beds.  Like any plant, give strawberry plants what they like and you will reap a good harvest.
Location for Strawberry Raised Bed
This is very important, and the first thing you need to consider when  growing strawberries in a raised bed
.
Make sure the area you are planting your strawberries gets at least 8-10 hours of sunlight per day. Strawberries thrive in full sun, so make sure you find a really good spot. Good drainage is also important.
Best Soil for Strawberry Plants 
A slightly acidic soil is best for growing strawberries, so it is important to do a soil test
.  Plenty of nutrient rich organic matter in the soil is also beneficial.
One of the benefits of growing strawberries in a raised bed is that you have complete control over soil conditions from day one.
Greenes Fence 48-Inch x 48-Inch Cedar Raised Garden Bed
Best Choice Products Raised Vegetable Garden Bed Elevated Planter Kit Grow Gardening Vegetables
Lifetime 60053 Raised Garde Bed Kit, 2 Beds and 1 Early Start Vinyl Enclosure
Planting The Right Time of Year

 
Depending on where you live will depend what time of year you plant strawberries.
If you live in an extremely hot climate you will plant in the fall, and if in a cooler climate you planting is done in the Spring.
Your local gardening store can help you to determine the right season to plant your elevated strawberry beds for your area.
Spacing the Strawberry Plants in Raised Bed 
The spacing your strawberry plants
 require within the raised bed varies by the types of strawberries you choose.  
For the most part, those that only set fruit once per year (June bearing varieties) need 1-1 ½ foot spacing between each plant.
Everbearing strawberry varieties tend to need a little less space and can be placed as close as 8 inches apart, though closer to a foot is better.
Packaging should indicate the variety's exact needs.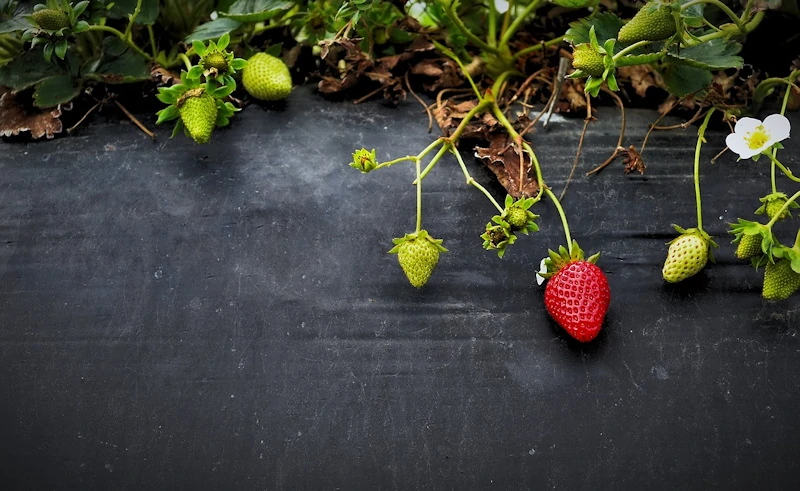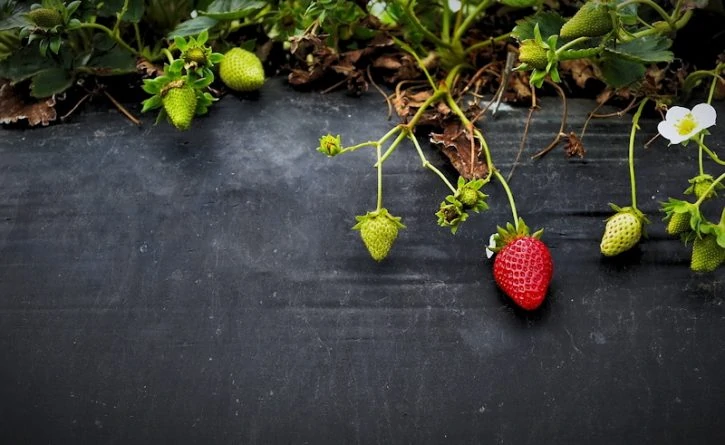 Watering & Mulching Strawberries in Raised Beds

 
As for water you will want to give about an inch of water per plant each week, unless you are having severely hot dry spells or live in hot conditions.
While I do recommend mulching around each plant, because strawberries don't have a deep root system, I suggest holding off on mulching your strawberry garden beds until late spring or early summer. This allows the strawberry plants to enjoy sun warmed soil during the cooler weeks, and the moisture retention and weed blocking of the mulch during the hotter ones.
Trimming Strawberry Runners

 
Each year your strawberry plants produce runners. Runners are the long stems that run off the central plant and create more strawberry plants.
The runners root nearby and produce new plants, but they remained attached to the main plant and drain out nutrients. Because of this, it is important to trim them when you see them develop.
Not trimming can really hurt the main plant and reduce the amount of berries you get. They could potentially stop the plants from producing fruit completely.
If you mulch around the base of your raised bed strawberry garden
stray runners will be easy to catch before they take hold outside the confines of their patch.
Attracting Bees to Your Raised Bed Strawberry Garden

 
Planting flowering trees, bushes or flowers near your raised bed strawberry garden will help attract bees.
These bees will of course help pollinate your plants! 
Fertilizing Your Plants

 
With fertilizer your strawberries will  grow bigger and  produce more berries.
I suggest using your own compost
or an organic fertilizer
. It is also helpful to test your soil
, not just to ensure the ph is acidic for the plants, but to see if soil amendments such as adding bone meal are needed.
I hope these simple tips will help you have great success growing strawberries in raised beds.
 If you have any other good tips on successfully growing strawberry plants in a raised bed, let us know. 
Winchester Gardens Select Organics Berry Granular Fertilizer, 3-Pound Bag
Western Red Cedar Adjustable 3-Tier Raised 52
Luster Leaf 1601 Rapitest Soil Test Kit
Soil Tester Meter, Fosmon 3-in-1 pH Meter, Soil Sensor for Moisture, Light, & pH Level Measurement for Growning Garden, Lawn, Farm, Plants, Flowers, Vegetable, Herbs & More
Everbearing Ozark Beauty Strawberry Plants 20 Bare Root Plants - TOP PRODUCER
Mr. Stacky 5-Tier Strawberry Planter Pot, 5 Pots
White Carolina Pineberry Plants - 10 Roots -Bareroot-Pineapple/Strawberry Flavor
Down To Earth 6-Pound Acid Mix 4-3-6 7803
Seascape Everbearing Strawberry 10 Bare Root Plants - BEST FLAVOR