This Caramel Apple Dump Cake may just be the perfect fall dessert. Dump cakes are quick and easy no fail desserts made with cake mix. They are great when you are busy but want a fresh baked sweet to serve.
I would suggest this to anyone making a holiday dinner, but feeling leery of baking a pie. This caramel apple dump cake recipe is just 4 ingredients... easy peasy and I will walk you right through it. Just boxed cake mix, apple pie filling, caramel sauce, and melted butter. You've got this!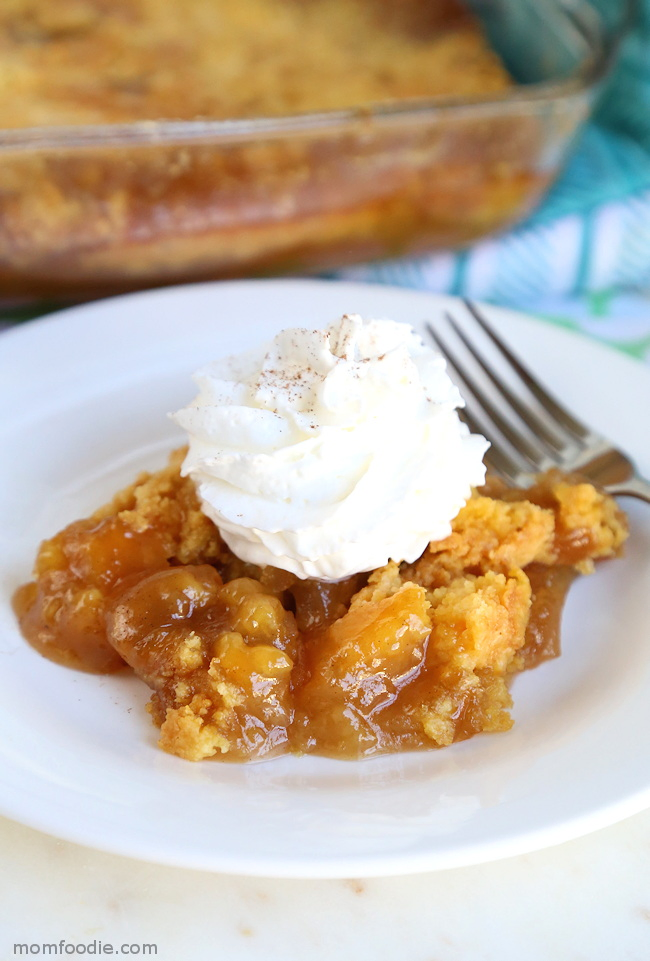 Caramel Apple Dump Cake : Easy Fall Dessert
This is a classic "true" dump cake. The results are similar to a cobbler. You really do just dump the four ingredients in and bake to make this easy caramel apple dump cake recipe.
As long as you distribute the ingredients somewhat evenly, the recipe is basically fool proof. Even slightly over or under baked this caramel apple dump cake will still be tasty and soon to be a family favorite.
If you have extra box cake mixes on-hand bake some cake mix cookies too. They aren't just good for cake recipes.
Caramel Layer
I added a layer of caramel into this apple dump cake recipe, since I think it elevates the final dessert quite a bit. The caramel makes the cake team even better with ice cream in my opinion as well. Then just top the caramel apple dump cake with whipped cream or ice cream to serve.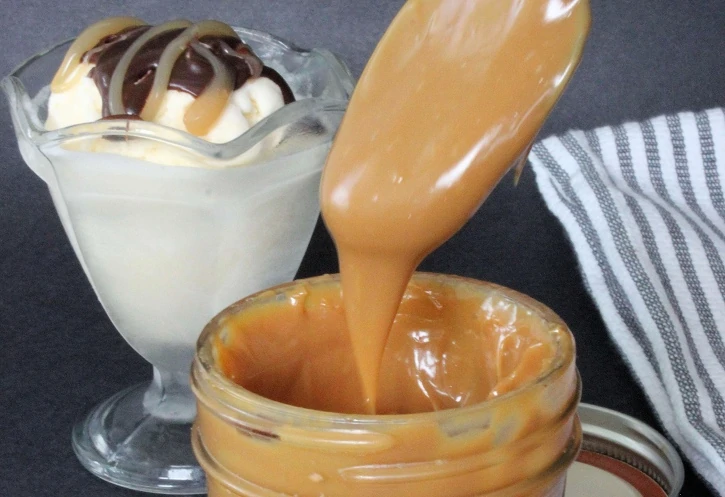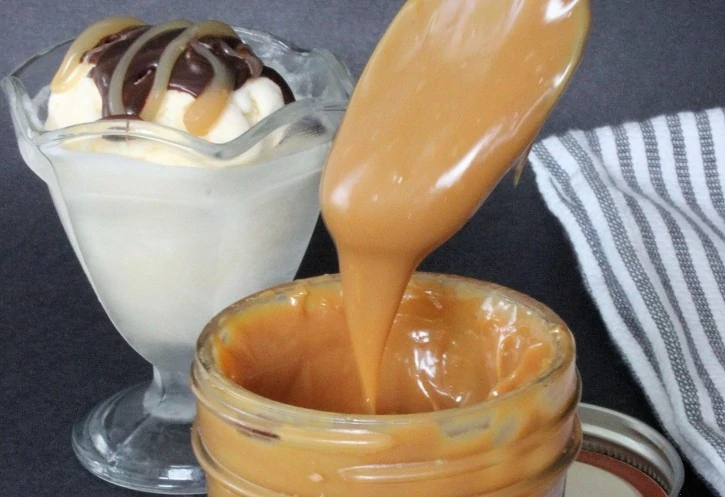 Try homemade caramel sauce in your caramel apple dump cake. Gooey delicious caramel is so easy to make from condensed milk in the slow cooker.
Apples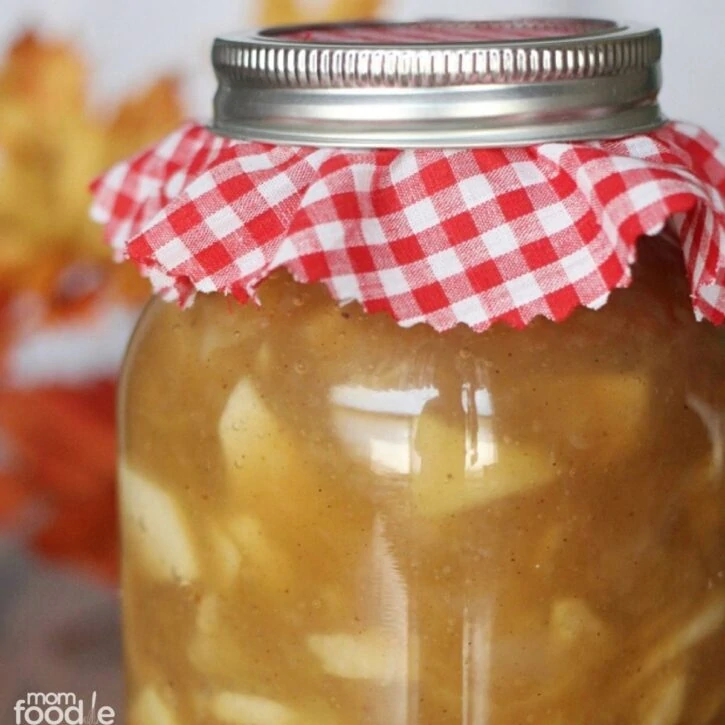 I used canned apples for this recipe, but you could simply make a batch of fresh apple filling if you have a batch of fresh apples on hand and want to make your own pie filling.
Bonus: A jar of these home canned apple pie filling make a fabulous edible gift.
With the filling covered all you need to make the caramel apple dump cake recipe is butter and a box of cake mix!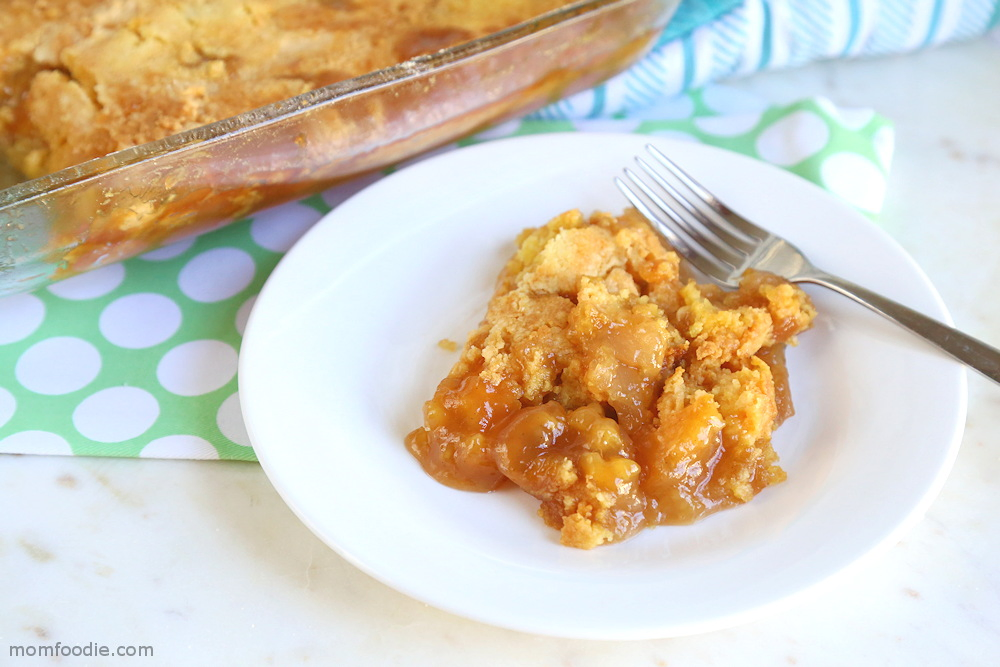 How to Make Caramel Apple Dump Cake
Here is a visual guide to help with making the apple dump cake with caramel. Full printable recipe card can be found below.
The recipe yields 10 servings.
Prep Time: 5 minutes Bake Time: 45 minutes
Ingredients Needed to Make Caramel Apple Dump Cake:
box yellow cake mix (try another cake flavor like white cake mix or spice cake mix instead if you prefer)
1-2 cans apple pie filling (use 2 cans of apple pie filling if you want a thicker bottom, 1 if you are more of a crust fan)
¾ cup caramel topping (½ of 12 ounce jar)
2 sticks of butter (1 cup)
cooking spray
teaspoon of cinnamon (optional, add to the apples or cake mix)
You will also need a casserole dish, preferable 8 x 11 inches.
Preparing
Let's make the caramel apple dump cake now. Here are the simple steps.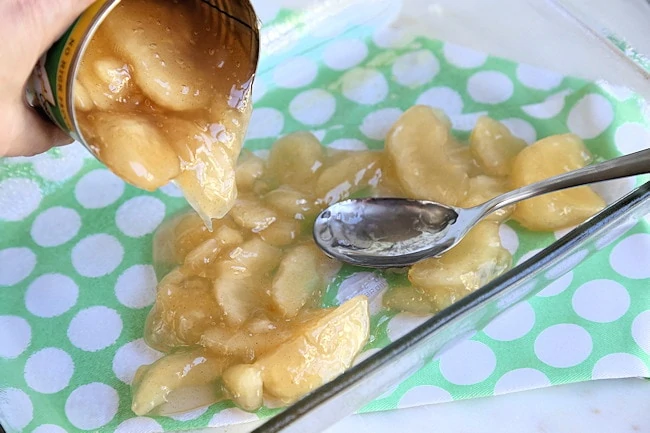 Dump in apple filling and distribute across the bottom of casserole dish. If you prefer, you can use your own Homemade Canned Apple Pie Filling.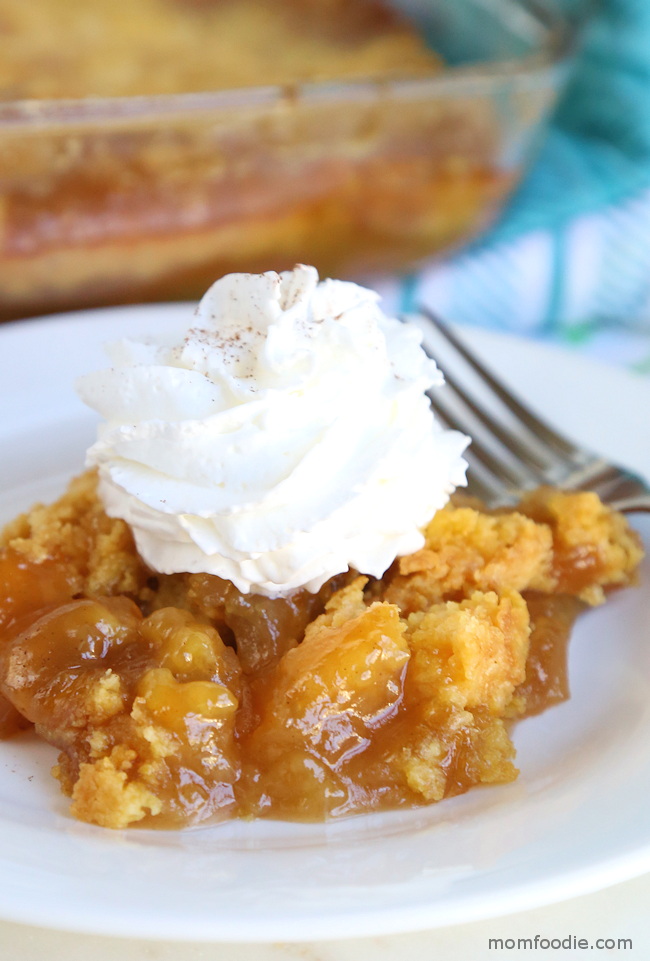 Serving Caramel Apple Dump Cake
After you bake, serve warm. Top each slice of this caramel apple dessert with whipped cream or vanilla ice cream and enjoy! Butter pecan or maple walnut are also yummy ice cream choices for this cobbler style dessert. A little more caramel drizzled on top is fun too.
Variations on the Recipe
Want to mix it up a bit, here are a few variations you can make to the original recipe for the caramel apple dump cake.
Add pecans. Chopped pecans can be tossed on top of the caramel layer. Chopped or full pecans sprinkled over the top of the melted butter is also a great way to add these nuts to the cake recipe.
You could use caramel bits or chips rather than sauce. Just mix with the apple pie filling and pour the apple mixture in the pan as a single layer.
Slow Cooker Caramel Apple Dump Cake
You can also make this dessert in the crock pot.
Coat the interior of the crock pot with cooking spray then layer in the ingredients as in the recipe. Cover and cook on high for 2 hours. (I recommend using 2 cans of apples for slow cooker)
Q & A
Does caramel apple dump cake need to be refrigerated?
Treat leftover apple dump cake much as you would an apple pie. It can be left out for up to two days. Make sure it is covered once it has been cut.
If you will need to store it longer keep it in the refrigerator. It will be good there for 5 days if you put it aways as soon as it is cooled.
Can an a caramel apple dump cake be frozen?
I personally don't see the point of freezing something so easy to make, but if you wish to do so it will be good up top 3 months in the freezer.
Can I use a different cake mix in the apple dump cake recipe?
Yes, any flavor of box cake mix will work in caramel apple dump cake. It does not need to be yellow cake mix.
Just stick to mixes that will go well in a caramel apple dessert. (yellow, white, butter, spice or vanilla cake mix are all great choices)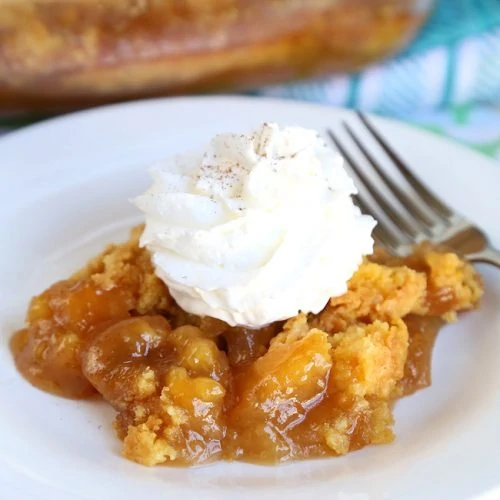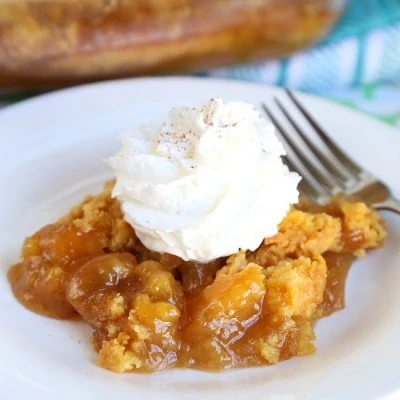 Caramel Apple Dump Cake Recipe
A quick and easy apple caramel cake that no one will guess took so little effort to make. The flavors are perfect for fall and the easy dessert makes a great holiday dessert. This 4 ingredient cake is a true dump cake, no mixing bowl needed.
Print
Pin
Rate
Ingredients
21

oz

can apple pie filling

6

oz

caramel sauce

½ most jars

1

box yellow cake mix

swap for spice cake mix if you prefer

1

cup

melted unsalted butter

2 sticks of butter
Instructions
Preheat oven to 350 degrees and coat an 8 x 11 baking dish with non-stick cooking spray.

Dump the canned apples into the baking dish and spread out.

Drizzle the caramel sauce over the apples, spread out with a spoon if there are clumps of caramel bits.

Next, dump the dry cake mix over the layers of apple filling and caramel. Spread the mix out to cover the wet ingredients.

Pour the melted butter over the cake mix layer, Distribute as evenly as you can, but don't fuss over it. The point of this recipe is it keep it super easy.

Bake for 40 to 50 minutes until golden brown at edges.

Serve warm. Top the cake with whipped cream or a scoop of vanilla ice cream if you like. Pretty much anything that would be good with apple pie works well with this dessert.
Notes
Pecans are a popular addition to this dump cake. Simply sprinkle ¾ of a cup of chopped pecans over the cake mix, before pouring on the melted butter.
Nutrition
Calories:
455
kcal
|
Carbohydrates:
69
g
|
Protein:
2
g
|
Fat:
19
g
|
Saturated Fat:
12
g
|
Cholesterol:
48
mg
|
Sodium:
466
mg
|
Potassium:
70
mg
|
Fiber:
1
g
|
Sugar:
30
g
|
Vitamin A:
595
IU
|
Vitamin C:
1
mg
|
Calcium:
126
mg
|
Iron:
1.3
mg
More Easy Dump Cake Recipes
If you like this easy recipe for dump cake, you may enjoy these other dump cakes too. These cake recipes are all a great way to end any family meal.