This Crock Pot Corn Casserole puts an easy twist on this traditional Southern holiday season culinary staple. The sweet corn and cornbread mix side dish also goes by the name corn pudding and Jiffy Corn Casserole.
Crock pot corn casserole is a delicious cheesy corn dish, with sour cream and Jiffy corn bread muffin mix. A combination of whole kernels and creamed corn give this side dish an amazing texture. It is a fabulous Thanksgiving side dish, that you will make year after year!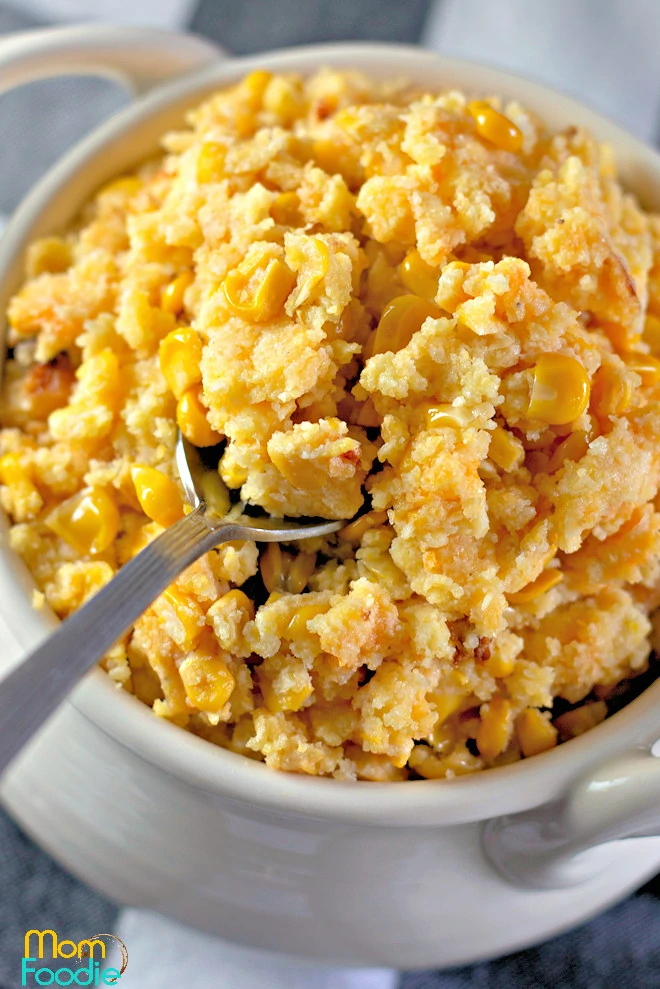 Crock Pot Corn Casserole
Making this delicious holiday side dish in the Crockpot opens up more oven and stove top space. As we all know cooking space is at a premium while preparing a holiday meal, particularly Thanksgiving.
A crock pot corn casserole solves oven space issue. Having a large casserole dish in the oven can hold up other dishes and make dinner long to cook. The slow cooker version is easy to place aside out of the way. I am also a fan of Crock Pot Mashed Potatoes for the same reasons.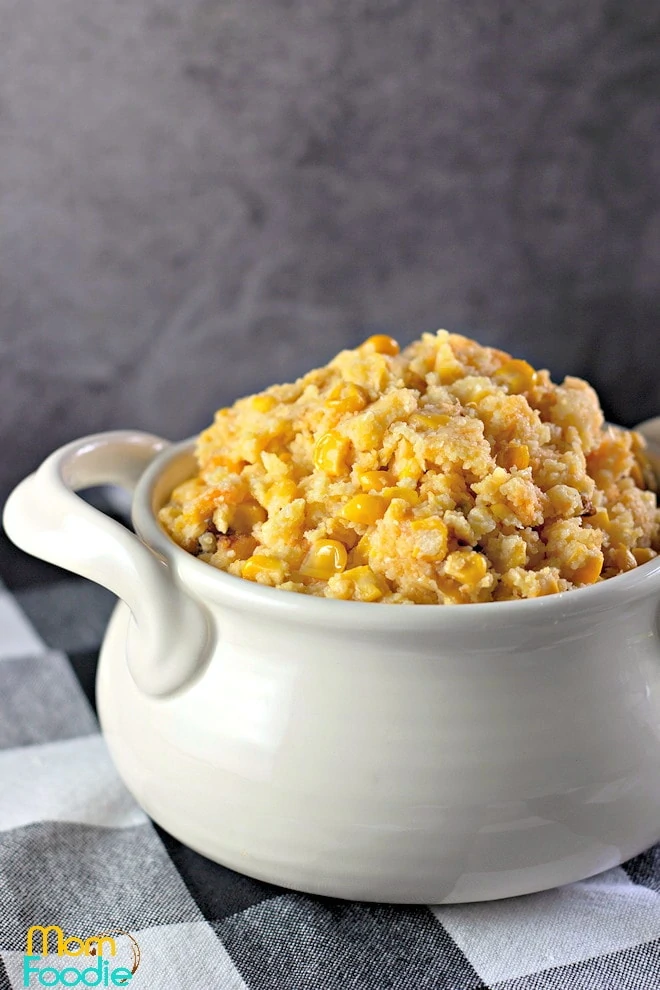 This slow cooker Corn Pudding Casserole is not just served during the holidays though. It is also a popular side dish to serve with barbecue and at potlucks and picnics. After all slow cooking is a method that doesn't heat up your house in summer months.
It's certainly a versatile comfort food recipe and well suited to additions. You could serve with any family dinner! Try it with my Crock pot Chicken Thighs or Air Fryer Chicken Drumsticks.
Origin of the Corn Casserole
Forms of this dish have been around in some form for centuries. Native Americans made a simple version from fresh corn cob scrapings and the dried corn meal was made into corn pone. Corn pudding is a blend of the two, mixed with typical European custard ingredients. [source]To suit modern tastes other seasonings and ingredients are also often added (see variations below).
How to Make Corn Casserole in Crock Pot
Here is a visual guide to preparing this easy to make Crock Pot Corn Casserole recipe with pictures. The printable recipe card can be found below, so feel free to jump down if you prefer.
Recipe makes 12 servings.
Casserole prep time 5 minutes | cooking time 2-3 hours on high
What You Will Need:
1 can yellow sweet corn drained
1 can creamed corn
2 tablespoons granulated sugar
1 egg beaten
1 cup sour cream
1 cup shredded cheddar cheese mild to sharp (I prefer sharp cheddar cheese)
¼ cup butter melted
1 box Jiffy cornbread mix 6-7 ounce package
... and of course a 6 quart slow cooker (or larger)
Preparing the Crockpot Casserole
The prep work for this recipe is very quick and easy.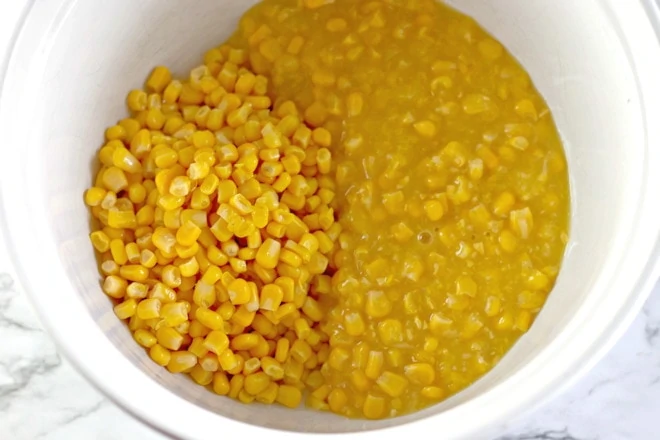 Start by adding the 2 cans of corn to a large bowl, one of kernels and one of creamed corn. This mimics the sweet corn kernels being scraped off the cob along with the milky scrapings.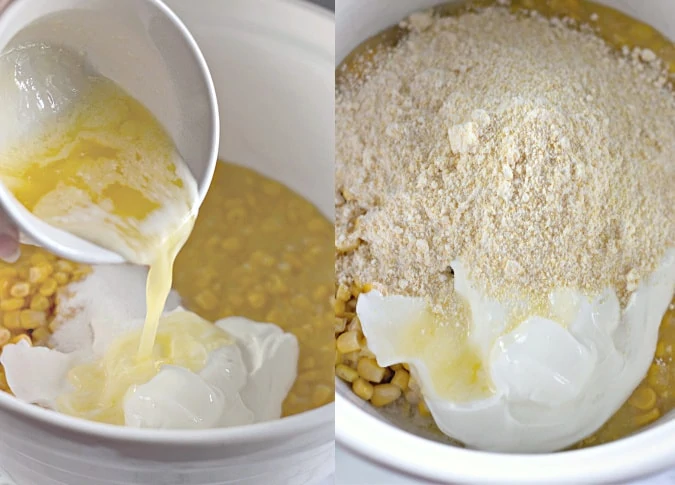 Then add the sugar, beaten egg, sour cream, melted butter and corn muffin mix. Skip the sugar if you prefer the pudding less sweet.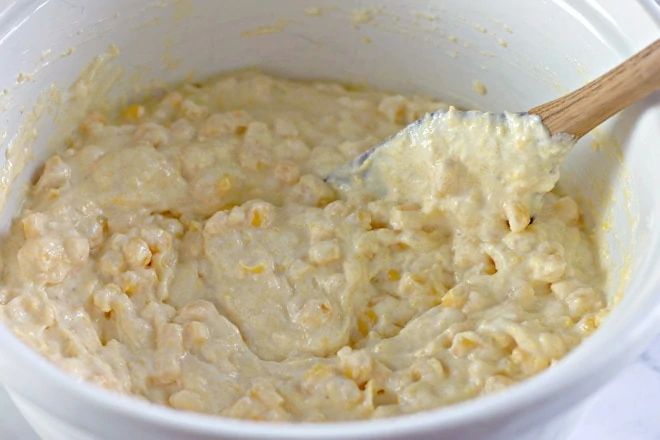 Stir well with spoon.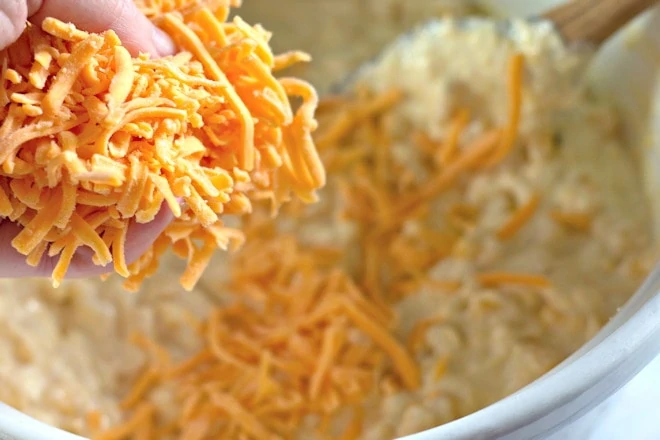 Then mix in the cheddar cheese. This is also when you would toss in other add-ins.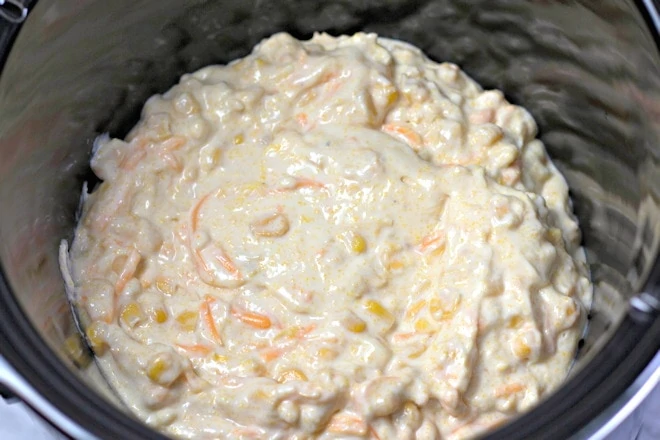 Coat the inside of a slow cooker with non-stick cooking spray. Then dump in your pudding mixture.
Cover and cook on high for 2 ½ hours. Check to make sure the center is fully cooked through before shutting the Crock Pot off.
Jiffy Corn Casserole Recipe Variations
Here are a few simple variations of the Crock Pot Corn Pudding Casserole you may like.
Though it could be called similar to stuffing, this slow cooker corn casserole recipe is a little sweet. If you find the sweetness of corn itself enough, simply omit the added sugar.
The cheese in this recipe adds a nice creamy texture and richer taste, but doesn't make the casserole taste "cheesy". If you prefer a spicier flavor try swapping the cheddar cheese called for in this version with some pepper jack cheese. Adding a teaspoon or two of Cajun seasoning would also spice things up.
Crumbled fried bacon is a flavorful addition many families enjoy. It adds a delightful crunch and saltiness to the dish.
Another favorite addition is chopped sweet peppers. This adds color and sweetness. Diced green chiles are great if you want a little hot pepper kick.
Some prefer to use cream cheese rather than sour cream in the casserole.
When making this Crock pot corn casserole to pair with BBQ, I sometimes like to add a little more cheese and sour cream. The side makes a delicious contrast with barbecue sauce and coleslaw.
Eggs, some old family recipes use eggs. This will make the corn casserole set well. I don't see it as necessary and prefer a fluffier stuffing like texture. If it appeals to you, I suggest whisking one or two eggs and adding to the casserole along with the butter.
If you have a large family, it is quick and easy to double the recipe. Just adjust the quantity in the recipe card before printing.
Storing Crock Pot Corn Casserole
Here are a few tips on saving leftovers from the crock pot corn casserole recipe.
Can you Freeze crock pot corn casserole?
Yes, this will freeze fine. I would personally only use freezing for leftovers though. I expect it may take nearly as long to reheat this entire casserole as it would to simply cook a fresh one.
Are corn pudding and corn casserole the same thing?
Yes, they are one and the same. A creamy scoopable corn dish, made of a mix of canned kernel corn, cream corn, cornbread mix, sour cream and cheese.
They are not the same as cornbread which is sliced or baked in individual servings.
How long does corn casserole last in the fridge?
Packed in an airtight container or well covered and refrigerated, leftover cheesy corn casserole crock pot dish will last up to 5 days. After that you are pushing your luck. Like most dishes, it should be placed in the refrigerator after less than two hours at room temperature to avoid bacterial growth.
More Thanksgiving Side Dishes
Now that the Thanksgiving corn side dish recipe is covered for every year to come, here are a few more easy to make sides. All are perfect recipes for your holiday meal.
Let more know how your Crock Pot Corn Casserole turns out. I'd love to hear about ingredients you swap and hacks you use. This is very helpful to future cooks making the dish, especially when in the middle of cooking Thanksgiving dinner.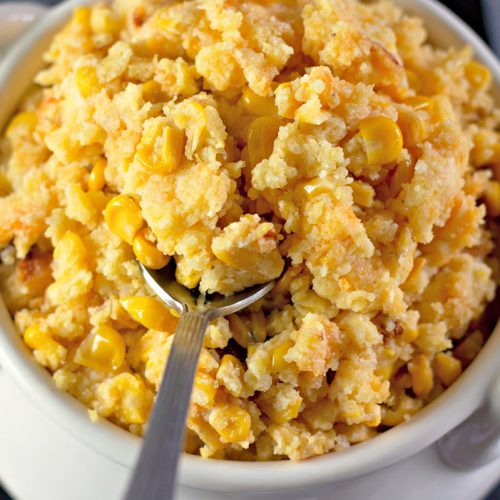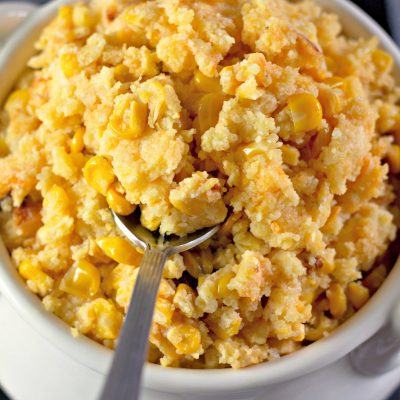 Crock Pot Corn Casserole Recipe
Making Crock Pot corn casserole in your slow cooker opens up space in your oven. The holiday corn pudding also tastes fabulous.
Print
Pin
Rate
Equipment
6 quart Slow Cooker (or larger)
Ingredients
1

can

yellow corn

drained

1

can

cream style corn

2

tablespoons

sugar

1

egg

beaten

1

cup

sour cream

1

cup

shredded cheddar cheese

mild or medium sharpness

¼

cup

butter

melted

1

package

Jiffy cornbread mix

6-7 ounce package
Instructions
In a large mixing bowl, stir to combine all ingredients.

Spray the inside of a slow cooker with non-stick cooking spray. Spoon the corn casserole batter into the slow cooker.

Cover the slow cooker and set to high. Slow cook for approximately 2 ½ hours on high. It is ready when the center has set.

Transfer the corn casserole to a serving bowl and serve hot.
Notes
Make sure to get corn bread mix not corn muffin mix, since the latter is sweeter.
Nutrition
Calories:
248
kcal
|
Carbohydrates:
28
g
|
Protein:
6
g
|
Fat:
14
g
|
Saturated Fat:
7
g
|
Cholesterol:
44
mg
|
Sodium:
353
mg
|
Potassium:
187
mg
|
Fiber:
2
g
|
Sugar:
9
g
|
Vitamin A:
489
IU
|
Vitamin C:
4
mg
|
Calcium:
103
mg
|
Iron:
1
mg