Instant Pot Apple Butter is a great fall treat that is perfect with toast, pancakes or as a compliment to your favorite dessert. It is the perfect easy to make recipe to use up your apple harvest after a day at the orchard!
As an alternative to cooking the apples on the stovetop for hours, all you need to do for this recipe is place all of your ingredients into your Instant Pot. Making apple butter with the pressure cooker takes just a few minutes of pressure cooking time. This creates a rich and flavorful homemade apple butter that tastes like it has been cooking on the stovetop for hours.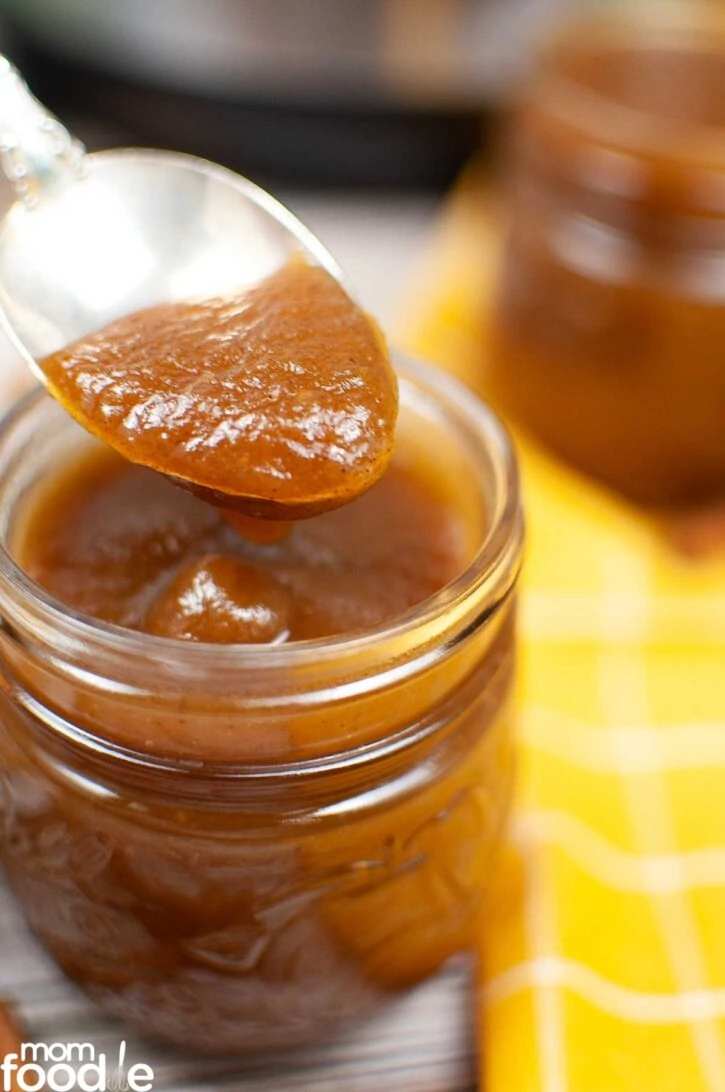 What is Apple Butter?
Apple butter is a spreadable condiment with an intense apple flavor. Due to extended cooking time, the apple puree is highly concentrated.
Although it is sweet, it is not a jam or a jelly, though you can use it in a similar manner. It is basically a concentrated apple sauce with spices and brown sugar.
Origin
Apple butter originated during the Middle ages in German and Belgian monasteries. Soon every village was making it. Europeans then brought apples to the American colonies and began making the sweet apple butter here. [ref]
How to Use Apple Butter
The pressure cooker apple butter is a great addition to baked goods or sauces. Serve it on toast, muffins, waffles or even ice cream. It is also a nice accompaniment to roast pork and goes great on a cheeseboard, charcuterie or dessert platter. It can often be swapped for applesauce as well.
Try my Instant Pot Homemade Applesauce recipe too, if you have a lot of apples.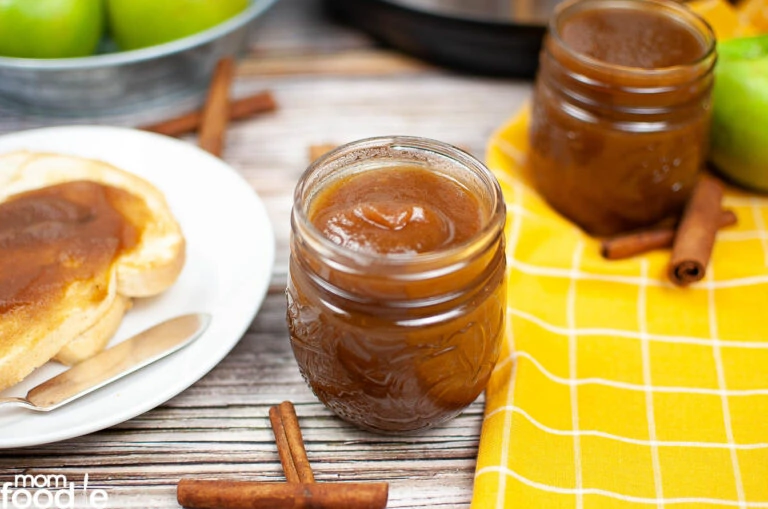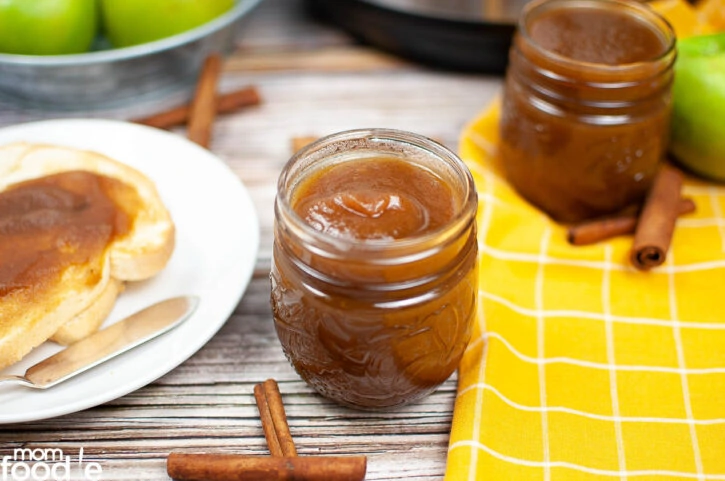 Best Apples for Apple Butter
Choosing an apple variety to make the recipe is quite easy when making it in an Instant Pot. You really can't go wrong with any selection.
Typically softer apples such as McIntosh are chosen for homemade apple butter so that they will break down quicker when cooking, but the Instant Pot removes that need. You can use pretty much any type of apple you like or even better to blend apples of different varieties.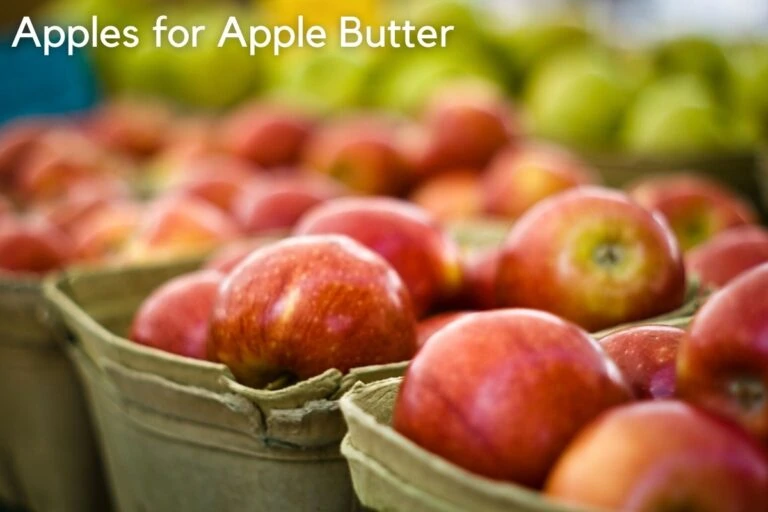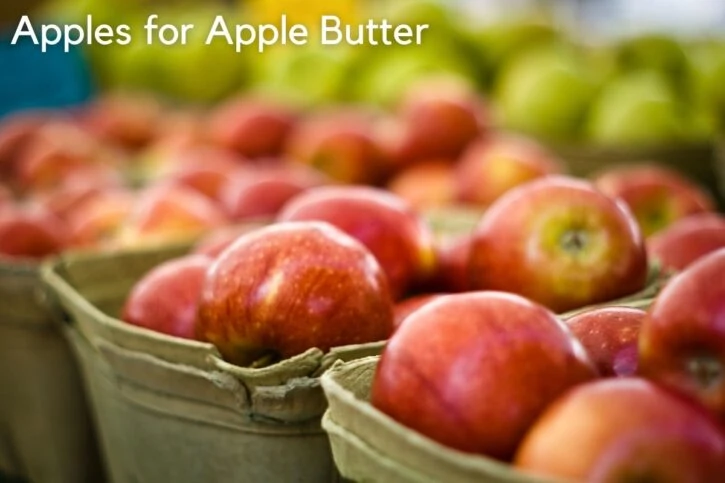 Pick your favorite apple. I like to use a tart apple such as Granny Smith, but sweeter choices like Fuji, Jonagold, Gala, Golden Delicious or Jonathan apples work well. A mix of tart and sweet apples is ideal.
How to Make Apple Butter in the Instant Pot
Making homemade apple butter in the Instant Pot electric pressure cooker is easy and so much faster than stove top cooking of this delicious condiment. Let's make a batch. Follow along, I have pictures of the steps for you (or jump down to the printable recipe card).
Recipe Makes 64 one ounce servings of cinnamon apple butter (1 oz = 2 tablespoons)
Prep Time: 10 mins | Cook Time: 20 mins | Pressurize and Release: 20 mins | Total Time: 50 mins
Equipment
You will need an Instant Pot, a blender and containers to put the apple butter in.
Ingredients You Will Need
Here is all you need to make your own Instant Pot apple butter.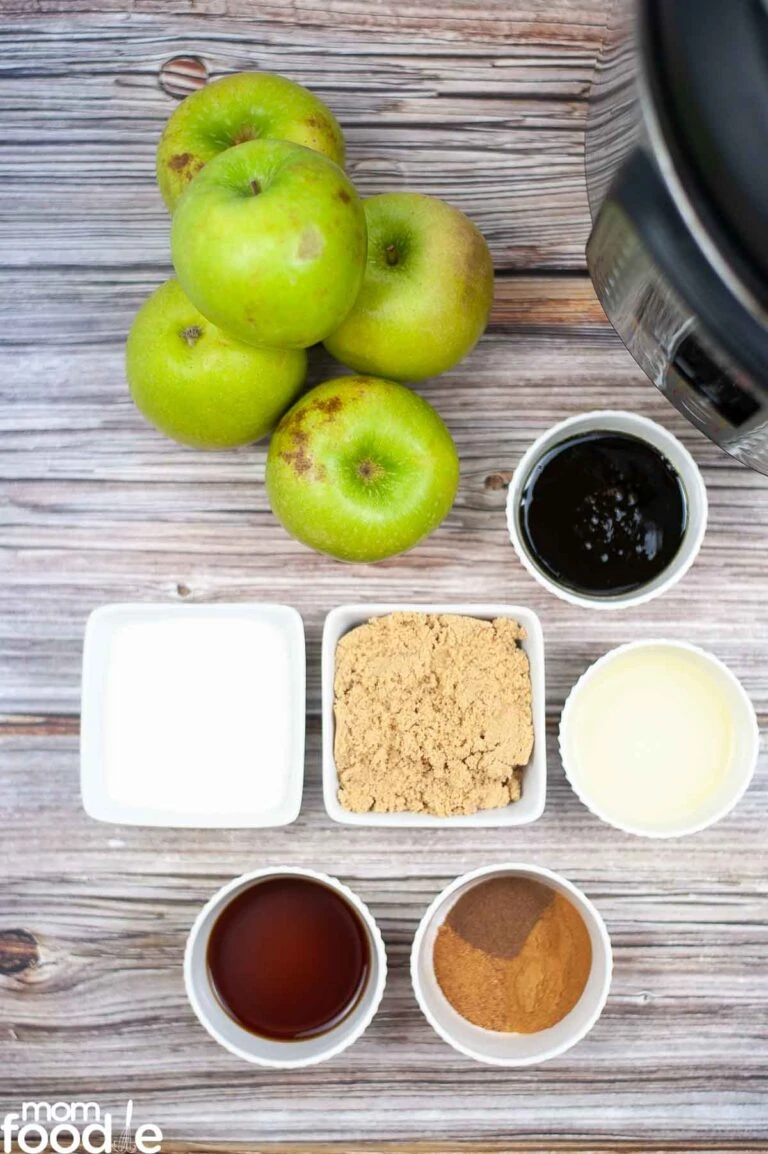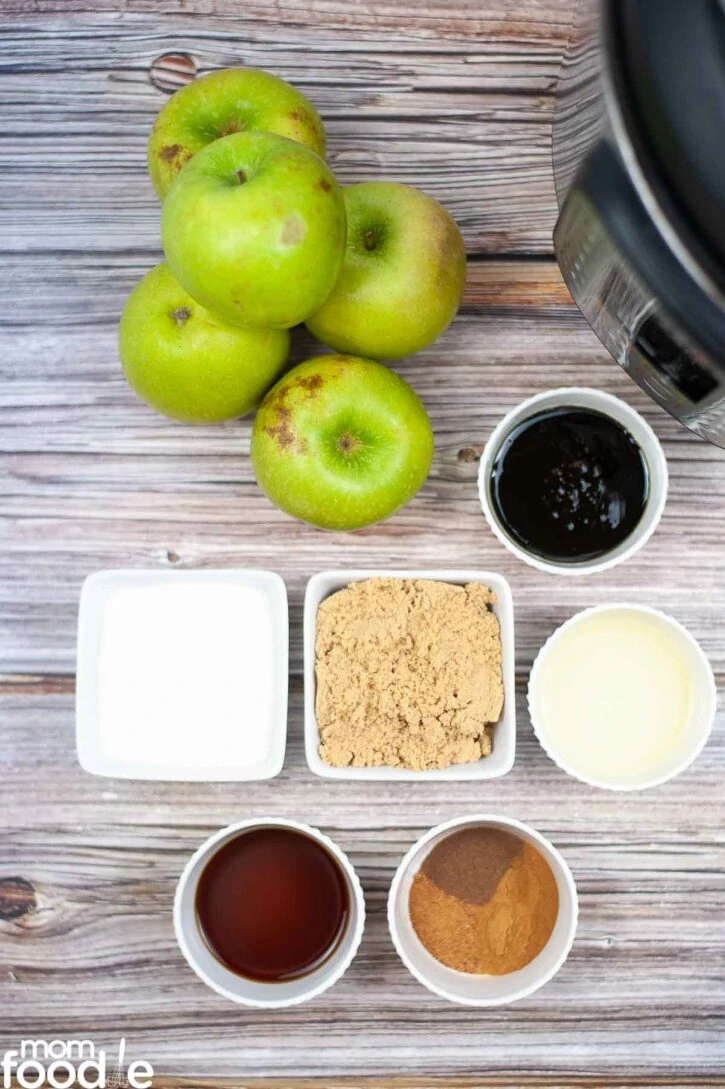 4 lbs apples (I used Granny Smith apples)
¼ cup of water, apple juice or apple cider
⅓ cup of molasses
⅓ cup of sugar
⅓ cup of light brown sugar
½ teaspoon of nutmeg*
1 teaspoon of cinnamon*
½ teaspoon of allspice*
½ tablespoon of lemon juice
1 ½ teaspoons of vanilla extract
If you prefer to skip the other spices, just add another teaspoon cinnamon to the mixture instead. Another option is to use 2 teaspoons of apple pie spice in place of all the spices.
Instructions for Preparing the Apple Butter
Now let's get down to the simple process of making the pressure cooker apple butter.
To start, core, peel and quarter the apples.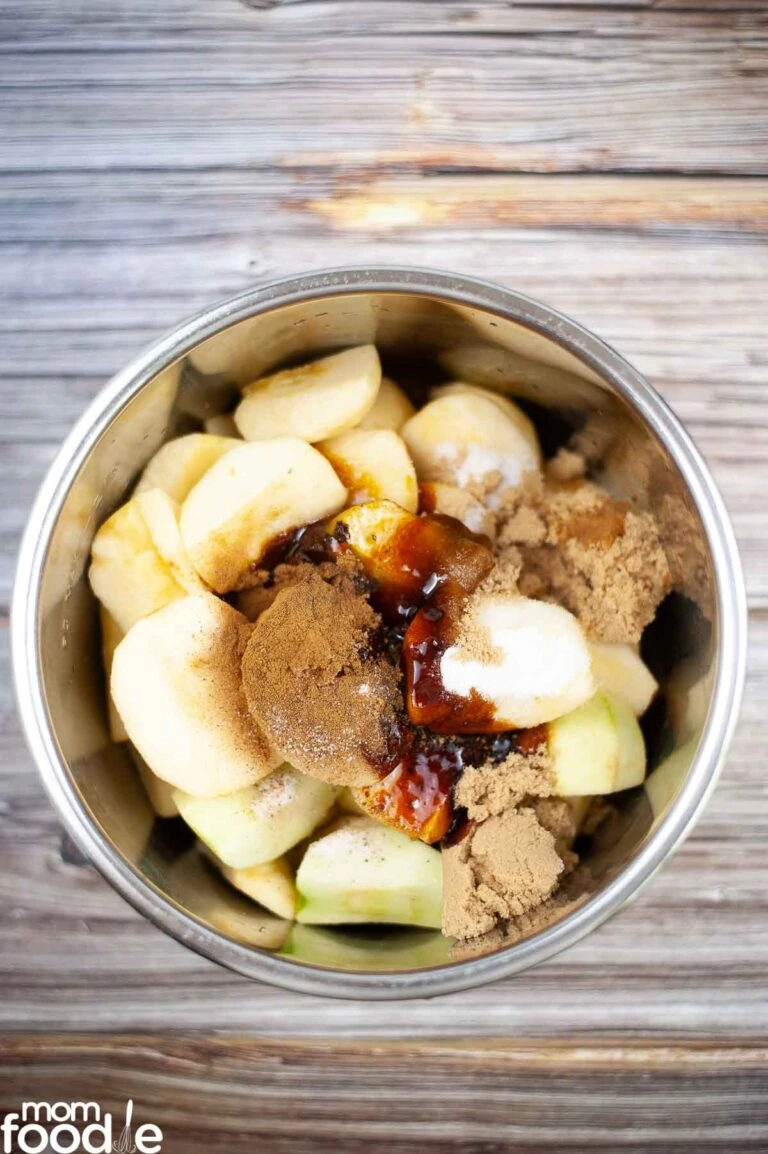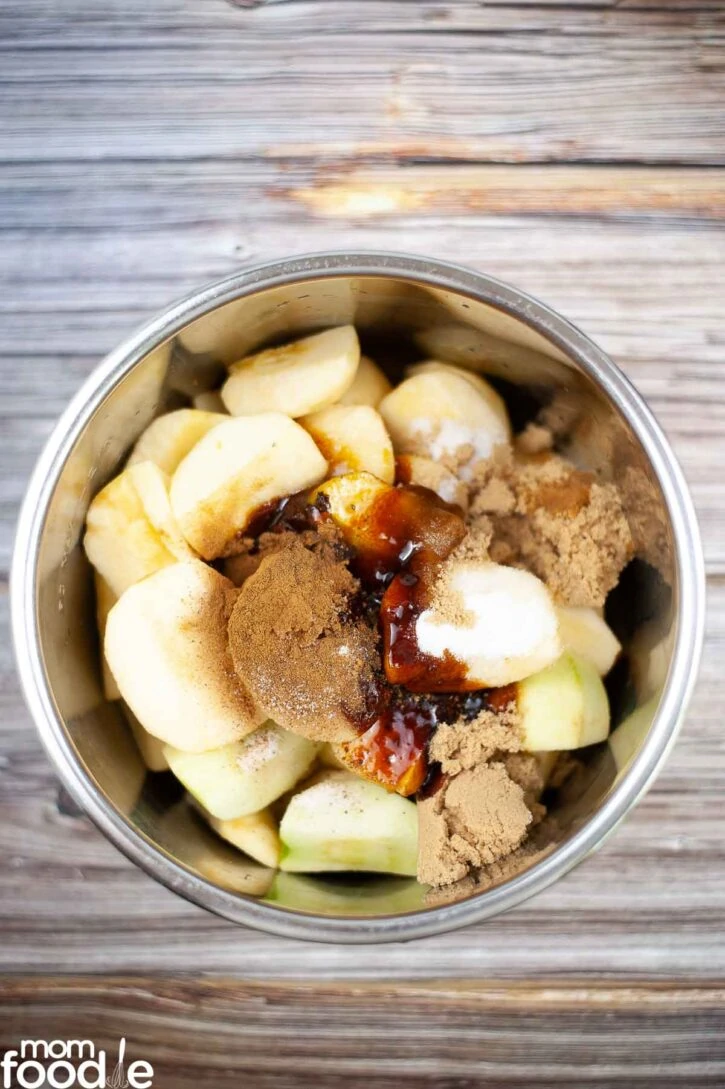 Place the apples in the instant pot along with the rest of ingredients and mix well.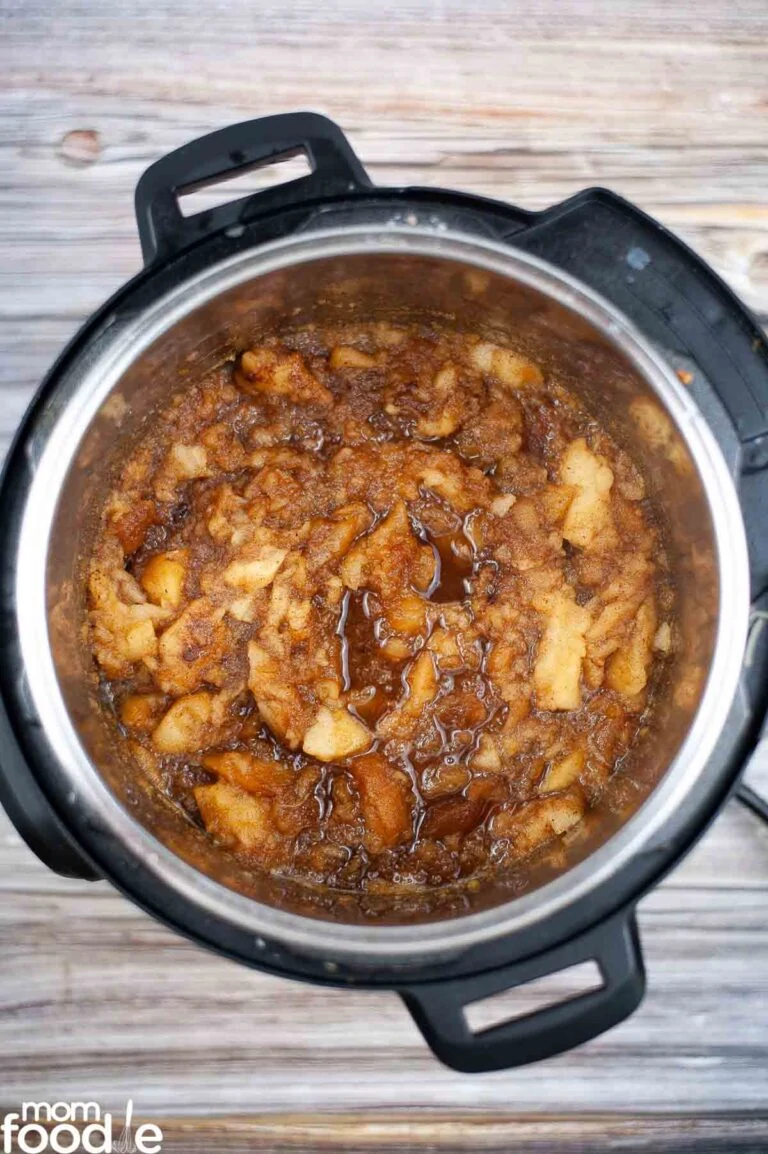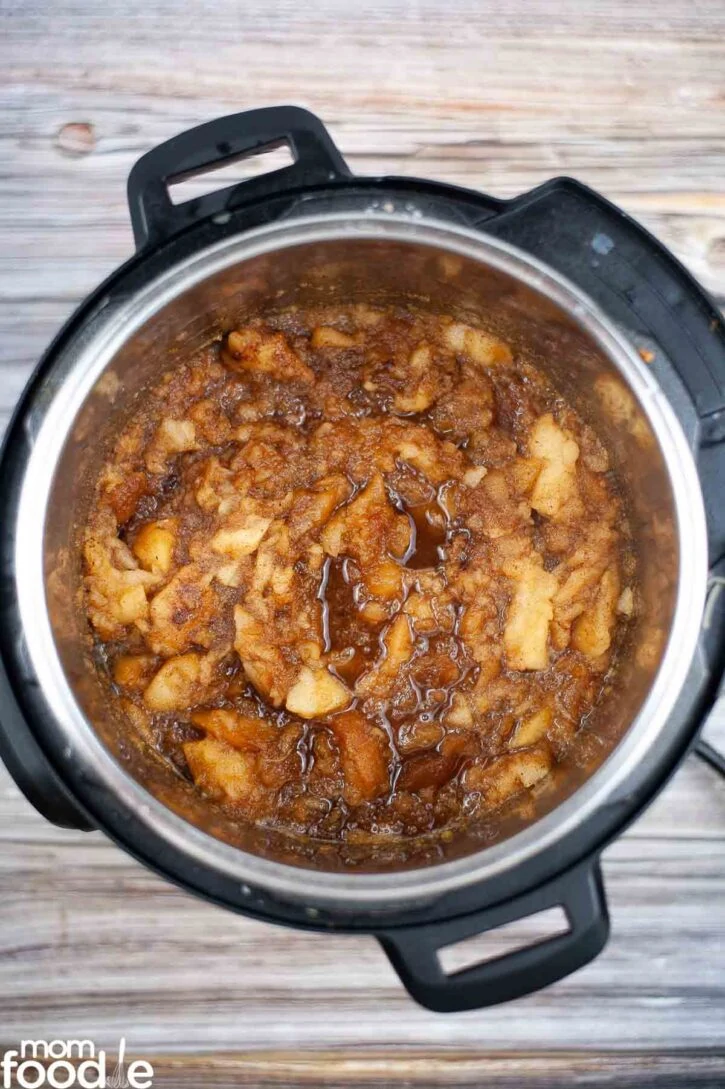 Twist to seal Instant Pot lid and flip pressure lock closed. Pressure cook on high pressure for 20 minutes, then allow natural pressure release.
Open the pressure cooker and stir the cooked apples.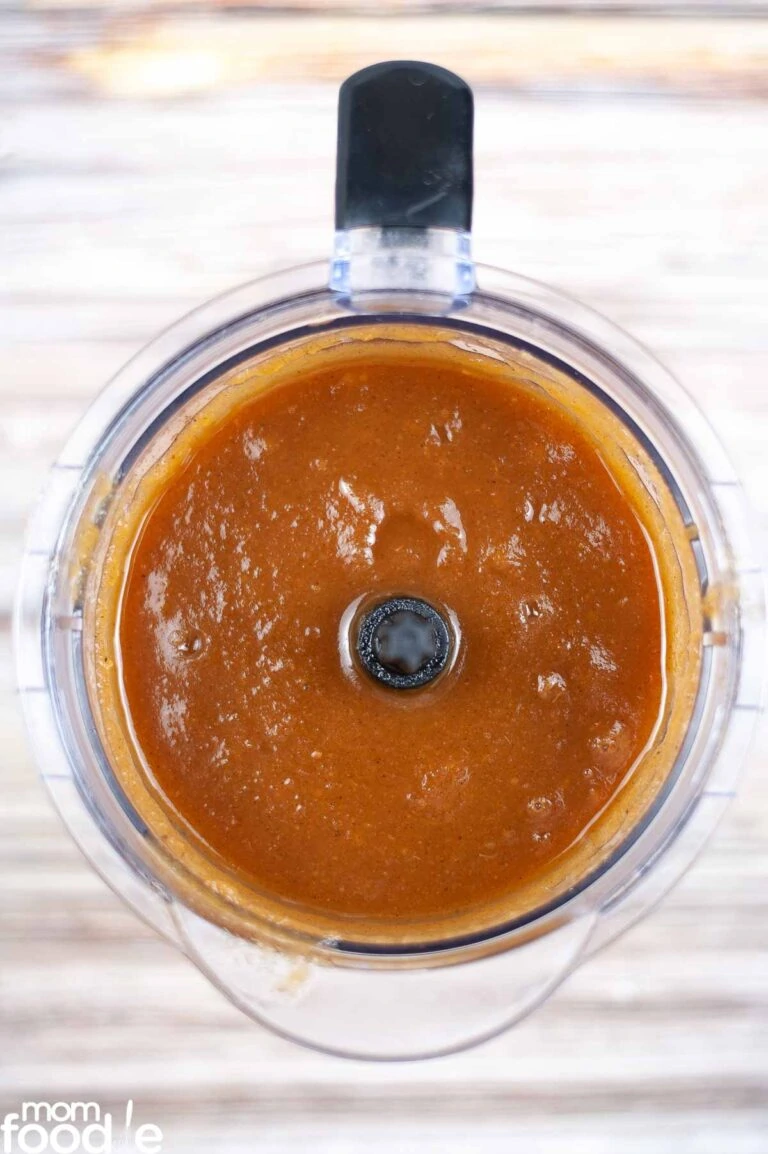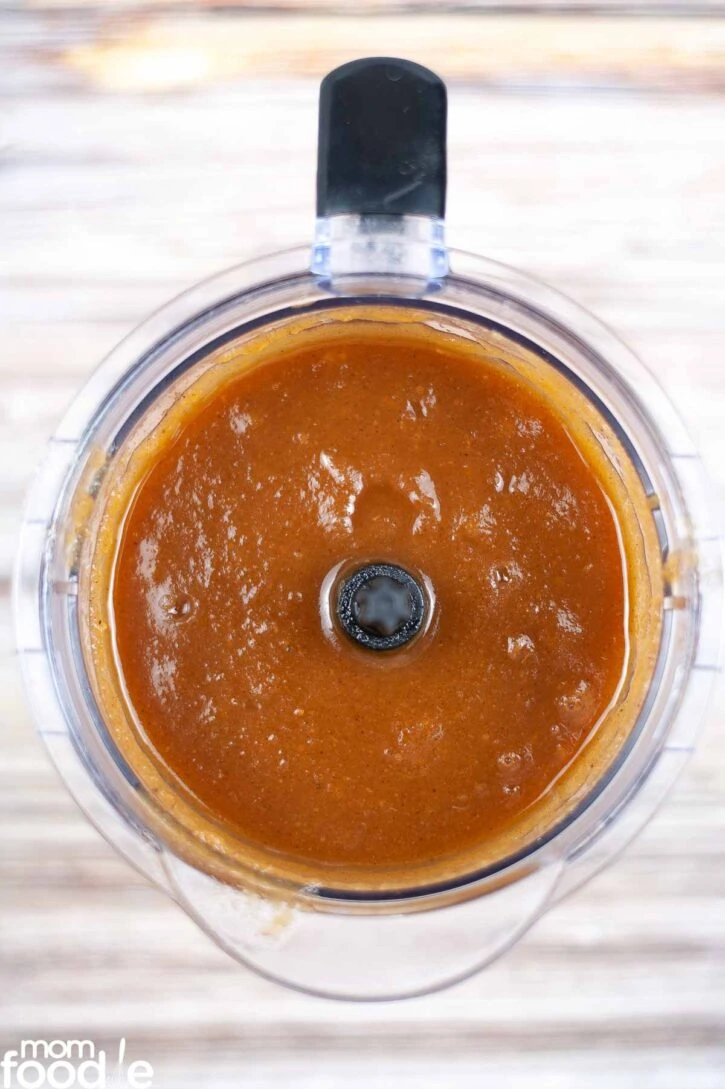 Puree the apple butter right in the Instant pot using an immersion blender OR Pour the cooked apple mixture into a regular blender or food processor and blend until you achieve desired consistency of silky smooth texture.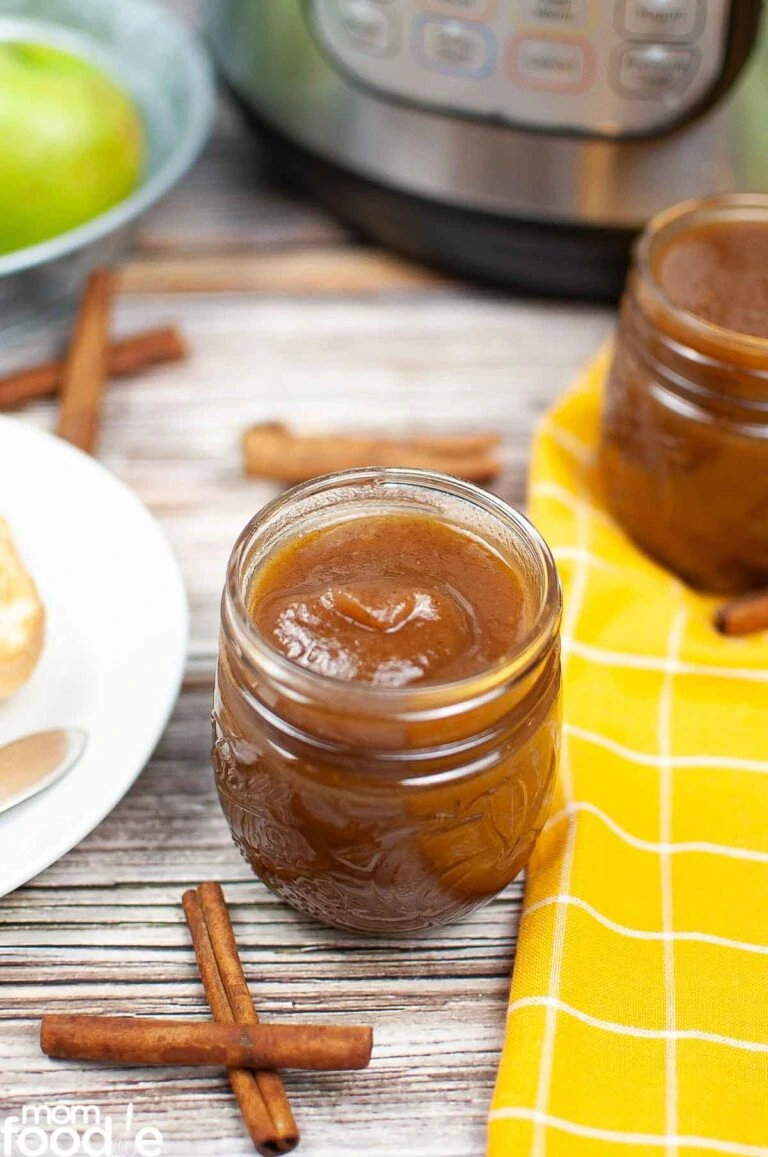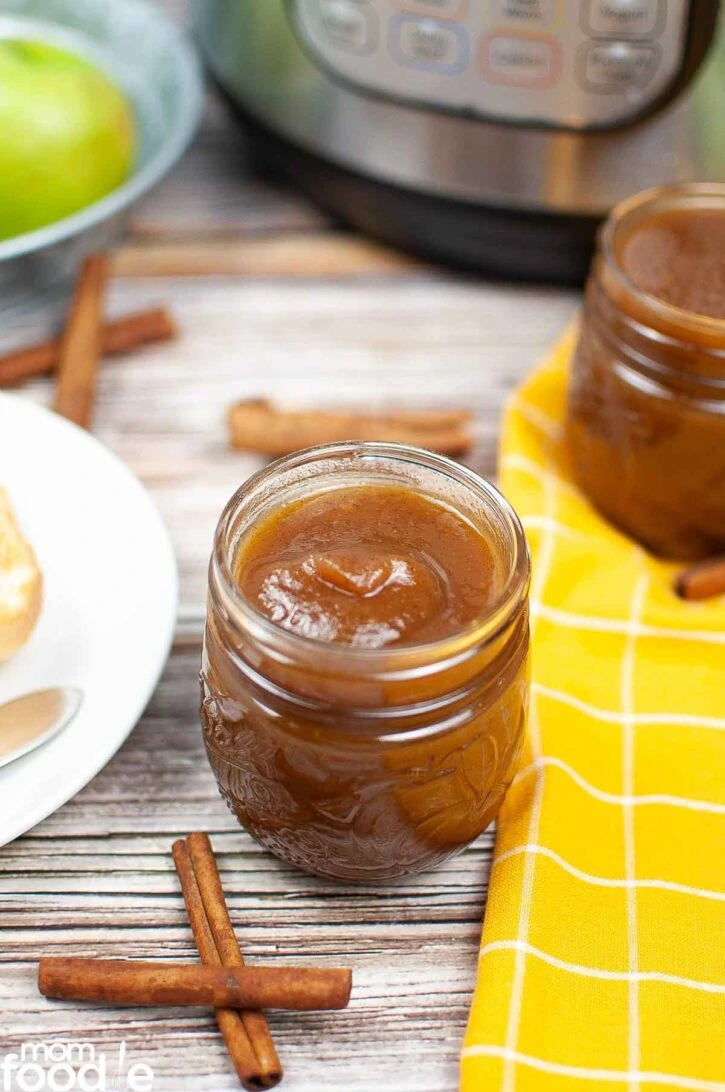 Place in jars and and store in refrigerator. Enjoy!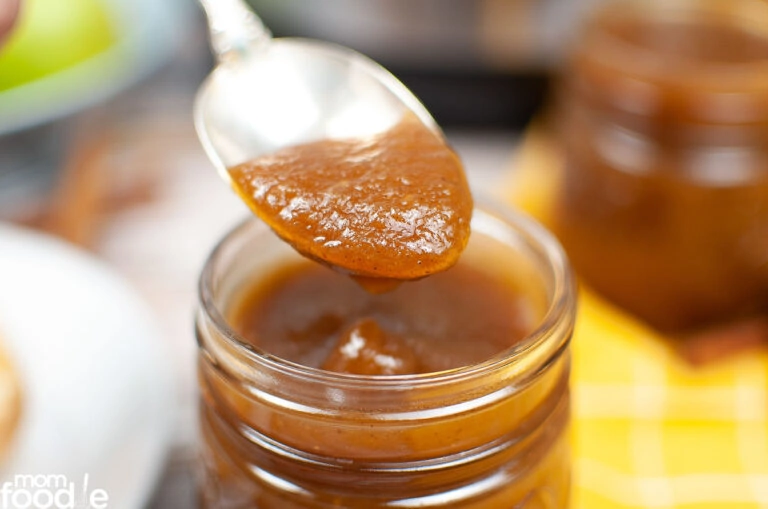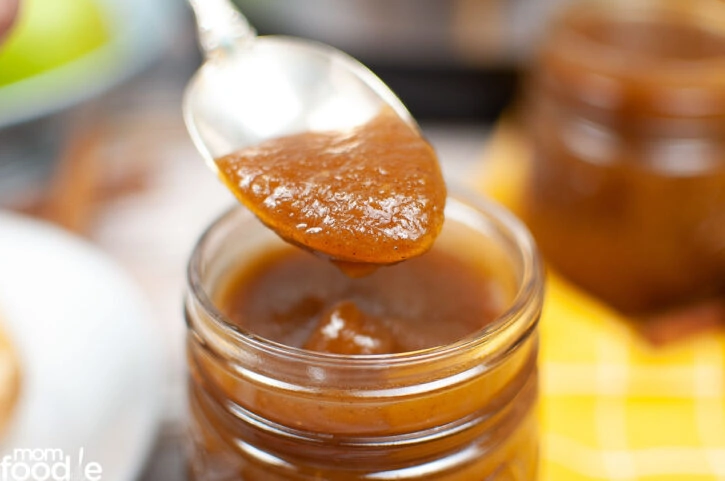 Q & A
What's the difference between apple butter and applesauce?
While both are made with apples, sugar and water. Apple butter is considerable thicker consistency and darker in color than applesauce. It is also typically spiced, whereas applesauce is only lightly seasoned or not at all. Apple butter is spreadable and creamier in texture and richer in flavor, due to longer cooking time.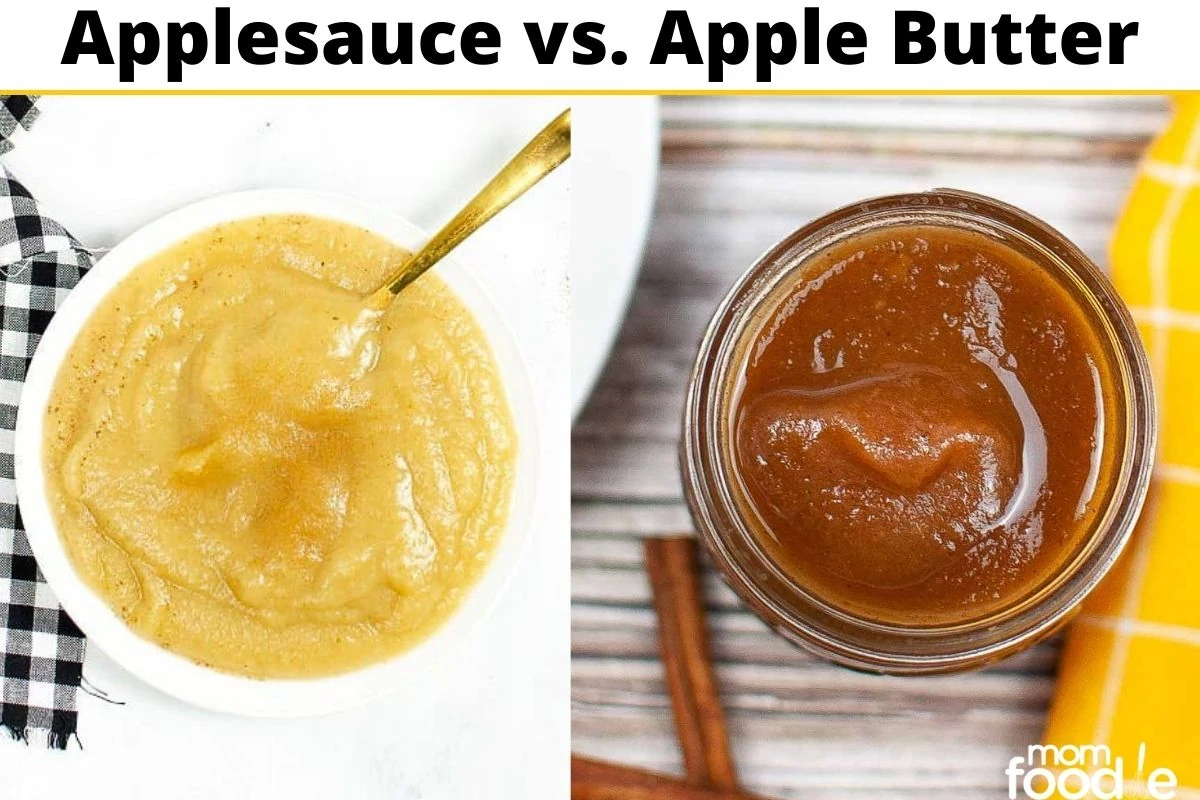 How to store apple butter?
As this recipe is not canned, the sealed jars of apple butter should be refrigerated. Due to the high sugar content they can last for up to 2-3 months in the fridge.
Freezing is also an option. The apple spread should be sealed in freezer bags or an airtight container and will last in the freezer for up to a year.
Can I make apple butter in the slow cooker?
Yes, you can make it in the slow cooker, though it will take considerably longer to slow cook. Plan on 10-12 hours on low to slow cook a good apple butter.
Can I leave the peels on?
Yes, you can make apple butter with the peels intact, though I prefer to take them off. If you choose to leave them, make sure to wash your apples more thoroughly before you pressure cook them. You will also need to blend apples a bit more to break down the apple peel bits.
If you like this recipe, you may also enjoy making my banana jam recipe or trying your hand at canning apple pie filling.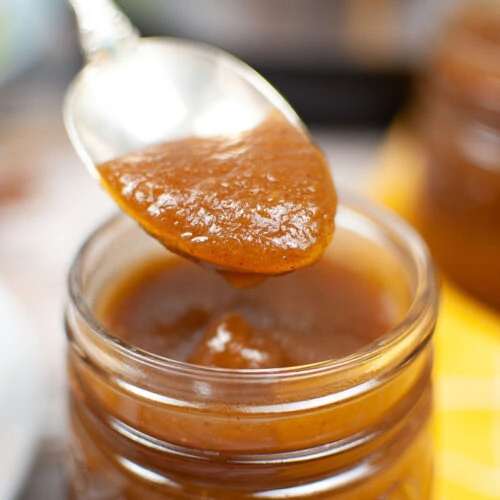 Instant Pot Apple Butter Recipe
Learn how to make Instant Pot apple butter in the pressure cooker. The recipe is quick, easy and delicious!
Print
Pin
Rate
Equipment
Instant Pot or other electric pressure cooker

blender (immersion or standard)
Ingredients
4

pounds

apples

¼

cup

water

or apple cider

⅓

cup

molasses

⅓

cup

granulated sugar

⅓

cup

light brown sugar

½

teaspoon

nutmeg

1

teaspoon

ground cinnamon

½

teaspoon

allspice

½

tablespoon

lemon juice

1 ½

teaspoons

vanilla extract
Instructions
Peel and quarter the apple, remove apple core. Place in the instant pot

Add all other ingredients and mix.

Twist to close the lid and flip the pressure lock. Pressure cook on high pressure for 20 minutes and wait for natural release of pressure. Open and stir.

Insert an immersion blender into the pot and blend until smooth or pour into a blender and blend the mixture until smooth.

Place in jars, seal and refrigerate.
Nutrition
Calories:
29
kcal
|
Carbohydrates:
7
g
|
Protein:
1
g
|
Fat:
1
g
|
Saturated Fat:
1
g
|
Polyunsaturated Fat:
1
g
|
Monounsaturated Fat:
1
g
|
Sodium:
1
mg
|
Potassium:
58
mg
|
Fiber:
1
g
|
Sugar:
6
g
|
Vitamin A:
16
IU
|
Vitamin C:
1
mg
|
Calcium:
7
mg
|
Iron:
1
mg