Fun and easy butterfly crafts for kids. Children will love making and displaying these cute art projects.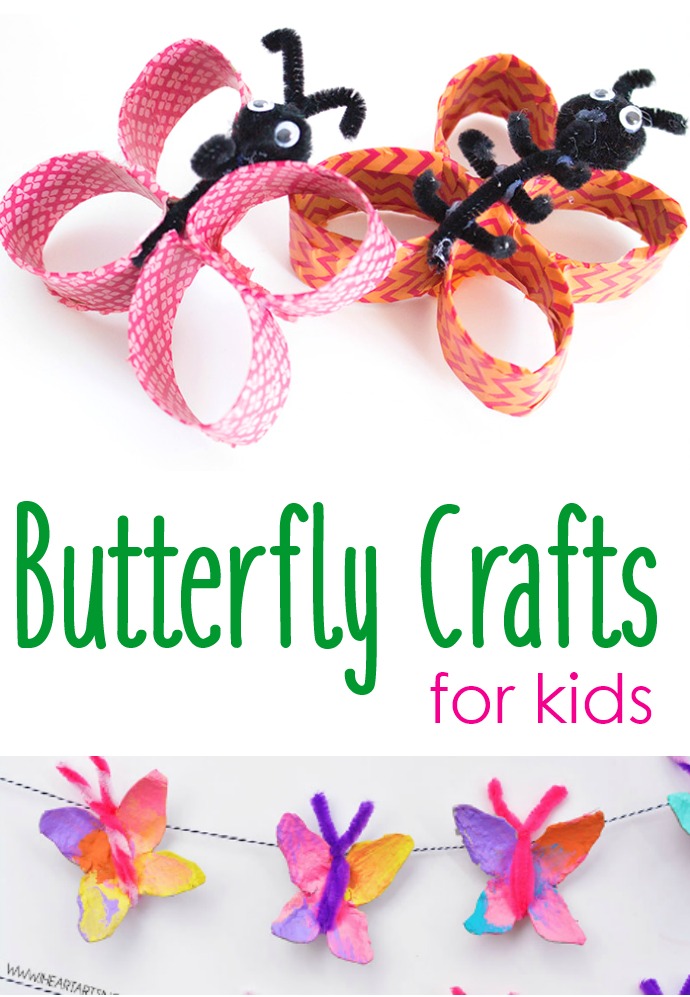 Easy Butterfly Paper Crafts
Why not make some butterfly paper crafts with your kids on the next rainy day. All the projects in this collection are simple to make and don't take a lot of supplies. Look how pretty they are to display too.  Won't your children be proud seeing their artwork prominently displayed.
Educating with Butterfly Crafts for Kids
There are a number of great topics that can be explored in conjunction with any of these butterfly crafts. Here are just a few.  As I was going through videos to show my daughter, I picked a few I thought she would like and am sharing with you.
Educational Butterfly Videos
These three educational butterfly topics seemed the obvious choices to discuss with children.
Butterfly Metamorphosis
Kids find the metamorphosis of insects especially butterflies amazing, so that is a great place to start.  Here is a video to show them while working on your project.

Difference between a Butterfly and Moth
Here is a great topic to discuss about butterflies, and something many adults may not know, the differences between a butterfly and a moth. Kids may even be inspired to make a moth version of the craft they are working on to go along with their butterfly.

Now that you have a few topical videos on hand, let's get to the focusing on the butterfly crafts for kids.
Butterfly Crafts for Kids
All the craft projects were chosen for both simplicity and colorful display.  They are appropriate for a wide range of kids ages. Younger children will of course need greater assistance.
1. Coffee Filter Butterfly Craft
2. Gorgeous Butterfly Craft
3. Easy Paper Butterfly
4. Heart Butterfly Craft
5. Watercolor Black Glue Butterfly Craft
6. Butterfly Craft Treat Bag
7. Toilet Paper Roll Butterfly
8. Heart Butterfly Craft
9. Cupcake Liner Butterfly Craft
10. Caterpillar To Butterfly Craft
11. Butterfly Suncatcher Craft
12. Handprint Butterfly
13. DIY White Clay Butterfly Garland
14. Egg Carton Butterfly Garland
15. Paper Clothespin Butterfly Craft
Here are a few more kids activity articles you may enjoy:
Fun Ways to Teach Children Gardening
24 Egg Carton Crafts for Kids: Crafty Recycling Fun!
K-Cup Crafts for Kids: Fun Ways to Recycle Keurig K-Cups