Post sponsored by Mirum. Opinions are 100% my own.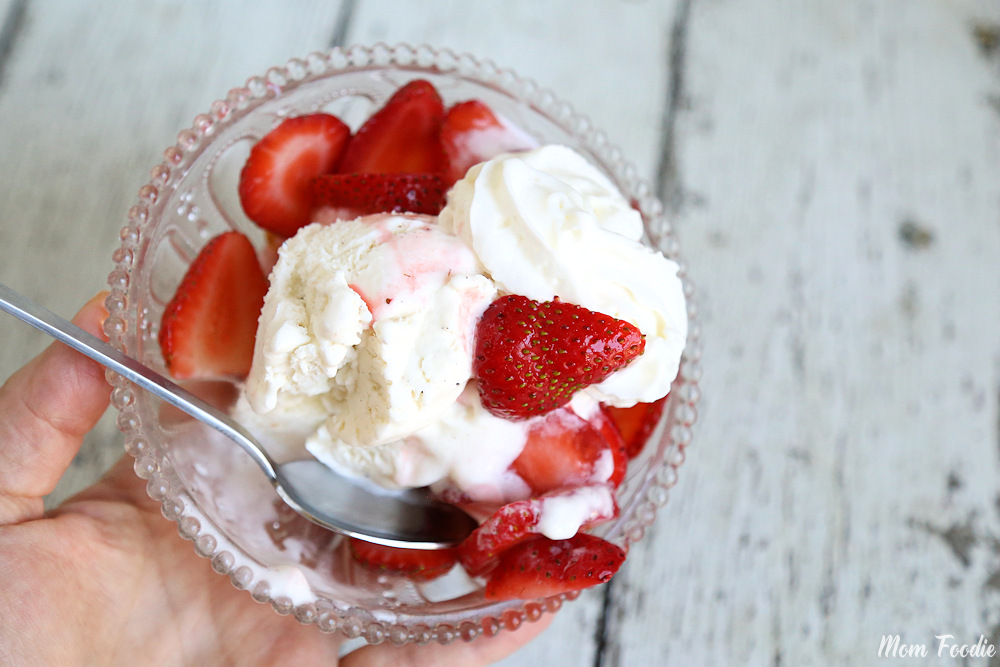 What could be a better way of celebrating National Ice Cream Month than a enjoying  a Strawberry Shortcake Sundae? This super easy dessert recipe can be tossed together in just a few minutes! No fuss and both children and adults love it.  My daughter in particular went crazy for this fresh strawberry sundae. I actually made her strawberry shortcake for her first birthday, maybe I'll make her a sundae version like this next year to celebrate her eleventh.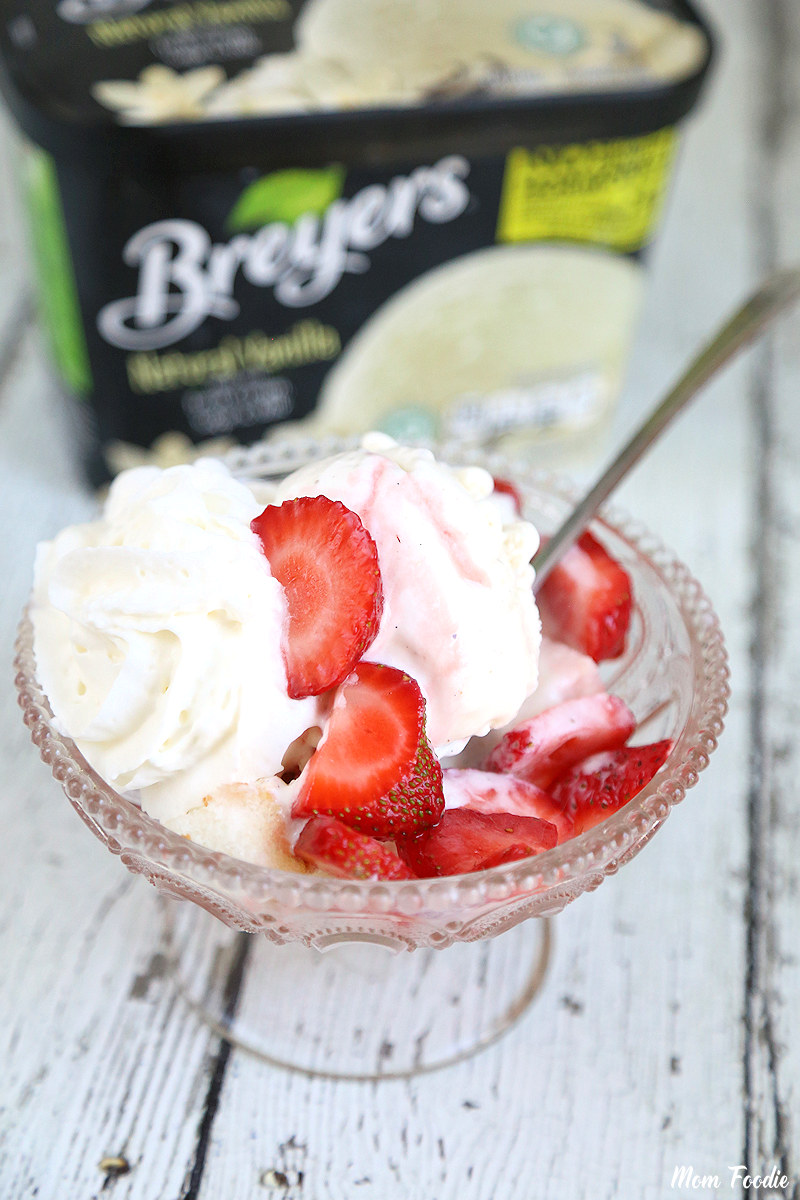 Strawberry Shortcake Sundae: Frosty Twist on a Classic
This Strawberry Shortcake Sundae features little pieces of angel food cake at the bottom of the dish that soak up the luscious melting Breyers Natural Vanilla Ice Cream and fresh strawberry juices. A dollop of whipped cream adds airiness and a little extra cream for the strawberries, but honestly could be skipped. While my daughter and I like it, the ice cream does provide ample creaminess.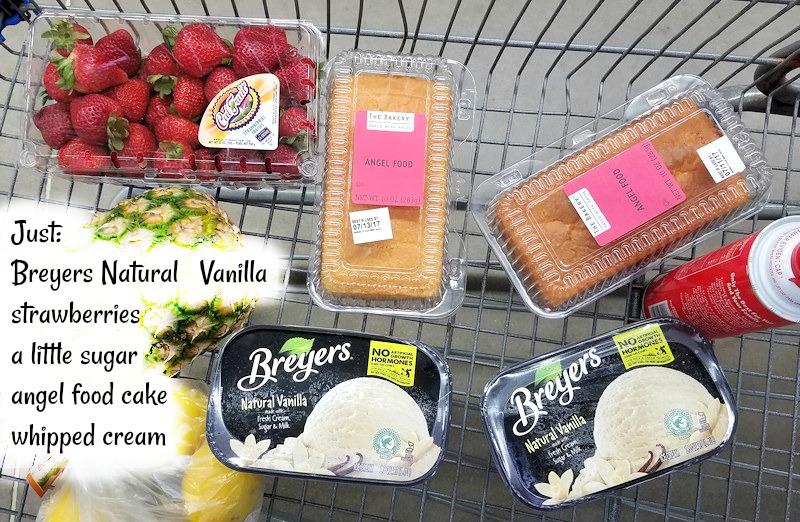 There is no baking to make this dessert, thanks to angel food cake from Walmart's bakery department. The only work involved in making this Strawberry Shortcake Sundae is slicing the strawberries and the cake. The strawberries are simply stewed in a little sugar, which naturally draws out the juices creating a syrup.
National Ice Cream Month
Breyers Natural Vanilla Ice Cream is the perfect choice for celebrating National Ice Cream month.  It is non-GMO and made simple, like ice cream should be, with fresh cream, milk and sugar. Of course, vanilla ice cream pairs superbly with fresh seasonal fruit and is great for making shakes and sundaes. It is the ideal starting point for frosty creamy dessert creations. Why not make this Strawberry Shortcake Sundae to honor National Ice Cream Day (July 16th), or better yet, let your imagination run wild and come up with a fantastic signature dessert of your own! Just order what you need from Walmart Grocery Store Pick Up, and they will even bring your items right out to the car for you… no need to step out of the air conditioning 😀
P.S. I'd love to see what you make.  Share a pic of your treat and tag me @MomFoodie so I can reshare (and quite likely drool).
Making Strawberry Shortcake Sundae: Quick Video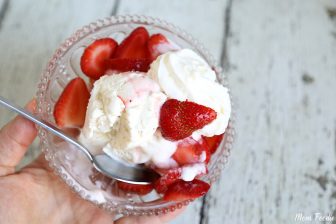 Strawberry Shortcake Sundae Recipe
This Strawberry Shortcake Sundae is a frosty twist on a classic summer dessert recipe.
Ingredients
3

cups

fresh strawberries

sliced

1/4

cup

of pure cane sugar

angel food cake

Breyers Natural Vanilla Ice Cream

whipped cream ***optional****
Instructions
Mix the sugar into the strawberries and set aside to allow juices to draw out and create syrup.

Cut up the angel food cake into cubes, and place a few at the bottom of each sundae cup.

Place a scoop of the vanilla ice cream on top.

Ladle on strawberries and add whipped cream if you like. Enjoy your Strawberry Shortcake Sundae!
#CelebrateWithBreyers #Walmart
Grow your own strawberries in raised beds to make this dish with.