These Mexican Stuffed Peppers make an easy dinner that is ready to grab for busy families.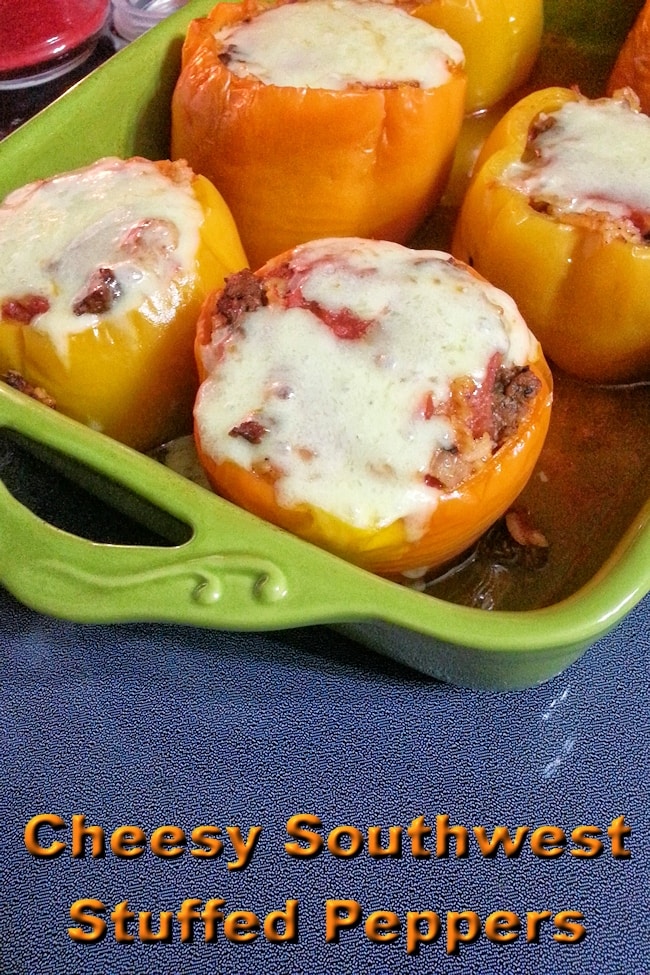 Cheesy Southwest Stuffed Peppers Recipe (Hamburger)
Hamburger recipes are a rarity on this blog.  Other than ground turkey a few times a year, I don't eat ground meats.   Dave on the other hand seems to be of the opinion that hamburger itself should be an entire food group.  He loves the stuff.  One day, I saw him lovingly arranging colorful and carefully cored yellow & orange sweet peppers in a casserole dish.  This caught my attention, because typically his idea of cooking is the one pot meal, unceremoniously scooped into a big bowl.
I snapped a shot of the stuffed peppers with my phone, when they came out of the oven.  He seemed quite pleased with his creation as he happily chomped a couple down, so I asked him for the recipe to share with my more carnivorous readers.  It's pretty easy and doesn't have any of the weird ingredients, I'm so fond of.
While the recipe makes a meal itself and side dishes really aren't necessary, a salad with Avocado Lime Ranch dressing or some Southwest Egg Rolls (Chili's copycat) would make great starters.
For more easy Comfort Food Dinners check out my Baked Beans with Ground Beef, Crock Pot Tuna Casserole or Manwich Casserole.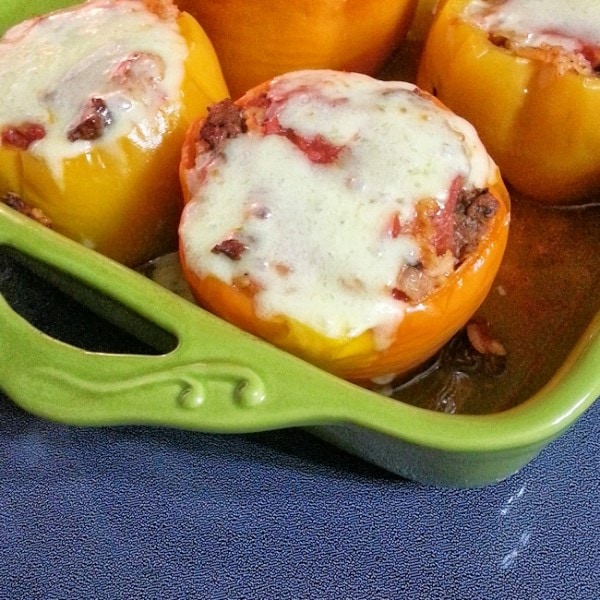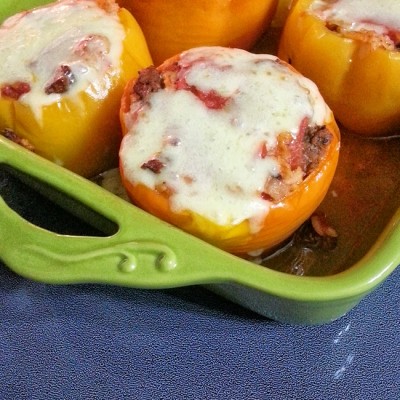 Ingredients
1

pound

hamburger

( used 80%)

1

box

Spanish rice

10

oz

diced tomatoes with chilis

canned, hot or mild, your choice

8

oz.

can tomato sauce

2

cups

water

2

tbs

butter or spread

6-8

large sweet peppers

shredded cheddar cheese
Instructions
Fry hamburger in skillet over med to med-high heat while breaking into crumbles. Drain off grease.

Add rice, seasoning packet, tomatoes, sauce, water and butter. Stir, once it starts to bubble, reduce to low and cover. Simmer approximately 20 minutes, until liquid is absorbed.

Preheat oven to 350 degrees.

Core & deseed the peppers, then stuff with filling. Arrange in baking dish or oven safe pan, and add ¼-1/2 cup of water to bottom of pan to create a shallow water bath, Cover the dish with foil.

Bake for 20 minutes. Peel back an edge of the foil and test doneness of pepper with fork: a) if fork goes through easily uncover top with cheese and bake 5 more minutes b) if peppers are not done yet, bake covered for 10 more minutes, then uncover, top with cheese and bake 5 more minutes.

Serve as is, or with hot sauce or tomato sauce.