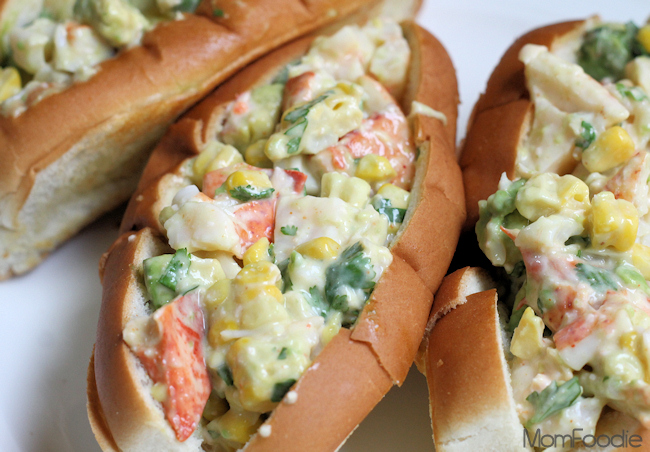 This is a sponsored conversation written by me on behalf of ABC's The Chew.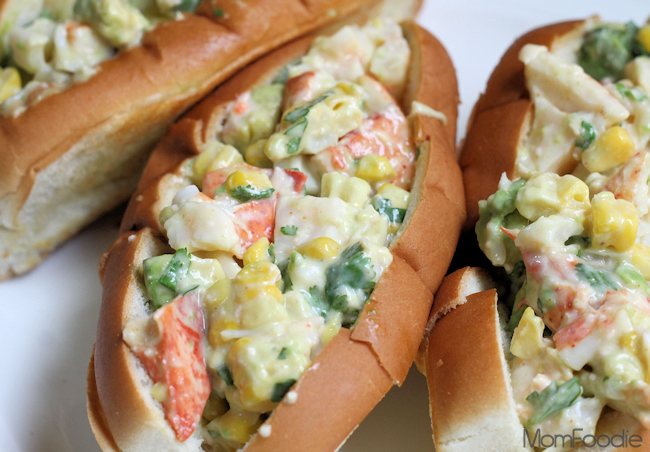 Southwest Lobster Rolls may seem like culinary sacrilege to some folks around here in New England, but they taste "wick'd" good & as a born and raised "New Englanda", I'll do what I darn well please with my "lobsta".  I guess I could just blame it all on those culinary characters from The Chew, since they are what inspired this tasty travesty.
If you haven't heard of The Chew (Weekdays: 1e|12p|c) yet, it is a fun food-centric show hosted by a wacky group of popular chefs, an entertainment expert and a health guru.  There is an element of talk show to it, but the atmosphere is much more a celebration of food, done in a knowledgeable way.  There are recipe demos, contests,  and interesting pieces on ingredient topics, like gardening and harvesting seafood.  It's a whole new kind of food show, that really focuses on the heart and soul of cooking, not just methods and ingredients.
The cast is what truly makes the show.  All are great on camera and seem to have a terrific comradery going on.
Carla Hall (Chef) ~  You may remember Carla Hall from Top Chef.  She was both one of the most beloved and talented of the contestants to ever grace the program.
Clinton Kelly (Entertaining) ~ Clinton is of course best known as the host of What Not to Wear.
Daphne Oz (Health & Wellness) ~ She is all about making healthy delicious, and of course with a bunch of chefs in the room someone has to say,  let's skip a pat of that butter…lol.
Mario Batali (Chef) ~ If you don't know who this guy is, you are surely living under a rock out in a remote desert.  Being  a food geek myself, I could be over exaggerating that a little (just a little).  Anyway, he is a well know Italian chef, with several books and shows under his belt.
Micheal Symon (Chef) ~ A highly acclaimed chef, best known popularly as an Iron Chef, on the show of the same name.
One video clip from the show I enjoyed was Mario Batali making lobster rolls.  They sure looked good.  Mario made his dressing right from scratch, rather than using jarred mayo like most do.

With Mario's lobster roll  culinary magic still fresh in my mind,  I then watched a recent episode of The Chew, that was focused on great Southern food.  Although, as you already know I'm a Yankee, I do love Southern food, especially Southwest & Tex-Mex. The lobster roll clip along with the Southern food episode spurred me to give making a Southwest Lobster Roll a shot.
Unlike Mario and and rest of The Chew gang, I am a bit of a wussy when it comes to raw eggs in dressing.  This is really kind of silly on my part because I do taste baking batter with raw egg in it on a regular basis, but we all have our quirks don't we.  Thus, wussy girl used some light mayonnaise from a jar and seasoned it up a little.  With the addition of the other ingredients, the dressing wasn't as much of a focal point anyway (at least that is my justification & I'm sticking to it…lol)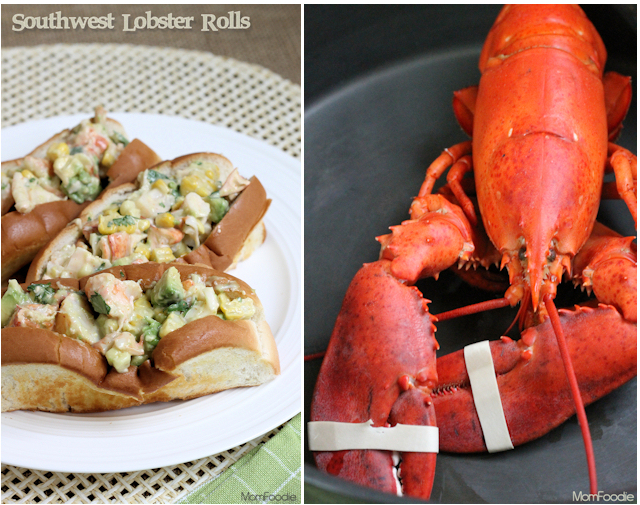 So, if you could use a bit of inspiration in the kitchen, or are just an obsessed foodie like me, check out a few episodes of the show.  It airs weekdays 1 pm ET / noon p/c. I think you will find it rather enjoyable, and if you see a recipe on the show you want to try, they are conveniently available on The Chew website (and you can save them right in Ziplist, just like on this site).  Well, without further ado here is my The Chew inspired Southwest Lobster Roll recipe.  Enjoy, I certainly did.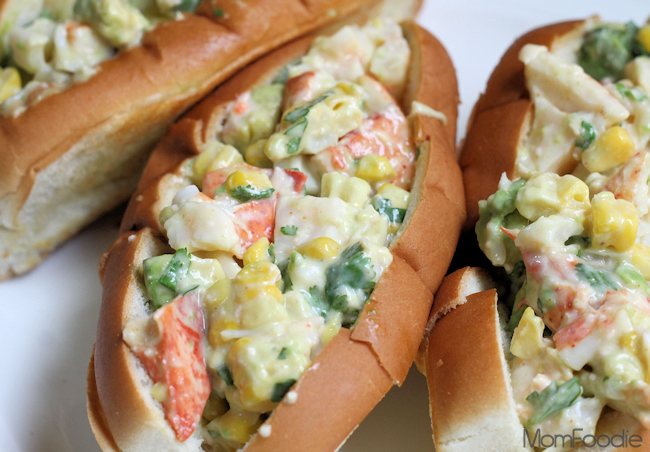 Southwest Lobster Roll Recipe
In this Southwest Lobster Salad Roll recipe, avocado and sweet corn are teamed with the lobster in a mildly spicy-tangy dressing and fresh cilantro. The lobster salad is served on the traditional grilled hot dog roll.
Ingredients
Two steamed lobsters approximately 1 1/2 pounds each

steamed 11-12 minutes, then cooled

1

cob of sweet corn

steamed or left over grilled, cooled

1/3

cup.

mayonnaise

I used Hellmann's Light

1/2

tbs

fresh lime juice

1/4

tsp

cayenne pepper

2

tbs

chopped fresh cilantro

1

ripe avocado

diced

6

New England Style hot dog rolls

they are the stuck together ones with the flat sides

Butter for toasting rolls
Instructions
Remove lobster meat from shells and cut into bite size pieces.

Cut corn off cob.

Whisk together the mayo, lime juice and cayenne. Then mix in lobster, corn and cilantro.

Finally fold in the avocado. Try not to mush it up, but make sure it is coated in dressing and evenly distributed.

Butter and grill the rolls over medium heat, then fill each with the lobster mixture while still warm.
Recipe Notes
Cook time assumes lobster and corn are already cooked and cooled. Add another 20 minutes to boil water and steam, plus cooling time if starting with raw.
I'm always looking for new ways to spice up my Summer dishes, and ABC's The Chew serves up everything from grilling and outdoor entertaining to road trips and picnics. Watch weekdays 1e|12p|c on ABC to see what celebrity chefs Mario Batali, Michael Symon, and Carla Hall, lifestyle expert Clinton Kelly and fresh face of healthy living Daphne Oz are dishing out to inspire you this Summer.
This is a sponsored conversation written by me on behalf of ABC's The Chew. The opinions and text are all mine.
This is a sponsored conversation written by me on behalf of ABC's The Chew. The opinions and text are all mine.