Homemade gnocchi are super easy when you use instant potatoes!
Instant potatoes are far more flexible than many people realize.  I haven't made gnocchi (potato pasta/dumplings) for some time, because it can be a rather time consuming process, although my daughter adores participating.  Using Roasted Garlic Instant Potatoes not only saved me a step, but provided some wonderful roasted garlic flavor.
Perhaps the best part of using instant potatoes over cooking and mashing myself, is the consistency the recipe provides.  The flakes are easy to measure, no lumps (very bad for gnocchi) and there is no concern over varying water content in potatoes.  The gnocchi came out nice and tender and I really couldn't get enough of them, especially in this sauce.  I put aside some of the gnocchi and simply tossed them in butter with sweet red peppers for my daughter, which she enjoyed (great simple side dish).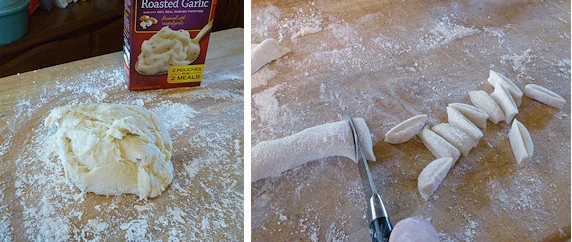 I will be making my gnocchi with instant potatoes from now on.
Ingredients
Homemade Gnocchi
⅔

c

buttermilk

1

cup

water

1

tbs

butter

generous pinch of dried crushed thyme

salt & pepper

1

pouch Roasted Garlic instant potatoes

1

egg

1 ¾

c

flour + ½ cup for kneading

2

tbs

Parmesan cheese
Chicken & Gnocchi in Buttermilk Blue Cheese Sauce
2

chicken breasts

trimmed & sliced

8

oz.

Crimini mushrooms

halved, then sliced

2

tbs.

butter

¾

c

chicken stock

1

cup

butter milk

1

cup

crumbed blue cheese

generous pinch of dried thyme
Instructions
Make your gnocchi first.

Place buttermilk, water, butter & thyme in sauce pan. Bring to a boil, then remove from heat.

Mix in the rest of ingredients (except the flour for kneading). I do this in a stand mixer with dough hook.

Generously flour a kneading and rolling surface.

Knead the gnocchi dough, then roll out "snakes" of the dough about a ½" round.

Cut the rolled dough into gnocchi. Keep the surface well floured. If you want to freeze the gnocchi to use later, make sure to shake them in a bit of flour before placing in freezer container, so they don't stick together.

Drop batches of the gnocchi into boiling water, and remove with a slotted spoon as they float to the top. They cook quickly.

*Prepare the sauce*

Place butter in large saute pan, on med heat.

Saute the mushrooms, chicken and thyme, until outside of chicken is cooked and mushrooms are nearly done.

Add the buttermilk, chicken stock and blue cheese. Stirring until sauce starts to thicken.

Add gnocchi, and simmer while gently stirring, for about a minute.

Serve.